Bastille interview: Frontman Dan Smith on new single 'Quarter Past Midnight' and their upcoming third album
Exclusive: a tour of the shiny new Best Laid Plans studio plus (some) details on what to expect from the UK band's new record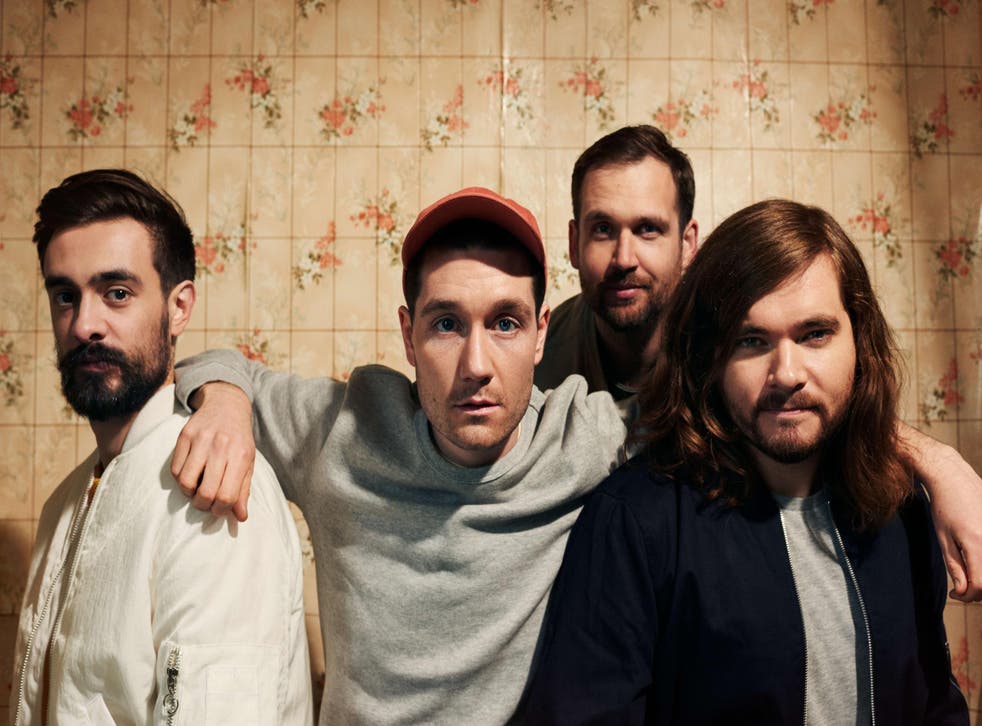 The Best Laid Plans studio is pretty cool. It's bigger than Bastille's last studio, which means their drummer Woody no longer has to clamber over his drum kit to get to the door. And it means that the independent label founded by frontman Dan Smith with Mark Crew and Dan Priddy now has a proper home for its artists, which include Rationale and Rag'n'Bone Man.
There's also plenty of space for artists to record – it's where The Wombats made their top 10 album Beautiful People Will Ruin Your Life, produced by Crew – and where Bastille have been working on their upcoming third album. There's a fun attic-style space up a tiny spiral staircase with a mural of the Wild World artwork ("by an Italian guy who usually does those paintings for children's dentists," Dan reveals, laughing), mixing room, recording space…
Spending a longer period of time in London has been good after so long on the road with the Wild World tour, where Dan found himself going from a "weird travelling circus" kind of lifestyle to what essentially felt like a nine-to-five job; coming into the studio and seeing people each day.
"I've been doing loads of writing and production with other people, and working with artists we think are amazing, or giving them a space to work. The Wombats were here, Rory [Graham, Rag'n'Bone Man] has been in and out – he's obviously the busiest man in the world right now. There was a point working on our album, and he was in here writing and making new music, and it just felt exactly what we wanted to make. To have done that was really cool."
The release of a brand new, brilliant single "Quarter Past Midnight", this week had fans frothing at the mouth with the prospect of a new Bastille album – which is currently in the end stages of being mixed, Dan says.
"With this place and also stopping for the first time ever since we've been in a band, and making an album in one place… I think it's more concise and direct," he suggests. "We're at that rare point where we put the album to bed a month ago then got distracted by this tour. We've done album artwork, shot a video… it's that nice honeymoon period where you've got this album and you're living with it. And I guess now people will hear it soon."
There were fewer singles released from their last album Wild World than he would have liked, and so with this new record he's been trying to choose songs that show the different sides he really wants people to hear.
"Obviously understanding that we'd love everybody to listen to the whole record but that's just not real life," he shrugs. "On the last album that was a thing we were a bit frustrated by. I feel like we were really spoiled on our first album and released about eight singles in the UK.
"By the second one it was a different time, but there were songs like 'Warmth' that I really felt should have been a single. But that's how it was. 'Quarter Past Midnight' as the opening track is like the beginning of the story and sets the tone for that moment of the night."
Enjoy unlimited access to 70 million ad-free songs and podcasts with Amazon Music Sign up now for a 30-day free trial
Sign up
Unsurprisingly, he doesn't want to say too much about "what the album is about" because it's better for fans to listen and decide for themselves. But he does say it became a loose story of starting at quarter past midnight and ending the next morning: "Hopefully the album works on a few levels, it's more personal, potentially metaphorical for… other things that are happening," he says. "I definitely wanted this album to feel a lot more intimate."
On Wild World the lyrics and bold, cinematic instrumentation managed to capture the crippling sense of anxiety that preceded events like the EU referendum and the election of US President Donald Trump, along with what felt like a universal feeling of tension and fear about the general state of the world. On their third album, Dan says, those elements are still there but grounded more in the idea of escaping that for a short while.
"Something about grounding it in the nighttime… it's an interesting space, everyone's emotions are charged, people do good and bad things, make mistakes, meet people… there's so much room for stories.
"That was important to me, having spent two years playing a record that was quite full of angst and confusion about how to compute everything, and filter the news and world events and personal stuff. Particularly with the visuals that accompanied the tour. I'm super proud of it… I loved it so much, but I definitely felt like I didn't want that to define who we are as a band."
He recalls a moment during 2017 where Bastille were caught up in a terror scare at one of Germany's biggest music festivals, Rock am Ring – one month after a suicide bomb attack had killed 22 people at the Manchester Arena.
"We had this song called 'Fake It' with the politician/newsreader figure lip-synching our song as a newscast," Dan says. "The election was bubbling over. We were really excited to put that out there and sing certain songs in front of this character.
"Then we were at this festival, and a couple of hours before we were supposed to perform the whole site was evacuated because there was a terror scare. Luckily nothing happened and it was a false alarm. But seeing thousands of people evacuated from a festival site... It was a really odd, surreal night. And I guess on a personal, band level, that gig was a really big deal for us. So it was complete confusion and fear. When you're in the eye of that storm, no one knows what's happening."
The festival continued with twin festival Rock im Park, where Rammstein decided to let off a huge display of fireworks at the beginning of their gig, Dan recalls laughing.
"Considering what had happened the day before… everyone was quite on edge. It was a really fun gig, and to be able to play in the context of what had just happened: singing on stage about those subjects, after the previous night… but if I was at a festival I might not necessarily want to have those images thrown at me."
Bastille are still in that world, "and if anything it's even crazier", but now there's some form of escape, if only for a short while, he says. There's a song on the album about someone trying to talk about Trump or politics at a party: "It's like, can we just leave this for tomorrow?"
"It's looking back to our personal experiences and drawing on that," he continues. "I feel super proud of it, it's got quite a lot of variety – wanted to get a bit of a throwback feel to the sound of it, a warmth and roughness, looking to the sample-y era of Nineties dance music but just as a slight nod, the breakbeats and stuff.
"I wanted to essentially make a nighttime record that involved those 'party' moments but not remotely in a slick, modern way. I wanted it to be warm and nostalgic. The references to going out and staying out come from real experience." He smiles: "My life isn't this champagne-popping, celebrity thing, I've never experienced that really."
As with most of Dan's writing there are plenty of references to film and TV, but on this album they're more woven in, or featured in the music videos themselves. As he talks about the idea of "diving back into books and themes of hedonism" I mention Stanley Kubrick's adaptation of Eyes Wide Shut and he gives an immediate, slightly sheepish grin.
"I namecheck Kubrick in one of the songs, called 'Bad Decisions'," he admits. Dan's Kubrick obsession goes way back – his first interview with The Independent was at Somerset House, where we wandered around a Kubrick exhibit put together by James Lavelle of U.N.C.L.E.
It's inevitable that we've managed to steer away from music and spend the next 10 minutes talking about Kubrick making Eyes Wide Shut with Tom Cruise and Nicole Kidman.
Do you want me to talk about "Quarter Past Midnight?" Dan asks. We probably should. "OK, well I guess so it's the opening track on the album and I wanted to capture that moment in a night and the chaos of the city, that time in the evening and everything you see around you, that slightly nihilistic determination to throw yourself head-first into whatever's going to happen…" he breathes out, grinning again. "And it was really fun to make."
'Quarter Past Midnight', the new single from Bastille, is out now. They play the BBC's Biggest Weekend in Swansea on 26 May
Register for free to continue reading
Registration is a free and easy way to support our truly independent journalism
By registering, you will also enjoy limited access to Premium articles, exclusive newsletters, commenting, and virtual events with our leading journalists
Already have an account? sign in
Register for free to continue reading
Registration is a free and easy way to support our truly independent journalism
By registering, you will also enjoy limited access to Premium articles, exclusive newsletters, commenting, and virtual events with our leading journalists
Already have an account? sign in
Join our new commenting forum
Join thought-provoking conversations, follow other Independent readers and see their replies