interview
Bat for Lashes: 'Being half-Pakistani and half-English, I feel like a conduit between different cultures'
Natasha Khan's new album, 'Lost Girls', takes inspiration from, among other things, teenage vampires. She talks to Alexandra Pollard about moving to LA, finding love, and why her major label hoped she'd be more successful than she was
Thursday 05 September 2019 09:12
comments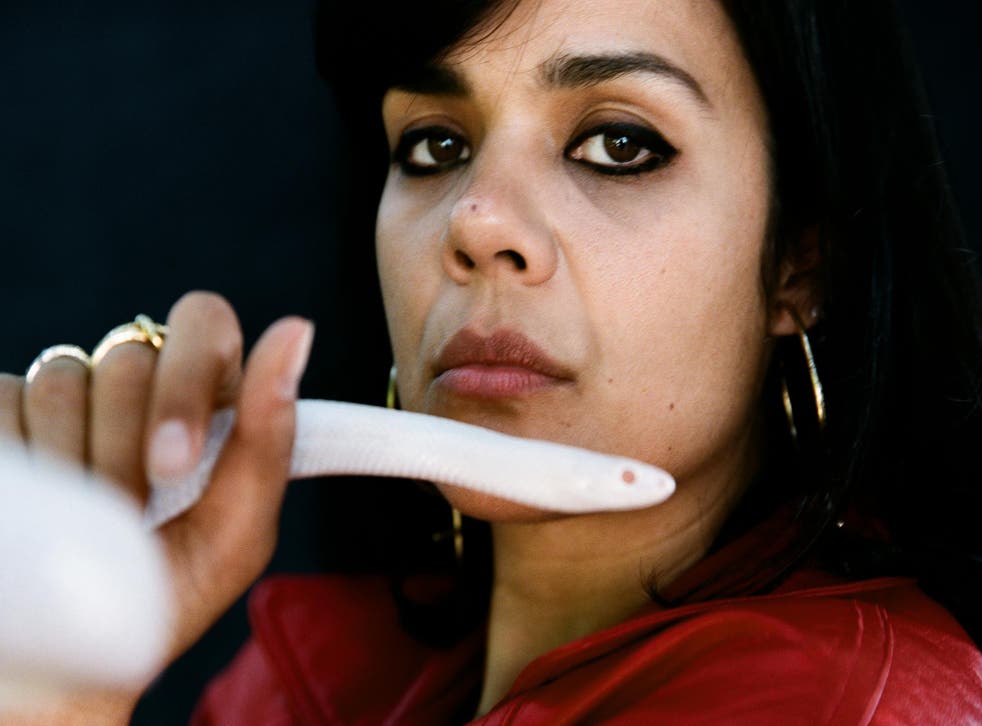 Ten years ago, Natasha Khan, aka Bat for Lashes, was poised to be the next big thing. As tolerance for laddy indie bands reached saturation point, her debut album Fur and Gold – spectral polyrhythms you could dance to – was a breath of fresh air. It was shortlisted for the Mercury Prize. Two Brit Award nominations followed – for British Breakthrough Act and British Female Solo Artist – and Khan was invited to support Radiohead on tour. The major label (Parlophone) to which she had just signed could hardly believe their luck – they had surely found the next Kate Bush. But things didn't quite go as planned. "I think the label had high hopes that I'd be more commercial than I was," she laughs now, "but I proved to myself and everyone else that I'm not."
Khan's second album, 2009's Two Suns, was a concept album about a desert-born alter ego called Pearl. Her third, The Haunted Man, produced "Laura", one of the best songs of her career, but only charted for a week. By the time she released her fourth, 2016's The Bride, another concept record, this time about a bride-to-be whose fiance dies in a car crash on his way to the wedding, she could hardly wait to break free from her 10-year deal. And Parlophone weren't exactly clamouring to keep her. The label's initially high expectations, she says, "in the end started to work against me. It can be like a cloud that's over you."
Last year, the deal finally came to an end. Craving a change of scenery, the 39-year-old upped sticks to LA. She spent her days swimming, painting, going for sunset walks with her adopted dog Janice, teaching meditation to newly released prisoners, and going on long drives to forests with giant redwood trees. Though she says the city has a dark side – "The plastic surgery and the objectification of women that women are doing to themselves on Instagram" – when she stayed on its periphery, it suited her perfectly.
"I love England but there's a lot of ghosts when you've lived somewhere for 37 years," Khan says, tucking into tomatoes on toast in an east London hotel. Dressed in a pair of old dungarees – "I look like I'm about to go and make something out of wood" – she doesn't look like the hippie eccentric of old, who'd turn up to red carpets with a rainbow painted across her face, a carnation in her ear, or a Native American war bonnet on her head. But as she talks – softly and with a trace of Estuary in her accent – that dreamy, bohemian side comes through. "I describe London as a cube," she says. "It sits on the ground and you go in and you experience it. LA is like this morphing, holographic dream space, and there's a lot of strange, creative people there – all these people that weave magic. I don't think you can necessarily be a magician living on the hill making your weird s*** in, like, Hoxton."
Quite unexpectedly, magic started pouring out of her, too, in the form of big, bold music. "It's ironic. As soon as I was released, I made the most commercial-sounding album, with pop, dance songs on it. It was probably always in me. Maybe they were tearing their hair out, because they knew something I didn't know."
Or maybe it took that newfound freedom to make such a liberated album. Lost Girls – which Khan envisions as the soundtrack to a film about a teenage vampire that's still in the works – is glamorous and expansive, inspired by everything Eighties: its movies, its ballads, its mood, its slinky synthesisers.
She also looked to the 2014 Iranian vampire film A Girl Walks Home Alone at Night for the way it melds together different cultures. "Jasmine", with its cluttered soundscapes and sensual melody, is inspired by the sensory overload of both LA and childhood trips to Pakistan. "My impression of Pakistan was the heat hitting you when you get off the plane like a hairdryer in your face," she recalls, "and the smell of jasmine and sewage and dogs and markets. The similarities to LA are that hot, dusty climate, the desert, the heady flower smells."
She's used to feeling the pull of different climes. "Being half-Pakistani, half-English, and growing up in England but going over there and then travelling a lot, I really feel like this conduit between different cultures and landscapes," she says. "I resonate with a lot of different places and people and religions and looks and styles."
During those childhood trips to Pakistan, Khan's cousins would ride motorbikes down to the market and pick up glass bottles of Coca-Cola. "They were very in awe of America," she recalls. She was too, obsessively watching movies such as ET, The Goonies, The Lost Boys, and Point Break.
Enjoy unlimited access to 70 million ad-free songs and podcasts with Amazon Music Sign up now for a 30-day free trial
Sign up
"The sound of those films has influenced all my albums, I think," she says, "because as a child, that was my escape. I loved ET because I could resonate with Elliott – he had a single mum and it was difficult at home, and then he went into the garden and he found this alien that was living in his shed. I used to dream of things like that happening to me. Out of boredom. Out of loneliness."
Born in London to an English mother and Pakistani father, Khan was raised in Hertfordshire, first by both parents, and then – when her father left – by just her mother. At secondary school, she was called a "f***ing Paki" by her classmates, so she would bunk off, or get suspended for swearing and throwing chairs at teachers. "Coming from a broken home and all those difficult things," she says. "In my mind I was going to places that were sublimating the pain into a dark but beautiful place. I'd go on little road trips in my mind, into magical places, because it was cathartic."
Khan is a big believer in transforming difficult experiences into art. But there's a limit to what that can achieve. "A lot of creative people, their art comes from pain or trauma, and that's a beautiful thing because that drives you to make something. But I think at the point that it becomes self-sacrifice, or you're compromising your normal life for the art, that can become a dangerous place to be. You become a slave to the pain, because you need to fuel that drama."
When she came to make this album, she tried to make sure that didn't happen. "Maybe I've got over having to suffer so much for my art," she smiles, "and decided that other aspects could see the light of day." It helped that she was falling in love. On the glam rock "Kids in the Dark", she sings, her vocals light and wispy, "Lying next to you, I wanna live for two".
For most of our conversation, Khan has credited her dog Janice with "breaking my heart open", proudly showing me a picture of her in a Santa hat, and recalling their first meeting as tenderly as you might a love affair. It takes a while for her to admit that a human relationship had a hand in that, too. "Falling in love is one of the most liberating experiences," she says, "because momentarily, you're taken out of everyday life and everything feels new. It's very heightened, turned on… all your nerve endings are on fire. Falling in love is a dangerous, addictive, chemical-fuelled time, and that definitely fuelled the romance and headiness of the album. I've fallen in love before and it's been quite painful and difficult, but this time it felt really optimistic and romantic and sweet."
The 35 best debut albums of all time

Show all 35
The worry for Khan, was that the fire would eventually stop burning quite so brightly. "At some point, things have to settle down," she says, "and I thought, 'Oh my god, maybe it'll be boring, or maybe it'll be s***,' but I've worked out that it doesn't have to be extreme and dramatic. You can settle down into a pace that's manageable, and a deeper love comes out of that. It's more subtle and it's enduring, and it's a daily devotion to the task of creating or loving."
Khan likens this tug of war between wildness and normalcy to the story of the Selkie – a mythological Celtic creature who can transform from seal to human form by shedding her skin. In one particular tale, a Selkie woman comes onto the shore and has her pelt stolen, so she can't return to the sea. "After seven years of being a wife and mother, she gets all dried up and starts to die," says Khan, "and she needs to go back into the water. The normal, the everyday, the subtle, nuanced stuff, that's great, but you need a bit of excitement and creativity. You periodically have to dive into the deep water and be free, and be this wild animal with your fellow creative souls, and recognise who you are on the deeper level, in order that you can go back and be a good friend or lover or daughter."
The Selkie story, she concludes, "is something I live my life by. If you stay in either world for too long, you'll die. So it's just noticing, when do I need to jump back in the water?"
Lost Girls is out on Friday
Join our new commenting forum
Join thought-provoking conversations, follow other Independent readers and see their replies