Why Beach Boy Mike Love won't give up the game at 76
The Beach Boys are back in the UK soon. Founder member Mike Love talks to The Independent about the band's long and tangled history, the dark side of the Sixties dream and whether Scarborough could really pass for California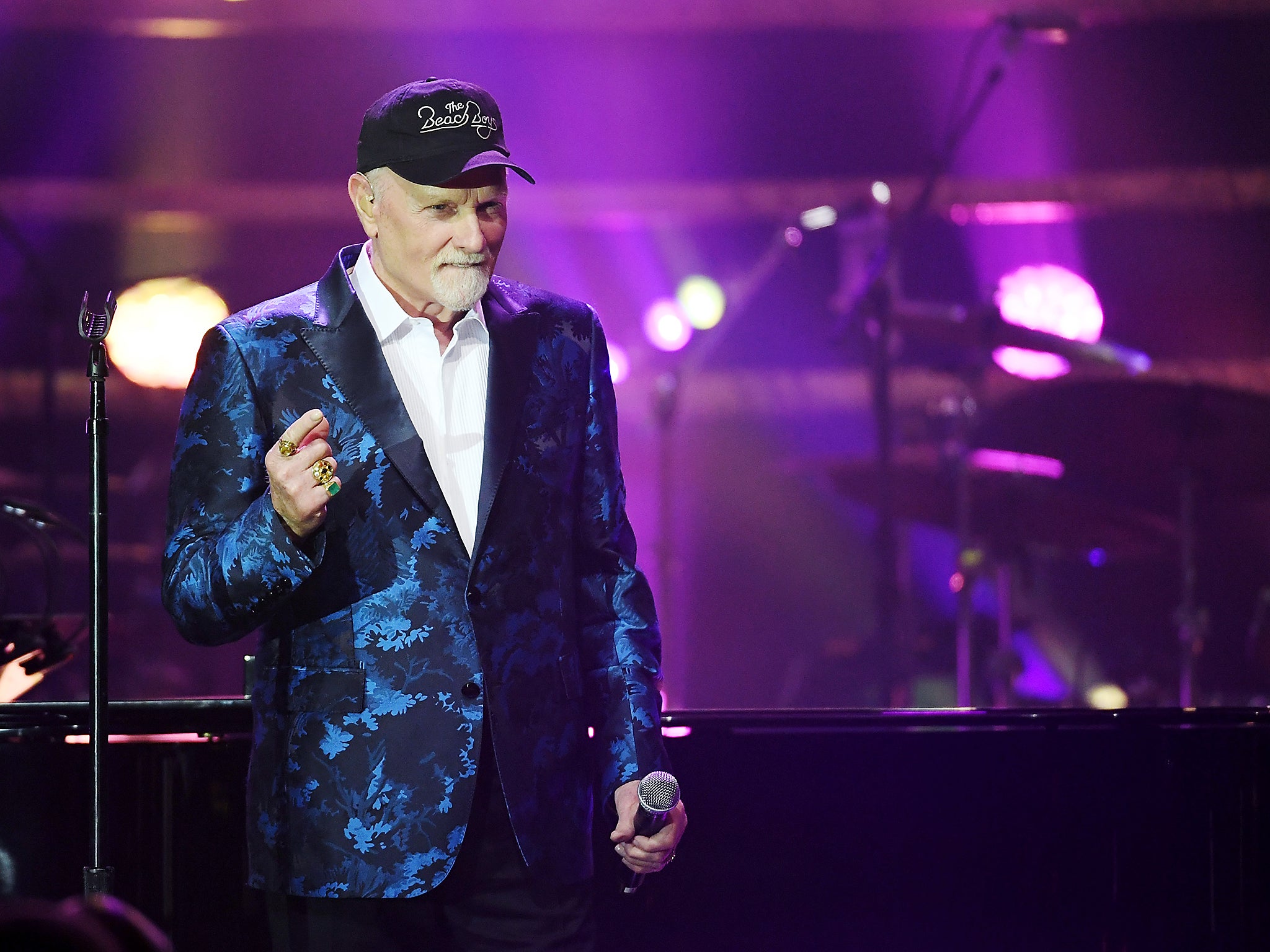 "You'll love Scarborough," I tell Mike Love. "The North Yorkshire coast is like Britain's answer to California."
Love, recently turned 76, and one of the founder members of the Beach Boys, pauses for a heartbeat. "Is this British sarcasm?"
Well, it is, but fondly. Besides, Love needs no convincing. The Beach Boys have a string of UK gigs in May that takes in the Albert Hall in London as well as Glasgow and Dublin, but he's especially excited about Scarborough.
"We have a few days off after Dublin and I'm looking forward to hanging out in Scarborough, having fish and chips at the seaside. It should be beautiful."
The Beach Boys epitomise the Sixties. They were formed in Hawthorne, California, in 1961, by the Wilson brothers – Brian, Dennis and Carl – and Love, their cousin, along with schoolfriend Al Jardine. The numbers are impressive: 80 worldwide chart hits, 36 US top 40 records, unforgettable songs such as "Wouldn't It Be Nice?", "God Only Knows", "Surfin' USA", "Good Vibrations".
The Beach Boys you'll see on their UK tour are not necessarily the Beach Boys of your fathers, though. The current line-up is led by Love and Bruce Johnston, who joined the band in 1965 primarily to take the place of Brian Wilson, who wanted to eschew live performances to spend more time in the studio.
In fact, the history of the Beach Boys is as tangled as their early songs were simple, joyful evocations of the ideal summer. The very genesis of the Beach Boys lay with Love and Brian, who performed together at high school in Hawthorne, before forming the band they called The Pendletones. But while their music captured the imaginations of the executives at their first record label, Candix, the name didn't go down so well, and the story goes that when the band opened up their first box of complimentary singles they were rather taken aback to see they'd been renamed The Beach Boys.
The band evolved along with the Sixties, moving from the Southern California surfing anthems that gave them their initial identity on to 1966's seminal Pet Sounds album, then the ambitious and challenging period that saw them record "Good Vibrations" and Smile, the latter not seeing the light of day until 2011 after Brian decided he didn't want it released.
Over the years, The Beach Boys' line-up and leadership has been as tempestuous as the waves that crash on California's Newport Beach. Wilson broke his self-imposed live performance exile in 2011 for the first gig by the band in its original form since 1966; Love has the rights to the Beach Boys name and has been performing continuously since the Sixties. Their disagreements and spats have been publicly picked over in detail.

Enjoy unlimited access to 70 million ad-free songs and podcasts with Amazon Music
Sign up now for a 30-day free trial
Sign up

Enjoy unlimited access to 70 million ad-free songs and podcasts with Amazon Music
Sign up now for a 30-day free trial
Sign up
Does Love still see Brian? "He has his own life and his issues," he says carefully of his cousin, who has diagnosed mental health conditions, and is said to have suffered auditory hallucinations since 1965 due to drug use. "It's unfortunate, but Brian is on his own trajectory."
The 20 most ridiculous things superstar musicians have demanded at their concerts
Show all 20
In Love's memoir Good Vibrations: My Life as a Beach Boy, published last year, Love notes the sometimes god-like view which some music fans take of Brian Wilson, wryly acknowledging: "For those who believe that Brian walks on water, I will always be the Antichrist."
But there's no ongoing feud, he says, despite what people might like to believe. He sighs: "All that's what our President might call fake news."
If the Sixties began with the Beach Boys spreading light and joy through their surfing period, the time was also tinged with darkness – not just Brian Wilson's mental health issues stemming from drug use, but also a close call that Love himself had with one of the demons of the decade: Charles Manson.
Manson and his cult followers the "family" brought the Age of Aquarius to a bloody close in August 1969 when they broke into the home of pregnant actress Sharon Tate and brutally murdered her and four friends. It was the year before that when Dennis Wilson became enamoured of the charismatic Manson and introduced him to Love.
"It was bizarre," says Love. "Not a wonderful experience at all."
Dennis had picked up a couple of girls hitchhiking in California who turned out to be acolytes of Manson. He took them home and not long after Manson himself had practically moved in. Invited to an uncomfortable dinner at Wilson's home with the Manson family, Love extricated himself from the gathering and made to leave, but was chillingly told by Manson: "You can't do that. You can't leave the group."
Making some excuse that he had to be at the recording studio, Love fled. He remembers, "That was one of the darker moments of the Sixties. It was not a fun thing."
For Love, the Sixties is more epitomised by the time he spent with the likes of the Beatles, Donovan and Mia Farrow at Rishikesh in India in early 1968, at the retreat of the Maharishi Mahesh Yogi, the founder of Transcendental Meditation, which Love still practices today.
"It was a pretty fascinating time," he says. "There was a move towards spirituality among music stars at that time, a search for direction, and there were a lot of us out there. It really was a life-enhancing experience."
One might think Love is uncommonly excited about the UK tour for a guy who's just turned 76. Shouldn't he be thinking about kicking back a little, maybe chilling out with some Transcendental Meditation by the beach back in California?
"We love doing the live shows!" he says. "And people love coming to hear the Beach Boys. They can expect to come along and hear our songs exactly as they'd want to hear them. We replicate the sound from our records as close as humanly possible. We play pretty much anything you can imagine. I mean, last year was the 50th anniversary of 'Good Vibrations', of Pet Sounds, you're gonna hear 'Surfin' USA', 'Wild Honey'..." He trails off, almost as if surprised by the breadth of the band's own oeuvre.
Is Love much of an Anglophile? "Let me tell you, we first came to the UK in, I think, 1964. We love it there," he says. "We'll be playing some songs that were big hits here but didn't really do well in the US. One time we came here and they'd just published some poll about the UK's favourite bands. We were number two, just behind the Beatles and ahead of the Stones. I thought that was an amazing thing."
With two shows at the Albert Hall and arena dates in Glasgow, Dublin and Gateshead on the horizon, Love still seems charmingly taken with the idea of playing Scarborough.
For one thing, it's their only open-air gig, on 24 May, at the recently opened Scarborough Open Air Theatre. He's aware of the famous great British summer..?
"I hear there's a rumour going around that the next Ice Age is imminent over there," he laughs, and while a joke, it's no mere uninformed gag. His Love Foundation supports a variety of environmental causes and he has a strong interest in the issue of climate change. "Still, we've got the songs, now all we need is the weather."
And half a century on from their endless summer days, you really do get the sense from Mike Love and the Beach Boys that the surf is eternally up.
Join our commenting forum
Join thought-provoking conversations, follow other Independent readers and see their replies