The Countdown
The Beatles: Their 10 best solo albums ranked, from Flaming Pie to Imagine
Within the more than 60 and often deeply polarising Beatles solo records are a number of gems, writes Graeme Ross. Here, with at least one appearance from each of the Fab Four, are the 10 best
Thursday 16 April 2020 16:31 BST
Comments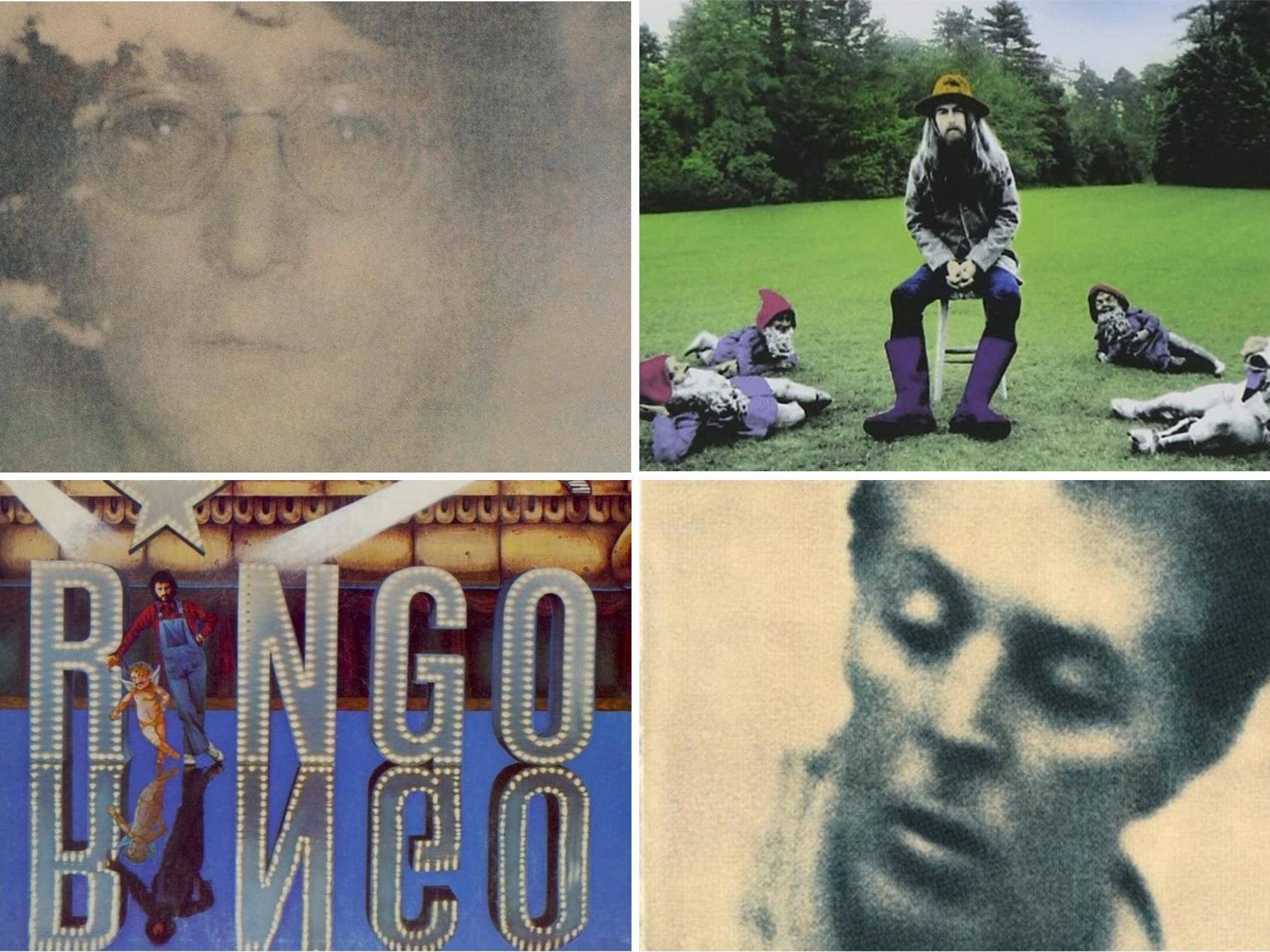 It was 50 years ago today that Paul McCartney's solo debut album was released, taking some of the shine off the impending release of The Beatles' final album Let It Be. The previous week McCartney had previewed a promotional copy of McCartney containing a press release interpreted by the media as McCartney announcing that The Beatles were no more. The split had been brewing for years and would become official in due course, although, at the time, McCartney took the flak and was typecast as the man who broke up the beloved Fab Four. Accordingly, McCartney was roundly slated by the critics.
The five decades since have witnessed over 60 studio albums from the four solo Beatles and to say that they are a bit of a mixed bag is an understatement. A handful have attained classic status, however, so here is my choice of the 10 best solo Beatles albums.
10. John Lennon and Yoko Ono – Double Fantasy (1980)
Released just weeks before his death and always much better than its indifferent reviews, Lennon's comeback alternated songwriting duties with Yoko. Inevitably, John's songs carry the emotional and long-lasting resonance, notably "Starting Over", "Woman" and "Beautiful Boy" (McCartney's favourite on Desert Island Discs), while "Watching the Wheels" eloquently reflects on his estrangement from the music industry.
9. Paul McCartney – Flaming Pie (1997)
Reinvigorated by his work on The Beatles Anthology project, McCartney released his first album in four years, a stripped-back affair recorded over a two-year period. With McCartney in magnificent voice, it was his best since 1982's Tug of War. "Calico Skies", "Souvenir" and the dreamy "Heaven on a Sunday" are just some of Flaming Pie's many highlights.
8. Ringo Starr – Ringo (1973)
Ringo got by with a little help from a dazzling array of friends on this huge commercial success. Lennon's sardonic "I'm the Greatest" is terrific and "Photograph", co-written with George Harrison, topped the US charts. As so, too, did his sparkling cover of "You're Sixteen", a song that sums up the feelgood vibe of Starr's finest solo outing.
7. Paul McCartney – McCartney (1970)
Largely scorned on release, now recognised as a lo-fi classic, Macca's home-made debut was all his own work. McCartney's unpolished gems include "Junk", "Maybe I'm Amazed", one of his most personal, heartfelt and greatest songs, and the soulful "Every Night", which gave some inkling to McCartney's state of mind amid the messy Beatles break-up.
6. George Harrison – Living in the Material World (1973)
A worthy follow-up to the triumphant All Things Must Pass found George attempting to reconcile his superstar status with his inner spirituality. "Give Me Love (Give Me Peace on Earth)" was a US No 1 and "Be Here Now" and "Don't Let Me Wait Too Long" exemplify the uniformly high standards of musicianship throughout.
5. Paul and Linda McCartney – Ram (1971)
Reviled by contemporary critics ("the nadir of rock", roared Rolling Stone's Jon Landau), Ram has long since been rehabilitated. A homespun quality reflected McCartney's domestic bliss down on his farm with Linda. Fine rockers such as "Smile Away" sit easily alongside the fabulous time changes of "Uncle Albert/Admiral Halsey" and melodic beauties "Heart of the Country" and "Back Seat of My Car".
The Beatles' studio albums ranked in order of greatness
Show all 12
4. John Lennon – Imagine (1971)
The omnipotence of the utopian title track can't quite overshadow the excellence of the rest of this very personal album. "Jealous Guy", "Oh My Love" and "How" rival "Imagine" for accessibility, but Lennon was also brutally direct on "How Do You Sleep?", a notorious and mean-spirited attack on McCartney.

Enjoy unlimited access to 70 million ad-free songs and podcasts with Amazon Music
Sign up now for a 30-day free trial
Sign up

Enjoy unlimited access to 70 million ad-free songs and podcasts with Amazon Music
Sign up now for a 30-day free trial
Sign up
3. Paul McCartney and Wings – Band on the Run (1973)
Five albums into his post-Beatles career, McCartney reasserted his genius, returning to classic Macca pop hooks and fantastic guitar driven rock. The marvellously propulsive "Jet", "Picasso's Last Words", and the ebb-and-flow title track rank among his finest achievements, but there's barely a misstep on a record that emphatically restored the artist's critical stock.
2. John Lennon – John Lennon/Plastic Ono Band (1970)
On his disturbing, compelling, cathartic masterpiece, Lennon bared his soul in public like few artists before or since. Harrowing opener "Mother" addressed his troubled childhood. "I Found Out" and "Working Class Hero" are wearily cynical, "Love", achingly affecting. "God" details Lennon's disillusion with the era's sacred cows, concluding with The Beatles ("The dream is over").
1. George Harrison – All Things Must Pass (1970)
The Beatles break-up allowed Harrison to grow musically and his magnum opus revealed his bounteous gifts. "My Sweet Lord", the moving title track and "Beware of Darkness" are perfect summations of Harrison's spirituality, while "Isn't It a Pity" became a standard. The youngest Beatle had produced an album for the ages that filled the yawning chasm left by The Beatles' demise.
Join our commenting forum
Join thought-provoking conversations, follow other Independent readers and see their replies