The Independent's journalism is supported by our readers. When you purchase through links on our site, we may earn commission.
Beez interview: 'I believe in making things the best they can be, and if that means fighting for it, then I'll fight'
The ex-Scuzz TV presenter and music journalist talks about his ostracism from the music press and bouncing back with a new DIY endeavour, the That's Not Metal podcast.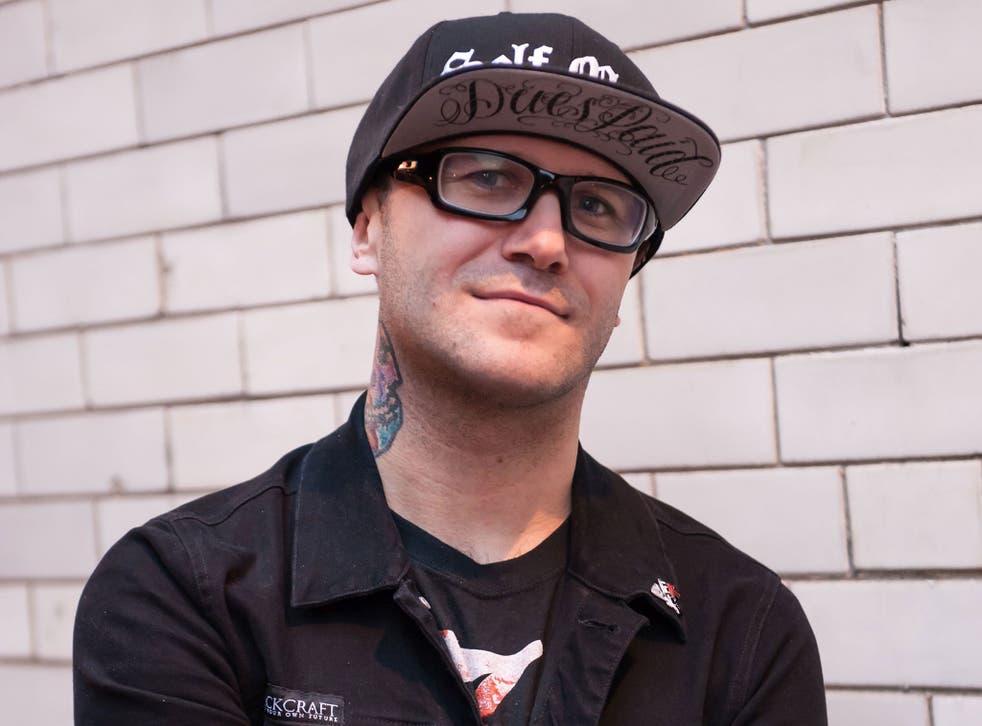 It's obvious from the very moment that I encounter Beez that he is a devoted and passionate fan of everything rock and metal. His enthusiasm is infectious and his passion for music isn't neutered in the slightest when you meet the man in the flesh. His mile-a-minute-motor-mouth has given him a reputation amongst rock fans, loved by some, loathed by others, but those who come across him and his work are sure to have an opinion one way or the other. "If I'm in a room full of people, you'll f**king hear me!" he quips. "Thank f**k you don't meet many people like me!"
On the surface, Beez's career has been a non-stop whirlwind of incredible triumphs, writing for esteemed publications such as Metal Hammer, RockSound and Kerrang!, hosting The Pulse on TeamRock Radio and, most prolific of all, being a presenter of Scuzz Meets… and The Lowdown for Scuzz TV. All the more surprising then that he's recently announced that he's quit the music industry, starting a completely independent DIY Podcast, with co-host and Metal Hammer scribe Stephen Hill called That's Not Metal, (a tongue-in-cheek reference to some of the more elitist attitudes that sometimes pervade in the world of Heavy Metal).
The show pulls no punches and is unafraid to cuss out the darlings of the mainstream rock press (Def Leppard, Iron Maiden and Trivium have all received drubbings in the podcast's first few weeks) whilst at the same time shining a light on the very best that the underground rock and metal scenes have to offer. "We're different to everything else, we're not about commercialism. The dream with That's Not Metal is simply to talk about music that we think is good! As two dudes, we represent the people that buy Download Festival tickets and I think that's why That's Not Metal has taken off in the way that it has. It's a bulls**t free-zone."
The podcast has indeed taken off … in a big way. The first episode debuted at No.1 in the iTunes Music Podcast Chart and at No. 11 in the British iTunes Podcast Chart, a stunning success for an underground DIY production. "We get 10,000 people listening every week. We launched 10 weeks ago. That's f**king outrageous!"
Terry David Bezer was born in July 1983 and grew up in Plumstead, south London, son to a school teacher and a lorry driver. His childhood ambition was to be a football commentator but that quickly changed once he got his hands on a copy of Metallica's 1996 album Load, a controversial record due to the world's largest metal band diving head-first into the murky depths of hard rock and blues. "It totally changed my life! The heart of everything that is Rock 'n' Roll is routed in rebellion. I got into Metallica at a time when the metal community had kind of shunned them. It's sown the seeds for what I do today." It's a fitting album for Beez's initiation into the world of rock and heavy metal; he has never been afraid to champion the bands and records that people 'shouldn't' like, music with integrity, heart and soul rather than flavour of the month acts chasing trends. "My job," he beams proudly "now and forever, is to give the disenfranchised audience a voice."
His first foray into music journalism was a work experience placement at Metal Hammer in the late nineties, a time when the music press was flourishing. "There were a lot of brilliant people there. I thought 'This is it! This is what I want to do.' So I set about making my path there." Studying media at college, he picked up "little things here and there" but his real education came from buying copies of Kerrang! and Metal Hammer every week and month, "because they were f***ing outstanding magazines at the time." He got his first break in the music industry writing for the website Drowned in Sound. "I was their metal guy, I would cover everything from Tool to Weezer to Alien Ant Farm." A chance meeting at Reading Festival with the editor of Metal Hammer eventually led to Beez getting a freelance position with the magazine in 2002. "It was a different world back then. I was young, wide-eyed and rock still had a really prominent place in the wider musical landscape."
But much has changed in the musical landscape since 2002; we now have generations of music fans that don't ascribe any monetary value to music due to the prominence of streaming and piracy. Instead, bands make money (if they can make money) from touring and selling merchandise. The fact that many bands refer to themselves (only half-jokingly) as travelling T-Shirt salesmen, shows how desperate the situation has become in 2015. Alternative culture has been watered down, commoditised and packaged. Tattoos, neon-bright hair, disdain for government and those in authority have become commonplace within western metropolitan cities. It begs the question, what's the alternative to the alternative? "I had an interesting chat with Billy Corgan where he said 'alternative culture has been washed away. It's become so mainstream; it's not the alternative to anything. It's just a word.' That got me thinking "We will be the alternative."
Beez is absolutely adamant that the modern music press is a contributor to the erosion of alternative culture. "In the press, rock music is bottle-necked. It's the same bands, going on the same covers, of the same magazines. It's the same festival-head liners playing the same festivals, year in, year out. Yesterday's ideas, yesterday's ideals and yesterday's methods. The people at the top of the music press are like monkeys holding a Nintendo64 cartridge and banging it against a Playstation4 wondering why the game won't start! The audience isn't there, so the press have to chase money from advertising, which involves keeping everybody happy. That leaves you with a spineless press, who aren't willing to be honest when it comes to the big releases. I've put in album reviews for big records where I've said they were s**t, and those reviews have been quietly pulled and replaced with a lovely 8/10 review. Its bulls**t and the fans are sick to the back teeth of it. This isn't just a bitter ex-music journalist sitting here screaming and shouting, kids are f**ked off with it too, that's why they're not buying magazines anymore!"
These pressures that are endemic within the music press to get hits or sell copies is dictating which band's music journalists write about; do you play it safe and write about an established act or do you take a punt and give an exciting new band a chance? Beez says that writers often don't even get that choice. "There are too many people on editorial teams being forced to write about bands that they don't believe in. I'm too passionate about this music to feed people lies, it's not my style." Many will have first discovered Beez's no bulls**t approach to the music he loves through The Metal Hammer Podcast, which was essentially set up as a means for Beez and his then co-presenter, James Gill, to go down to the basement of the magazine's headquarters once a week and record their frustrations. "We used to say things that were in direct opposition to what the magazine was saying. No one at Metal Hammer paid attention to it. That was how we got away with the things we got away with."
Enjoy unlimited access to 70 million ad-free songs and podcasts with Amazon Music Sign up now for a 30-day free trial
Sign up
It couldn't last forever though and Beez pinpoints the moment that the magazine started to pay attention when he questioned Sonisphere Festival's decision to put drum & bass rock hybrid sextet Pendulum on as main support to old-school heavy metal veterans Iron Maiden. "Have you ever met an Iron Maiden fan? They don't like drum & bass!! That's f**king insane! It was very light-hearted but the Sonisphere people took umbrage and took it to my publisher. They took me to the pub at lunchtime and I got chewed out. So yeah, it became a bit of a bummer from there, I think that incident was where I felt it was time to leave Metal Hammer."
After a brief stint at Rock Sound magazine, Beez was asked to become a presenter for Scuzz TV. "I wanted to bring back that MTV Headbangers Ball vibe, really well thought out programming, because we care about music. We don't just want to see videos on a loop, we care deeper than that because we're rock fans and we want to know the ins and outs of everything. So that became The Lowdown and Scuzz Meets ..." Despite his successes with Scuzz, he was enticed away for an appealing new opportunity. "I left for what was an exciting project at TeamRock. I was invited to their open day, where they were showing people what the business is and what it's going to be. I got made some promises by a guy who doesn't work there anymore. They were like estate agents. You could never believe what they said unless you'd seen it with your own eyes. When those promises didn't bear out, they didn't know what to do with me. They effectively left me in the basement for 2 years. I didn't know what I was gonna do. I felt like I'd become some sort of f**king clown within the industry. I believe in making things the best they can be, and if that means fighting for it, then I'll fight … and people don't like that. They just want you to wipe your chin and walk away."
Choosing not to renew his contract with TeamRock, Beez was left with no job in the music industry, amazing considering that two years previously, he had been the face of Scuzz TV, the most dominant form of Rock television in the UK. "I went through extreme depression, I wasn't going out anymore. People who know me as a happy-go-lucky bloke suddenly thought I was an asshole because I was angry and miserable all the time. I wasn't getting out of bed every day until 3 in the afternoon and even then I was only getting out of bed to make my misses feel like I'd been doing something. I stopped going to shows, which, if you know anything about me is totally unnatural because I live this music. I didn't want to feel washed up at 30 when I still had so much more to give! I needed to do something, so I started making YouTube videos in my living room. That renewed my hunger and it got me thinking that I really wanted to bring the podcast back."
Beez turned to Stephen Hill, who in a slightly bizarre twist of fate, had been his replacement when he left The Metal Hammer Podcast. "I wanted to work with someone who shared my feelings about the music, if not the business. He's barre-none the best person I have ever worked with in all of the years I've been doing this. He's the Hetfield to my Ulrich, he's borderline genius at times and he doesn't even know it. I promise you, the highlight of my week is when he turns up on a Thursday morning and we record it."
And so That's Not Metal was born, becoming an invaluable source and celebration of music that doesn't follow fashions or trends, but can enrich lives and inspire new generations of emerging musicians. Its enormous success in a relatively short space of time serves as a triumph for passion, integrity and honest opinion. Hill and Beez have now taken the format further and set up That's Not Metal premium, an annual subscription service that gives members access to bonus bi-weekly podcasts that focus on rock and metal's rich history (bonus podcasts so far have focused on the likes of Beastie Boys/Red Hot Chili Peppers/Johnny Cash producer Rick Rubin and world-famous hard rock and metal label Roadrunner Records).
"My role on That's Not Metal is to be your mate at school who's got a bigger record collection than you...and I want to tell you about it! That's the thing that I get the most joy out of. I'm really proud of That's Not Metal, I'm really proud of what we stand for. We're the opposition to the mainstream rock press. All we need is more ears. I believe that all people need to do is hear what we're doing. I really believe they want it just because of how passionate our audience is about this show. There is power in a union that union is us and our audience, we are a change and we are a seismic change. I'd love That's Not Metal to have an influence on mainstream music rock media because I want them to be better. If they're better, then rock is in a better place."
The That's Not Metal Podcast goes out every Friday and is available on iTunes and Soundcloud. Hill and Beez will be announcing their Top 20 albums of all time at the That's Not Metal Xmas Party, at The Black Heart in Camden, London on Monday 7th December.
Register for free to continue reading
Registration is a free and easy way to support our truly independent journalism
By registering, you will also enjoy limited access to Premium articles, exclusive newsletters, commenting, and virtual events with our leading journalists
Already have an account? sign in
Register for free to continue reading
Registration is a free and easy way to support our truly independent journalism
By registering, you will also enjoy limited access to Premium articles, exclusive newsletters, commenting, and virtual events with our leading journalists
Already have an account? sign in
Join our new commenting forum
Join thought-provoking conversations, follow other Independent readers and see their replies