Belle & Sebastian interview: Stuart Murdoch reveals how the band is taking a new direction
Twenty years ago, Belle & Sebastian was a fey indie band from Glasgow. It still is – except today, as prime mover Stuart Murdoch admits, it has a global cult following, from Hollywood to South Korea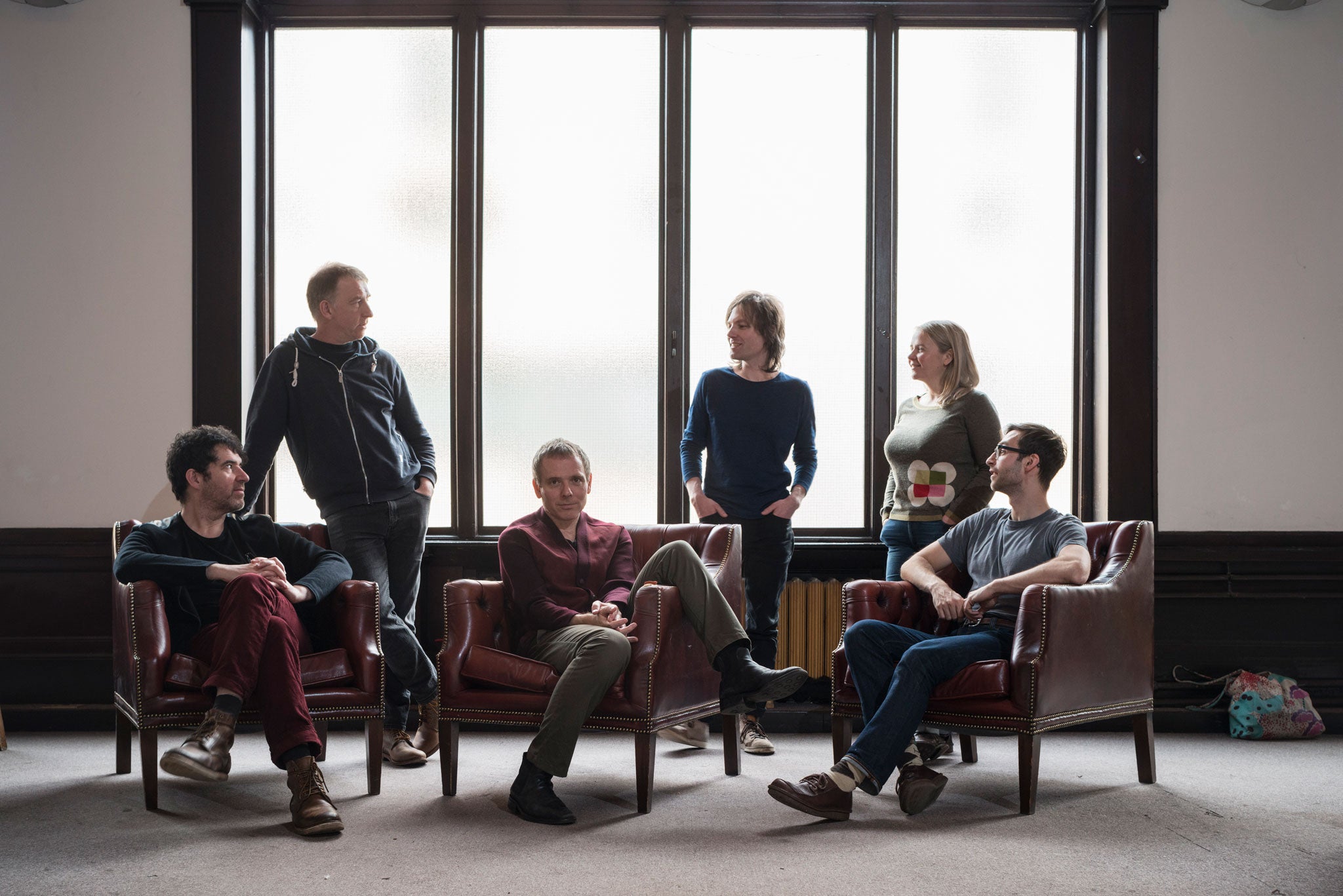 Stuart Murdoch's muse has spoken. "She says be popular, play pop, and you will win my love," he sings on "The Everlasting Muse", a track from Belle & Sebastian's new record, Girls in Peacetime Want to Dance. It's the Glasgow-based indie outfit's ninth – and their strongest in some time. And the rumours that the feyest band in Britain has embraced dance music weren't entirely unfounded.
"I like to dance. We all like dance music," says Murdoch, the band's frontman and songwriter, when we meet for a cup of tea in Glasgow. "But we've probably been seriously incapable of expressing that before now. Now we're just really relaxed – you just have to let your inner dance come out."
But fear not: the whimsical lyrics and jaunty tunes Belle & Sebastian are known for are all present and correct. They may write a bouncing, synth-led song, but it'll still be about hanging out with a dead poet (see "Enter Sylvia Plath").
Over their 20 years, the band has built a community of dedicated followers the world over – and of all ages. Go to a gig or festival (they've headlined Latitude, Green Man and Pitchfork in recent years), and there will be 17-year-olds with flowers in their hair at the front and fans three times their age singing along at the back.
Belle & Sebastian are big in the US, too – playing the Hollywood Bowl big – where their Scottishness lends a certain exoticness, apparently. "It seems crazy, but I suppose that if you're from LA, a bunch of corduroy-wearing people from Glasgow is a bit exotic," says Sarah Martin, violinist and singer-songwriter. They even recently played at the request of the US ambassador in London; Robert Peston sang along.
An army of cultish fans voted so furiously at the 1999 Brit awards that the then little-known Belle & Sebastian ran off with the Best British Newcomer gong. They chat to the band on their website, obsess over rare records, go to dedicated club nights and even – as for the new single, "Nobody's Empire" – send in home-movie footage to be used in videos.
But why does this cardigan-wearing collective inspire such devotion? "There was an empathy right off with a certain bunch of people. As we were recording Tigermilk [their debut, 1996 album], I knew it was going to have a certain audience – and I know that seems a rather arrogant thing to say, but I just felt in my heart that we were going to connect. And we did," says Murdoch.
Discovering their music is also almost a rite of passage for a certain type of twee teenager or sensitive student. People grow up with Belle & Sebastian; I certainly did. Their third album, The Boy with the Arab Strap, still reminds me of doing GCSE art coursework, while "Get Me Away from Here, I'm Dying" is dancing around damp student houses. Fans have their own favourites, fiercely guarded.
"A lot of people at our gigs are in their late thirties, forties – but there are a lot of teenagers as well, which is quite fun," says Martin. "We're in a lot of films: someone taking out a Belle & Sebastian record is shorthand for a rounded stereotype. But it's nice if you're a cultural signifier in some way. The first time we heard we'd been played in the café in EastEnders, [lead guitarist] Stevie [Jackson] was delighted!"

Enjoy unlimited access to 70 million ad-free songs and podcasts with Amazon Music
Sign up now for a 30-day free trial
Sign up

Enjoy unlimited access to 70 million ad-free songs and podcasts with Amazon Music
Sign up now for a 30-day free trial
Sign up
Bring part of the "cultural background noise" also helps a new generation discover music, creating a self-refreshing young fanbase. "Sometimes you wonder where they come from…" muses Murdoch. "Quite a lot are sons and daughters – whole families come along [to shows], which is nice. I guess we've benefited from the internet in that way: music does get handed down, and we are still going."
Since their debut (actually conceived as a music college assignment), Belle & Sebastian has had several line-up changes, losing founder members Stuart David and Isobel Campbell in 2000 and 2002 respectively, and brass player Mick Cooke in 2013. Today, Murdoch and Martin are joined by guitarist and singer-songwriter Jackson, keyboardist Chris Geddes, bassist Bobby Kildea and drummer Richard Colburn. If the band's gestation wasn't easy, these days they're k a grown-up gang, completely at ease with each other. "It's become more focused, I think," says Martin, observing that Campbell and David were "such powerful characters, and that's why they have their own [musical careers]. The rest of us are just natural side-men!"
That's a modest way of putting it – but it's fair to say that Murdoch is the visionary force. He takes the photographs for their cover art, comes up with song names (he keeps huge lists of potential titles, just for fun), and writes most of the lyrics.
The new album is their most pop tune-stuffed yet, with a big, shimmering, expansive sound which has been winning them rave reviews. ("Another win for the lit-pop faithful," said this newspaper's Kevin Harley last week.) That's due in part to new producer Ben H Allen, who has worked with bands from Animal Collective to Kaiser Chiefs – but this new, groovy path didn't always run smooth for Murdoch: "I had a few bumps along the way; I freaked out a few times. And Ben said that that's OK, sometimes you need to see where the passion is."
Even if the new record has a pumped-up sound, it still has at its heart Murdoch's distinctive lyrics, written as various invented characters. "I did that very naturally back in the day, and some of the characters were me even if I didn't realise… but these days it's definitely a [device] I use. Especially after the film."
That film was Murdoch's first movie, God Help the Girl, released last year, an indie musical about kids who form a band in Glasgow – obviously. "These characters came along and lived with me and spoke in my head – that's how I wrote the script. So I find [songwriting in character] quite easy to do, it's a pleasure."
It's most notable on two songs on Girls in Peacetime… that offer a take on modern politics through the eyes of young women. It's an interesting choice for a 46-year-old man, but Murdoch asserts that a middle-aged bloke singing about coalition politics probably wouldn't work: "Billy Bragg could do it – I can't.
"It was after the 2010 elections and I was thinking about how there was a massive crash and [yet] nothing had changed. So I wrote 'The Cat with the Cream', but I actually only started when I imagined myself as a younger person, what she thought of the political situation. If you can imagine a very naive character and what they feel about things, that translates very nicely to pop." Another track, "Allie", is about a teenager whose perception of a troubled world turns inwards: "When there's bombs in the Middle East/You want to hurt yourself/When there's knives in the city streets/You want to end yourself."
Cheery stuff. But, Murdoch insists, he doesn't really write negative songs – and listening to the new album, the words that leap out repeatedly are light, hope, faith. Even in the meandering melancholy of the record's quieter moments there's always a glimmer of light; it is optimistic, I suggest. "It's got to be!" Murdoch replies energetically. "Or I'd get too depressed myself. And of course it's streaked through with my spirituality – no one ever mentions that, no one talks about that, but it's in every song."
So let's talk about it. Murdoch is a practising Christian; he found a personal faith at the exact same time he found songwriting. At 19, he began to suffer from ME; at his lowest ebb two years later, he started tentatively playing the piano. The songs just came to him – as did a rush of spiritual awareness. It's an experience he chronicles on the new song "Nobody's Empire", an unusually autobiographical track.
"Everything else material had dropped away – friends, work, university; there was nothing. And I just realised there was more to life than what we see around us, and that happened while sitting at the piano; I just felt this sense of eternity or something. Not to be too naff about it, but a sense of a life beyond this."
It's not surprising, then, that his faith should be bound up with his music. "I'm not so crass as to think I could get on my knees and pray for the next hit to come along." He stops and giggles at the thought, before adding, more seriously, that music is a "beautiful way" to express his spirituality – "a way for me to really get it out there, without getting into a pulpit. Which I would quite happily do! But I feel you need more energy to get into a pulpit than I have."
Murdoch still suffers from chronic fatigue – which makes you wonder how he manages a career as international pop star and film-maker, not to mention recently becoming father to a little boy, Denny. "Because I've had ME for so long, I don't get into anything rashly. I can't even go for an evening out without planning. So, you don't get into the kid thing without all sorts of contingency back-up."
Despite his health struggles, he's also keen to up the game for Belle & Sebastian's live shows. "I was going to big rock shows and I was thinking, this is really boring," says Murdoch. "And if I find this boring, then people must find our shows boring. I should do something about that."
Their upcoming tour will thus feature, for each song, a film projection that is halfway between a music video and interpretative dance. And the band is determined that future shows should involve their fans more. They already often bring a few (conveniently young and attractive) fans on stage to dance; Murdoch's plan would be to prep some beforehand so they're in costume, on tiered staging behind the band. "We wanted to have maybe 100 people up there, a 'Ready, Steady, Go' vibe! But it was too expensive – maybe it's something we'll work up to," says Murdoch wistfully. However long it takes, Belle & Sebastian is likely to have no shortage of willing volunteers.
'Girls in Peacetime Want to Dance' is out now on Matador; Belle & Sebastian will tour the UK in May (belleandsebastian.com/live-dates)
Join our commenting forum
Join thought-provoking conversations, follow other Independent readers and see their replies