Benjamin Booker interview: 'I think it's important for people to have death on their minds - to realise this is it'
American artist discusses his new album 'Witness', religion, gospel, and how he broke out of the hedonism of New Orleans
Roisin O'Connor
Friday 01 September 2017 12:10 Comments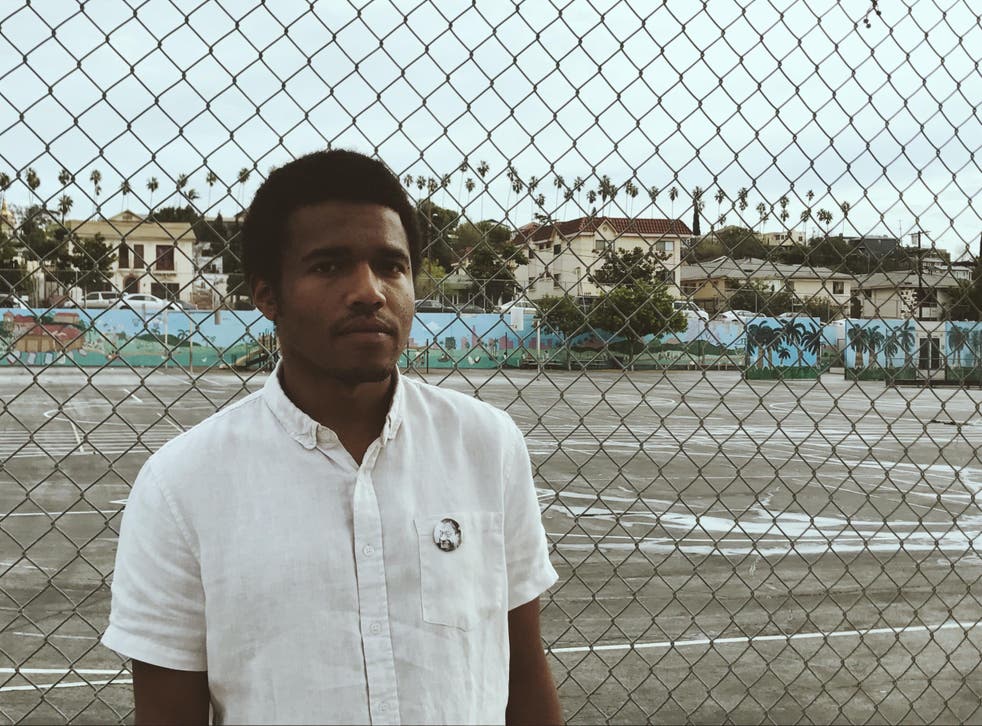 "Hit me, let's get these questions going!"
Benjamin Booker is raring to go. He just stepped off the stage at NOS Alive Festival in Lisbon, Portugal, where he performed tracks off his second album Witness.
"We've been having a good time," he beams. "I've got a new band, playing with new people is exciting. Everything has been great."
Booker, 28, sings with an understanding of mortality far greater than most people his age – his music recalls the likes of Tom Waits, Leonard Cohen, Bob Dylan and Blind Willie Johnson.
With a few near-death experiences under his belt, including being shot at while he was riding his bike to a party in New Orleans, he's learned to think about "the important things".
"That's definitely a part of the album, what's important to me, and what I am going to do about it," he says.
"I remember watching a Dylan documentary that I've seen so many times, No Direction Home, and they were talking about how when you watch him it seems that he has this understanding of life that other people don't have. Of the moments that matter, and how there's no reason to be fearful of the stuff that people worry about, because none of it matters. It's something that I'm learning, now."
Witness was recorded with producer Sam Cohen – "one of those people who can do anything," Booker says – who studied at Berklee, one of the most prestigious music schools in America, and brought in gorgeous, summery psychedelic tones on the record that balanced out its darker themes.
"He [Sam] understands how to connect with people," Booker says. "There were a couple of moments when he said 'let's just feel it out' on a song and that was crazy to me, it was scary, but I feel like I'm now way better at singing, playing guitar, writing, all those things, just from working with him. It changed my life."
After the shooting incident, Booker packed everything up and headed to Mexico for a month, spending days in silence, enjoying the temporary peace. It conjures up a rather wonderful "outlaw" image of Booker: travelling on his own with his guitar slung over his back, not really sure where he was going or why.
Enjoy unlimited access to 70 million ad-free songs and podcasts with Amazon Music Sign up now for a 30-day free trial
Sign up
"Musicians are very naturally curious people. When I'm in an environment where I don't speak the language, that's very exciting to me," he says. "That was the problem with New Orleans I think, I'd spent about a year after we toured in the same place, not doing anything during the day, and I was miserable. And after Mexico, I wrote the new record in a month.
"New Orleans is a pretty dark city. People go there to party and have a good time, but I think if you spend time there you see what's happening. It's got a poor education system, it's a bunch of people who are working in the service industry – that's basically the only thing people do – and they have nowhere to go."
"Right On You", the first track on Witness, is one of Booker's favourites to play live, and is drawn from the hedonistic experience of living in a city like New Orleans. It also includes one of the most powerful lines on the album: "Death is hard to imagine."
"For a long time I think that's what I thought living life was, if someone called me at 4 in the morning and said, 'Meet me here', I'd be like, 'Yes'," he says. "That was the life I was living for a long time. But I was in a daze, missing stuff, the things that were important.
"So that's why it's enjoyable for me to play that song – it sounds very morbid but I think it's important for people to have death on their mind all the time, to realise that 'this is it' – there's nowhere else."
Raised by a strict evangelical family in Virginia, Booker discovered a fascination with gospel music and its ability to evoke the strongest emotions in people, to heal people's pain. "When I was a kid, I wasn't super happy, but listening to records I could go wherever I wanted."
"There's nothing more powerful than people who feel like they're singing to their god," he adds. "It's not something that I believe but it's something I try to translate into my music, and it's what I grew up with, so that is the palate that I'm working with. To get the energy you feel from being in church for four hours where people are playing music and praying."
This interest in music that draws a certain kind of energy out of the listener would later draw him to a podcast about Moroccan Gnawa music, where the beat continues for hours at a time.
"People pass out, they dance, they lose their minds, and it becomes this spiritual, transcendental experience. We don't have songs like that, but when we're playing, I'm trying to get to the place where I was when I wrote the song, and get the audience to go there with me," Booker explains.
Mavis Staples sings on the chorus for the title track "Witness", which is darker, more serious in tone than other tracks on the album, but not "preachy", as Booker puts it.
"I don't think you can beat people over the head with that kind of stuff. I like people like Bruce Springsteen – you listen to 'Born in the USA' and it's got this party vibe but when you listen to the lyrics it's actually really dark. It's important to me for a song to be more than the vibe. Maybe you'll listen to the album 20 times and just dance, but on the 21st listen they'll start to think what the song is actually about."
I ask him about the new music he's listening to at the moment and he says serpentwithfeet – an artist I love – who makes visceral examinations of sexuality and masculinity in an exquisite, theatrical melding of R&B, funk and neo soul.
He does a double take: "Do you know him?! You don't know him. What?!
"If I could sing like anyone, that is what I would want to sound like. I would die to see him live. He went on tour with Perfume Genius, another artist I love – they're not ashamed to talk about these emotions, but they're not exploiting it.
"That's what I try to do in my music, put yourself into it, in a way the audience hasn't seen before. Some of the stuff serpentwithfeet says is pointing to what it's like to be a black gay man, and all of the shame and the guilt that can come with it. But you have both sides – the person he's with going through these things… but he's not that person, he seems like someone who's very confident, and that complexity in his music is very special."
Booker has some dates scheduled in the UK when he kicks off a tour in September, that begins in the US and finishes at the University of London Union (ULU). He hasn't heard of anyone performing at ULU apart from Patti Smith, and if it's good enough for her…
"I saw her do Horses in full at Electric Lady Studios – Michael Stipe was in front of me losing his mind," he recalls with a grin. "Just Kids is my favourite book of all time – I think it's good for musicians.
"Reading that was so helpful to me, because it's tough when you start out – you're playing shows with literally nobody there, living in bad conditions, can't pay your bills. And then you read about Patti Smith, and you're like, 'It's gonna be OK'. For her it was about the music."
Fans might be clamouring for visual accompaniments to his music but Booker is reluctant to put out music videos just for the sake of it. He only wants make them if they truly contribute something to the music.
"Playing music, it's like expected of you to put out a music video. I just hate it, I don't wanna do it. The industry's just doing the things they think you're supposed to do – put out an album, put out a music video. So I'm always fighting that, every single day, this is like old man s***."
"You're constantly struggling because there's the business side, and no matter what they're saying, they're there to make money. So they'll never want to try something new because they think they know what works.
"Taking risks is what art is, and the people who do take risks are the most exciting."
'Witness' is out now. Booker plays Manchester and London on 13 and 14 November, respectively.
Register for free to continue reading
Registration is a free and easy way to support our truly independent journalism
By registering, you will also enjoy limited access to Premium articles, exclusive newsletters, commenting, and virtual events with our leading journalists
Already have an account? sign in
Join our new commenting forum
Join thought-provoking conversations, follow other Independent readers and see their replies