Benjamin Clementine: From barefoot busking in Paris to being compared with Nina Simone
Why is his world still such a dark place? Oscar Quine finds out
Oscar Quine
Tuesday 31 March 2015 06:05 Comments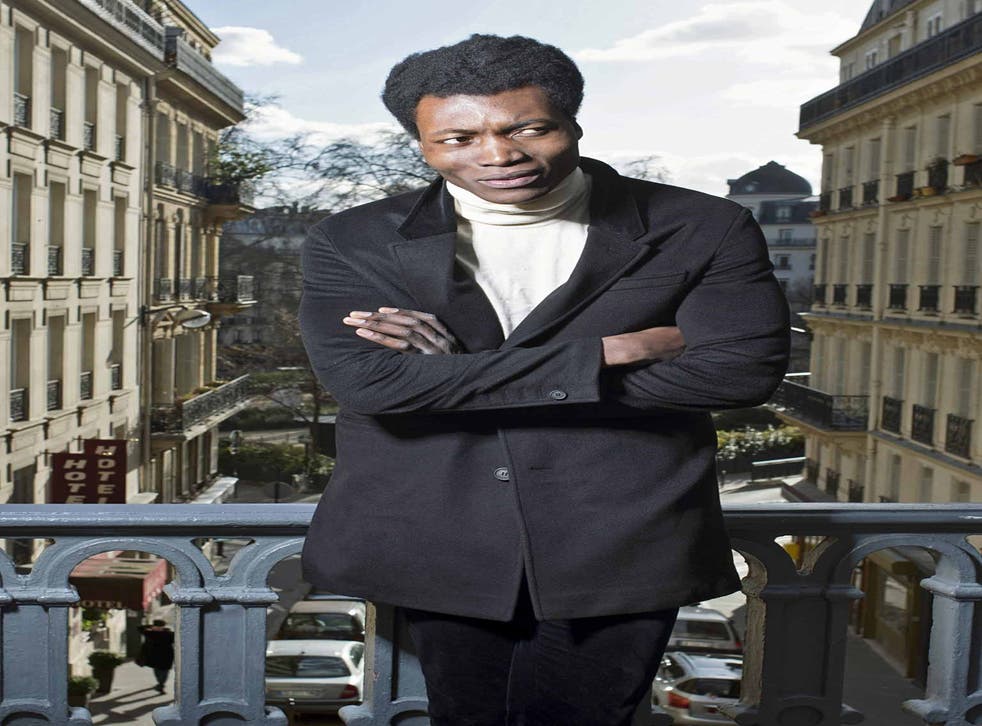 "Have you ever driven a car without shoes? Didn't you feel like superman?"
I am seated on a sofa in an upstairs suite of a London hotel with Benjamin Clementine, who is explaining (with some dramatic miming) why he plays piano barefoot.
"It's like you just press it a little bit and it goes all the way and the pedal, the piano pedal, it's animalistic. I'm an animal," – he thumps his foot on the floor – "We are animals that call ourselves human beings. You know, feeling that instrument," – he thumps his foot again – "it makes me feel like an animal who wants to say something and give something to so many animals. And, that's it."
At the end of 2013, just after his striking debut EP, Cornerstone, was released, he was invited to appear on Later... with Jools Holland. For this, his first head-turning appearance on British TV, Clementine took to the piano, wearing a long black coat and little else.
"Personally, I wouldn't mind going on stage naked, totally naked," he says. "But it's because of privacy with the people, you know, there are children around. But, with a coat, a long coat and nothing underneath – it's just to cover myself."
He's in buoyant spirits and speaks, though quietly, with a joyful enthusiasm. Throughout the interview, he fumbles with a bottle of Coke that he ordered, without ever quite opening it.
Clementine grew up in London but Paris has been home for the past five years. He moved there on a whim following an argument with his flatmate and he got by busking on the Metro. Soon after that he began to write his second EP, Glorious You, and what would become his inimitable debut album, At Least for Now. The final product is 11 tracks of breathtaking strength and unconventional beauty.
Critics have compared his soul style to Nina Simone and his passionate delivery to Edith Piaf but Clementine is not classically trained and cannot read music. The first piano he played was a small electric keyboard that his brother brought home. His exposure to music was fragmentary and he took influence from snippets of Pavarotti, Puccini and Satie overheard on the radio. He cites a performance by Antony and the Johnsons, a band that examines concepts of duality through music, that he saw on TV as a particularly influential moment. Throughout his youth, he devoured poetry.
"I'm actually doing what I like doing, which is mixing opera music and classical music with soul and folk," he says. "And I was writing and talking about what I've actually experienced and I don't think that's very common."
The album is a bundle of lessons learnt, tied up with Clementine's voice, piano and sparse production. When he sings, it is with a spinto tenor, his fiery conviction galvanising the album. On "Adios" he bids farewell to "the child in me, who kept on blaming everyone else' with the refrain 'the decision is mine, so let the lesson be mine."
Enjoy unlimited access to 70 million ad-free songs and podcasts with Amazon Music Sign up now for a 30-day free trial
Sign up
Brought up in Edmonton on the northern outskirts of London, Clementine lived first with his grandmother and then, when she died, with his parents and four siblings. The details are hazy but he gives the distinct impression that it wasn't a happy time for him. In "Cornerstone", he references his constant feelings of being an outsider, singing about how loneliness is his "home, home, home". And on "Winston Churchill's Boy", the opening track on the new album. Churchill's famous speech is reworked to become an appeal from a lonely child: "Never in the field of human affection/ Had so much been given for so few attention," he sings over sparse piano chords.
When I ask about his childhood, he's quite tight-lipped. "It was bad parenting," he shrugs. "But what can I say other than thank you for giving me food and looking after me and I would've preferred it to be better."
He is more open when it comes to the bullying he suffered as a teenager. He started secondary school in north London, he notes, shortly after the murder of Damilola Taylor. "The fact is, it wasn't enjoyable being in secondary school. I was a weird kid."
Most of the bullying, he says, wasn't about his skin colour though. It mainly stemmed from the fact that he was a feminine boy. "I remember one time I wrote in a Christmas card to a girl that I liked her very much and she showed it to the whole class. That was the worst. I spent the rest of my two years getting laughed at. It was like 'feminine gay guy is asking out a girl'."
In fact, he's straight – the "Cornerstone" single is written about his heartbreak over an ex-girlfriend – but that didn't matter at school. "It's still the same thing, if you think about it," he insists. "Looking gay doesn't mean you have to be gay."
At Least for Now draws on Clementine's struggle with this younger self. As much as he tries to force him under, the younger Benjamin – the one who was bullied, the one who arrived in Paris – is never far from the surface. He sees travel as a means of escape but, like the old cliché, his problems seem to have followed him. When he arrived he briefly found himself homeless. "I came to Paris still unhappy and I was unsure why I'd come," he says. The story is seductive: the barefoot troubadour padding the streets of the bohemian city in search of happiness, but he soon found the reality was somewhat different. "I was quite naive. People had let me down but I don't want to feel sorry for myself. That's just a fact."
"Most of [the album] is all about life and growing up and my little spell in Paris and that feeling of nobody really cared," he adds. "At the same time, you learn that you've also got to change things about yourself. For example, in "Nemesis", when I'm saying 'treat others the way you want to be treated', that's a line for all of us but I'm really talking to myself. I've learned my lessons but I'm also still learning them."
When I meet him again in Paris, in the bar of a bijou hotel in the ninth arrondissement, it is the first day of spring sunshine and the album has proved a runaway success on the continent. It has reached the iTunes Top 10 in Italy, Holland, Switzerland, Belgium, Luxembourg Poland and Greece. Here in France, it is No 1, has been certified Gold and has won a prestigious Victoires de la Musique (the French equivalent of the Grammys) award for best new artist. But instead of being buoyed up by this success, he seems deflated, offering monosyllabic answers to my questions about his time spent busking in Paris. The conversation turns to his success in the charts.
"I'm not really living to be honest," he says, referring to the hectic schedule that befalls all successful musicians. He hasn't even read the positive reviews of his work. "I've done my part for this first album," he says stoically. "All I've got to do now is create the next album."
There is a spoken interlude halfway through "Adios", a track that appeared on the Glorious You EP and then appears in a tweaked version on the new album. When it starts up again after the interlude it is a completely reworked song. In it, Clementine talks about meeting angels – "they come up to me and sing to me so beautifully" – and also in a pre-album version, he says people often ask him why his world is so dark.
So, does he believe in angels? "I accept the fact that angels are great, heavenly beings and I think some people give me the feeling that I'm with an angel. So saying that I see angels and they come to me and sing to me so beautifully, that could be anyone that I've come across. And after singing to me, they've left".
And is his world a dark place? "Yeah," he says, finally looking up to make eye contact. "I mean, come on, I'm not jumping around with naked women around me, am I?"
The sun is getting low as we walk to a nearby bridge, where we part ways. I leave him leaning against a railing, half-caught in a shadow and half in light.
Benjamin Clementine's new album, 'At Least for Now', is out now and he is performing at the Barbican tomorrow night
Register for free to continue reading
Registration is a free and easy way to support our truly independent journalism
By registering, you will also enjoy limited access to Premium articles, exclusive newsletters, commenting, and virtual events with our leading journalists
Already have an account? sign in
Join our new commenting forum
Join thought-provoking conversations, follow other Independent readers and see their replies