Beyoncé: a pop phenomenon that all women can be proud of
The beauty of Beyoncé's performance at Glastonbury was matched by the power of her message, says Harriet Walker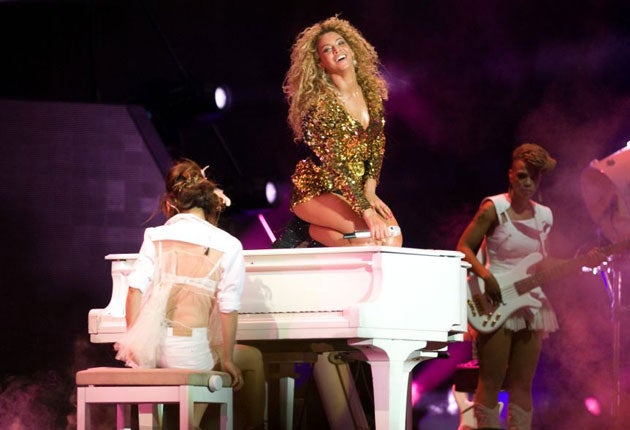 As she stomped and high-kicked back and forth across Glastonbury's Pyramid Stage on Sunday night, Beyoncé Knowles also marched straight into the history books as one of the few women to have headlined at the festival.
"Thank you to Glastonbury for recognising women, for feeling that we have the strength and power to headline," she said before her performance. "I'm so honoured that I'm the chosen woman, and I promise you ladies: I'm gonna rock!"
The consensus was that she did just that. Appearing in a sparkling gold sequined blazer, belted at the waist and worn over only the briefest of hotpants, and backed by an all-female band, Beyoncé had the 75,000-strong crowd enthralled. It's only the latest in a long line of achievements for the 29-year-old, who can safely be called one of the biggest megastars on the planet and the voice of a generation.
The outfit may have had something to do with 50 per cent of the audience's admiration, but much of Beyoncé's massive appeal lies in her accessibility. She mixes musical innovation with the catchiest of tunes and the most universal of lyrics – songs such as "Single Ladies (Put a Ring on It)", which is a warning flare to commitment-phobic men who dither about marriage, and "Why Don't You Love Me?", which includes the line: "Even your friends say I'm a good woman", have become anthems for an entire demographic. They are practised in the mirror and yodelled outside pubs the world over.
"She's a good case of a successful woman who is calling the shots," says Sasha Frere-Jones, music critic at The New Yorker. "If we're talking about empowerment, that's what her songs are – this terrible thing happens and she's going to make a fuss, not by weeping but by making a decision. Beyoncé has this position of identity – she's never the victim, and she's deliberately fabulous."
It makes a change from usual female refrains in pop music, which run the thematic gamut from "where is my one and only?" to "why hasn't he called me back?" Songs such as "Irreplaceable", in which a steely Beyoncé gives her boyfriend his marching orders, and "If I Were a Boy", which looks at the different ways in which men and women deal with break-ups, are delivered in her signature dramatic monologue style. Knowles also favours the blues tradition of mimicking a reported conversation – it's another reason why she holds such allure for women; they feel a certain rapport with her and their shared experiences.
"Sometimes people are just gorgeous and talented," adds Frere-Jones. "She's a talented, appealing, good-looking person – which is kind of dull. But she's also got this monopoly on a sort of dignified anger. Which is really wise, because she can't really do transgressive, and she's too likeable to be weird. So she really owns this 'wronged woman who is not in any way pathetic' thing."
Beyoncé's music has always had this personal slant; she shot to fame as part of the girl group Destiny's Child, who made their name with song titles such as "Survivor", "Independent Woman Part 1" and "Bills, Bills, Bills". Each hit was more damning of their male counterparts than the last, and the lyrics were uplifting, witty and intelligent.
"These are messages that cut straight to ordinary women's fantasy versions of themselves," says celebrity writer Paul Flynn. "She's explicitly on the side of women."

Enjoy unlimited access to 70 million ad-free songs and podcasts with Amazon Music
Sign up now for a 30-day free trial
Sign up

Enjoy unlimited access to 70 million ad-free songs and podcasts with Amazon Music
Sign up now for a 30-day free trial
Sign up
But global superstardom came with Knowles's solo career, which has so far yielded four albums and 13 Grammys, making her one of the most decorated female artists in history. "My message is for women," Knowles told BBC Radio 2 at Glastonbury, "and I always try to make songs that I think we need to hear to encourage us."
Her most recent release, which she performed towards the end of her hour-long set, is called "Run the World (Girls)", and she also played a song from her new album, 4, called "Best Thing I Never Had", which includes the lyric: "I bet it sucks to be you right now". "Sing it to the fellas!" she exhorted the crowd. "Sing it to your ex!"
But, of course, a modern celebrity cannot expect to be judged for their work alone, and Knowles's private life also plays a part in her public adoration. She married the rapper Jay-Z in 2008, after dating him for six years, and they are known as a powerhouse couple driving forward urban music both at home in the US and across the rest of the world. The boards that Beyoncé trod on Sunday supported her husband's weight three years earlier, when he became the first hip-hop artist ever to headline the festival.
"She's very dignified and gracious in public," says Jean Hannah Edelstein, author of Himglish and Femalese. "There's something genuine about Beyoncé – her talent, yes, but also her approach to a career as a performer. She's sometimes criticised for being a bit ruthless, but she's got what she wants so women can't help but admire that."
Knowles has also recently starred in a campaign to try to fight obesity in the US (it features a dance-exercise video of her shimmying alongside bemused and starstruck high-school students), which has been promoted by Michelle Obama. And it was Knowles who serenaded Barack Obama and his wife at their Inauguration Ball, singing Etta James's "At Last", a jazz standard that she has since worked into her tour routine and sang at Glastonbury.
So, it's no wonder that Beyoncé's star is in the ascendant – she's a politically aware, socially minded and beautiful entertainer. But there were other female artists who shone this Glastonbury – from electro-soul diva Janelle Monáe (whose sales on Amazon increased by 5,000 per cent after her performance) to folk singer Laura Marling, there was a sense that the women really took this festival by storm.
Beyoncé's backing girls
By Adam Sherwin
* She might be soul's foremost diva, but Beyoncé would be far less impressive without her hand-picked, all-female live band. The singer auditioned thousands of female session musicians to make up her slick, 10-piece group, which first accompanied her on the 2007 Beyoncé Experience tour.
Between concerts the band members, who perform under the name Suga Mama, teach improvised jazz classes to music students and work on solo projects.
Most of Suga Mama are classically trained to the highest level, such as drummer Nikki Glaspie, who enrolled at Boston's prestigious Berklee College of Music. Bassist Divinity Roxx is a graduate of the equally influential, if less academically renowned, Bootsy Collins' Funk University.
They are kept in line by Bibi McGill, guitarist, musical director and yoga teacher. Her job, she says, is to "tell everyone what time they have to be there, being responsible to give the cue for the stage to rise, being responsible if Beyoncé wants to change something in the middle of the show, talking in my mic to everyone who has in-ears [earpieces] and making it look seamless".
In addition to Sugar Mama, Beyoncé employs three regular backing vocalists, Montina Cooper, Crystal Collins and Tiffany Moníque Riddick. Cooper, like most backing singers, hankered after the spotlight herself. After signing as a solo artist, she fell into a career singing with Kelly Rowland, Beyonce's former bandmate from Destiny's Child, and Jamie Foxx, before joining Beyoncé's live band.
The Mamas are fiercely loyal to their bandleader. Roxx says: "Beyoncé is a hard worker and she inspired me to work hard and push myself beyond what I thought I was capable of doing. I will forever be indebted to her for that."
However, not everything heard on stage is the live work of the singer and her band. McGill admits that there is a programmer backstage who triggers pre-recorded sounds from Beyoncé's recorded hits, which not even a 10-piece group can reproduce.
Beyoncé's instructions to the band are simply to "play things like the record" and "enjoy the show". And whilst the singer parties with her rapper husband, Jay-Z, after a performance, the Suga Mamas often head off to a club to play an improvised funk set and let their hair down.
Join our commenting forum
Join thought-provoking conversations, follow other Independent readers and see their replies