Biffy Clyro on beating the booze and demons to reach number 1
After 17 years the Scots noise-merchants have triumphed over bereavement and alcoholism to top the charts. James McNair meets them
James McNair
Friday 08 February 2013 12:00 Comments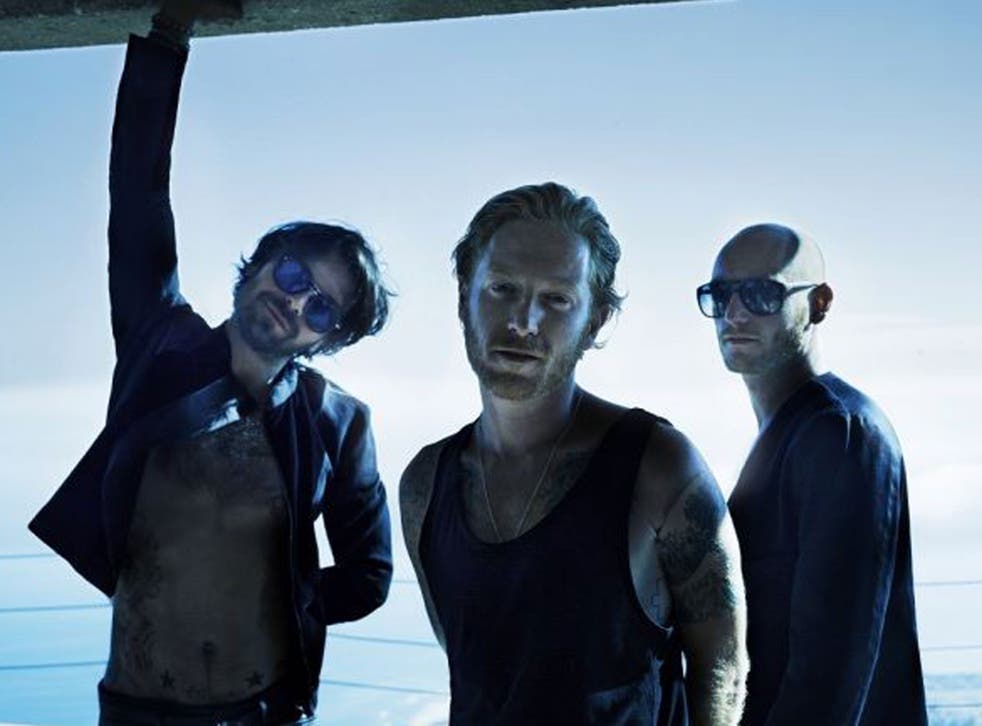 Like cassette tapes and picture-discs, double albums seem somewhat anachronistic these days. Not that Ayrshire's Biffy Clyro care. The inked and raucous trio rated by Josh Homme and Robbie Williams alike have just released Opposites, a two-CD set packing bagpipes, mariachi brass, and 20 songs evenly spread across discs subtitled "The Sand at the Core of Our Bones" and "The Land at the End of Our Toes".
"There's something kinda cool about making a record that isn't fit for public consumption," jokes flame-haired bassist James Johnston, mindful that Warners are releasing a pruned version of the album Stateside. Still, the record label wouldn't have spent upwards of £200,000 on Opposites had Biffy's ongoing assault on rock's upper echelons not looked assured. And lo and behold: the album has just topped the UK Charts, giving the band their first No 1 album, and they have just been announced as headliners at Reading and Leeds festivals this summer.
The band spent six months making the album in Santa Monica last year, but when I meet Johnston, his drumming twin Ben, and Biffy's impishly handsome guitarist/singer Simon Neil in East London, their California tans are gone. "We didn't make any new friends, but the neighbours were like, 'which one's Biffy?'," laughs Ben. Warm individuals devoid of music biz artifice, the trio seem mildly embarrassed that our chat will be followed by a meeting with a stylist ahead of an appearance on The Jonathan Ross Show.
Biffy Clyro – the twins are from Kilmarnock; Neil is from Ayr – first emerged some 17 years ago. The nascent trio were brattish devotees of Rancid and Nirvana while much of the UK embraced Britpop. One story regarding the provenance of their name cites an obscure Ayr United footballer. Another, just as unlikely, concerns a pen gifted from Sir Cliff Richard and a Spoonerism, hence "Cliffy Biro".
They describe themselves as "music lifers", the wholly believable implication being that music is a calling for them. They've dossed in Transit vans and made albums for indie labels in a day, gone from wilful obscurists to A-list viable stadium denizens. When their last album, 2009's Only Revolutions, reached No 3 in the UK their inventively-skewed rock began to impact on less alternative demographics. Bizarrely, X Factor 2010 winner Matt Cardle covered the band's "Many of Horror", scoring a Christmas No 1 when he de-fanged it under the new title, "When We Collide."
For all their seeming good fortune, Biffy have also known more than their fair share of heartache. The lyrics on 2007's Puzzle were largely inspired by the passing of Simon Neil's mother, Eleanor. In 2011 his wife Francesca – the object of the "God Only Knows What I'd Be Without You" tattoo that graces the singer's chest – suffered three miscarriages. Factor in Ben Johnston's recent drying out after a stint with Alcoholics Anonymous, and the striking cover art for Opposites makes perfect sense. It depicts an ancient South American tree bent-double by the wind, yet still grounded.
"The idea is that, if you've got strong roots with family and friends, you can weather any storm," says Neil, "but when we started on Opposites we'd kind of drifted apart as mates, which was very strange for us. Before that, we'd always been able to rely on each other no matter what life was throwing at us. Ben had to stop drinking, both for himself, and for the band to survive," the singer goes on, kindly glossing-over the blackouts, the missed flights, and the liability that Ben – amiable drunk though he was – had by then become.
Later, when Ben's brother James tells me his new tattoo of lines from Robert Burns's "Jon Anderson, My Jo" was procured to show solidarity with his brother while he was drying out, the drummer simply smiles with moistened eyes. (The twins had recited the poem at Burns Nights as kids).
Quizzed further about his lyrics on Opposites, Neil breaks the record into its constituent parts, but insists it isn't a concept album – or at least not one with an obvious narrative. "The Sand… has a very lonely and solitary outlook, and it's: 'How did this happen? How did I end up here?' he says. "The Land… is much more: 'How can I change my life and make it more enjoyable? How can I galvanise people around me?' It's a projection into the future."
Enjoy unlimited access to 70 million ad-free songs and podcasts with Amazon Music Sign up now for a 30-day free trial
Sign up
Understandably, the singer doesn't talk about what he and Francesca have gone through in recent years, but, later, a question about what one thing might improve his quality of life proves revealing.
"The ability not to worry so much," he says. "Two nights ago I had to change my T-shirt twice in bed because I was sweating so much. I have to wear socks on my hands so I don't scratch my face."
Like that of Puzzle and Only Revolutions, Opposites' cover art is the work of sometime Led Zeppelin and Pink Floyd sleeve designer, Storm Thorgerson. A schoolfriend of Syd Barrett and Roger Waters, Thorgerson has become a trusted member of the Biffy team. Still, he must be expensive, right?
"Storm always wants to go somewhere really exotic for the shoot, but he's worth it," says James. "You can recognise a piece of his work immediately, and it's always about more than a pretty picture."
"It's the commitment he shows as well," adds Neil. "He probably spent eight months on Opposites, and he went through all my lyrics and peeled back the layers. He's in his late sixties now and he's got stomach cancer, actually. We send him our love."
He laughs when I ask if the aforementioned Francesca, an English teacher, gives him feedback on his words, adding, "no, that would probably involve a lot of red pen." One senses Biffy's obvious life-wisdom has been hard won. "It's definitely been quite a reflective time for us," concludes James, "but we're not dwarfed by the emotion of that. We're aware of how lucky we are and we've started grasping life by the balls again."
"Opposites" is out on 14th Floor Records
This article appears in tomorrow's print edition of Radar magazine
Register for free to continue reading
Registration is a free and easy way to support our truly independent journalism
By registering, you will also enjoy limited access to Premium articles, exclusive newsletters, commenting, and virtual events with our leading journalists
Already have an account? sign in
Join our new commenting forum
Join thought-provoking conversations, follow other Independent readers and see their replies