Billie Eilish interview: 'I want to be able to mourn for XXXTentacion, I don't want to be shamed for it'
The 17-year-old pop sensation tells Joe Coscarelli​ why she keeps near-complete creative control, that everyone needs to give hip hop credit, and how she's ready for fame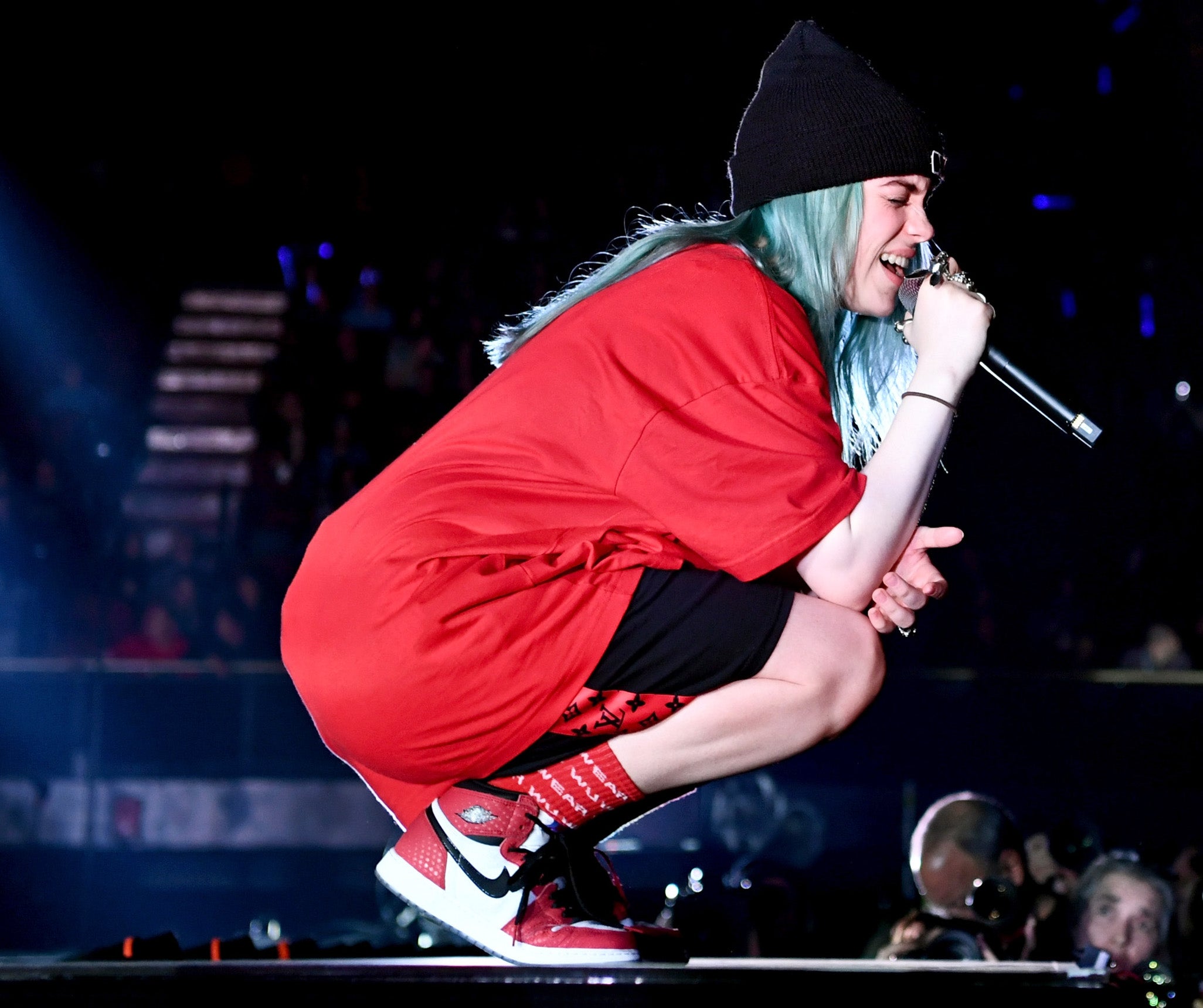 Even before she turned 17 in December, the singer Billie Eilish had accomplished nearly all of the modern prerequisites for pop stardom and then some: her homemade songs, written only with her older brother, had been streamed more than 1 billion times on digital platforms; she'd played increasingly large sold-out concerts to delirious fans (and their patient parents); appeared with Ellen DeGeneres and Jimmy Fallon; and collected some 15 million followers on Instagram.
Among those legions, many had already started to adopt the musician's striking visual aesthetic: performatively dead eyes (bored, at best), hair dyed in shades of electric blue and pale purple, an all-baggy anti-silhouette – a collective middle finger to the strictures of teen-pop sex appeal. While Eilish still draws befuddled stares from those outside of her demographic, her mere presence has been known to get a certain subset of teenager hyperventilating – and spending hundreds of dollars on merchandise Eilish designed herself.
What the musician didn't have along the way – and, to her credit, didn't need – was the lightning strike of a memeable moment or a megahit, the most surefire ways to get noticed (and, potentially, soon forgotten) in today's avalanche of content. In fact, only now, three years after the music industry caught a whiff of Eilish's extremely fresh blood, is she even getting around to releasing her debut album.
When We All Fall Asleep, Where Do We Go? marks the latest apex in Eilish's fairy-tale career, and it's likely to cement her growing reputation as a 21st-century music business unicorn who embodies all the creative and commercial promise of online youth culture. It might also make her a household name.
To speak to her business team and label bosses is to hear the phrase "the biggest artist in the world" repeatedly, and in earnest, as a near-term goal. Dave Grohl, whose daughters are obsessed with Eilish, could only compare her to his old band: "The same thing is happening with her that happened with Nirvana in 1991," he told a music business conference recently, holding up Eilish's tough-to-categorise music as proof that "rock 'n' roll is not even close to being dead". The hip-hop producer Timbaland called this year, and next is hers for the taking.
"I do not see a ceiling," said Brandon Goodman, one of Eilish's managers. No pressure.
"I can't even tell you how anxious I've been to get this album out," says Eilish in her parents' tiny kitchen. Self-possessed but entirely a teenager, with one ASAP Rocky shoe propped on the table and gothic rings on every finger, Eilish talks like an Instagram caption come to life – everything is "fire" or "trash", bro, and she is always "deadass". In photos, a smile is rare, though searing eye contact from her ice-blue alien saucers is common.
Eilish is taking stock of her atypical adolescence, and acknowledging the fact that for all of the attention she's received thus far, her ride into the mainstream is about to kick into a new gear. "For a minute, I could go somewhere nobody knew who I was – maybe at Costco or something," she says. "I would go places and try to convince myself I wasn't faaamous or whatever."
But the last bits of her anonymity have been fading; the day before, she'd been recognised four times while walking two blocks home, forcing her to come to terms with a fast-approaching reality. "There's no other choice for me," she says. "I literally have to."
What Eilish and her cadre of surrounding adults hope will differentiate her from decades-worth of precocious, fast-burning teen stars before her is twofold: autonomy and familial support.

Enjoy unlimited access to 70 million ad-free songs and podcasts with Amazon Music
Sign up now for a 30-day free trial
Sign up

Enjoy unlimited access to 70 million ad-free songs and podcasts with Amazon Music
Sign up now for a 30-day free trial
Sign up
Building on the paths cut not just by Lorde, Lana Del Rey and Halsey, but Brockhampton, Odd Future and The Weeknd, Eilish is an artist-as-creative director, building her own layered universe for fans to obsess over through a unified flow of music, videos, social media and staging. Musically, she combines most of the internet-first ideas of this century – EDM drops, sad-girl bedroom confessions, SoundCloud rap abandon – into an edgy, genre-agnostic (but playlist-friendly) fusion that sounds like pop and streams like hip hop. (Instead of one runaway single, Eilish has eight songs with more than 140 million plays on Spotify.)
The best albums of 2019 (so far)
Show all 67
She insists on near-complete control. "I could easily just be like, you know what, you're going to pick out my clothes, someone else will come up with my video treatments, someone else will direct them and I won't have anything to do with them," Eilish says. "Someone else write my music, someone else produce it, and I won't say anything about it. Someone else run my Instagram."
"Everything could be easier if I wanted it to," she continues. "But I'm not that kind of person and I'm not that kind of artist. And I'd rather die than be that kind of artist."
Billie Eilish is also, in many ways, a family business. The songs are written and produced by Eilish and her 21-year-old brother, Finneas, who often opens for her and plays as her backing band. The pair record almost exclusively in their comfortably cluttered childhood bedrooms, never far from their parents, Maggie Baird and Patrick O'Connell, long-toiling actors who pieced together bit parts, regional theatre and voiceover work.
These days, Baird tours as Eilish's assistant, but is really more like her chief of staff, all mum and part manager (but without the commission). O'Connell, who also did handiwork and carpentry, is now part of the tour crew, and has gone from driving the van in the leaner days to lighting director.
Yet somehow, the cloud of stage-parent oppression seems absent, which isn't to say that this Partridge Family for the Instagram age wasn't partially by design. The children were home-schooled, O'Connell says, in part because Finneas was born the same year as the smash hit "MMMBop" by Hanson, a trio of brothers.
"I was completely swept away by these kids," O'Connell recalls. "They were religious Oklahoma home-schooled, but nonetheless. Clearly what had happened was they'd been allowed to pursue the things that they were interested in."
Though not much of a musician herself, Baird eventually taught both children in a beginner's songwriting class, using touchstones like The Beatles, and the kids were generally encouraged to follow their passions; college was never the goal. (They were also raised vegetarian and slept in a four-person family bed until Finneas was about 10; more recently, the parents took the living room of their two-bedroom, one-bath nest.)
Eilish was initially drawn to dance, horseback riding and singing in the Los Angeles Children's Chorus. But she was primarily a DIY aesthete, building costumes and crafts from scratch and rallying friends for her elaborate projects. "I was unbelievably bossy," Eilish says. (Her lifelong friend Zoe Donahoe chimes in from nearby: "She just knew what she wanted.")
Finneas committed to music first, but when he enlisted a 13-year-old Eilish to sing "Ocean Eyes", a song he'd written for his band, the family's lives were forever altered. The siblings uploaded the track to SoundCloud for Eilish's dance teacher to choreograph to, but it took off, fuelled by unofficial remixes and algorithm magic, drumming up industry intrigue. By the summer of 2016, Eilish had signed to Darkroom, a marketing company-turned-boutique label run by 28-year-old Justin Lubliner, in partnership with Interscope Records. John Janick, the chief executive of Interscope, recalls of Eilish: "Her sense of style, how she thinks, the way she talks – everything about her was just different. She had such a strong point of view, especially for being 14 years old." Lubliner envisioned her as "a new breed of pop star", and was unconcerned with competition from more traditional singers like Selena Gomez and Camila Cabello.
Instead of pushing "Ocean Eyes", which goes down easy as vaguely R&B indie-pop, to major radio stations, Eilish's team vowed to move slower and more deliberately. "We didn't want it to be about a song," says Goodman, who with Danny Rukasin manages Eilish and Finneas. "We never wanted anything to be bigger than Billie the artist."
The label released a nine-track EP, Don't Smile at Me, the next summer, in addition to a steady stream of one-off songs, and watched as each grew exponentially. Although rappers frequently break online, leaving radio to catch up (or not), the holistic, streaming-first path was largely unprecedented for an aspiring pop heavyweight at the time.
"For the past two years, people have been like, 'Whoa, this came out of nowhere overnight!'" says Goodman.
Along the way, Eilish has developed into a much stranger, more unique artist than initially promised. Though her voice is pure, her lyrical themes are angsty and bleak – serial killers, domination, monsters under the bed – and on her new album, she favours wobbly beats, jarring turns and creepy sound effects, which flow seamlessly with her visual aesthetic on social media and in her videos. Veering sharply into abject, American Horror Story aesthetics, Eilish has bled jet-black liquid from her eye sockets, let a tarantula crawl across her face, and been manhandled and stabbed with needles by disembodied hands, invoking shock artists like Nine Inch Nails and Marilyn Manson more than Taylor Swift or Katy Perry.
Crucially, Eilish has also absorbed an at times cartoonish, outlaw essence from the world of rap – without actually trying to rap. Eilish cites Tyler, the Creator, Childish Gambino and the influencer Bloody Osiris as her guiding lights of self-presentation, and her music incorporates now-ubiquitous elements of trap production without feeling forced.
"Everyone needs to give hip hop credit – everyone in the world right now," Eilish says. "Whatever you're doing, you've been influenced by hip hop."
Still, she's a well-adjusted teenager and her core audience remains young women, offering them an original vantage on the rebellions du jour. "Xanny", a standout from Eilish's new album, takes on the SoundCloud generation's dependency of choice – benzos and opioids – with concern and scorn: "I don't need a xanny to feel better," she sings. "Don't give me a xanny now or ever."
She is matter-of-fact about already being a role model. "I completely recognise the responsibility, and I do think about it," Eilish says. "But it's not going to change the way that I am."
So far, she has largely managed to avoid the trapdoors of internet controversy that often accompany viral notoriety – something Eilish says she has had nightmares about. But with the increasing heat of fame comes more micro-scrutiny, as Eilish got a taste of recently with the release of the song "wish you were gay". (Lyrics: "To give your lack of interest an explanation/ don't say I'm not your type/ just say that I'm not your preferred sexual orientation.")
"I really tried hard, dude," she says, responding to the small-scale backlash. "I thought it was so clear that it wasn't meant as an insult. But I understand it's a sensitive word for people."
She bristles more at the mention of her friendship with the young rapper XXXTentacion, who was murdered last year but previously drew condemnation for allegations of domestic abuse. In the kitchen at home, her mother calls, half-jokingly, for Eilish's publicist in the other room.
"I want to be able to mourn, I don't want to be shamed for it," says Eilish, who performed a tribute song following XXXTentacion's death. "I don't think I deserve getting hate for loving someone that passed." No one chimes in to coach her.
Flanked at all times by her family, Eilish feels sturdy, if a bit jaded, in anticipation of the ways her life will continue to change in the coming months – harder questions, greater expectations, less privacy.
Her brother describes Eilish's rise as "an autonomous thing, and it's moving forward really fast, and we're all on it". Her father chimes in: "It's a train, or a river, or a vortex, and we're all flying down." Finneas adds: "But travelling it safely feels much easier than trying to bail out."
Eilish agrees, and says she is working on being in the moment while also keeping perspective, motivated especially by the promise of larger and larger concerts, which have become near-religious experiences for her fans. She flicks nervously at a lighter, singeing a cactus on the table in front of her.
"I'm realising the place I'm in right now is kind of my time, though – my moment," she says. "These are the good old days."
© The New York Times
Join our commenting forum
Join thought-provoking conversations, follow other Independent readers and see their replies