The Independent's journalism is supported by our readers. When you purchase through links on our site, we may earn commission.
State of the Arts
Why should Billie Eilish or any teenager give a fleeting thought to a rock band that no longer matters like Van Halen?
The generational war fought out over music has other fronts, from festival line-ups to streaming technology, says Roisin O'Connor
Thursday 05 December 2019 16:36 GMT
Comments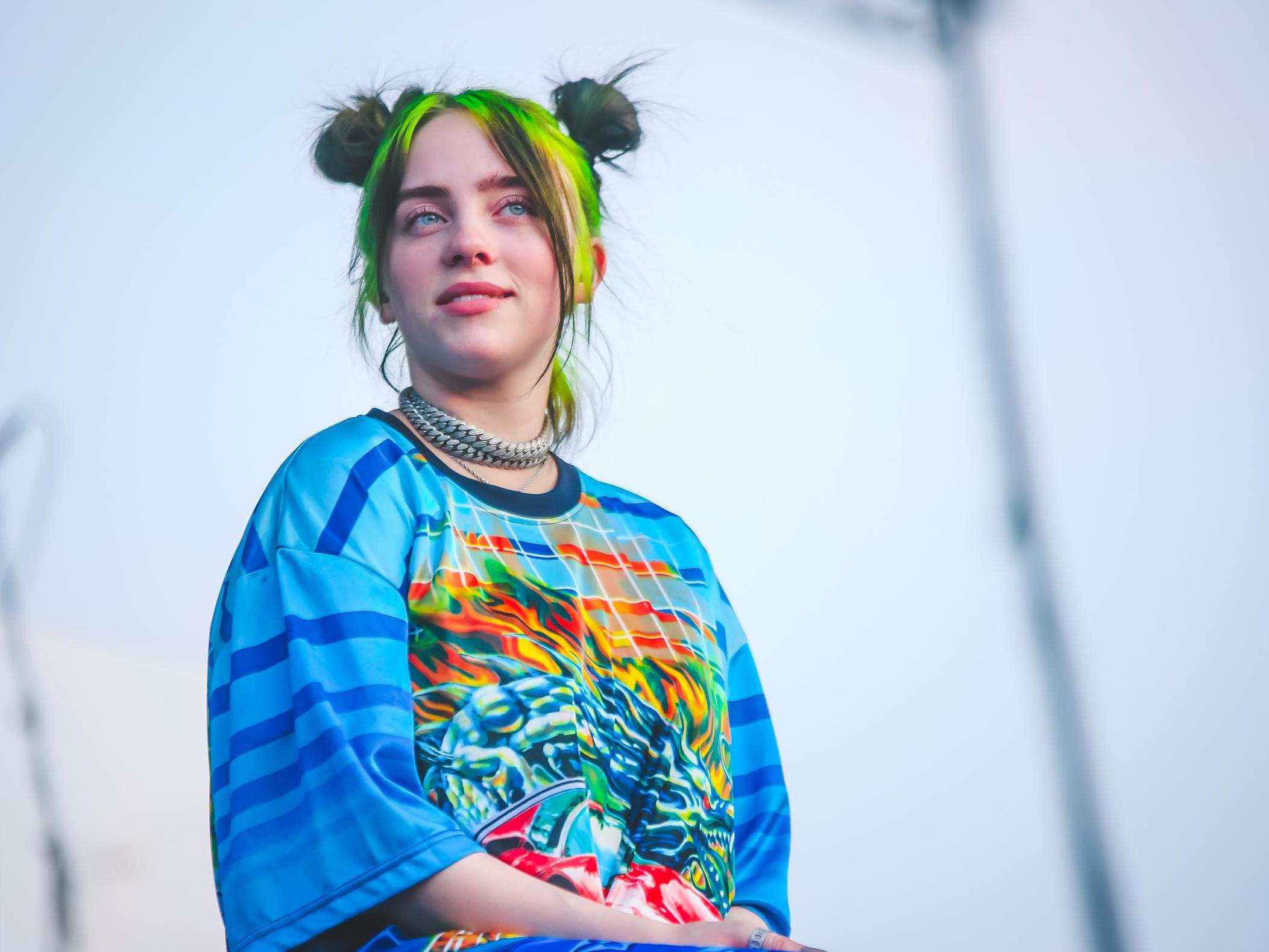 Is there anything more tedious than a music snob? Apparently not, given the rush to pile on 17-year-old Billie Eilish earlier this week, and all because she hadn't heard of the rock band Van Halen.
The revelation took place on Jimmy Kimmel Live!, where the late-night host decided to quiz Eilish on whether she'd heard of artists such as Madonna (she had) and Van Halen (she hadn't). Upon learning she was blithely unaware of the Seventies rockers, Kimmel's reaction was one of horror, despair, and glee. "I'm gonna start crying," he exclaimed, perhaps acknowledging that Eilish's knowledge gap was actually highlighting his own age. "You're making me look so dumb," Eilish fretted in return.
While this was an innocent enough exchange that riffed on the age-old tradition of intergenerational repartee ("young people don't know how easy they have it", "old people don't understand technology", etc), the comments about Eilish online were harsher. There's a particular type of person who relishes any opportunity to highlight the perceived ignorance of younger generations. Yet there's absolutely no reason why Eilish, or anyone her age, should give a fleeting moment's thought to a rock band who carry little to no weight in the 21st century. Why does she need to prove herself, when she's become the biggest success story the music industry has seen in years? Clearly, she knows something these older critics don't.
Besides, had Eilish told Kimmel she was a massive Van Halen fan, hardcore fans would likely have revolted, insisting there was no way she could be serious – she's too young. There was a similar reaction when Justin Bieber was spotted wearing a Metallica T-shirt in 2015. He had no right to like them, hardcore fans decreed.
The 50 best albums of the decade – 2010 to 2019
Show all 50
It's the same patronising attitude I've experienced, many times, because young female music critics with prominent positions at national newspapers are all-too scarce.
A lot of the unpleasantness towards younger artists seems to stem from a fear of irrelevancy. Sure, it's not exactly a good feeling to know the bands you once idolised mean nothing to younger generations. But as many on Twitter pointed out, it's wonderful to think of the moment these teenagers do discover artists such as Fleetwood Mac or Nirvana for the first time. For me, doing the same thing in my late teens while I was going through a classic rock phase at university, I imagined it was a lot like how explorers felt discovering Tutankhamun's tomb.
Billie Eilish quizzed on Van Halen by Jimmy Kimmel
When someone played "The Chain" at a club night in my second year I experienced that transcendence, dancing to a song I'd never heard before, thinking how I was going to go home later and find it and play it again and again. It's like wandering through a series of dark passages that become illuminated as you delve deeper: Fleetwood Mac led me to Tom Petty, Eagles, Jimi Hendrix, The Stooges, Black Sabbath, Led Zeppelin, Pink Floyd, The Clash, The Cure, The Smiths, Pixies, Patti Smith, Iggy Pop, Ramones, Television, Blondie, Sonic Youth…
Reviewing The Who's new album this week brought me to a New York Times interview with Pete Townshend, where he suggested that rock as an ideal has transferred across to pop and hip-hop. "Rock is probably Taylor Swift," he said. "Rock is, dare I say it, Adele and Ed Sheeran." He seemed to be making a point about relevancy in terms of the most popular genres, and stars at the top of their game, but also how rock is a test of stamina that artists such as Swift pass with flying colours. This willingness by an elder statesman of music to pass the baton, in a way, is rare in comparison to the myriad grizzled rock stars bemoaning the state of modern music. And even while this attitude in musicians can be dismissed relatively easily, it's a wider problem when it extends to the executives making decisions on festival line-ups and award ceremonies.
Earlier this month, the manager of TRNSMT festival in Scotland caused uproar for claiming more "females" need to pick up guitars in order to get on line-ups. and claiming it would be a long time before festivals achieved 50-50 gender parity. This kind of ignorance is still prevalent among the organisers of more "traditional" rock festivals such as Reading & Leeds and Isle of Wight, who insist year on year that its white male headliners are the ones fans most want to see. They, too, are clinging on to a time where they felt most relevant, rather than dare venture into a world that they might not understand. Elsewhere, major European festivals such as Primavera, Nos Alive and Oya are managing just fine, curating balanced, diverse line-ups that reflect the eclectic way in which we consume music.

Enjoy unlimited access to 70 million ad-free songs and podcasts with Amazon Music
Sign up now for a 30-day free trial
Sign up

Enjoy unlimited access to 70 million ad-free songs and podcasts with Amazon Music
Sign up now for a 30-day free trial
Sign up
It was young people who broke the music industry only to build it back up again. In the Nineties, Shawn Fanning and Sean Parker brought it to its knees with Napster, an illegal download site where Spotify's co-founder Daniel Ek discovered his favourite bands. His company, in turn, managed to bring a halt to plummeting industry revenue upon its launch in 2008. As of 2018, Spotify's user base was dominated by millennials; 29 per cent of subscribers were aged 25 to 34, and 26 per cent between 18 and 24. Streaming has overtaken physical sales as the biggest source of revenue for the industry, and online platforms are now a lucrative way for artists to break through to massive audiences.
Watching Kimmel interview Eilish reminded me of a viral video where a father challenged his sons to try to call someone using an old dial telephone. You can hear him laughing as he watches them struggle (they actually seem to do an admirable job with a defunct piece of technology they'd never encountered before). The best part about it was a comment on social media, where someone pointed out: "I bet they had to show him how to upload the video." Older generations would do well to listen, rather than laugh, at people like Eilish. They might learn something.
Join our commenting forum
Join thought-provoking conversations, follow other Independent readers and see their replies