Black Peaks – Statues: Exclusive Album Stream
The Brighton-based quartet stream their much-anticipated debut album exclusively with The Independent.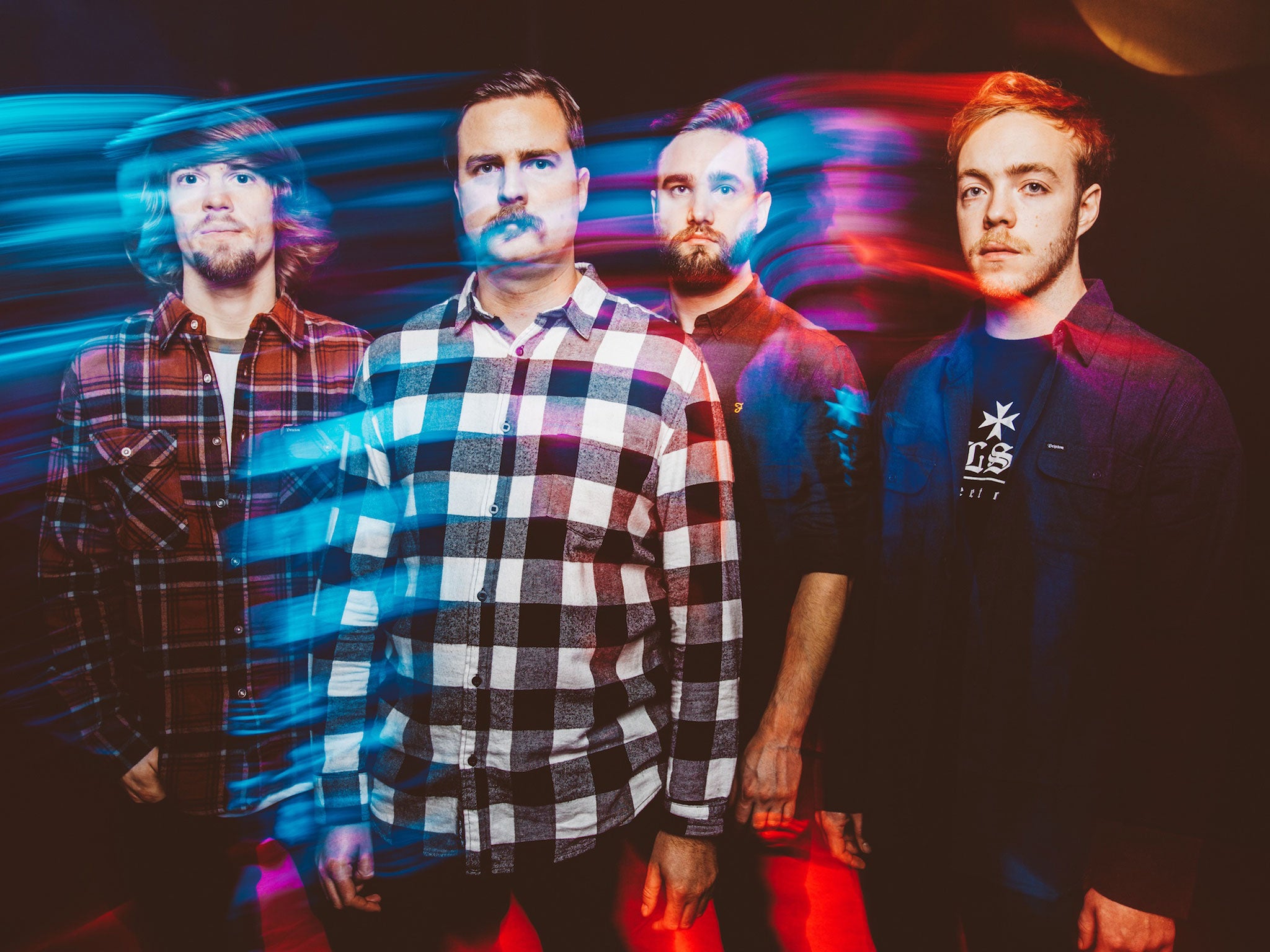 Black Peaks are set to release their stunning debut album on the 8th April via Easy Life / Red Essential and The Independent are exclusively streaming it before official release. Statues is an exceptional combination of alternative rock, heavy metallic riffs, prog infused concepts and subtle post-rock flourishes that all interweave to create an extremely accomplished debut. Crafting music with the heart of Oceansize and the guts of Mastodon, Statues is surely destined to be one of the best debut albums of 2016.
The band initially formed in 2012 as an instrumental math-rock three-piece under the name Shrine. After a few months of playing with no vocalist, guitarist Joe Gosney, drummer Liam Kearley and bassist Andrew Gosden discovered Will Gardner, who as fortune would have it, had just left his previous band. 'We'd all been huge fans of Will's old band' says Andrew. 'I'd been to see them a bunch of times and out of the blue, we thought 'f**k it, let's just ask if he'll sing for us!'' The band wrote a couple of singles before releasing their debut EP, Closer to the Sun, in April 2014. Realising that there were a number of bands with exactly the same moniker as them, the band swiftly changed their name to the far less commonplace Black Peaks, and soon afterwards, things really started to happen for them …
There's a lot riding on the success of Statues; the band inked a major label record deal with Sony in August 2015, they've had extensive airplay on BBC Radio 1, as well as garnering the attention and high praise of such luminaries as Zane Lowe, Fearne Cotton and Daniel P Carter. That the more mainstream corners of the music press are sitting up and paying attention to a band as heavy, uncompromising and complex as Black Peaks is a ringing endorsement, and with any luck, will open the doors for other heavy acts to join them in the limelight.
The band themselves are decidedly humbled by the attention, (some might even say somewhat perplexed) not letting the esteem go to their heads. 'I don't think we've burdened ourselves too much with people's expectations' says Andrew. 'We're aware that we have something to lose now that we have this reputation. We're not forcing anything, we're just trying to be the best that we can be and work as hard as we can, because we want to.'
'So much of it is self-imposed pressure' says Joe. 'We put so much on our own backs, especially with the headline shows we're playing. They've been our first real opportunity to go out and play to our hardcore fans and there's a few of them now which is great but we're working hard to make it as perfect as it can be. This tour is actually the first time we've played for more than half an hour and trying to work out the flow and dynamics of the set and keeping that energy sustained over an hour is a challenge.'
Whilst the band are delighted by the praise being heaped upon them, their seemingly rapid ascent into the hearts and minds of such esteemed music institutions has raised suspicions from certain members of the rock fraternity who aren't pre-disposed to welcoming anything deemed too 'popular'. Hype, after all, is a four letter word and can be a poisoned chalice in a scene notorious for having its fair share of eyebrow raising cynics. 'A lot of people have said that we're quite a good crossover band' says Andrew. 'I think because I'm involved in it, I really struggle to understand that but obviously there must be some truth in it if we're getting played on the radio. It's a really interesting idea because we never wrote any of this music to be accessible, we just wanted to please ourselves.'
'For six months or so, all anyone wanted to talk about was Zane Lowe' says Joe. 'Obviously, we're grateful for his support, that was one of the first things that really helped us, but it's nice that people have stopped just talking about that and are focusing more on why he backed us and what we actually do. Hype's a weird thing because you don't want to play up to it too much.'
Recorded over two weeks at the secluded Middlefarm Studios in Devon, Statues is an extremely ambitious 11 track masterpiece that will remain long after the cynic's tongues have been silenced. An extraordinarily cohesive work, most bands aren't able to write an album this impressive on their third, fourth or fifth attempts, let alone their first. From the sustained piercing vocals on Say You Will, to the chicken pickin' solo on Saviour, from the fuzzed up staccato bass in Statues of Shame to the frantic octo-armed pounding the drums get in White Eyes, picking highlights from a record with as many treasures to uncover as Statues is tough … so what are the band's highlights?
'My favourite song is Drones' says Will. 'I love the whole journey of that track. It's the weirdest song on the album as well, it's the most 'Black Peaks' sounding. There's a strange proggy intro, then a post-hardcore verse, with an Oceansize-style chorus, and then the ending sounds like ... what? Tool? Karnivool? It's just us doing our thing.' Andrew agrees with Will, 'Drones is a pinnacle moment for me, I was just really happy with how that song came together. It's like a breath of fresh air, prior to that point, the album is so angry, intense and fast-paced. Drones feels like this window of reflection where you can look back and process what you've just heard. That's how I see that moment in the album and it feels really important if you're listening to the album as a whole.'

Enjoy unlimited access to 70 million ad-free songs and podcasts with Amazon Music
Sign up now for a 30-day free trial
Sign up

Enjoy unlimited access to 70 million ad-free songs and podcasts with Amazon Music
Sign up now for a 30-day free trial
Sign up
Statues has a very special guest in the shape of Jamie Lenman, formerly of criminally underrated underdogs Reuben. Appearing on the album's final song, To Take the First Turn, Jamie has been an advocate of the band for some time, taking to social media earlier this year to proclaim Statues as 'a classic for the ages! Imagine 'Nevermind' came out and you got to sing on it - that's how happy I am about being able to contribute.'
'Hearing Jamie's voice on that song makes me well up every time, says Andrew. 'I'm so proud of that moment. He's such a lovely guy and sitting in the studio watching him in the vocal booth was like an out of body experience.'
'To Take the First Turn is my favourite song on the album' says Liam, 'because when we went into the studio, it was just a bunch of riffs. We wrote it in the studio and the way it came together really blew me away, it was just amazing. It's probably the simplest song on the album; it felt really nice to hold back and not be all over the drum kit.'
'Set in Stone is probably my favourite track on it' says Joe. 'Will's vocal in the verses have a real Jeff Buckley vibe to them and I like the way that contrasts with the chorus. Set in Stone was one of those songs that was written in about an hour … the song's that come out the easiest are often the best. I absolutely love it.'
Interwoven through the album is a story concept that takes place over four songs, Crooks, Hang 'em High, Glass Built Castles and Statues of Shame. Essentially an apocalyptic morality tale, it's inspired in part by the economic recession and the subsequent bank bailouts. It tells the story of Ivan, a man who accidently incites a riot by raiding a bank with a baseball bat and a can of petrol, demanding the money he believes is owed to the world. The riots get out of control and Ivan is caught up in a terrible stream of violence, with the security guards strung up and set on fire. People from all over the world watch as the bloodshed unfolds on TV but remain apathetic to the atrocities. As governments cut off the water supply and electricity in an attempt to control the population, the violence escalates to staggering proportions, bringing about a nuclear apocalypse that wipes out half of the world's citizens. 'The main idea for it came through touring in Spain' says Will. 'We were in the Basque countries speaking to a lot of separatists and anarchists who basically wanted to start a huge revolution. On the one hand, they were very inspirational but on the other, they were also quite naïve. The political situation in some places out there is really messed up.'
It should be made clear that none of the band are advocating turning up to a bank with intent to start a violent revolution. 'At the time, what they were saying seemed to make some sense, but when I got home and sat on it for a few months, I realised that it was all just a bit too simple' says Will. 'The story's based on one of the guys who'd lost all his savings and his job. He walked into a bank with a baseball bat and a can of petrol and demanded his money. That idea stuck with me, it's such a strong image and the whole story started to emerge from that idea. One of the things that I said to the guys when we started making the album was that I really wanted to have a concept that goes over a few tracks. A lot of my favourite albums, whether it be Tool or Mastodon, have a through-line and I think that gives people a little bit more to dig their teeth into.'
Black Peaks are about to finish their first headlining tour around the UK with Palm Reader and Toska in support and are gearing up to get ready for another busy festival season around the UK and Europe, including their debut appearance at the undisputed home of heavy metal, Donnington Park, for Download Festival. 'I swear we live for touring,' says Liam 'that is where we're in our element. Getting out on the road and playing music, it's the best f**king thing man!'
Statues, the debut album by Black Peaks, is released on 8th April through Easy Life / Red Essential and will be available on iTunes, CD and Vinyl. The band are touring the UK and will play festivals in the summer.
Join our commenting forum
Join thought-provoking conversations, follow other Independent readers and see their replies