State of the Arts
Bob Dylan in Hyde Park? He is still an icon but live he sounds like a pub singer with a throat infection
In her latest column examining a burning issue of the week in culture, Lucy Jones reacts to the news that the legendary singer-songwriter will headline British Summer Time 2019
Thursday 29 November 2018 08:08
comments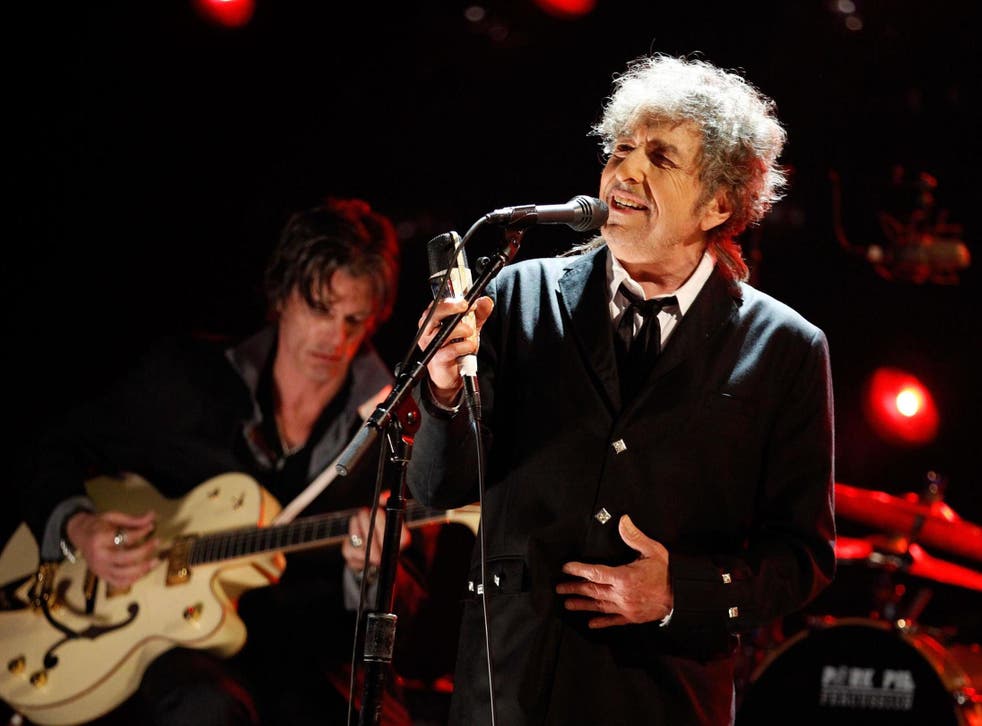 The news that Bob Dylan will headline British Summer Time festival in 2019 had a strange effect on me. My first thought was, wow, Dylan in Hyde Park, when are the tickets on sale and where's my credit card? But then I swiftly remembered my Dylan pilgrimage to Hop Farm in 2012, and how dreadful it was.
My parents had seven rock or pop vinyls when I was growing up and the rest were classical. Two of the seven, which are indelibly inked through my psyche, were Bob Dylan albums, The Freewheelin' Bob Dylan and Blood on the Tracks. As a child, I preferred the more immediate ABBA and Stevie Wonder but, later, I fell for his words and delivery. When I was a teenager, "You're a Big Girl Now" described my adolescent heartbreaks, the pain "like a corkscrew to my heart". In my 20s, "It's Alright, Ma (I'm Only Bleeding)" was a power anthem at a destructive time, when I'd turn the lines over in my head, finding solace and enlightenment in Dylan's existentialist runes. I realised I needed to see him live before he dies.
I know that this is sacrilegious for the Cult of Dylan, who would be in raptures if he simply stood on stage ironing shirts, but, well, it wasn't good. At the Hop Farm show I could barely make out the lyrics of his growl and some tunes were unrecognisable for a while. At times, he sounded like a demented pub singer with a throat infection who'd had a few too many shandies. I wasn't expecting a Paul McCartney-style hands-in-the-air smile, wink and a singalong but there was no connection to the crowd or even nod to the audience at all.
I'd been told as much, and knew his shows could be unpredictable, judging by the mixed reviews he's received for years, but it was galling to watch. He's never had a technically "good" singing voice but this was more barking dog than "sand and glue", as Bowie memorably described his vocals. It reminded me of watching James Brown support Red Hot Chili Peppers in Hyde Park in 2004, to a crowd that didn't seem too bothered, which was utterly depressing.
The 40 best albums to listen to before you die

Show all 40
But, but, it was Dylan. He was in front of us. And, even though they were sometimes unintelligible, the words he was snarling and grumbling were his words. It didn't feel like a normal show, it felt like watching a travelling band responding to the muse (his band was great). The man has released 38 studio albums so it was foolish of me to hope to hear my faves "Gates of Eden" and "Hurricane" – and expect other tracks to sound as they do on record. It's as if his songs are living, autonomous beings, which he reinterprets and reinvents according to his mood. And Dylan has always been a quixotic and contrary enigma who does what he likes and clearly experiences no pressure to please. I felt split down the middle. Frustrated, but also in awe of his refusal to conform, to play to a crowd, seemingly even to play for a crowd, and of course his extraordinary oeuvre.
In recent years, he's won the Nobel Prize for Literature, exhibited his paintings, released superb and critically acclaimed albums, worked with a Broadway playwright, collaborated on a whisky and, of course, he's still on his "Never Ending Tour". He is 77. This isn't someone who plays live or makes art because he wants or needs the money. He plays live because he has to; it is part of him.
Reviews of his gigs in the last decade are varied, even though he plays similar setlists. Some find the shows sublime and exhilarating, others find them appalling and even an abuse of power. But people still want to watch him perform: he's had just one three-month break from touring since 1988. Perhaps it's got something to do with the draw of experiencing the blues with a full band, a sound you don't hear much these days.
Enjoy unlimited access to 70 million ad-free songs and podcasts with Amazon MusicSign up now for a 30-day free trial
Sign up
And following the deaths of Prince, David Bowie, Leonard Cohen, Lou Reed and Aretha Franklin, it feels that we are very much in the twilight years of that iconic rock 'n' pop Class of the Sixties, which gives an added poignancy to the old guard traipsing out to perform, with their world-weary voices and weathered faces.
In a rare interview published on his website in 2017 with Bill Flanagan, he was asked whether, when he watched footage of himself performing 40 or 50 years ago, he seems like a different person. "I see Nat King Cole, Nature Boy – 'a very strange enchanted boy', a terribly sophisticated performer, got a cross section of music in him, already postmodern," he replied. "That's a different person than who I am now."
And no one can accuse Dylan of staying the same or standing still. He's made a life of his lyric, "May your hands always be busy / May your feet always be swift / May you have a strong foundation / When the winds of changes shift." Same as it ever was, and, one thing is certain with Dylan, will always be. But if you're considering a £75 ticket to cross him off the bucket list at BST and you're expecting to hear, say, Blonde on Blonde or Blood on the Tracks as they sound on record, be warned. It's not 1966 or 1975, and you won't get it, even at a big summer shindig in a park.
You will be looking at a living, breathing icon of the 20th century, an artist utterly without compromise, who changed everything that came after him but, but, I think I'll stay home and listen to the originals.
Support free-thinking journalism and attend Independent events
Join our new commenting forum
Join thought-provoking conversations, follow other Independent readers and see their replies