Bobby Gillespie on Jeremy Corbyn, drug culture, the death of rock, and new album Chaosmosis
As Primal Scream return, Kevin EG Perry talks to the ever-opinionated frontman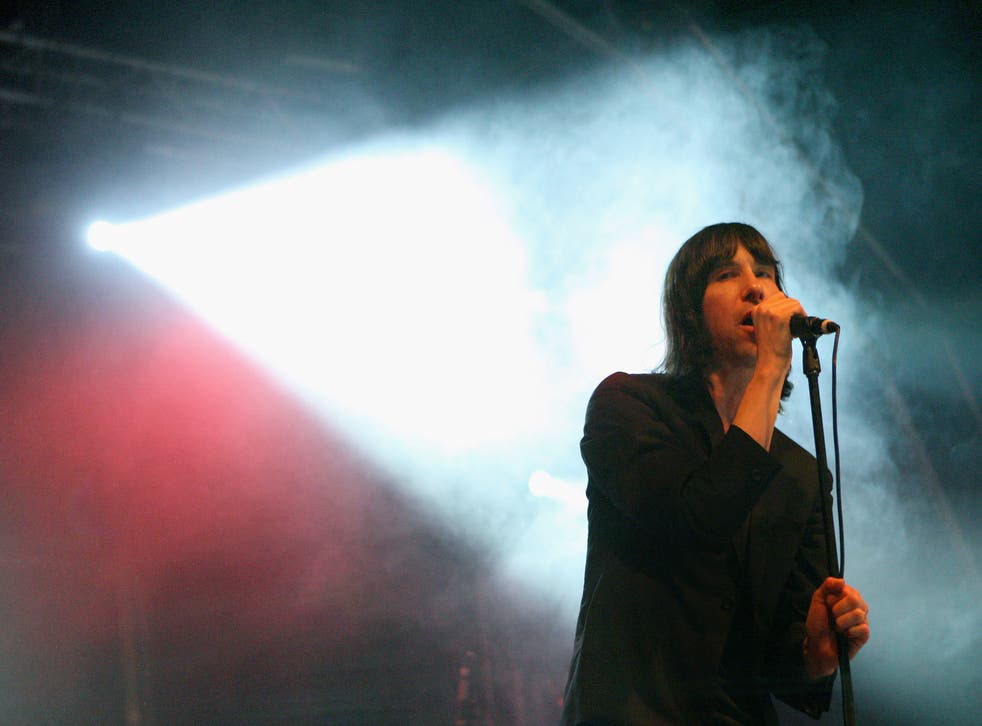 If you only listen to one album named after a book by the radical French psychiatrist Félix Guattari this year, make it Primal Scream's Chaosmosis.
Bobby Gillespie, the band's indefatigable leader, may once have been known as one of rock'n'roll's great hedonists but these days, at 53 and almost eight years sober, he's never happier than when discussing critical theory.
When I meet him for lunch in north-west London, he tells me he actually lifted the portmanteau from the Italian Marxist theorist Franco "Bifo" Berardi's 2015 book Heroes, which references Guattari's work, who uses it to explain how we each absorb the mass of disconnected information the contemporary world throws at us.
"It's impossible to decipher all the information that's coming at you in modern life," he says. "As an artist the only way of making any sense of it is to try to make an artwork, something that can be used to inspire yourself and other people in the face of this onslaught of negativity. We can apply that to what we're doing. I've always said that our music is like a shield and a sword."
Primal Scream have long been known as rabble-rousers, with Gillespie a frontman never shy to offer a political opinion. The son of a Marxist trade unionist, also called Bob, he says today he thinks Jeremy Corbyn is a "good guy" he'd be happy to vote for, although he is doubtful about his ability to enact real change.
"I don't think decency and fairness get you anywhere when it comes to politics, because I think you're involved in a war, a class war. The system is so much bigger." But on first listen, this eleventh album seems like a departure. Lyrically, it's a more intimate record than the provocative agit-rock of 2013's More Light, on which Gillespie sang: "Thatcher's children make the millions pay… how long will this shit last?"
Musicians and Actors on Growing Old Disgracefully

Show all 5
However, when I mention this, Gillespie points out that Primal Scream have always sought to balance the political with the deeply personal – as on 2000's aggressive, punk-ish XTRMNTR.
"Everyone thinks that it's a political record because we had a song called 'Swastika Eyes' on there," he says. "Really, we were writing about the effects of the drug culture on myself and my friends. We were all neutralising ourselves.
"At the beginning of the 90s that guy was gonna be a writer, this guy was making films, this guy was gonna be guitar player. What happened by the end of the 90s? They all had heavy addictions. We were buying into the idea of taking drugs as rebellion, when really we were suckers who bought a gimmick."
Enjoy unlimited access to 70 million ad-free songs and podcasts with Amazon Music Sign up now for a 30-day free trial
Sign up
He catches himself and laughs: "Of course, I'm not anti-people doing drugs. It was great!". However he does believe that recreational drug use may inadvertently help to prop up the status quo.
We discuss the FBI's Operation COINTELPRO, which flooded American ghettos with heroin in the late 60s to counteract Black radicalism. "It sounds like conspiracy," he says, "but I'm sure at a certain level it's tolerated, especially when you get huge unemployment. They know now there's going to be long-term joblessness due to deindustrialisation and outsourcing. Maybe it's kind of tolerated to keep the population passive."
He describes the new record as "ecstatic, depressive realism". "I'm laughing when I say that but I'm serious as well," he says. "Tracks like '100% or Nothing' are ecstatic, but the lyrics are depressive realist." There's humour in lyrics like: "The anti-depressants don't anti-depress".
The album filters these harsh truths through streamlined, modern pop; there are collaborations with young stars Sky Ferreira and Haim. I tell him the method reminds me of a line written by another Italian Marxist Antonio Gramsci, that: "The challenge of modernity is to live without illusion without becoming disillusioned."
"Gramsci writing about the future sounds like punk rock: destroy, destroy, destroy," agrees Gillespie. "My friend Douglas Hart, who directed the video for our new single 'Where The Light Gets In', was saying that Gramsci argued there won't be a revolution unless the working class have their own culture, and it is their culture."
Which brings us on to the state of rock music: much has been made of its takeover by the middle and upper classes in the last decade, and it's been argued that this has contributed to it becoming politically defanged. However, when I put this to Gillespie he argues for a more nuanced view.
"I think the working class can be apolitical as well," he argues. "I don't actually think it's a class thing. I don't think a band like Happy Mondays were raving lefties. People like Bakunin and Peter Kropotkin and the early anarchists were aristocrats. I think maybe rock just has nothing to say. It's been so absorbed culturally into the system. It's an old form that's past it."
Gillespie and multi-instrumentalist Andrew Innes, who have been collaborating in Primal Scream since 1986, wrote most of this new record using synthesisers and downloaded "virtual keyboards".
I ask if he thinks the traditional garage band format has been played out. "Yeah. I really do," he says. "I love high-energy, balls-to-the-wall rock'n'roll, It's so much a part of me and so much a part of Andrew and our whole aesthetic, but I want to do other things. I want to make music that's more layered and with a sense of otherness."
In their earlier years, Primal Scream benefitted from the bankrolling of old schoolfriend Alan McGee's Creation Records. However Gillespie believes record labels' present-day conservatism means we're unlikely to again witness the commercial peaks that alternative bands reached in the Nineties.
"Pulp, Suede, Blur, Oasis and the millions of bands who came after them were all getting in the fucking charts. Ocean Colour Scene sold a million albums. That's gone. How many alternative bands get in the charts now? They play Shepherd's Bush Empire if they're lucky.
"Nobody's coming through from the underground and breaking through to the mainstream. Why is that? Is it because we're living in such conservative times that people don't want anything that's even slightly weird or strange? It's part of the neoliberal capitalist thing.
"It's about keeping the shareholders happy. Record labels want instant returns on the investment, instant profit. They're not going to take a chance investing in someone for four albums."
Still, whatever the difficulties, Primal Scream are still going strong, thanks to a desire to innovate that Gillespie attributes to his youthful exposure to David Bowie. "I was really affected by his death," he says. "The whole point about us changing, from things like Screamadelica to Vanishing Point, came from what I loved about Bowie and the fact he kept changing. As an artist I have the utmost admiration and respect for him, never mind the fact that he made all these records that I love and that mean a lot to me."
As for the current spate of 90s revivalism, Primal Scream have avoided becoming too caught up in it, perhaps because unlike peers Ride and Slowdive they never split up or went away.
Like his heroes The Rolling Stones and Iggy Pop, Gillespie believes in keeping his music out there through constant touring – and there doesn't seem to be anything stopping him following their lead by continuing beyond his pension age.
He's still whippet thin, thanks to a "fast metabolism", and sobriety seems to be suiting him. Surprisingly for someone whose youth was marked by such prodigious drug use, he's never even been a smoker.
"I think when I was about eight or something I tried. I picked one up in the street and it was covered in saliva and made me feel so sick," he laughs. "It's funny. Now I know loads of people who are trying to give up. They're getting to that age."
Gillespie's musical shield and sword have protected him thus far. Does he think Primal Scream can keep on keeping on? "I hope so," he says. "Only if we can keep making records as good as this. I think there's no excuse now not to. We've got loads of ideas, and loads of things that we want to do.
"I don't want to be one of those bands that takes seven, eight or nine years between albums. Putting out a record every couple of years is a good way to make art. Sometimes you're going to fail, but that's all right."
'Chaosmosis' is released on 18 March
Join our new commenting forum
Join thought-provoking conversations, follow other Independent readers and see their replies