Boy George: Bad karma
The enthusiastic rehabilitation of Boy George after he served time for a vicious attack says much about our disregard for male victims of violence, writes Patrick Strudwick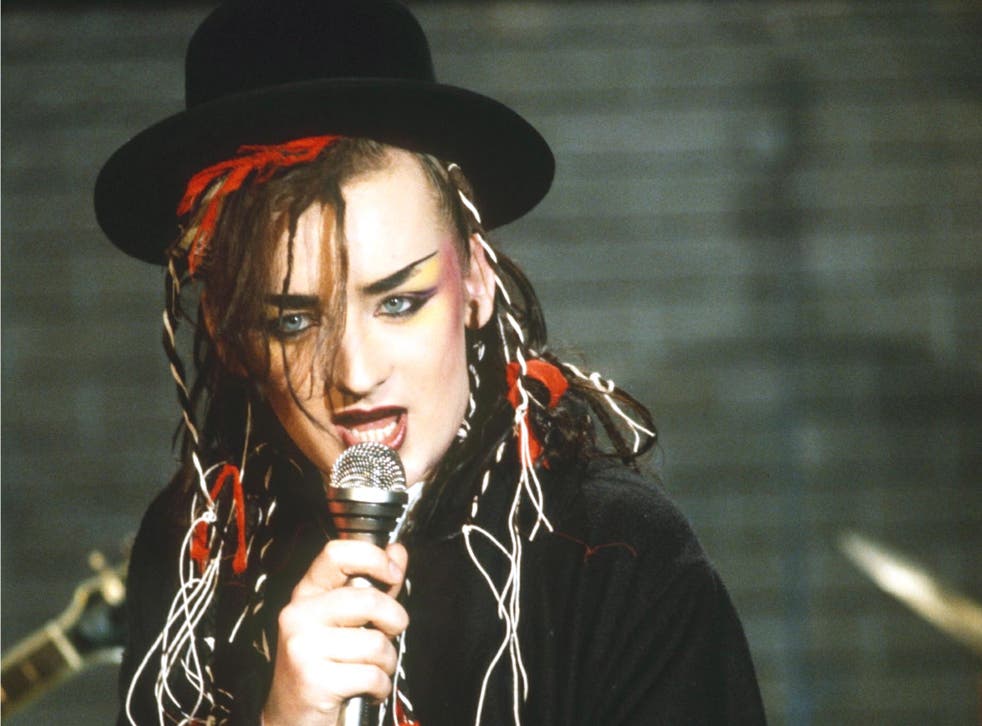 In the din of sycophancy encircling celebrities, there is usually a voice, somewhere, attempting to usher them back down to earth. Last week, that voice belonged, ironically, to an employee of Italy's national airline. The celebrity was Boy George. "Can you dig that one of the staff at @Alitalia in Milan told me to 'shut up!' Classy!" he tweeted, indignant.
If only Boy George (real name George O'Dowd) would obey its command, not only for the duration of his flight but indefinitely. I say this not because I don't appreciate his music ("Karma Chameleon" was the first record I bought), nor his razzle-dazzle dispensing of gender norms, but because there is one person he seems to have forgotten as he (dis)graces awards ceremonies and magazine covers with his presence to promote his new album. It is the same person everyone else has overlooked, too: his victim. The man – Audun Carlsen – he chained up in his London flat in April 2007, threatened and attacked. The man who, in fear for his life, broke free of his shackles and ran out into the street in the early hours, nearly naked, bruised, bleeding and hysterical.
Anyone who has met his victim would not forget. In 2011, I tracked Carlsen down to interview him. The singer had hired him twice in 2007 to take photographs of him. On the second occasion, the Norwegian model told me, O'Dowd, under the influence of cocaine and convinced that Carlsen had broken into his computer, "asked me to come into the bedroom. He and another guy are standing there and suddenly they are both jumping and beating on me and kicking on my back, my face, dragging me along the floor... tying me up... handcuffing me...screaming abuse… I've never seen a person so full of hate. I thought he would kill me."
Carlsen recalled O'Dowd leaving the room and returning with a box containing "leather straps, and some other metallic things and sex toys". The court heard in 2008 what the singer said next: "Now you're going to get what you deserve."
Boy George:Then and now

Show all 25
Boy George apparently served just four months of a 15-month jail sentence for false imprisonment. The Crown Prosecution Service never caught O'Dowd's alleged accomplice, as the singer "could not be compelled to disclose the identity" of the man.
Three years on, I cannot forget how Carlsen's eyes filled and his voice shook as he trembled throughout these recollections. The trauma branded on his face, the horror in his eyes remains with me. But how easily his perpetrator appears to forget. To help shift copies of his new record, he is on the cover of new gay lifestyle magazine Winq. He was at last month's Brit Awards, sporting a painted-on, bloodied bruise above his eye because, as he told Vogue, he's a "fashion victim". How fabulous! How edgy!
How sick, how grotesque – how wilfully this disregards his victim's feelings. How much longer will we exalt such a man? How long will gay culture hold him aloft, in collective denial of his crime? Graham Norton once said he feels badly for his boyfriends as, when their relationship ends, they still have to see his face everywhere. Imagine if the face you saw everywhere was one that imprisoned and terrorised you.
The wider question is why the public has forgiven or forgotten the attack. It is surely not simply O'Dowd's fame, talent, knack for a rapier quip, nor the way the press reported the crime as if it were some sort of kinky S&M game. And nor can the blame lie solely with the cowardly journalists who, when interviewing him, do not mention the monstrous incident or consign it to a line buried deep in the colluding prose.
No, it indubitably rests on how we view prostitutes (as Carlsen was erroneously described) who are attacked. And how we view male victims of violence – sexual or otherwise. We must ask how Britain would perceive a pop star, let's say Liam Gallagher, if he had manacled a woman before dragging her across the floor and beating her. Would we remain so silent? Would his face still loom from newsagents' shelves?
Enjoy unlimited access to 70 million ad-free songs and podcasts with Amazon Music Sign up now for a 30-day free trial
Sign up
In patriarchy's rigid gender roles, oppressive to all, men cannot be conceived as intimate terrorism's victims, as this injects fear and insecurity in the 49 per cent primed to dominate. So we look away. Is it any wonder that Survivors UK, the charity for male victims of rape, estimates that only 3-5 per cent report the crime? Or that campaigners for male victims of domestic violence speak of those who come forward being "invisible" to police and media?
Like all perpetrators, O'Dowd should be rehabilitated, but at what cost to his victim? Must he remain, brazen, in public life? As Carlsen went on to suffer depression, anxiety and agoraphobia, O'Dowd attempted to appear on Celebrity Big Brother, seemingly unfettered by the potential impact on his victim. And, given his tweet just after scolding Al Italia, it seems our apparent national treasure remains unable to take seriously the devastation of violence. "We need @NaomiCampbell as the Patron Saint Of Air Travellers!" he joked. This is the supermodel once banned from British Airways after a violent outburst and twice found guilty of assault.
As ever, in Boy George's fabulous, edgy world, the punched are but a punch line.
Register for free to continue reading
Registration is a free and easy way to support our truly independent journalism
By registering, you will also enjoy limited access to Premium articles, exclusive newsletters, commenting, and virtual events with our leading journalists
Already have an account? sign in