Brandon Flowers interview: People don't appreciate what The Killers have achieved
The most famous Mormon in rock on his new album, New Order and keeping a Ziplock bag full of his shaved hair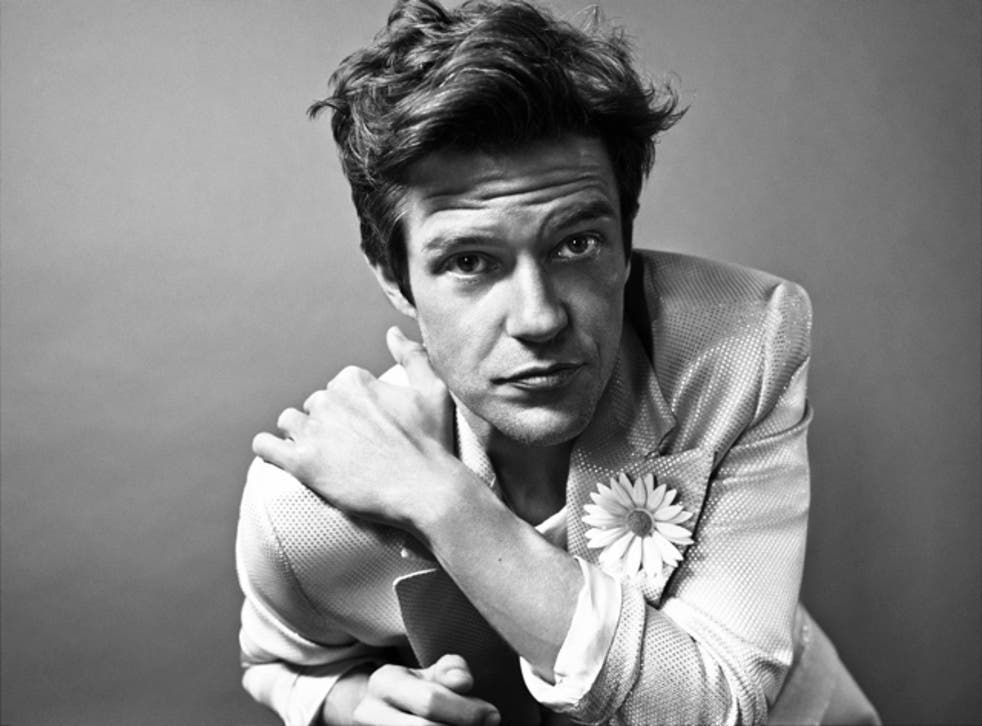 In a shaded corner of the leafy grounds of West Hollywood's Sunset Marquis hotel, Brandon Flowers is threatening to show me his bag of hair.
No, this is not a precept of the faith of the most famous Mormon in rock. Nor is it a promotional gambit tied to his second solo album, the exuberantly catchy The Desired Effect – even though the 33-year-old worries that the title, taken from a medical aid he can't quite recall, may have originally referred to the hair-restorative Rogaine.
Rather, Flowers' hair offering is a typically quirky suggestion from a frontman who, for all his stadium band-sized swagger, is both funny peculiar and weird peculiar, and is perfectly happy to admit to both.
"So I grew a beard for Sam's Town..." begins The Killers singer. His band's second album (2006) heralded the moment when the Las Vegas foursome ditched the British synth-pop colours of their acclaimed 2004 debut, Hot Fuss, and embraced Springsteen-style Americana. And they tried on the boots, waistcoats and facial hair to match.
Neil Tennant – then, as now, a keen and pithy dissector of music culture – observed Flowers' growth and expressed concern. To the Pet Shop Boy, it suggested that the Anglophile Nevadan who grew up loving The Smiths, Oasis and Tennant's band was suddenly forswearing pop music in favour of something rather more, well, beardy.
Flowers – then, as now, in awe of Tennant – decided to heed the Brit's warning. When he removed the beard for The Killers' third album, Day & Age (2008), he says, "I started keeping the shavings in a bag.
"And I still do it," he grins. "I have a Ziploc bag full of hair. I'll grow five or six days growth, make sure that the sink is dry, use an electric razor, catch it in the sink, and then I'm able to just scoop it into the bag!"
Flowers yuk-yuks his odd, gulping laugh. And, yes, he's been doing this for seven years. But, no, his wife, Tana, isn't bothered by this bathroom peccadillo. "It's a lot of hair!" he says. "But it's compacted. And it doesn't smell. It's all black but about half way up you start to see some greys. I don't know what to do with it yet. It means something."
What exactly?
"Well, Neil was dead-on with his observation," replies this lean, fidgety singer who habitually (and nervily) cracks his knuckles. "And putting the hair in the bag has sort of become a ritual, I guess. It makes me think about where I stand. There's always gonna be a part of me that is pop. And I shouldn't forget that. That's important. Because there's nothing wrong with pop. So I keep this bag in a drawer by my sink in the bathroom."
Enjoy unlimited access to 70 million ad-free songs and podcasts with Amazon Music Sign up now for a 30-day free trial
Sign up
Late spring 2015, then, finds Brandon Flowers baby-smooth of face and very pop of sound. The Desired Effect, the successor to 2010's Flamingo, is shiny with Eighties and Nineties hooks and sounds: synth stabs, electro beats, reverb-laden drums, crunchy guitar riffs. And just in case there were room for doubt as to his intentions, this forensically focused, vaultingly ambitious artist has gilded the lily by recruiting era-appropriate guests Bruce Hornsby, Bronski Beat's Jimmy Somerville and Tennant himself.
Somerville appears on the glorious "I Can Change", via a sample of his former band's defining hit, "Smalltown Boy". It feels like a summer anthem-in-waiting, a retro-futurist disco classic. (Neil Tennant might say that the iconic sample offers a pop-Proustian thrill.)
Flowers explains that the song grew out of a "big push" from his record label "for me to do an appearance on a DJ song".
Who? Calvin Harris? David Guetta? Avicii?
"Everybody. Every single one. They all sent me tunes – songs you hear on the radio [now]. But I just couldn't sing them… So anyway, part of all that was them asking me, 'Well, what would you like?' And I said, 'Well, something that's like 'Smalltown Boy' would be cool.'"
After some back and forth, and having received "some chords" from former Swedish House Mafia members Axwell and Ingrosso, Flowers wrote "I Can Change". He then approached Somerville for clearance to use a sample from "Smalltown Boy". "It was hard as hell to get hold of him. But we got the OK, and it turned out great."
Like his ambition, Flowers' Anglophilia knows no bounds. There have been rumours of him appearing on Duran Duran's upcoming, Mark Ronson-produced new album, but he squirms when I mention this.
"No… I mean, it's not… Well, I might be on a new New Order song," he says eventually. "So that's cool," he smiles, very pleased, not least because The Killers took their name from a fictitious band in the video for the Mancunian outfit's 2001 single "Crystal". "But it's gonna be tricky with the label… I'm definitely not gonna be able to be on both of them."
If he had his way, politics be damned: Flowers would readily share a mic with Bernard Sumner and Simon Le Bon. Anything to collaborate with the people he grew up loving. And anything to continue to spread the gospel about The Killers' varied strengths. Much as he loves the spotlight, Brandon Flowers is far keener sharing it with his bandmates: guitarist Dave Keuning, bass player Mark Stoermer and drummer Ronnie Vannucci.
"I'd prefer to be talking to you about a Killers record," he says baldly. Flowers has consistently been the one dragging along his band mates. While they want time off after their typically lengthy world tours, he's always keen to go higher, further, longer. So he fills the hiatuses with solo projects. This despite the fact that he's the one with most family – Flowers has three young sons, and talks of "maybe one more. But it's totally up to my wife. I would have ten kids," he beams, and that is a precept of his religious faith.
His faith in The Killers is equally staunch. "Whether the people want to accept it or not, we might be the best band in the last long time!"
This is a typical Flowers claim, and is the kind of grandiloquent statement that generally makes the listener's hackles – or bile – rise. But whether because he usually makes such pronouncements with a cheery twinkle, or because it's just amusingly OTT, he gets away with it.
"I'd go up any night against just about any band that's come out in the last 15 years. Not that it's a competition, but I do feel sometimes people don't have a grasp on what we've accomplished and what we've acquired. Everyone should come see The Killers! We're more than just a New Wave revival thing."
That evening Flowers sprints to the stage of Los Angeles' 400-capacity Troubadour club. It's a dramatic resizing for a singer whose last UK show was The Killers' sell-out gig at Wembley Stadium in summer 2013. Yet at this low-key but singalong-exuberant launch gig for The Desired Effect, he's clearly in his element. It's a stage. And for this inveterate showman, any stage will do.
Earlier that day, he had only had one niggle about the looming performance. Six months ago Flowers had shoulder surgery to correct an "impingement" on his back muscles. He'd previously had the same operation on his left shoulder, a legacy of poor posture and excessive childhood golfing. "But this is my dominant [right] arm, and my onstage fist-pumping is suffering," he said. He was half-joking. But only half.
The Desired Effect (Virgin EMI) is out Monday. Brandon Flowers' UK tour starts on 21 May
Register for free to continue reading
Registration is a free and easy way to support our truly independent journalism
By registering, you will also enjoy limited access to Premium articles, exclusive newsletters, commenting, and virtual events with our leading journalists
Already have an account? sign in
Register for free to continue reading
Registration is a free and easy way to support our truly independent journalism
By registering, you will also enjoy limited access to Premium articles, exclusive newsletters, commenting, and virtual events with our leading journalists
Already have an account? sign in
Join our new commenting forum
Join thought-provoking conversations, follow other Independent readers and see their replies