'Sure, I'm the devil': Brendon Urie prays for the wicked on new Panic! At The Disco album
Panic! At The Disco frontman talks new album 'Pray For The Wicked', Broadway, and why LA is 'the best and f**king worst place in the world'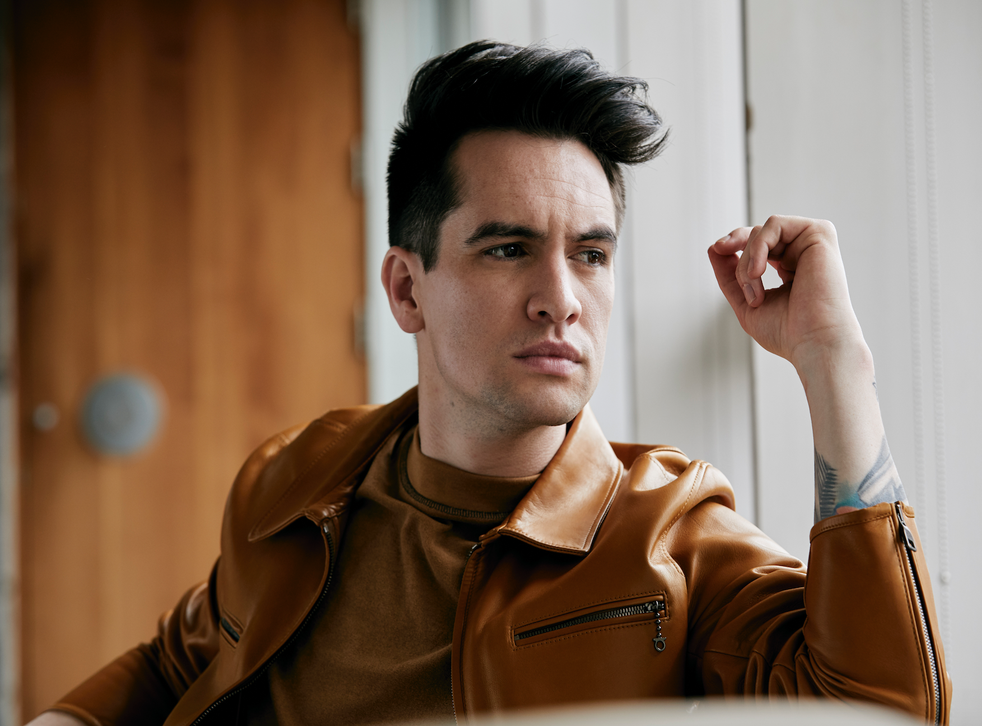 Panic! At The Disco's new album Pray For The Wicked was originally going to be named after a Lord Byron quote: "Fame is the thirst of youth." Frontman Brendon Urie played with the idea, but ultimately decided that it didn't touch enough on what the album is about.
"My despair at the current state of the world, and wanting to reflect back on my childhood..." the 31-year-old explains. "I thought it was a really beautiful line, but I'm definitely not as thirsty anymore, not as youthful... and that s**t doesn't matter to me anymore. Fame, all that s**t, is a by-product of the things I really care about."
Urie is speaking over the phone from his home in LA, not too long after a mind-boggling performance at the BBC's Biggest Weekend in Swansea, where the band performed tracks off the upcoming album plus a storming rendition of Queen's "Bohemian Rapsody" – a track Urie has been serenading fans with for the past four years. He's excited about the upcoming film starring Rami Malek, and despite his theatre background, says he wasn't tempted to audition.
"No, no way, I didn't even get a call, I didn't put my name out there," he says hastily, laughing. "That's a different undertaking... like I know Sacha Baron Cohen was working on it at the beginning but it didn't work out, which I totally understand: Queen didn't want to show Freddie Mercury's real s**t – apparently he threw these f**king wild parties and all this other stuff happened… but either way I'm still excited to see it."
BBC's Biggest Weekend

Show all 13
On Pray For The Wicked, which might be Panic!'s best album yet – certainly the most well-produced and thought-out; Urie explores those themes of hedonism and guilt that are present both in his upbringing as a Mormon, and in the town in which he now resides. It certainly sounds like he had fun making it.
"That's how I live my life – I feel if I'm doing harm to somebody then I'm not a good person, but if I'm not, then where's the harm in that?" he asks. "If I'm doing the things I enjoy, how could that be bad?"
He's friends with another famous Mormon – Imagine Dragons frontman Dan Reynolds – and reiterates comments the singer expressed in an earlier interview with The Independent about the feelings of shame Mormon youth are taught to feel with regards to subjects like sex, alcohol, and even explicit language.
"Oh, everything!" Urie says. "I felt guilty the first time I swore, I thought God was gonna hit me with a lightning bolt. Dan and I are similar in that we came from this background, culturally and religiously, and now we have this pull from it.
"I can't deny that it's had a massive impact on my life and who I am today, so to ignore that piece of my history and my childhood would make no sense. I can't speak for Dan, but I love using the religious rhetoric and imagery, because that's really a big part of who I am: I'm always at conflict."
Even the cover provokes devilish imagery, recalling a scene from the recently-revived, LA-based series Lucifer, with its titular character watching over his city of sinners ("Sure, I'm the devil," Urie chuckles).
"The things I'm talking about are definitely from the past couple of years, but I also wanted to link it to my childhood, think about my past and who I used to think I was, maybe romanticise some of the memories, and essentially wonder: 'How did I get here, why am I still here?' What it comes down to is: I love what I do, and if I didn't then I wouldn't still be doing this."
Urie's stint with the Broadway production of Kinky Boots has moved him – a man with an already-impressive voice – to new heights of ridiculousness: the note he hits in the single "Say Amen (Saturday Night)" is so high it's signified in the brilliantly gory music video by a kick to the groin.
"There's definitely some more theatrical singing on there," he agrees. "The one on 'Say Amen', that comes at the end of the song – we had the basics recorded, and I was like 'it needs to climb at the end, let's do it!' It's kind of like a party trick. Broadway did teach me a lot, vocally: I learned a lot from the vocal coaches there.
"Lately I am so tired physically, because singing like that, doing the breathing exercises, it's so physically demanding!" he adds. "I would do this thing where I pull my tongue out of my mouth while I was doing warm-ups, and apparently that trains your tongue to stay out of the way of your vocal chords, to let more air in, all that. And it definitely calmed me down and prepared me for what I was about to do."
Urie has written songs for musicals in the past, including "(Just A) Simple Sponge" for the Tony Award-winning SpongeBob SquarePants, and is definitely up for scoring a full work.
"For me to jump into that world would make total sense I think, but also I have such a passion for it, for wanting to do something completely different musically," he says. "Talking all these amazing music conductors – they have such a key knowledge of theory but also the way the songs need to move according to the motion in the play. And I think about that a lot in the studio and the way the songs transition on stage."
"Overkill" feels like an appropriate word for the "Say Amen" video, where Urie is seen as a blood-spattered anti-hero fending off a team of ninjas who are looking for a mysterious and powerful artefact.
"It's very Kill Bill… ah man," he grins, "I've always wanted to do a video like that where I'm playing a kind of evil James Bond character. I told the directors 'I just wanna throw guys through windows, chop off hands', and we fit it into this trilogy of videos.
"The first idea I shot over to them they were like 'noooo, that's way too f**ked up'," he adds laughing. "But the thought behind it was like, 'art doesn't need to be serious all the time' – it can be camp and super gory."
While all of Panic!'s albums have featured an eclectic range of sounds and influences, Pray For The Wicked is where they seem to fit together. It's a slick, frenetic record that captures Urie's own irrepressible energy, particularly on a track like "Dancing's Not A Crime", which could be straight out of Robbie Williams' catalogue.
"I f**king love Robbie Williams," Urie exclaims. "The first time I heard 'Millennium' I was like 'who is this guy?!' He's so talented and funny, kind of on another level. That song 'Dancing' is really what it is, the lyrics are about not wanting to be forgotten or lied to or cheated on... I want to have a good time, but also when I'm out, I'm the one who's embarrassing everybody. If you want to be my friend… it's not an easy job!"
Despite this, Urie has made a point of surrounding himself with friends who "have no filter", rather than "yes" people who just tell him what they think he wants to hear. Working again with producer Jake Sinclair is one such example: Urie describes him as a "big brother" who isn't afraid to tell someone their idea sucks: "I'm a little more timid with ideas," Urie admits. "I don't wanna push them out of the way or step on anybody's toes."
Closing the album is a song called "Dying In LA" – a piano ballad which ends things in a highly unexpected and poignant way. Urie wrote the track with Morgan Kibby ("one of my favourite people"), and once it was "pretty much done" spent time speaking about what each lyric meant to them.
"It was that thing when you're not one of the top 3 artists on your label, nobody give a f**k, so at times it feels like you could be dying in LA and nobody would care, but who gives a s**t?" he says. "It doesn't matter, everything relies on you. So that's a little sombre note to the end of the album which I love, because the rest of the album is so high energy, and it's good to have that juxtaposition.
"LA is the best and also the worst f**king place in the world," he adds. "It has given me the most opportunities I've ever had, and has amazing networks and people to hang out with, and great weather, but also the worst people: selfish, out to get you, f**k you over, don't give a s**t, don't-have-any-real emotions people. It's a very seductive town, you get here with hopes and dreams, see the stars on the boulevard...But I don't want to rely on a town. I want to bring something to the table that actually matters."
Panic! At The Disco's new album 'Pray For The Wicked' is out on 22 June – the band headline Reading & Leeds Festivals 24-26 August
Join our new commenting forum
Join thought-provoking conversations, follow other Independent readers and see their replies