The quiet, eventual optimism of Brian Fallon
Exclusive: The Gaslight Anthem frontman on his new solo album 'Sleepwalkers', the ''59 Sound' anniversary, and how he finally learned how to ignore the bad and embrace the good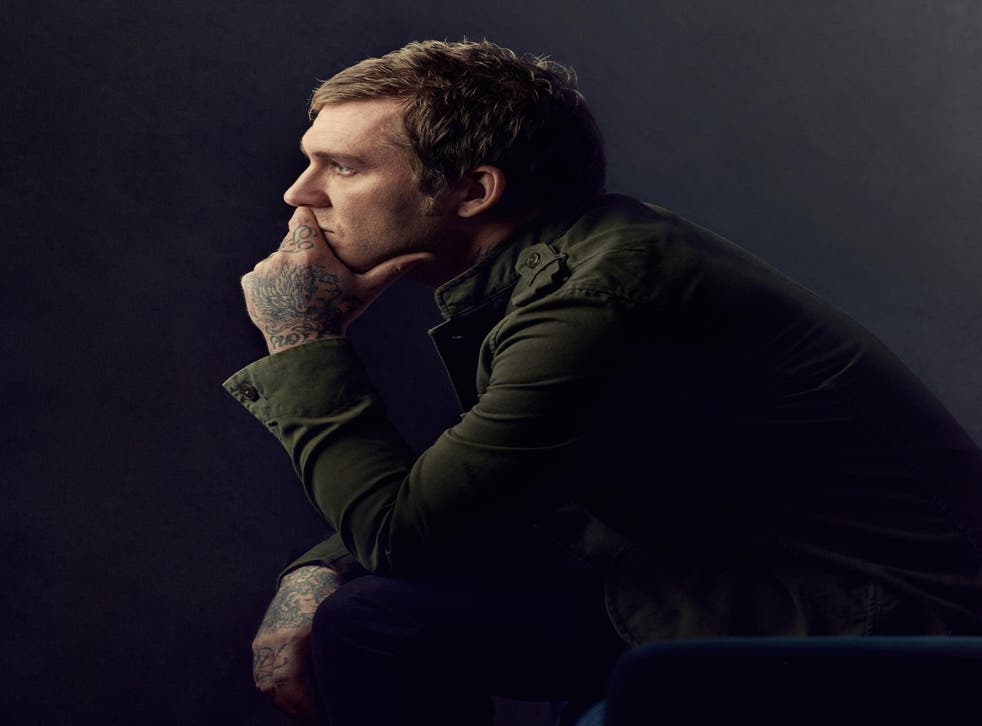 Travelling on an empty train from New York City across snow-strewn fields and frost-covered lakes to Asbury Park, New Jersey is a strangely cathartic experience. Listening to Brian Fallon's new solo album Sleepwalkers is the perfect soundtrack, too; opener "If Your Prayers Don't Get To Heaven" is this big, uplifting folk-rock jam with Fallon's rousing vocals, that seems as though it were written for a train journey.
At the Brickwall Tavern we spot each other immediately ("you're wearing a rucksack so I knew you weren't from around here," he grins). We order two beers and the waitress asks to see our IDs, so the 38-year-old Fallon is positively beaming by the time she brings the drinks to the table. Over lunch – pork rolls and grilled cheese sandwiches – and with Stevie Wonder playing on the speakers, we natter about politics, his family, what it's like living in New Jersey and how he'd like to try living in London some day – and his appreciation of the Twitter account "Very British Problems".
It's easy talking to Fallon; all his cards are laid out on the table from the beginning, and he has a cheerful disposition, buoyed perhaps by the thought of this upcoming album release. Across the road in a coffee shop that wouldn't look out of place in Hackney, talk turns to other interviews he's done, or reviews of Gaslight that have stuck with him, and the myth that surrounds other artists like the Gallagher brothers, Bob Dylan, Radiohead. He spends a lot of time chewing over a subject, working it out as he goes, and that's kind of how he landed on this second solo album.
"When I was writing I went through this blank spot. The first one was really quick - it was new, I had a lot of songs," he says. "For Sleepwalkers I got jammed up, because all of a sudden I started thinking like, what am I doing? I don't have this band anymore – am I the folk guy? It was super unimportant to the entire rest of the world, but to me it was a big problem.
"I think my writing part on this one is better, for sure. Before I was trying to figure stuff out, and it wasn't this move where I was like 'I'm going solo'. It was more: 'I don't know what to do now'. I was also coming hot off the heels of this big band which had been praised, and then Get Hurt happened."
He's much less sensitive to critical reviews now, but a few from the past still seem to sting, most obviously around The Gaslight Anthem's fifth album. It received a lot of praise by some publications, and incredibly savage reviews by a few others. Obviously it was the latter that stuck, and shortly after the album was released, the band announced an indefinite hiatus.
"It crushed me up," Fallon says frankly. "Because I didn't understand what happened. For '59 Sound people really supported us, and that was unexpected. Those magazines kept supporting us after that, fans were cool: they've always been really supportive. So we were all caught in this thing at the beginning where we didn't know what we wanted to be, how big we wanted to be. Then around the time of the Handwritten tour, our personal lives were going crazy. So I checked right out. It could have been anybody there. I don't remember it – not because I was drunk – I was just mentally elsewhere."
He calls Get Hurt a reaction, but one where he wasn't fully healed. If it had been a physical injury, he says, he would have still been in the hospital – not trying to work out those issues on the record.
"I look back on it and I don't hate it," he says, taking a sip of coffee. "There are fans who like it so that's cool. But some songs aren't finished. I know when I'm not done. But when the backlash came from the press. I think I got ripped pretty good. I took it hard.
"I've never talked about this before, but the thing that truly slammed me was one time where somebody said there were 'ageist, sexist overtones' when I used the word 'baby'." He shrugs, flummoxed. "That review didn't give me a chance to respond. They didn't write about the band, it was about me, and they crucified me. I didn't release that record to offend anyone. I was going through some bad times, and it might have been incoherent, but... yeah, I took it hard. It crippled me as a writer and a creative person. And at the same time I was going through divorce, so I just felt like this huge failure."
He's still floored that Sink or Swim was The Gaslight Anthem's first record. It's certainly an impressive debut, one that scored them the front cover of Kerrang! before being covered in the magazine previously; something no other band had managed before, and saw Bruce Springsteen – one of Fallon's biggest influences – perform with them at Glastonbury Festival and Hyde Park.
The Gaslight Anthem perform The '59 Sound with Bruce Springsteen at Glastonbury
"I'm always on the way to self-doubt though," Fallon chuckles. "So when Bruce Springsteen turned up when we were starting out, I wondered if we were selling out a place because of our music or because fans were hoping they might see him. You could hear the wind going through that hole in my chest, after that. Once I started thinking that, it was over."
He's had time and distance to recover from the Get Hurt saga, but you can see there's still some confusion, or residual anger at the sheer viciousness towards a band who started out as good as it felt possible for a punk-rock act to at the time. It was the build-up towards that record where Fallon realised that things weren't working.
"We had Handwritten with Brendan O'Brien, and the song "45" did pretty well here, which was cool because we'd never had a lot of love in America," he continues. "It took time to trickle over. I think Brendan's feelings got hurt with us not doing the next record with him. I wanted to, the guys weren't sure. And he stopped calling – I haven't talked to him in a few years," he says. "And I miss him, I feel like I never got the time to explain.
"The guys wanted to do something more experimental and… I don't even know if it was that much different to what we'd done before, in the end." He stops and laughs: "Poor Mike Crossey [Get Hurt's producer], man, he didn't know what he'd walked into."
It was the perfect storm for something bad to happen, Fallon says, quoting the film Talladega Nights ("If you ain't first, you're last") to give a light-hearted idea of the pressure from record labels to outperform their previous records, even if only by a small margin. "I went to therapy and stuff. I recognised I had a problem."
"People will always say, 'why are you doing a solo record?' And I'm like, 'because I don't have anything to say with Gaslight'. Those five records, that's what you got. That's the piece. I feel it's a lot like The Replacements. There's no new music because that's all Paul [Westerberg] and the band has to say. When the book is over, it's over. And I have like… four-and-a-half records I'm really proud of," he says with a laugh. "I'm bummed because I don't think I finished. I've never felt like that with any of the other records.
"I didn't know I was going to do the first record, when Gaslight stopped, or completely quit music," he adds. He probably would have gone out to the middle of nowhere, where people couldn't get to him, and gone fishing. Only he hates fishing. "Nah. I would have worked on amps and guitars. But I still loved songs, and still had ideas for them. So I felt I had to do something with that. I did the first record and had a great time, so I wanted to do another one."
"When I found myself out of it, I wasn't sure where to start. I went with folk music because I liked that, I like those simple songs. On Painkillers, I was so relieved when I met [producer] Butch Walker. He had a sign up on his desk which said 'F*** your bad vibes'. To me that resonated – that's him, and that's why so much flew out real quick. We released the raw version, let it go. That was such an opposite approach to how things worked with the band and what we were doing."
Painkillers got a positive reception from critics and fans, and Fallon felt as though he was back at square one. The shows were much smaller than what he was used to, but he enjoyed them. There was a fresh feeling of possibility. When he came around to thinking about a follow-up, however, Fallon "got quite scared", and called up his old producer Ted Hutt, who he worked with on The '59 Sound, and asked if he wanted to make a record.
"I wanted to know who I was when we did The '59 Sound, before the Kerrang! cover, before the Hammersmith Apollo. Who was that kid who walked into make that record?" Fallon says. And Ted laughed and said: 'The one thing I remember was, you did not give one thought to the idea that there could be press, or TV. You were concerned with what you loved. Putting a guitar part down because it sounded like a Motown record, or getting the guitars to sound like horns because of James Brown'.
"So now I listen to the record, and I still really like it. That takes a lot of the pressure off on what other people say. If you love what you're doing, that's how you develop a thick skin, not from feeling all those insecurities and bad vibes. It's only taken me, what, 38 years to figure that out?"
He's heading out on the European and US legs of his solo tour later this month, before returning home to prep for The Gaslight Anthem's 10th anniversary tour for The '59 Sound – which includes a high billing at this year's Governors Ball in New York City.
"We're going to be doing mad rehearsals for the Gaslight shows, I haven't played the songs in, what, three years?" he says. "But I've been taking piano lessons, and sometimes I'll sit down to check I remember all the words, and so far I haven't stumbled.
"There's a task now, with Gaslight, and we're only doing it for a set number of dates. It's refreshing. We were talking about how to choose the songs, and I like all of them, so I don't care. It doesn't make me more happy to play certain songs over another."
When I ask him what he's listening to at the moment: he looks guilty and says Red Hot Chili Peppers, but then he's only listening to the good stuff. He ignores the bad. "When I see something I don't like, my brain just disavows all knowledge, I'm like Nasa," he jokes. "I do it with my own music too, which is great when I see a bad review."
After he spoke about the beginning of Gaslight, and how they didn't know how successful they wanted to be, he doesn't have to think for too long before answering that same question now.
"If I could maintain where I am right now, where I'm on tour, making enough money to live, get my kids what they need, and still be visible enough to find a young band to come out on tour with us," he says. "And a big personal goal is to be able to afford a home. That's success to me. Those two things.
"Things change when you have kids, and I don't need a lot of stuff. I feel much better now at 38 than I did when I was 28, I'm much more content. But it took a lot of bad stuff to get there, a lot of low points. I remember finishing this record, feeling good about it. Some people will like it, some people won't. But I'm OK with both."
Sleepwalkers, the new solo album by Brian Fallon, is out on 9 February via Virgin EMI – pre-order here
Join our new commenting forum
Join thought-provoking conversations, follow other Independent readers and see their replies