Bring me the Horizon, interview: Could the band become the new Metallica?
Singer Oli Sykes: 'I guess we didn't know how far the band would come along, but at the same time there are not many English bands that have of this kind of heaviness that have achieved it'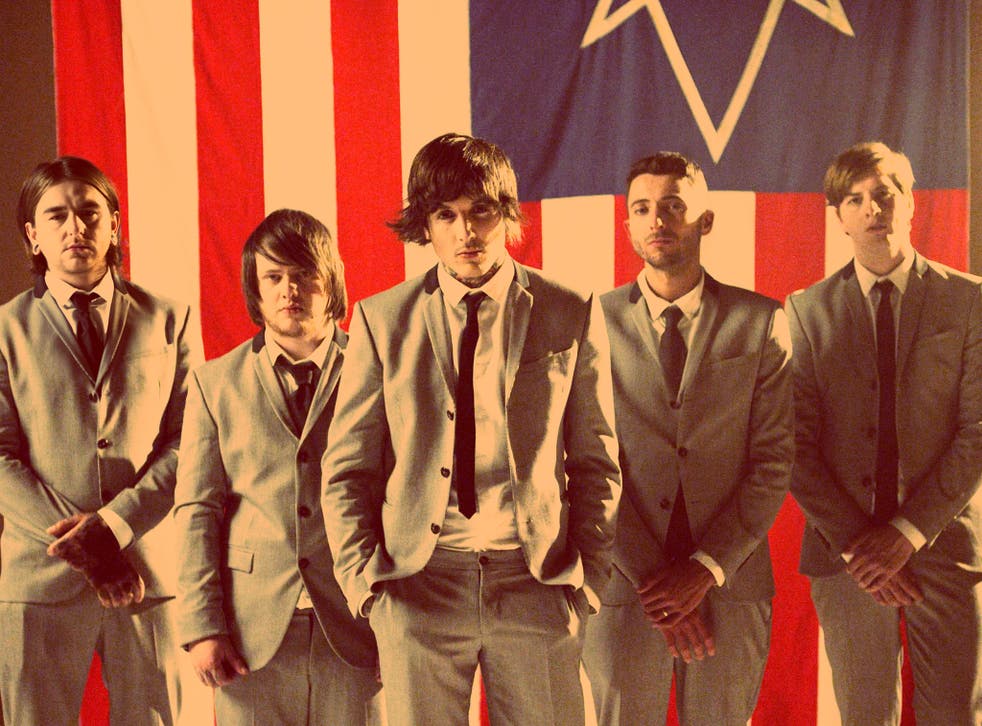 When Bring me the Horizon signed to Sony's RCA two years ago, the major label feverishly proclaimed them the new Metallica.
The band members were less convinced. "We just said, 'you're going to be disappointed'," recalls singer Oli Sykes. Then last year a bandmate, guitarist Lee Malia, said in an interview: "We're never going to sell out arenas."
It's fair to say that they've since been reassessing those words. After all, the Sheffield-based metal band's fourth, 2013-released, album Sempiternal was their highest-charting album to date, going straight to No 3, and reaching No 11 in the US Billboard chart, and on Friday they play to 12,500 people at Wembley Arena.
"And I think we've just about sold out Wembley now…" says keyboardist Jordan Fish, grinning, at the private members' club in London's Soho where we meet.
It wasn't for lack of ambition that arenas were far from the band's imaginations. It's not often that a UK band from a metal background plays such vast venues. They're usually confined to smaller venues and fervent cult followings.
"I guess we didn't know how far the band would come along, but at the same time there are not many English bands that have of this kind of heaviness – apart from Iron Maiden – that have achieved it," states Sykes. "It's always the American ones. We still don't feel like a big rock band. If you thought about a band playing Wembley, you'd think of them as superstars, wouldn't you? But that's not the case. We're still normal people doing day-to-day things." Such normal things being his two beloved dogs and fiancée that he talks about making time for amid the touring, songwriting and the clothing label Drop Dead he founded and designs.
The band formed 10 years ago in Sykes's home city of Sheffield, playing the metalcore that he'd grown up listening to and emulating throughout his early teens. Back then, Bring Me the Horizon numbers were more about screaming.
"I used to put CDs on in my room and scream along to them from the age of 14, which my parents hated," Sykes recalls. This image of the screaming Sykes is at odds with the quietly spoken, polite 28-year-old with arms smothered in dark tattoos, who I meet today. For Sempiternal, Sykes learned how to sing, with the help of Jordan Fish, a member of the former atmospheric synth-rock band Worship who joined the band officially last year having played with them as a live touring musician.
"It was weird because you don't see many bands into their career get a new member, especially a keyboard player – keyboardists are always the ones to get kicked out," says Sykes. "We realised that Jordan had written every song with us and it was more than an iPod could do, because that's all we had before."
Enjoy unlimited access to 70 million ad-free songs and podcasts with Amazon Music Sign up now for a 30-day free trial
Sign up
Fish played a big part in their expansion into the more melodic hard rock of their current output, no more seen than in the new anthemic single "Drown" that they have penned especially for the Wembley show.
"We wanted to write our version of an arena anthem," says Sykes. "We didn't feel like there was anything on Sempiternal that you can imagine in an arena. "Drown" could get to it without compromising our sound." It's the band's shift into melodic rock that has expanded their fanbase into the mainstream. It began with Sempiternal lead single "Shadow Moses", which made its way onto the Radio 1 playlist and had listeners spluttering over their breakfast cereal.
"When the album first came out, 'Shadow Moses' used to get played in the morning," recalls Fish. "I remember Sara Cox went, 'oooh, I don't know about that', and read some tweets out – 'a bit loud for me over my Cornflakes'."
Their crowds are more diverse now, they say, from 14-year-old girls to 50-year-old men, and the set-lists reflect that. Fans should brace themselves for the fact that alongside the more melodic newer songs, they will be including some tracks from their earliest metalcore days. For Sykes, it poses a practical difficulty on the live stage, as he sometimes shifts from guttural growls and full on screams to singing in the space of one song. Naturally, he is in charge of planning the order of the setlist.
"People say screaming must knacker your vocals, but it's is easy," says Sykes. "Once you know what you're doing, you don't have to apply loads of strain on your voice. Singing to me is still really hard, it's still really nerve-wracking."
It's the band's decision to shift their sound to follow the development of their own tastes that has led them to appeal to the mainstream where other heavy bands remain on the underground. It's challenging people's perceptions of metal, and metal fans' perceptions of other genres, that most drives them. "We don't listen to metal, we listen to all kinds of stuff and we like pop music, so I think being in that middle ground between two genres that are opposites, like heavy metal and pop, we try and take the best bits from both," explains Fish. "Opening people up to different styles of music that they wouldn't necessarily have been willing to listen to before would be cool – in metal music some people can be quite closed-minded. It's quite niche and I think we go out of our way to be awkward in the metal genre."
"We want to be a gateway band to get people into this kind of music," states Sykes. "Like Linkin Park were for me. Most people say, 'I just like metal'. Or, 'metal's horrible and scary'. People have these preconceived notions. We'd like to be that band that get people into a whole new side of music. That's a big ask, though," he laughs.
The latest single has already riled long-term fans, with comments online complaining that the song wasn't even metal. "But we said we never even said it was!" says Fish. "That shows you the mindset of someone in the metal scene. 'You're a metal band, why aren't you playing metal?'"
It's why you'll find T-shirts on their merchandise stall on tour emblazoned with the words "True Northern pop metal". "Someone asked me what music I liked and I said 'pop metal'," says Sykes. "That's what it is, it's poppy metal. But people [act] like it's like a dirty word".
As the fans of poppy metal continue to flock to Bring Me the Horizon, they come ever closer to their record label's prediction. The new Metallica might not be so far-fetched after all.
Bring Me the Horizon play the SSE Arena Wembley on Friday. 'Drown' is out on Monday 7 December
Join our new commenting forum
Join thought-provoking conversations, follow other Independent readers and see their replies