Interview
'It was a breaking down of racial barriers like never before': Why Brit-funk matters
It's been cited by Tyler, The Creator as a major influence but the groundbreaking, distinctly British Seventies sound has never really got its due. Gilles Peterson and Bluey are hoping to change that with their new duo, STR4TA, they tell Marcus Barnes
Sunday 28 March 2021 07:37 Comments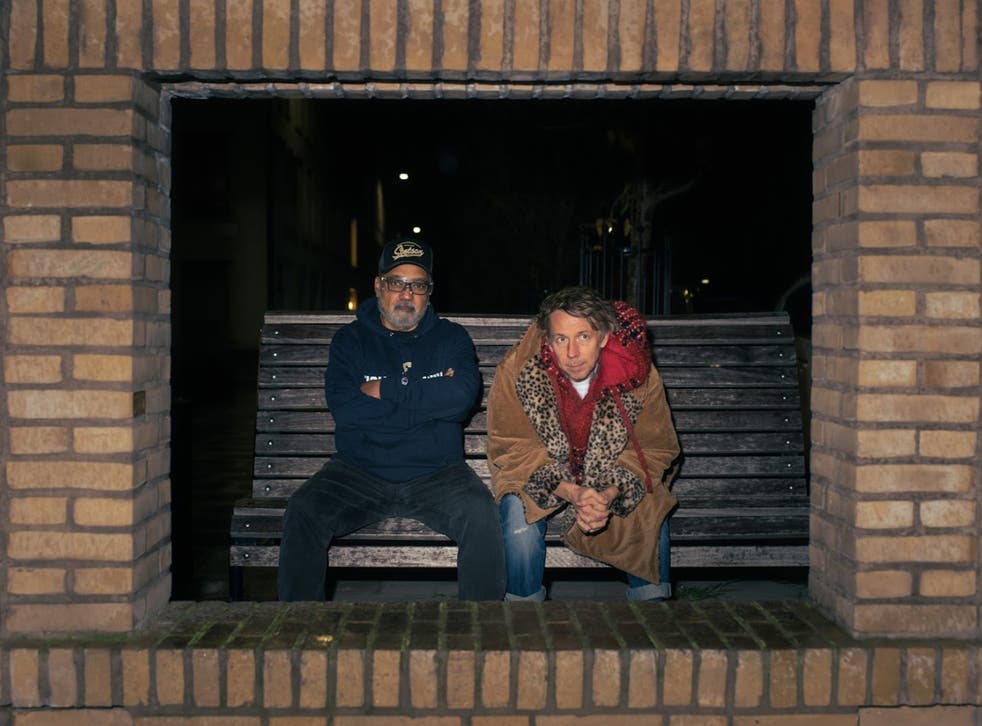 In the mid-Seventies, deep in Soho's sleazy underbelly, down a staircase and into a dodgy basement club called Crackers, London was bouncing to the ridiculously upbeat combination of funk, soul, jazz and hints of reggae and pop. At the time, this blend of sounds was unheard of before, even revolutionary, drawing heavily on imported US records from artists like Brass Construction, Roy Ayers and BT Express but with the local DJs adding a distinctly British flavour on the decks. The scene was called Brit-funk and, though short-lived, it laid the foundations for club culture as we know it today, breaking down racial barriers long before acid house.
Unusually for the era, Brit-funk was entirely self-sufficient, formed around a network of grassroots club nights, DJs, dancers, flamboyant fashions and pirate radio shows, up and down the country, in the mid-Seventies and early Eighties. It spawned a number of groups, like Incognito, Hi-Tension, Light of the World, Average White Band, Ian Dury & the Blockheads, Central Line, Freeez, Linx and Level 42, many of whom went on to play on Top of the Pops – Hi-Tension even reached the UK Top 10 with their self-titled single in 1978. These bands were among the first wave of Black British youth culture that filtered down to the pop charts en masse. 
Inspired by this groundbreaking time in British music history, the DJ and broadcaster Gilles Peterson last year teamed up with Jean-Paul "Bluey" Maunick of Incognito to form STR4TA in order to capture the movement's raw energy. The new duo encapsulates the formative years of both men – Maunick as lead performer and producer in one of the best-known Brit-funk exponents; Peterson as a selector who was a soul boy at heart, and became "part of the family," as Maunick says. STR4TA started off as one of those "not-so-serious" projects between friends, they say, that took on a life of its own.
Their collaboration has turned into an album, Aspects. Peterson led the charge, encouraging Maunick to take the sound back to its essence. Songs like "Dance Desire" evoke a psychedelic jazz-funk sound; another, "Kinshasa FC", features a classic Seventies blend of flutes, saxophones and cosmic funk. "I know how to get that sound because I was part of creating it," says Maunick. "I know the energy I felt back then, you never forget that. It's like, you have other kisses, but you never forget that first one, because it's got the desire, it's got the energy, but it's also got the awkwardness, and that's what the music's got. What Gilles does is to ask, 'Where are the edges? Where are the corners, where are the spiky bits? I need those.'"
The pair have known each other for over three decades, initially meeting when Maunick became Peterson's first ever interviewee on his pirate radio show in London in 1981. They'd always planned to work together at some point but the catalyst that finally got the whole project in motion came from an unlikely source: Tyler, the Creator. The US rapper gave a shout out to "all the British funk from the Eighties that I try to copy" when he collected the gong for Best International Male at the 2020 Brit Awards. This moment of global recognition inspired Peterson to contact Maunick and start sending him Brit-funk records, rarities and hits that represented the era. "He said, 'If you've got any old tracks lying around, maybe we can put some out'", Maunick explains. "I went in and I thought, 'Let me see if I can create a track that's got that vibe, with just myself in the studio, then give it to Gilles and pretend I found it'."
Brit-funk grew out of the UK's soul and jazz-funk clubs. Patrons aged from their mid-teens to early twenties went out to dance, a key pillar of the movement – the floor was a no-go area unless you were prepared to dazzle with your moves. Daytime parties, which started at lunchtime, were also key. Venues such as Watford Baileys, Bobby McGees, Global Village, the aforementioned Crackers, Lacy Lacy in Ilford and The Goldmine in Canvey Island, where Chris Hill held court, were essential to its inception. Hill, along with Greg Edwards, Robbie Vincent and Colin Curtis, a Northern Soul selector, began to play the homegrown sound as labels such as Ensign and Elite Records began. Chris Hill and Robbie Vincent also managed bands, Hill looking after Light of the World and Vincent handling Second Image.
Soon, pockets of Brit-funk popped up across the UK, with different regions having their own nuanced version, many of it influenced by the music that they'd heard on American army bases. Bands quickly formed. In the north, there was The Real Thing, a sophisticated group from Liverpool; in Dundee, Average White Band. Interestingly, several of these acts achieved success across the pond – Linx, David Joseph and Imagination are among those whose records made their way to tastemakers like the legendary house DJ Larry Levan. Imagination even performed at his club, Paradise Garage in New York, making them the first British group to perform there.
As is always the case with music, a complex coalescence of influences and adjacent scenes provided the backdrop for Brit-funk. Maunick says that Black youth in the UK at the time were listening to American soul, jazz and funk but their own diverse culture and history gave their interpretations a different flavour. "We had people who came from Jamaica, playing reggae, and their sons forming funk bands because they were listening to America in a different kind of way," he explains.
Reggae inflections can be heard in the productions by several Brit-funk bands, such as "(Dancing In) Outer Space" by Atmosfear and Hi-Tension's self-titled song, though Maunick highlights that there was crossover with punk music, too, which was emerging around the same time. "There was an energy about British rock music and funk music, which came out later on with punk with that rhythm guitar energy," he says.
Enjoy unlimited access to 70 million ad-free songs and podcasts with Amazon Music Sign up now for a 30-day free trial
Sign up
A DIY aesthetic also links the disparate funk and punk scenes. Maunick, for example, didn't have any formal training. Occasionally he'd even step in to play instruments he wasn't familiar with. That informal approach was at the forefront of Peterson's mind when he was guiding the project. "What I've been trying to recreate with Bluey on this record isn't about the playing," he says, "it's about the energy and that movement, where there'd be white labels coming from Elite Records with Atmosfear '(Dancing In) Outerspace' that was a bit dubby, but done in a British way and the drums are slightly out of time. It's about all of that stuff, because they weren't brilliant. And that is the charm of it."
Peterson draws parallels between Brit-funk and the recent jazz movement that's been exploding out of London in particular, highlighting the contemporary scene's blend of DJs and live performers that was also intrinsic to Brit-funk. "Post-Brit funk, DJ culture grew and then live music culture grew, but they didn't come together anymore," he explains. "Thirty years later, the British jazz explosion is going on right now. They're the first generation since that time, where the DJs and the bands are together again because they all DJ now. That's a very key thing about STR4tA and why the music has a unique Britishness about it. Britain has always been at the forefront of DJ culture, constantly reinventing how music is incorporated into the dance."
The trickle-down effect has been monumental, too. It's not just US rappers who've felt the force of Brit-funk: influential UK dance music figures across the subsequent eras, like drum'n'bass maestro Goldie, superstar DJ Carl Cox, jungle pioneers Fabio & Grooverider, and lesser-known heroes who are no longer with us, like house DJs Phil Asher and Paul "Trouble" Anderson (who was a roadie for Light of the World), have all been inspired by Brit-funk's radical approach to club culture.
Another aspect of the Brit-funk movement that has been underreported is the social shift it triggered, bringing white and Black people together on the dancefloor for the first time. Before Brit-funk, Black youths were routinely refused entry to clubs and had to start their dances. But this scene was different. "It was the first time Black and white kids were mixing at that level. That's not to be not to be taken lightly," Maunick states. "Especially for someone like me, who came to England and walked around the streets with my mother looking for a place to live and coming across signs with things like, 'No Pakis, no blacks, no dogs, no Irish'. Being attacked by skinheads every couple of days. Ending up in hospital. To be a part of that [shift] was a triumph for me. It was a breaking down of racial barriers like never before."
It opened Peterson's eyes, too. "As a young boy growing up in south London, from a French family, going to international school and living in a white-dominated area, this was the first experience I had of going to events where there were black and white people dancing together. It was an amazing experience," he says.
Brit-funk also challenged Black stereotypes, demonstrating that singular portrayals of Black people were totally incorrect. The genre's broad range of Black performers, from their skin tone, to their accents, personalities and sexuality, was a clear example of how diverse the Black community is, marking the first truly authentic representations of Black people. Notably, Brit-funk had a strong queer element, too, and some of the key clubs where it was played were known as havens for LGBT youth, where they could dress as outré as they liked. Understandably, the scene took off in a big way. "It was massive," says Maunick. "It was fashion, it was music, it was club life."
Despite that, however, the music and its impact never really got much media attention at the time. The press, says Maunick, felt like it was not to be taken seriously. No matter how fleeting a sound it was, Brit-funk was routinely ignored – too underground, too subversive and too Black to be properly considered by the music press. "The excitement of that time is never documented properly," Maunick sighs.
In the decades since, there have been key books like From Jazz Funk & Fusion To Acid Jazz: The History Of The UK Jazz Dance Scene By Snowboy, as well, last year, a BBC documentary last year, hosted by Rodney P. Maunick and Peterson's hope with Aspects and STR4TA is that their music can help shine a light on what made the Britfunk scene so special. "It existed in its own little world, which, in retrospect, has been ignored and lost," Peterson says. "Everyone's on a nostalgia trip, whether it's Gang of Four, the f****** Smiths, Factory Records or The Haçienda. It's all great. I love it all, but at the end of the day, I'm sick of it, because there was so much more going on." Over 40 years since it revolutionised British club culture, it's time Brit-funk gets the recognition it deserves. 
Aspects by STR4TA is out today on Brownswood
Register for free to continue reading
Registration is a free and easy way to support our truly independent journalism
By registering, you will also enjoy limited access to Premium articles, exclusive newsletters, commenting, and virtual events with our leading journalists
Already have an account? sign in
Join our new commenting forum
Join thought-provoking conversations, follow other Independent readers and see their replies