Comment
People spent years taking photos of Britney Spears. But did they ever actually look?
The Britney documentary might be out, but our collective reckoning around fame, celebrity media, mental health and the conservatorship legal system is far from over, writes Rachel Brodsky
Wednesday 10 February 2021 09:00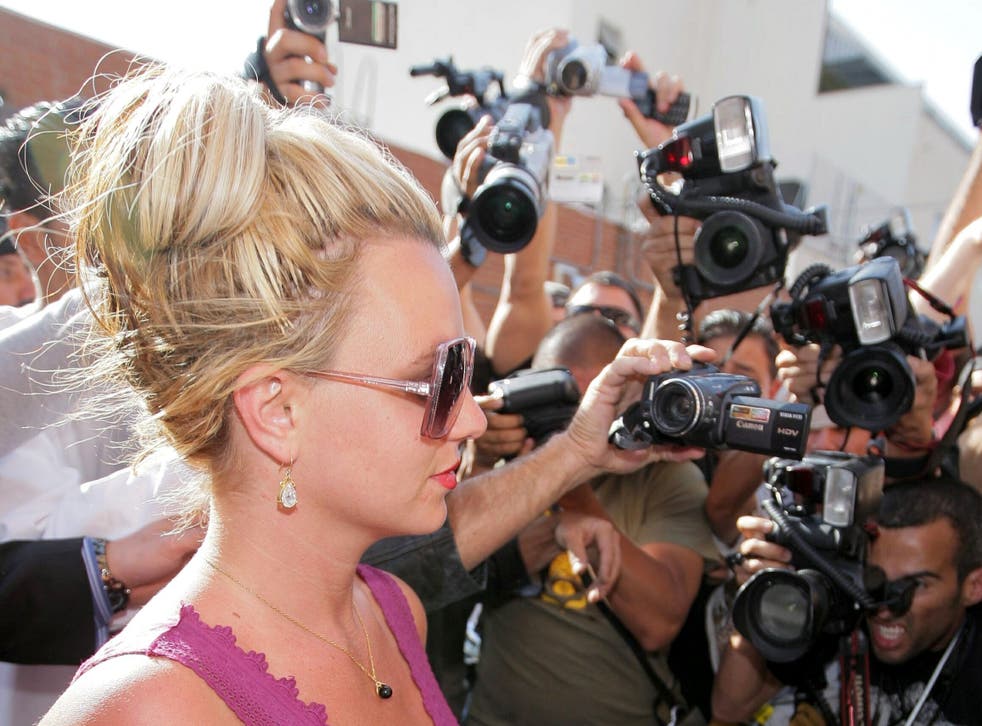 By now, many in the US have seen the new FX-Hulu documentary Framing Britney Spears, which explores the iconic pop singer's meteoric rise in the late 1990s and subsequent deterioration at the hands of the brutal 2000s media machine. Retracing her steps – from a cheery 10-year-old on Star Search to Disney Mouseketeer to groundbreaking pop phenomenon to tabloid victim and beyond – the special takes a closer look at the events leading up to Britney's still-active legal conservatorship, which has been in place since 2008 and is overseen by her father, Jamie Spears, and lawyer Andrew Wallet. (Wallet stepped down in 2019, and Britney is currently locked in a highly publicised legal battle to remove her father as conservator. For now, he oversees her $60m/£43.4m estate with assistance from financial company The Bessemer Trust.)   
To say that the response to the documentary has been swift and passionate would be a severe understatement. As the Super Bowl played out on Sunday (7 February) – two days after the documentary's premiere in the US – the words "WE ARE SORRY BRITNEY" exploded as a trending topic across Twitter. Apologies from fans, media and fellow celebrities poured onto Twitter, acknowledging their complicity in raking Britney across the coals of public opinion as she was painted as the villain in a highly publicised 2002 break-up with Justin Timberlake (who later launched a successful solo career), was asked cringe-inducing questions about her breasts and virginity status by leering journalists, and became late-night comedy fodder as she lost visitation rights with her children and suffered a series of breakdowns.  
A concentrated faction of fans have been closely following Spears over the years, trekking to Las Vegas to catch her popular Piece of Me residency, which ended in 2017, and seeking to expose the allegedly too-restrictive nature of her longstanding conservatorship via the #FreeBritney movement (how can a woman performing for thousands of fans every night need a judge-mandated guardianship, which is usually set in place for the elderly and/or disabled?). But Framing Britney Spears, produced in partnership with The New York Times and due to air in the UK this spring, transmits our recent history back to us in painful high definition. It illuminates what #FreeBritney crusaders have been trying to tell the mainstream media for years: that, in addition to celebrating a young woman's extraordinary, game-changing talent, we projected our worst anxieties on her and laughed when she broke under the pressure. Then, instead of installing a professional, the court system entrusted Spears's health wellbeing to her father, who, according to the documentary, had not been a strong presence in his daughter's life prior to her celebrity.  
Though, as many have pointed out, Framing Britney Spears poses more questions than it answers, it succeeds in asking all of the right ones. It interviews a number of people close to the singer: former personal assistant and family friend Felicia Culotta, the marketing executive who originally created Spears's image, the lawyer Spears originally tried to hire in the conservatorship's early days, a lawyer currently working on the conservatorship, and even the paparazzo Daniel Ramos, whose car Spears infamously hit with an umbrella during a moment of severe stress in 2007. ("She never gave a clue or information to us that, 'I don't appreciate you guys. Leave me the F alone,' Ramos, who auctioned off Spears's umbrella, said. "What about when she said, 'Leave me alone'?" the documentarians countered.)   
Like many of my generation, I'll never forget my introduction to Britney Spears. It was the day MTV premiered Spears's "...Baby One More Time" video, and I'd just arrived home from school and switched on Total Request Live, which I used to sneak while my parents were still at work. That heart-stopping hook, the fantastical, school-set music video, the dance moves, Spears's raw talent and easy charisma – I didn't know much at 12 years old, but as a music and pop culture junkie, I felt I'd just witnessed something huge.    
Framing Britney Spears trailer
Some years later, in 2012, I took a job blogging for MTV, where part of the gig involved regularly mining archived photos from previous Video Music Award ceremonies to post and build buzz for the coming year's show. Spears's rise, of course, was inextricably linked with MTV, and bloggers were under no circumstances – and I mean never, ever – allowed to mention or write about the infamous 2007 "Gimme More" performance that preceded her media fall.  
In retrospect, that was probably a good thing – the last thing Spears needed was yet another media outlet pointing and gawking at some of the most criticised moments of her public life. Still, through my hours scrolling through photos of Spears through the years in every possible red-carpet setting – at movie premieres, at the Grammys, at the US Open, performing on hastily erected mall stages, posing with other music personalities of the era like 98 Degrees and Mark McGrath – the more I looked, the more I could see the light leaving her eyes. Somewhere between 1998 and 2006, that goofy, excitable teen began to look tired. Tired evolved into agitated. Agitation turned to anger – anger at the people "touching" her, as she was overheard saying in the hair salon where she shaved her head in 2007. Anger turned into a 5150 psychiatric hold and the legal conservatorship. Spears currently refuses to perform until her father is removed as her guardian.
In more recent years, as Spears rebounded into a successful Vegas residency, released albums like 2011's Femme Fatale and 2016's Glory, and participated as a guest judge on The X Factor USA, her red-carpet photos didn't look angry, exactly – but they did look tense, like someone living out their own hellish Groundhog Day. As she plainly stated in her MTV documentary, For the Record, "When I tell them the way I feel, it's like they hear me, but they're really not listening. They're hearing what they want to hear. They're not really listening to what I'm telling them." 
Even during her year judging on TheX Factor, a clearly uneasy Spears couldn't escape her own assessment. Simon Cowell called Spears "uncomfortable" in an interview; when describing the singer's banter with contestants to Ellen DeGeneres in 2013, he sounded annoyed that a prized show horse couldn't deliver, without ever really questioning why. "There was a time where I think everybody was trying to up themselves in terms of who could find the biggest known star to be on a panel," he said. "I kind of booked someone who couldn't talk, which is a bit of a problem when you want someone to judge."
Cowell's assessment hardly squares with the effervescent Britney introduced to the world in 1998. It does, however, line up with the Britney that the media, the courts, ex-boyfriends, and even her own family helped forge. We know so much less about this Britney, save for the dancing clips and cryptic selfies she (or likely a member of her team) frequently posts to Instagram. They paint a portrait of someone living a shell of a life, one that doesn't appear to exist much outside the walls of her sprawling home in Thousand Oaks, California. To what extent Spears chooses this cloistered existence remains a total mystery – though she recently wrote "I am taking the time to learn and be a normal person" on her Twitter and Instagram, many #FreeBritney activists are convinced that the singer doesn't have control over her own iPhone. (Her social media manager denies this and all other conspiracies surrounding Spears's social media.) 
Britney's contentment to dance in her living room could be every bit as authentic as her alleged fear of her father and his continued oversight of her estate. Maybe someday we'll know every detail of what we did to her. But if they're anything like the bits and pieces Framing Britney Spears outlines, our collective reckoning is far from over.   
Framing Britney Spears is available to watch now on Hulu in the US
Register for free to continue reading
Registration is a free and easy way to support our truly independent journalism
By registering, you will also enjoy limited access to Premium articles, exclusive newsletters, commenting, and virtual events with our leading journalists
Already have an account? sign in
Register for free to continue reading
Registration is a free and easy way to support our truly independent journalism
By registering, you will also enjoy limited access to Premium articles, exclusive newsletters, commenting, and virtual events with our leading journalists
Already have an account? sign in