Interview
Calypso Rose: 'I am here to tell women, don't be afraid'
The 79-year-old star tells Helen Brown why she's had enough of victim blaming at Carnival, about not smoking with her friend Bob Marley and why 'that Donald Trump does not like nobody, not even himself'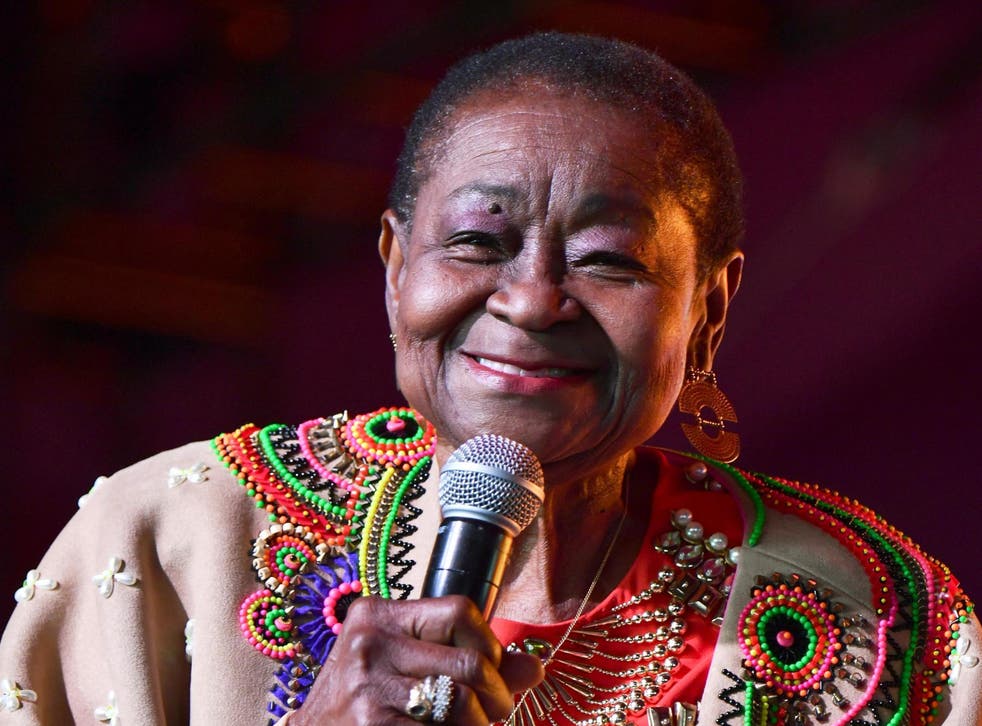 Six months before the #MeToo movement went viral in October 2017, women across the Caribbean were united by a feminist anthem celebrating their right to party without being manhandled. During the annual carnivals in Trinidad and Tobago, women danced through the streets in bikinis, singing Calypso Rose's "Leave Me Alone": "Boy don't touch me!/ I there in the party/ Enjoying my body/ With my friends I am happy/ So leave me alone!"
Their act was political. Local activists said that sexual assaults on women had been tolerated as part of the carnival scene for too long. The previous year Japanese musician Asami Nagakiya was strangled at the Port of Spain carnival. When her bikini-clad body was found in a park the following day, mayor Raymond Tim Kee claimed her clothing had led to her (still unsolved) murder. "The woman has the responsibility to ensure that [she is] not abused." he told the press. "It's a matter of, if she was still in her costume – I think that's what I heard – let your imagination roll."
Seventy-nine-year old Calypso Rose – delighted to be playing at the Womad festival this week – has no patience with such victim blaming. "Carnival is to be loose! To be free! We have to let everybody know that women should not be walking behind the men any more. Women should be walking in front!" she tells me with a broad smile via a video link from France. "I know it is a scary time. But I am here to tell women: don't be afraid. Enjoy yourselves!"
Despite a series of heart attacks and one bout of cancer, the calypso queen is still an electrifying performer and engaged interviewee, regularly breaking off an anecdote mid-sentence to lean towards the camera and sing a snatch of one of her 800 songs, big pearls swinging from her ears.
Calypso Rose was born McCartha Linda Lewis in Tobago in 1940. "We had no electricity and there was no music, no nothing to hear at all," she tells me. "My dad was a preacher and my mum had 11 living children. I was the fifth. It was a lot for her, and I was adopted at the age of nine by my uncle's wife and went to live in her big house in Trinidad. Suddenly, I was the only child. My auntie – Miss Robbie – gave me all the love she had. I could sit in peace, suck my fingers and play with my pikkie [short, Afro textured] hair!"
Miss Robbie also loved calypso music: a genre descended from the west African "kaiso", sung by the slaves imported to work on the sugar plantations from the 17th century onwards. Under the guise of jaunty melodies, it was used to mock slave masters and communicate. After the abolition of slavery in 1873, calypso music dominated the annual carnivals celebrated in the days before Lent.
"My auntie, she had all the calypso records," says Rose. "She would grind up the gramophone and tell me: dance, dance, dance! On Sunday night she'd take me down to the clubs where they would be singing and moving until Monday morning, oh my God it was fantastic! I was on the roof! My auntie would be wearing her shorts and we were all just wiggling the bamsee [bottom] left-right, left-right."
Rose was just 13 years old when she wrote her first calypso: fighting for justice from the get-go. "In the market one Sunday morning, we saw a guy run up and snatch the glasses from off the eyes of a vendor. We yelled, 'Thief! Thief Thief!' Well I went home and wrote 'Glass Thief' to warn Tobagonian boys not to be like those naughty Trinidadian boys." It was the first calypso denouncing sexual inequality. Her second song was inspired by the Can Can dance craze: "I sang about the girls who can can!"
But she was writing and singing against the grain. Women were not welcome on stage in the calypso tents of the 1950s. "When I began entertaining at 15," she says, "They said: 'Why are you singing calypso? It does not belong to a woman. Calypso belongs to the men.' Well, I told them the good Lord has given me the inspiration to create and I will not be like the foolish virgin in the Bible. I will not bury my talent in the soil! I will be jiggy jiving! I fought the battle as a woman and I won."
Enjoy unlimited access to 70 million ad-free songs and podcasts with Amazon Music Sign up now for a 30-day free trial
Sign up
Rose came of age as the world began to embrace calypso. In 1956, Harry Belafonte's album Calypso spent 31 weeks at the top of the Billboard chart, becoming the first album by a solo artist in history to sell more than one million copies. In 1963, Rose became the first woman to win the annual Calypso King competition with a song called "Cooperation". Four years later, she was on tour in the US with Bob Marley.
The 40 best albums to listen to before you die

Show all 40
"He was such a spiritual man," she says. "He never lifted his guitar off the stage without putting his head onto the wall and praying. He loved to dance to my songs." she says. "We learned a lot from each other… except the smoking. I did not learn that. When he was smoking he would try to reassure me saying: 'No threaten, no threaten.' He meant: don't be afraid. And I am lucky that I have never been afraid. The men have always respected me a great lot."
But being barred from the Calypso King contest on gender grounds did cause Rose to quit the scene in the early 1970s. "I went to New York and studied criminology," she says. "But those steel pans were still playing in my head, they sent me crazy! I kept running from explosives classes to write lyrics in the restroom. And when they changed the title from Calypso King to Calypso Monarch in 1978, I came back for my crown."
Rose still lives in New York, from where she is proud to support the many waves of female calypsonians to have followed in her wake. "I swung back the door and welcome them in," she says. "Come in! Come in!" She praises a new generation of young artists such as Nailah Blackman and stresses that they must continue to sing up for the women's rights that are threatened by the current US administration.
"That Donald Trump does not like nobody, not even himself," she says. "He should shut his mouth up. Put a clip on his tongue. He should listen to my song, 'Human Race'. Those Mexican children in cages at the border? It is a pain in my heart."
Featuring no-nonsense lines like "Nobody cannot say this for true/ Who the hell descended from who", the anti-racist anthem "Human Race" appears, alongside "Leave Me Alone", on Rose's 2016 album Far From Home, written with French artist Manu Chao. "Can you believe that I won a French Grammy Award for that record?" she grins. "I'm in Lyon now, on my way to the stage in Barcelona and then your Womad."
Rose says the thrill of performing has only increased with time: "It's great to sing, it's great to see the fans. Especially those young-young boys winding it in front of the stage. Oh my God! I'm still enjoying the music, I'm still enjoying me."
Calypso Rose plays Womad festival this Friday
Join our new commenting forum
Join thought-provoking conversations, follow other Independent readers and see their replies