Casey Harris: Blind X Ambassadors keyboard player on wanting to be a 'public voice' for disabled musicians
The New York-based quartet, who play their first UK headline shows this week, are one of rock's hottest new bands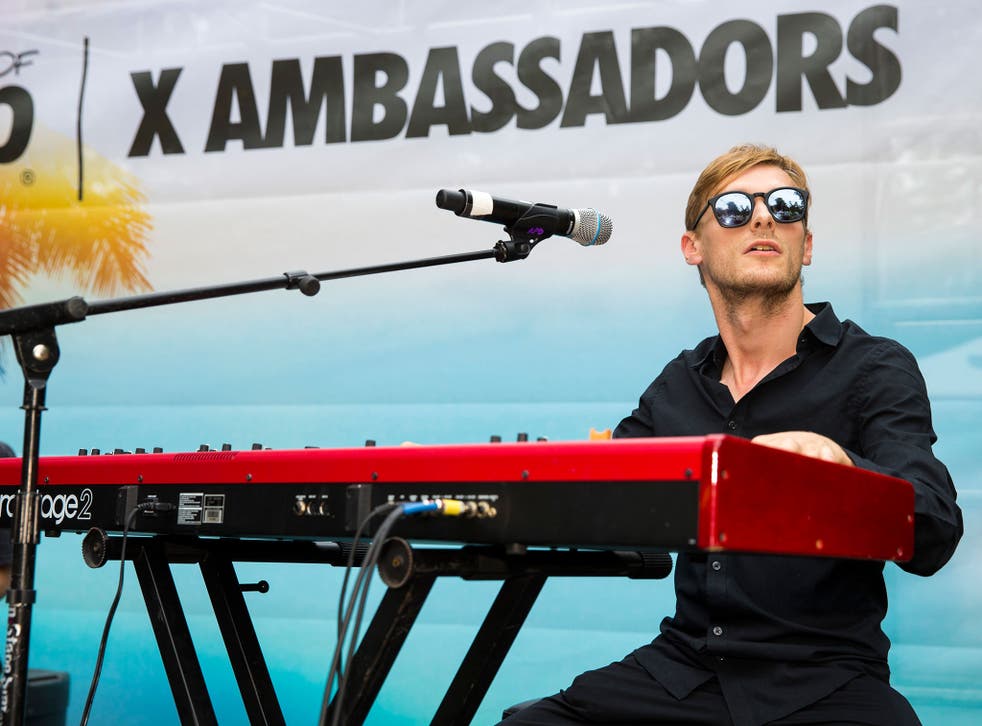 It might appear that the keyboard player rocking out on stage with the rising band X Ambassadors is just another cool guy in shades. It's only when Casey Harris reaches for his cane that fans might get an inkling that he is blind.
Now Harris wants to become an ambassador for musicians conquering disability in the image-conscious world of alternative rock.
The New York-based X Ambassadors, who play their first UK headline shows this week, are one of rock's hottest new bands. Their anthemic single "Renegades" sold a million copies in the US alone and broke into the UK Top 40, a rarity for guitar bands.
The quartet's singer is Sam Harris, Casey's younger brother, and Casey refused to let visual impairment deny him a career in rock alongside his sibling, despite having to confront ignorance and prejudice in the early days.
A specially constructed keyboard set-up lets Harris, who was a professional piano tuner before the band took off, live the life of a touring rock star.
"I'm aware that I'm in alternative rock, which is an image-based market," he tells The Independent. "I don't naturally gravitate towards using image to put across our music. I might be visually impaired but I'm just an ordinary guy playing pretty dope music."
Harris suffers from a rare genetic condition, Senior-Loken syndrome, which affects the kidneys and the retina, and the 28-year-old has been visually impaired since birth.
"I only found out the name of my condition in my late teens," he says. "It's genetic and recessive condition and somehow sits between the eye and kidneys."
Culture news in pictures

Show all 33
Declared legally blind as a child (he can make out large-type letters on a screen), he also required a kidney transplant six years ago. "My mother was the donor for my transplant. She's incredible," he says.
Enjoy unlimited access to 70 million ad-free songs and podcasts with Amazon Music Sign up now for a 30-day free trial
Sign up
Music became Harris's salvation. "I was banging away on a piano in the house. I took lessons from the age of eight or so. My piano teacher taught me scales and the fundamentals. I couldn't read music but she helped me pick songs out by ear. I was getting to a professional level by age 15."
Studying at the School of Piano Technology for the Blind in Vancouver, Washington state, opened a new career as a piano tuner. "It was a pretty decent paying job," he says.
Then he forced his way into the rock band formed by his younger brother. "I struggled as a kid to do a lot of things other kids do easily. I figured I can't be an airline pilot, that's off the table – but a musician? I can do that as a career."
Harris provides the band's vintage synthesiser sounds through a Nord Lead 4 keyboard. "Sighted players use synths with screens but I need one with knobs or buttons for each of the functions. I can jam with people and get any sounds I might need by feeling the board and changing settings. We still all go nuts with energy onstage."
X Ambassadors earned a record deal with Interscope, the home of Lady Gaga, and have supported Muse and Imagine Dragons at arena shows. Frustrated at being yelled at by New York cabbies and given short shrift by subway commuters, Harris wanted to send a message with their breakthrough song "Renegades", a hymn to outsiders. The video focuses on two young blind people who engage in activities like weightlifting and hiking.
"The message of our music is 'the extraordinary exists within the ordinary'. It celebrates the ordinary person and says no to discrimination and ignorance," says Harris, whose blindness is not immediately obvious to many. "People don't know till I bust out my cane. I don't look blind."
Stevie Wonder sent a message about disability awareness at the Grammy Awards, when he teased the audience about not being able to read Braille. Harris, whose band play sold out shows in London and Manchester, is willing to take on Wonder's campaigning mantle.
"It's a heavy crown and I hope I'm worthy of it. I count myself among the disability community and I have a public voice now. I want to use that voice to help other people. I'm doing my little part," he says.
"Stevie Wonder set such a high bar. We both play keyboards but it's less about the instrument you play in rock, it's more about the performance. I compare myself with Stevie Wonder and Ray Charles and I always come up pretty short."
If the rise of X Ambassadors, who are working on the follow-up to their debut album VHS, continues, Harris hopes he will get the chance to jam with his idol. "I got to watch Stevie soundcheck at a festival but we had to leave before he played. It would be a brilliant thing to catch up with him."
X Ambassadors play Heaven in London on Thursday and Manchester Academy 3 on Sunday
Register for free to continue reading
Registration is a free and easy way to support our truly independent journalism
By registering, you will also enjoy limited access to Premium articles, exclusive newsletters, commenting, and virtual events with our leading journalists
Already have an account? sign in
Register for free to continue reading
Registration is a free and easy way to support our truly independent journalism
By registering, you will also enjoy limited access to Premium articles, exclusive newsletters, commenting, and virtual events with our leading journalists
Already have an account? sign in
Join our new commenting forum
Join thought-provoking conversations, follow other Independent readers and see their replies