interview
Cat Power: 'Rock and roll is dead'
As she releases her new album 'Wanderer', Chan Marshall talks to Patrick Smith about motherhood, #MeToo and Madonna
Friday 05 October 2018 12:24 Comments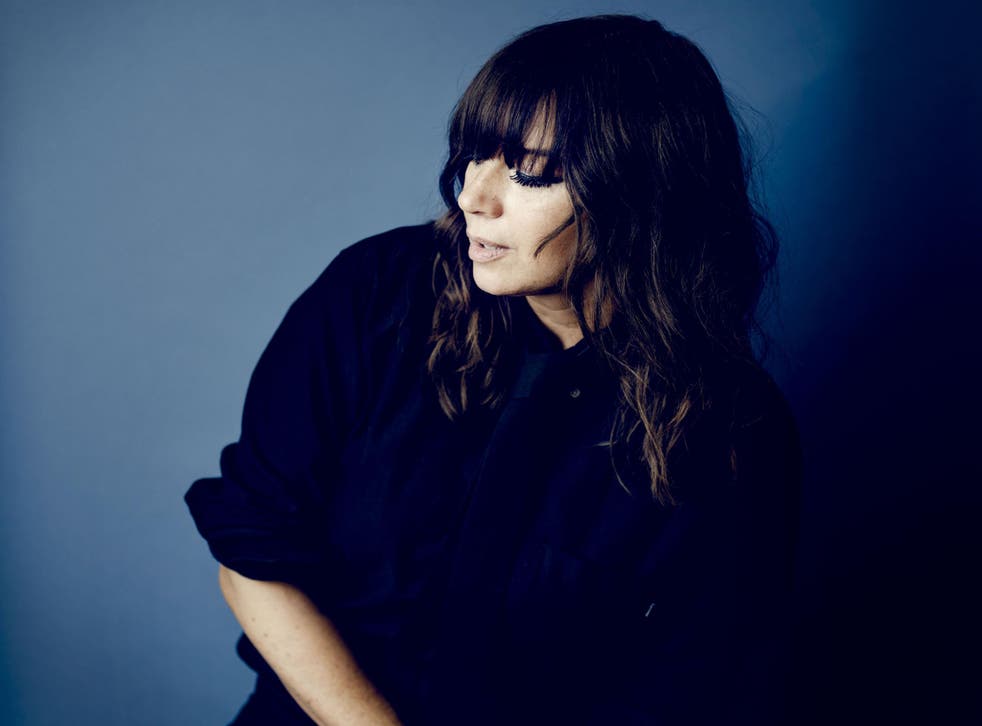 Once I had my son, something in my awareness became very sharp with other human beings," says Chan Marshall. "I could see under the veil."
The artist we know as Cat Power is describing the seismic changes that motherhood has brought to her life. "I used to let slide certain patterns of behaviour, as we all do with friendships. Certain things that I would remember. You stole $3,000 from me, I remember that, but I forgave you. I've now realised it's time I stopped loving people who don't love me back."
We're in Chiltern Firehouse in central London – all Gatsby-esque retro opulence and waitresses in bright blue designer jumpsuits – to discuss her exquisite new album, Wanderer. It's six years since Marshall released a record, during which time she's had her son, Boaz (who appears on the album's cover), and split up from his father.
But the singer-songwriter, normally so voluble, is suddenly not talking. Her large eyes, darkened by mascara, widen, and a smile creeps from the corner of her mouth. She blinks rapidly. A child in front of her is climbing up the art deco brass railings. Marshall leans forward and waves at him. "So cute," she turns to me in her soft Georgia drawl. "Sorry, what was the question?"
Meeting Marshall, you understand her music in an instant. Combining raw, unflinching lyrics with dusty vocals is the 46-year-old's lingua franca, her songs remarkable exercises in verisimilitude. Listen to any of her albums, from her languid 1998 breakthrough Moon Pix to 2012's poppier Sun, and you'll notice a constant theme: heartbreak. Yet Marshall doesn't wallow in self-pity; rather, her words gnaw away at her insecurities to reveal a resilience people can find comfort in. The music, hopping between folk, gospel, rock, blues and pop, is sad, but not depressing.
The biggest change in her since she had Boaz, she says, is that she's "more joyful and grounded". There is still that melancholy, though. As words fly out of her, a fusillade of elliptical thoughts and ideas, she looks as if she's on the brink of tears. But then she flashes a reassuring smile and everything seems immediately OK again.
It's not always been OK. Indeed, if you went to a Cat Power show in the Nineties or Noughties, there's a strong chance you'll have seen her wasted, perhaps stumbling through only a couple of songs, before cursing some of the techies, mooning the audience and calling it a night. When she released 2003's You Are Free, having just broken up with her first long-term boyfriend, she was nailing Jack Daniel's and Xanax from the moment she woke up. "I was suffering from deep depression due to the loss of the love of my life," says Marshall. "It was an agonising pain, so I chose to induce myself in as much alcohol as I could instead of choosing suicide. Yeah, I made a choice to live in a bottle."
Three years later, around the release of her seventh album, The Greatest, she suffered a psychotic breakdown and was hospitalised and put on medication for bipolar disorder. Although a period of stability followed, as she settled down with Giovanni Ribisi, that nimbus of self-doubt returned in 2012 when the actor left her for British model Agyness Deyn, and Marshall ended up cancelling her European tour.
That she has "survived" these travails is partly what inspired Marshall to write "Woman", the second single from Wanderer, which she produced herself. A duet with Lana Del Rey, the song is a declaration of solidarity, brimming with defiance. "I'm a woman of my word / Or haven't you heard / My word's the only thing I've ever needed," they sing during the chorus, their voices entwined.
Enjoy unlimited access to 70 million ad-free songs and podcasts with Amazon Music Sign up now for a 30-day free trial
Sign up
Marshall, who moved to the Domino label after Wanderer was rejected by Matador, her home for 20 years, says the camaraderie she felt with Del Rey while they were recently on tour together reminded her of the Nineties. "Your friends were in bands and you all played on the same bill and it was kind of normal, but that's gone away now. To have [Lana] as a comrade, especially at a time when I was told my album was no good, really made me feel very nice."
Another inspiration, says Marshall, was her friend Asia Argento, the Italian actress and one of the leaders of the #MeToo movement. I ask her what she makes of Argento – who tweeted Cat Power lyrics after the death of her partner Anthony Bourdain earlier this year – being accused of sexually assaulting a 17-year-old (Argento has denied the allegations).
She looks at me, blank faced. "Really?"
There was a New York Times report, I tell her, explaining that Harvey Weinstein's lawyers have now accused Argento of hypocrisy.
"I haven't heard about it."
There's a long pause.
"This is just so bad – no, no, no, no, no," she says, eventually. "She's had a very difficult year."
Marshall then gathers herself and steers the conversation back to "Woman". "So with the song," she says, "I thought the message would be good: pride in being a woman."
It's a timely message, too. While Hollywood tried to show it was no longer in thrall to sexist old habits at this year's Oscars, the music industry is yet to have its own Time's Up equivalent.
"Well, that's the whole thing about sex, drugs and rock and roll," says Marshall. "I just was at this guitar store doing interviews and there were all these cut-out pictures of Slash and dudes with guitars and I wasn't thinking: I just pulled out a cigarette and was going to smoke. And they were like, no, no, you can't smoke in here. And I was like, well, if it was Keith Richards going to smoke, no one would tell him not to – of course, because he's Keith f***ing Richards."
So women aren't allowed to be rock and roll, then?
"Well, I mean, you don't need me to answer that question... Rock and roll is dead."
Is she pleased?
"I can't say I'm pleased but I'm goddamned well sure I would like to have had a f***ing cigarette."
Individuality is key for Marshall – in her eyes, the artists who have it are the ones who change lives. She talks about Madonna – "a powerful woman who's saved souls, throughout her life, throughout her entire career, her voice just saves souls... Number one, she's an artist; number two, she's a dancer. Madonna got her scholarship to Martha Graham Studio from Detroit for dancing. I don't know if you know many dancers, but there's no freer artist than a dancer. There's no repression. Their bodies are language."
Madonna's best music videos

Show all 10
She also talks about Aretha Franklin. "Aretha has connected millions and millions of people with the higher frequency – she did that for me and I will never forget it. I was 11 or 12, I turned on PBS channel and she was singing 'Amazing Grace'. I knew who she was, but I'd never seen her live, singing 'Amazing Grace' from 1964. Because I'm from the Georgia, the Bible Belt, I learnt about Satan and demons and the Holy Spirit and God, you know, 'and you will repent...' I learnt all this horrible, horrifying stuff as a kid. But when I heard her sing, all the garbage was cleared away. There's nothing scary about her Holy Spirit."
Marshall was born in Atlanta, and the album's title, Wanderer, reflects her peripatetic upbringing. As a child, she moved all around Georgia and Alabama, living with her hippy mother or pianist father or "graceful" grandmother and constantly switching schools. Finally, she settled back in Atlanta, where many of her friends would become addicted to heroin, before moving to New York in 1992 with the late musician Glen Thrasher. "The title of the album..." she says, trailing off. "Some people possibly can grow up in a very small town and never step out it their entire life, but the whole time they may have never even wondered what's beyond the fence. Only through my own experience have I, you know, whether I wanted to or not, had to continue moving and wandering. So I never felt like I had a home. My son is now my home."
Certainly, Marshall seems in a better place now. "Feeling better is just like a way of coping," she explains. "You learn – if you're lucky, you learn to cope with that feeling of closure or non-closure. So, yeah, I'm thankful and grateful to have a good brain on my shoulders, a good head on my shoulders and that I'm still a good time, fun-loving, smart, friendly, conscientious, kind person." She smiles again. "So I'm really happy about that."
Wanderer, the new album by Cat Power, is out now
Register for free to continue reading
Registration is a free and easy way to support our truly independent journalism
By registering, you will also enjoy limited access to Premium articles, exclusive newsletters, commenting, and virtual events with our leading journalists
Already have an account? sign in
Join our new commenting forum
Join thought-provoking conversations, follow other Independent readers and see their replies