Charlie 'Bird' Parker: The tragic saxophone genius with a voracious appetite for drugs, hard liquor and jazz
The extraordinary musician lived a short and deeply troubled life, writes Martin Chilton. But as time has passed, it is his playing that is remembered, not his wayward ways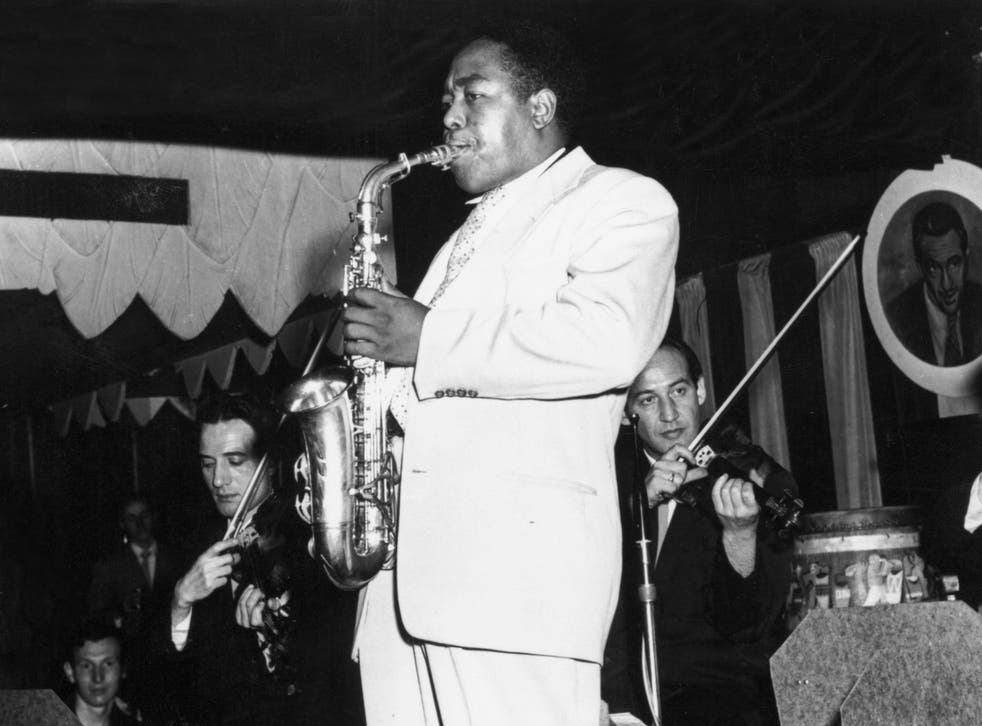 Charlie "Bird" Parker was one of the wonders of 20th-century music. During his troubled 34 years on earth, he changed the course of jazz history. Yet nothing is simple about the life of this drug-ravaged, volatile genius; even the inspiration for the saxophone maestro's famous nickname is shrouded in folklore.
The origin stories about his nickname Yardbird (usually shortened to Bird) include that it derived from a cousin mispronouncing his name as "Yarlie", and that it was conferred by a musician after Parker rescued a chicken that had been struck by a car and then had it cooked for dinner. The most convincing explanation is the one provided by trombonist Clyde Bernhardt, in his autobiography I Remember. "Charlie told me he got the name 'Yardbird' because he was crazy about eating chicken: fried, baked, boiled, stewed, anything. Down there in the South, all chickens are called yardbirds."
Charles Christopher Parker Jr was born on 29 August 1920 in Freeman Avenue, Kansas City. Despite the constraints of the pandemic, his centenary is being celebrated with hundreds of events, including online concerts, album re-issues and a graphic novel, all under the "Bird 100" banner.
Parker's upbringing was difficult. His father Charles was a drunken gambler – and a pimp, according to Parker's third wife – who left the family home when Parker was nine and was subsequently stabbed to death in a fight when his son was still a teenager. Parker did, at least, inherit a love of music and from the age of 12, was hanging out in the alleyways behind the nightclubs lining Kansas's 12th Street, trying to hear a jam session or catch a glimpse of his saxophone hero Lester Young.
Parker's life has been thoroughly mythologised, including the time in 1936 when he got his chance to sit in on one of the famous jam sessions with Count Basie's band at the Reno Club. According to legend, the 16-year-old's error-ridden solo so infuriated Jo Jones that the drummer hurled a cymbal at Parker.
The bust-up was recalled in the movie Whiplash, when J K Simmons's character repeats the folklore that the cymbal was thrown at Parker's head and "nearly decapitated him". The truth is less dramatic. Bass player Gene Ramey, one of the musicians present that day, recalled what happened in the book Jazz Matters. "Bird kept getting lost in a chord sequence, and Jo Jones kept hitting the ball of his cymbal like a gong to get Bird off the stand," said Ramey. "Jo was supposed to have thrown the cymbal all the way across the floor, but he just dropped it at Bird's feet, and that stopped him .... it was comical but still pitiful to see the reaction on Bird's face."
Before walking off in tears, Parker defiantly told the band, "Oh, man, I'll be back. Don't worry, I'm comin' back." His response to an insulting gesture from a master drummer was to relocate to a resort in the Ozarks and begin a period of such obsessive practice that it helped him become one of the greatest saxophone players of all time. Parker later explained that he played his horn for up to 15 hours a day in this period.
In the same year as his public humiliation, Parker married his high school sweetheart Rebecca Ruffin. It was around this time that the teenager got hooked on drugs. Ruffin later told Parker's biographer Stanley Crouch about how distressing it was to find her young husband using one of his ties to bind his arm before he would "shoot up on heroin".
Parker and Ruffin soon drifted apart – she brought up their son Leon on her own – and Parker went to Chicago to try his luck as a musician. At 18, he moved to New York, working for a time as a dishwasher in a Harlem restaurant called Jimmy's Chicken Shack. When he showed up at Buster Smith's doorstep in New York, the musician was shocked by Parker's appearance. The teenager's legs were swollen and his shoes were in a decrepit state. Smith took pity on Parker, gave him some gigs with his band, and let him stay at his apartment for six months.
Enjoy unlimited access to 70 million ad-free songs and podcasts with Amazon Music Sign up now for a 30-day free trial
Sign up
Word of his amazing talent spread. Pianist Earl Hines, who led a band with Dizzy Gillespie and Parker in this era, once told my late father that he was hugely impressed by Parker's insatiable desire to improve and said the youngster would keep a notepad on him, jotting down ways to refine his playing.
Parker's musical fortunes changed when he joined a swing band led by the genial pianist Jay McShann, who allowed the saxophone player to blossom musically in their memorable gigs at the Savoy Ballroom in Harlem. Parker's prototype style can be heard on the astonishing 12-bar solo he played on "Hootie Blues", cut in April 1941. Parker was a restless spirit, though, and soon left McShann's group for the more progressive, bop-oriented orchestra of singer Billy Eckstine.
His life in New York was starting to unravel, exacerbated by the vast amount of drugs and hard liquor he was consuming. Parker had always had a voracious appetite, and his eating habits took on a crazed frenzy. He would eat several Mexican meals just before playing and had even been known to scoff 20 hamburgers in a row. His erratic lifestyle fills his biographies, including incidents of Parker hurling a saxophone out of a bedroom window or strolling into the ocean wearing a new suit.
Quincy Jones recalls meeting Parker around this time. "Bird was sweating a lot. He had a white shirt on and a big belly. One button was off his shirt and I could see some of his meat," Jones told GQ. "We got out of the cab in front of a beat-up tenement and I felt like a million dollars. I was hangin' with Bird. I couldn't believe it. Bird and me." There was a grim punchline to the tale. Parker conned money out of Jones to score drugs and promptly vanished.
Parker's domestic life was in constant turmoil. Parker married Geraldine Scott in 1942 – despite never having been officially divorced from his first wife – which was another marriage that did not last long. In December 1946, Parker decided to travel with Dizzy Gillespie to Los Angeles for a series of gigs, a trip that was extended after Parker sold his return train ticket to buy heroin. Although his music with Gillespie was going well – their dazzling bebop interplay is captured by the Verve album Bird and Diz – his life was falling apart.
Z2 Comics are releasing a graphic novel in September 2020 called Chasin' the Bird – written and drawn by trumpeter Dave Chisholm and coloured by DreamWorks Animation Director Peter Markowski – that tells the story of Parker's tumultuous time in California, which included recording an impassioned version of "Lover Man" when he was so wasted that he could barely stand, let alone play.
The nadir came in August 1946, when he was arrested and charged with indecent exposure, resisting arrest and the suspected arson of a hotel room. He was confined to Camarillo State Hospital for six months, where he was treated by a psychiatrist who was a fan. In a report about Parker, quoted in the book Giant Steps: Bebop and the Creators of Modern Jazz, Dr Richard Freeman said that the musician was "a man living for the pleasure principle, music, food, sex, drugs, kicks, his personality arrested at an infantile level. A man with almost no feeling of guilt and only the smallest, most atrophied nub of conscience. With Charlie Parker it is the music factor that makes all the difference. That's really the only reason we're interested in him … the reason we're willing to stop our own lives and clean up his messes." Gillespie's drummer Stan Levey was more succinct, describing Parker as a "sociopath".
Parker pulled himself together – even going on to compose the jazz standard "Relaxin' at Camarillo" about his stay – and returned to New York to make some of the finest music of his career. His attempts to settle down did not work. Doris Sydnor, whom Parker had met while she was working as a hat-check girl at the famous Three Deuces club, stayed loyal to him during his incarceration, visiting from New York. They married in 1948 in Tijuana, Mexico, but separated within a year, when Parker began dating a white woman called Chan Richardson. When Chan's mother tried to warn her off Parker, she replied, "Mother, you're so square." Parker and Chan had two children, a daughter, Pree, and their son Baird. Chan took the name Parker, although she was never legally married to him.
Parker's drinking was getting worse. He collapsed on the street, got into brawls and was even banned from Birdland, the club on 52nd Street renamed in his honour. Parker twice attempted to kill himself by drinking iodine after rows with Chan. He was twice admitted to Bellevue as a psychiatric patient.
Parker's relationship with Chan is one of the focal points of Bird, the biopic Clint Eastwood made in 1988. Eastwood was 16 when he saw Parker play and was entranced by the music of a "genius". Eastwood said he would never forget how Parker moved on stage. "I didn't see Charlie Parker until Jazz at the Philharmonic came through Oakland in 1946. I was interested in Lester Young and Coleman Hawkins – and this cat Charlie Parker came out. I thought, well, this is really something," the director told Jazz Times. When the biopic was first planned, comedian Richard Pryor had been cast to play Parker. Eastwood ditched that idea and hired Forest Whitaker to portray the jazz star.
"As far as the drugs in his life and the integration issue, we tried not to overemphasise either," Eastwood told Film Quarterly in 1989. "Drugs were his downfall, but it was just one part of the story. The same with the idea of a mixed marriage, trying not to make a big deal out of it or treat it as some dramatic thing, though it was too much to society at that time."
An eye for a sound: Portraits of jazz musicians throughout history

Show all 9
When the black magazine Ebony decided to highlight the mixed-race relationship (unusual during an era of segregation) with a photographic special in the early 1950s, Parker's first wife saw the magazine and filed charges over his failure to support his son Leon. Parker admitted that he had not paid any money for 14 years and was sent to prison. The sentence was the trigger for perpetrators of the institutionalised racism of the time to damage Parker's career. From 1940 to 1967, the New York Police Department administered "cabaret card" licenses and revoked them for minor infractions, effectively barring an artist from performing in the city for years. The police used this tactic to discriminate against numerous high-profile black musicians, including Billie Holiday, Thelonious Monk and Ray Charles.
Parker wrote an impassioned letter to the New York Liquor Control Board in February 1953. "My right to pursue my chosen profession has been taken away, and my wife and three children who are innocent of any wrongdoing are suffering," Parker wrote. "I feel sure that when you examine my record and see that I have made a sincere effort to become a family man and a good citizen, you will reconsider."
When he could play live, outside New York, he was rusty and out of shape. Saxophone master Gerry Mulligan described hearing him for the last time in 1954, recalling "Charlie was faltering. I cried. His playing had exuberance at best, at worst a manic velocity, but always a musical control. What was missing was the kind of gentleness he could project."
The key tipping point in Parker's last years was the tragic death of his two-year-old daughter Pree, in March 1954. She died of pneumonia while Parker was in Los Angeles for a week of concerts at the Tiffany Club. Parker had doted over Pree, her younger brother Baird and his step-child Kim. In 2015, Kim Parker gave a revealing interview to Jazz Ambassadors in which she talked about Parker the man. She said he loved toys, magic games, ice cream, television westerns and the singing of Peggy Lee. She described Parker as an affectionate, humorous man, recalling the time they had walked through Washington Square and a pigeon had pooed on Parker's head. The musician had just laughed, looked up and said, "Hi! You, Bird!"
Kim believed that the booze "just hurt his body too badly" and that the death of Pree caused "the downward spiral", adding, "there was probably a little feeling inside him that he did this to Pree. His drugs and alcohol and all that stuff, that his excesses had somehow poisoned her."
Parker and grief-stricken Chan separated soon after the infant's death and Parker's life quickly ran out of control. He was often homeless and stupefied by drink and drugs. "The way he was going with that dope and all, he could only last so long," said his old friend McShann.
His death had grim elements of comedy and melodrama. Parker had come to rely on funds from an eccentric rich jazz fan called Baroness Pannonica de Koenigswarter. When Parker visited her at her suite in the Stanhope Hotel, he told her his ulcer was causing him pain and asked for iced water. When he started vomiting blood, he was examined by her doctor, who prescribed him antibiotics.
After a couple of days of rest, he felt better. But on Saturday 12 March 1955, as he sat in the baroness's sitting room watching some jugglers on Tommy Dorsey's television show, he started laughing and choked to death. The coroner conducting his autopsy initially thought that he was examining a man of 60.
There was one final terrible indignity, involving a farcical battle between Doris and Chan over the rights to Parker's corpse. His body was shuttled between different funeral parlours before he was finally buried in his hometown ("Don't let them bury me in Kansas City," he once pleaded to Chan), and the wrong date was engraved on his headstone. A 2020 opera about Parker, written by saxophonist Daniel Schnyder and poet Bridgette Wimberly, focused on this macabre battle over Bird's remains.
"Maybe," Doris Sydnor said of her husband in 1993, "he'll be remembered as not just the most famous junkie of his time." She got her wish. As time has passed, it is Parker's playing that is saluted – a style of jazz that has entranced people as diverse as playwright Harold Pinter, actor Alan Ayckbourn and comedian Marty Feldman. Rolling Stones drummer Charlie Watts was so captivated by Parker that, as a 20-year-old art school student, he wrote and illustrated a children's book about Parker called Ode to a High Flying Bird.
Parker's brilliance as a solo improviser matched his ability to create complicated rhythmic harmonies and melodic lines, and his playing on slow ballads, such as "Embraceable You" and "Don't Blame Me", was unique. Most fans have their favourite Parker moments – "Summertime", "All the Things You Are" and "Scrapple from the Apple" are the three most popular on Spotify – and I particularly like his brilliant concert at Massey Music Hall, Toronto, in May 1953, with a bebop super group that included Gillespie, pianist Bud Powell and drummer Max Roach. It sums up the wayward genius of Parker to know that he played the concert using a white plastic alto saxophone, having pawned his favourite brass one.
Miles Davis famously said that "you can tell the history of jazz in four words: Louis Armstrong. Charlie Parker". Parker extended the improvisational boundaries of music in a brief, dazzling life that was eloquently summed up by Kim Parker. "He was like a super nova, he just whooshed through the sky, and then was gone. That fast in the time continuum, just a flash, just a smidge in time."
Bird 100, a year of events and releases, will continue throughout 2020, building towards the 100th anniversary of Parker's birth on 29 August
Join our new commenting forum
Join thought-provoking conversations, follow other Independent readers and see their replies