Childish Gambino: Rapper, writer, actor... joker?
Donald Glover doesn't expect to sell any records as his rapping alter ego Childish Gambino. He just wants to make the world a better place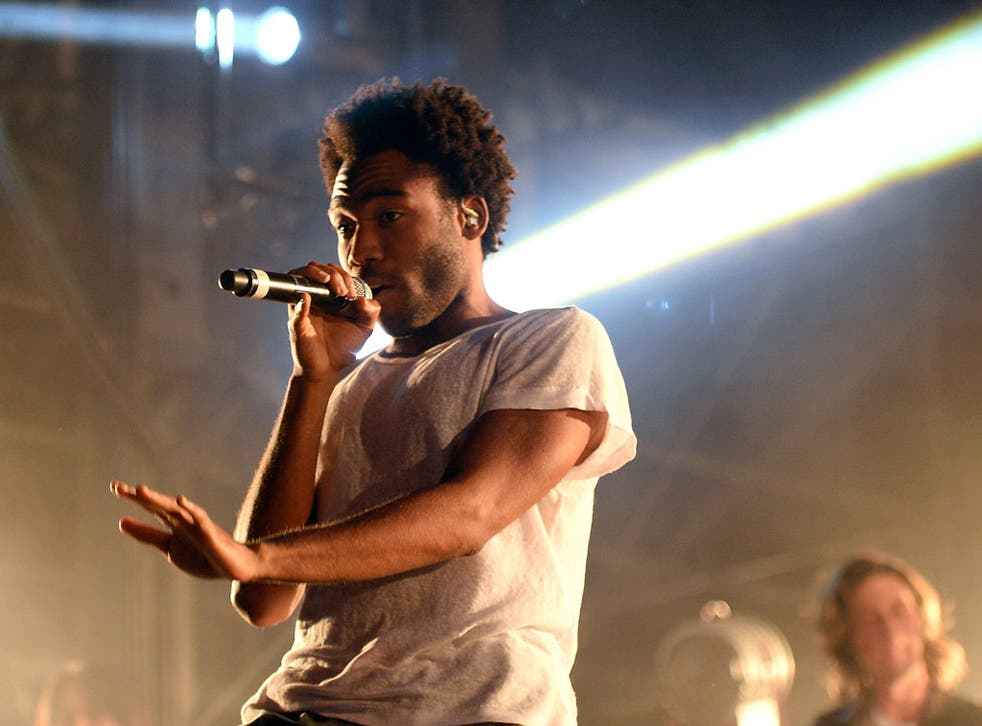 It's not the most auspicious of starts. After sitting down to chat in a room in his west London record label one morning, Donald Glover, aka Childish Gambino, announces that he doesn't really see the point in interviews, before taking out a biscuit from a plastic bag and nibbling on it. "What's that?" I ask. "Pot cookie," he smiles. This should go well.
He goes on to explain that although he enjoys meeting and talking with new people, he finds the traditional interview format quite unnatural. "Like a weird date," he laughs.
Despite my "date" slowly getting baked, the 30-year-old Los Angeles-based rapper/actor/writer is terrific company. Which should come as no surprise to anyone who is familiar with his work. Having made his name in the sketch group Derrick Comedy while still at New York University, on graduating he was hired to write for Tina Fey's much lauded 30 Rock, before being cast in a lead role in the NBC series Community. Among many other acting parts, earlier this year he appeared as Lena Dunham's Republican boyfriend in Girls. All in all a pretty successful career, most would agree.
But in 2010, Glover also started releasing music under the name Childish Gambino. He put out three mixtapes in that year alone. Are you feeling lazy yet? Camp, his official debut album, was released at the end of 2011, and The Times called it "one of the freshest hip-hop albums to come out of the US in years". Now the Georgia-raised son of Jehovah's Witnesses has released his second album, Because the Internet.
He is dressed in a tastefully co-ordinated outfit, and on his feet are some comfy-looking fur-trimmed moccasins that I'm pretty sure are actually slippers. He sips on a mug of hot Ribena. Hip-hop's certainly come a long way from the gangsta bravado of a decade or so ago.
Recorded during the first few months of the year in a Pacific Palisades mansion, and featuring appearances from Chance the Rapper and Azealia Banks, the new album catches up with the insecure kid from Camp. The first single, "3005", is characteristically self-deprecating, witty and clever, touching on everything from love to fame; it's a track that wouldn't be out of place on Drake's latest offering Nothing Was the Same.
But actually, the concept of an album doesn't interest Glover much. "I feel like it's kind of silly to make albums," he says. "Albums can be ripped really easily. Music is just advertisement. I was like, if I'm gonna do something like this again, I want to have a whole world that goes with it. I really like making worlds and lives. I came up with a bunch of things that go around it. The music was the least of my worries. It was the base, the starting point of what we really wanted to do."
Glover is aware that we consume music differently now. It's one of the reasons why he doesn't see the point in interviews, preferring instead to discuss ideas. His interest in other people is such that on numerous occasions it's like he's interviewing me. ("Did you always want to do this job?"; "Where did you grow up?")
His reworking of the traditional album format goes so far as to include a screenplay that he has written and a film that he has made to accompany the record. He invites his Twitter followers to meet him in public spots such as parks to listen to it. None of this is for profit. He realised long ago that there was no money to be made in selling records; he just wants to be able to "make more dope stuff".
Enjoy unlimited access to 70 million ad-free songs and podcasts with Amazon Music Sign up now for a 30-day free trial
Sign up
"Trying to get people to pay for an album is like trying to get people to pay for the smell of bread if you're a bakery. Like, it's already out there," he says. "Every time I say that, people are shocked, but I haven't paid for an album in years; no one does. Why are we pretending like we don't steal music? So I'm not trying to sell it; I'm trying to get people invested in the world, because I want to make the world better."
It's part of the reason he was so furious when a song, "Sweatpants", leaked onto the internet a couple of weeks ago. Not because it would jeopardise first-week sales, but because it was threatening to ruin his imaginative rollout of the record.
The internet causes endless fascination for Glover – hence the title of the new album. The artwork, fittingly, is a GIF file (and a hologram for the hard copy). During our time, he talks enthusiastically about everything from coding to bitcoins. "I think of the internet as this living, breathing thing. It's really good for us as humans," he muses. "But we're not being as responsible with the internet as we should be, or could be."
And despite the fact that we seem more connected to each other than ever before, Glover realises that to exist solely online would be a lonely state of being; he worries about his real-life relationships with everyone: family, friends, lovers, fans, colleagues. This collision of worlds was perhaps most clearly seen when he posted a series of emotional handwritten notes to Instagram in October, telling his 220,000 followers that he was "afraid of the future". "I'm scared I'll never reach my potential," he wrote. "I feel like I'm letting everyone down." A number of websites followed the confessions by speculating on his mental health.
"The crazy thing wasn't that I felt those emotions – people reacted like it was weird to feel them," he says now. "But the weird thing to people really was that I shared them. I was just being honest. I still don't see the big deal about it."
At this point, Glover is practically lying down on the sofa. While his body might be taking it easy, his mind is alert and fascinating. He's the sort of person you could happily talk to for hours. I wonder how stoned he is.
"I'm sorta like this when I'm not high. I'm OK, I'm just chilling," he grins. It's a wonder he manages to get so much done.
'Because the Internet', is out now on Universal/Island childishgambino.com
Join our new commenting forum
Join thought-provoking conversations, follow other Independent readers and see their replies