Chris Cornell: Troubled singer with a unique voice
Soundgarden and Audioslave frontman's sudden death shocked millions of distraught fans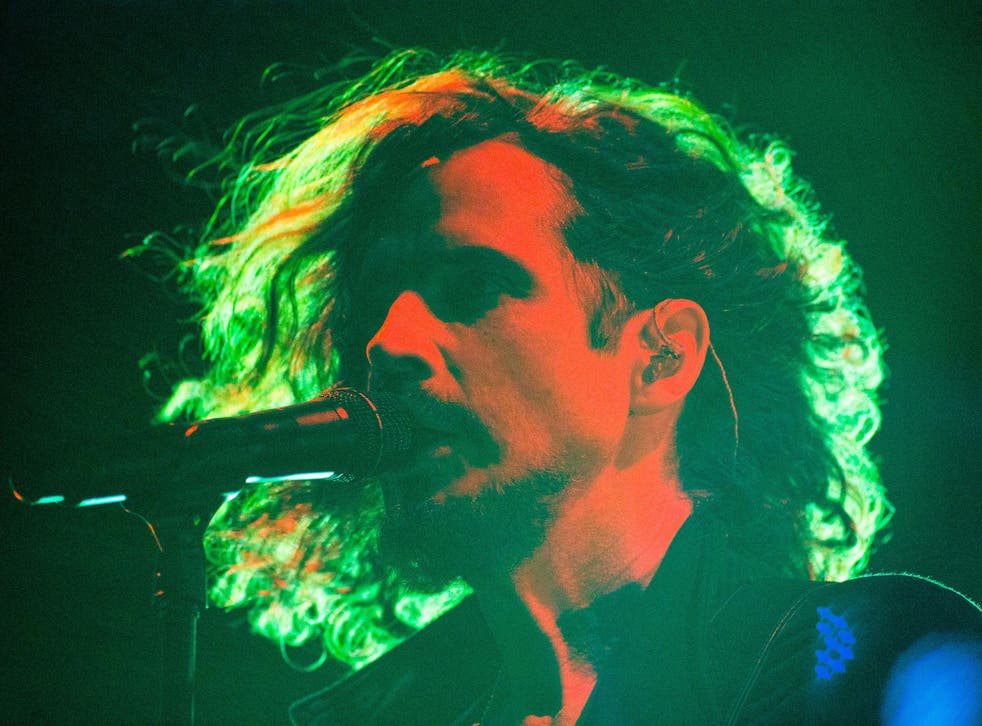 On the evening of Wednesday 17th May 2017 mere hours after playing a show at the Fox Theatre in Detroit, Chris Cornell took his own life. He was 52.
Soundgarden, the band he formed back in 1984 in Seattle, Washington were 12 dates into a US tour. There were no indicators to the outside world that anything was amiss, which made his death all the more shocking.
When the Wayne County Medical Examiner's Office ruled his death as suicide, it sent another ripple of grief through an already distraught fan-base.
Soundgarden were the spark that caused the grunge movement to explode in the public consciousness - Nirvana's Nevermind might be the album that receives the plaudits and sent the movement stratospheric, but if Soundgarden hadn't been the first grunge band to sign to a major label with the release of their second full-length album Louder Than Love in 1989, that naked baby may never have been scorched on the retinas of millions of disenfranchised youth around the world.
As a result, Cornell and Soundgarden will always be considered chief architects in the prominent rise of grunge.
Taking their love of melody from The Beatles and merging it with the down-tuned misery of Black Sabbath's earth-shattering riffs, the Soundgarden amalgamation was an extraordinarily intoxicating blend.
These elements were first fused to truly mesmerising effect on the band's 1991 third full-length album Badmotorfinger. Songs such as Jesus Christ Pose, Outshined, Searching With My Good Eye Closed, Rusty Cage and the apocalypse-inducing Slaves and Bulldozers in particular showed off Cornell's 4-octave vocal range.
Of the bands in grunge's big four (the other three being Nirvana, Pearl Jam and Alice in Chains) it was difficult to deny that Soundgarden had the most technically accomplished front-man, certainly as a vocalist.
Cornell possessed a voice that could switch from honeyed silk to gargled glass in the blink of an eye. His unique timbre was instantly recognisable, despite the idiosyncratic nature of the material he would sing on, a fact that really began to surface with the band's next album.
Enjoy unlimited access to 70 million ad-free songs and podcasts with Amazon Music Sign up now for a 30-day free trial
Sign up
Soundgarden's magnum opus would emerge in 1994; Superunknown contains some of the band's most beloved songs including The Day I Tried To Live, Spoonman, Let Me Drown, 4th of July, Fell on Black Days and of course the timeless, undeniable Black Hole Sun. Whilst Soundgarden were a band made up of members who all contributed to songwriting, all of the above songs were composed solely by Cornell.
But whilst Soundgarden will be the band that Cornell is most remembered and revered for, they were merely one part of his incredibly illustrious and varied career. 6 months prior to the release of Badmotorfinger, Cornell released a tribute to his roommate Andrew Wood, the frontman of Malfunkshun and Mother Love Bone, who tragically passed away from a heroin overdose on 19th March 1990.
The resulting album, Temple of the Dog, was a deeply touching tribute to the flamboyant frontman, with Cornell inviting Wood's ex-Mother Love Bone bandmates, Stone Gossard and Jeff Ament, to play on the album in commemoration. Gossard and Ament would go on to form Pearl Jam, alongside Mike McCready, who played lead guitar on the record, and Eddie Vedder who guested along-side Cornell on the record's beautifully poignant first single Hunger Strike.
In May 2016, I was fortunate enough to interview Cornell before he played a sold out show at London's Royal Albert Hall. The 25th anniversary of Temple of the Dog had just passed, so I took the opportunity to ask him about the project. 'With all that's been written about Temple of the Dog recently, it's reminded me of the original meanings of those songs.
Say Hello 2 Heaven, for example, was one of the songs I wrote directly for Andy Wood and the amount of times someone has requested I play that song for someone else who's died have been numerous. That's great that it's become this anthem that makes somebody feel some comfort when they've lost someone, but recently I've become a little more possessive of the idea that this song was actually written for a specific guy and I haven't forgotten that person.' Despite this, in the eyes of fans at least, Say Hello 2 Heaven will clearly become an ode to Wood and Cornell now.
With Soundgarden temporarily disbanded in 1997, Cornell began to concentrate on a diverse solo career which saw him write and release four albums over a period of 19 years. His first, 1999's Euphoria Morning, presented a more delicate, soulful side of Cornell's oeuvre in songs such as Preaching the End of the World, Steel Rain and Can't Change Me.
In 2006, Cornell was asked to contribute a song for the 21st James Bond film Casino Royale; the resulting song, You Know My Name, opened him up to a whole new audience. His solo work also undoubtedly saw him take incredible risks; whilst few would point to his 2009 collaboration with R&B producer Timbaland as a resounding success, it showed Cornell to be an artist who was utterly fearless and unafraid to try things outside of his comfort zone.
Higher Truth, his final album, contained some of his most stripped back compositions, allowing his voice to really take centre stage on tracks such as Worried Moon, Before We Disappear, Josephine and the stunning, Hey Jude homage that is the title track.
The final piece to the Chris Cornell puzzle was Audioslave, the supergroup formed in 2001 with ex-Rage Against the Machine members Tom Morello, Brad Wilk and Tim Commerford. Their self-titled debut album re-invented Cornell for a new generation and proved a prolific period, with the band releasing three albums between 2002 - 2006.
Audioslave, for the most part, refused to conform to what most expected (namely, Rage Against the Machine fronted by Cornell) but as a result, produced some truly classic, timeless material, such as Like a Stone, Shadow on the Sun, I Am the Highway, Be Yourself, Original Fire, Show Me How to Live, Wide Awake and Cochise.
In a world that celebrates mediocrity above truly unique, original talent, it's debatable if Cornell ever really got the credit he truly deserved during his life. Maybe in death he will stand alongside the greats - Mercury, Bowie, Sinatra, Cash, Crosby, Cassidy, Cohen – to that list, let us add Cornell.
---
'Heaven sent hell away
No-one sings like you anymore'
Soundgarden, Black Hole Sun
Register for free to continue reading
Registration is a free and easy way to support our truly independent journalism
By registering, you will also enjoy limited access to Premium articles, exclusive newsletters, commenting, and virtual events with our leading journalists
Already have an account? sign in
Register for free to continue reading
Registration is a free and easy way to support our truly independent journalism
By registering, you will also enjoy limited access to Premium articles, exclusive newsletters, commenting, and virtual events with our leading journalists
Already have an account? sign in
Join our new commenting forum
Join thought-provoking conversations, follow other Independent readers and see their replies