Chris Cornell Interview: 'There's always been a desire in me to keep the attention of a room full of people with just one stupid guitar and nothing else'
One of the founding fathers of the grunge movement, Chris Cornell has branched out in recent years and become a masterly acoustic virtuoso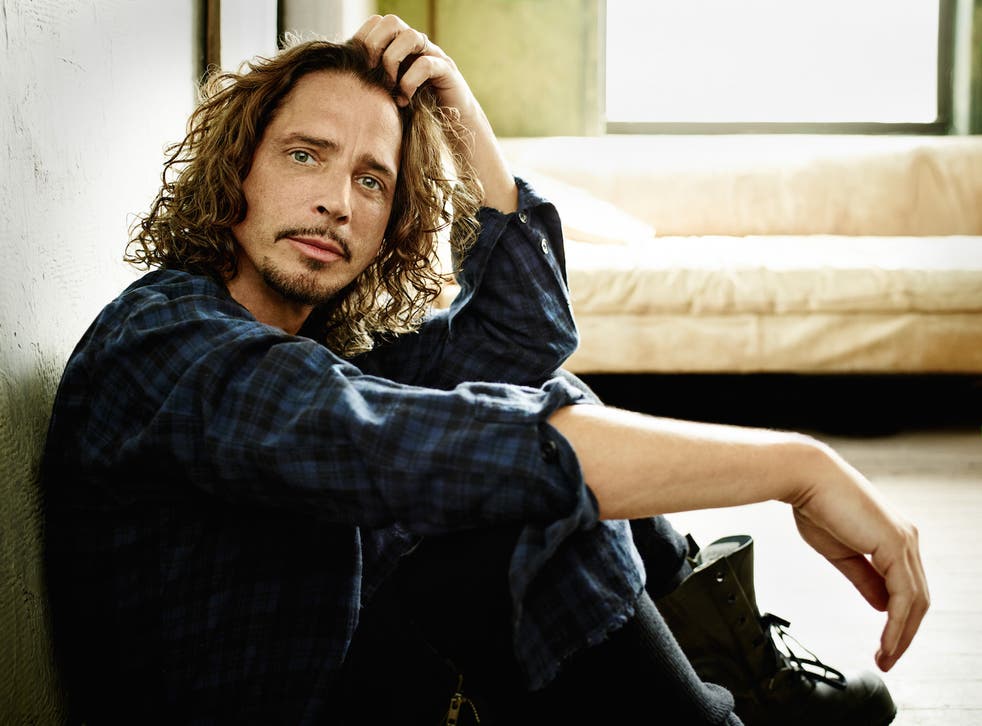 Editor's note: This article was originally published 20 May 2016. Chris Cornell died 18 May 2017.
Like all exceptional artists, Chris Cornell is a master of transformation. From wailing over twisted distorted riffs to crooning over mournful sorrow-fuelled ballads, Cornell can turn his hand (or should that be voice) to practically any iteration and pull it off with aplomb. His latest incarnation as an acoustic singer/songwriter troubadour provides him an opportunity to tie all the loose ends of his career together and present a show that is effectively 'The Chris Cornell Experience' in all but name.
'The fan response to the first acoustic tour was really supportive and encouraging' he says. 'In some strange way, it's made sense of my 30-odd years of song writing. All the different bands and solo projects and everything inbetween are all so varied and eclectic. I wanted to string all that together somehow in an acoustic show and I think it's the first time that it can all be in one show and make sense.'
Despite the success Cornell's had as an acoustic performer, playing prestigious venues such as Sydney Opera House and Carnegie Hall, there was initial apprehension from certain quarters of camp Cornell. 'There was a lot of trepidation surrounding it initially' he says. 'I had a manager at the time who was very cautious about me going out for a whole acoustic tour. He wanted me to just test the waters first, so I did a few shows in LA, and that was ok but the show wasn't changing, it wasn't evolving in any way. So against everybody's advice, I just booked a 30-date tour around the US and figured that by the end of it, maybe I'd be able to do it. It wasn't until the seventh or eighth show where I felt like, 'Ok I can do this' and it's been going ever since.'
Part of the success of the tour is surely the opportunity for fans to hear this eclectic collection of songs in a new light and discover hitherto hidden details that may have once been buried under the cacophony of a deafeningly loud rock band. But stripping back the squall of distortion also focuses the attention on Cornell's stunning voice, a four-octave spanning force of nature that can switch from honeyed silk to gargled glass in a heartbeat. Hearing this voice almost naked, surely one of the finest voices in the history of modern music, is undoubtedly the principal reason for the tour's stunning success. 'There's always been a desire in me to keep the attention of a room full of people with just one stupid guitar and nothing else' Cornell says. 'I was afraid of that, which didn't make me feel too good; why would I not do something just because I'm afraid of it? It also made me ask the question 'how much of a real musician am I if I can't entertain a crowd with just an acoustic guitar?' So I started putting myself in a position where I could do that. I'm always challenged to draw deep cuts from my back-catalogue and bring them into this environment but at the same time, I'm aware that there are certain songs that everybody wants to hear, so I try to juggle that; not that I'm complaining, if people want to hear songs, that's a good thing! And with the new album written primarily from the point of view of an acoustic performance, I now have all these new songs I can draw from as well.'
In truth, some members of Cornell's fan base give his solo output short shrift (in the case of 2011's Scream, his collaboration with R&B über-producer Timbaland, that may be for the best), but his latest album, Higher Truth, is one of the richest, most beautiful collections of songs in his oeuvre. Songs such as Worried Moon, Before We Disappear and the title track, contain some of the most eminently catchy melodies of his career. Whilst subtle supplementary instrumentation is used sparingly, the songs were written with his recent solo touring incarnation in mind. 'I wanted to write new material that could be brought out in an acoustic context and make sense' he says. 'It was important to me to make this tour current and not just look back and play acoustic stripped back versions of my older material.'
Stripping away the accoutrements gives greater emphasis to Cornell's lyrics, a hugely underrated part of his song-writing abilities. He's aware that creating an alternate version of a song forces the listener to focus on different aspects that may have been less discernible in its original form. 'When Johnny Cash did his version of Rusty Cage, people were leaving messages on my answering machine telling me how great the lyrics were and they didn't say that about the lyrics when it was the Soundgarden version. It didn't surprise me that much, but it was a little bit of a lesson, in that the lyrics aren't necessarily always the focal point; it depends on who's listening and what they're listening for. There's no doubt that you're communicating lyrics much more directly when everything else is stripped back; you're not in competition with all these other instruments and layers.'
Born and raised in Seattle, Washington, Cornell was one of the chief architects of the grunge movement, forming Soundgarden alongside guitarist Kim Thyail and bassist Hiro Yamamoto in 1984. The multi-faceted alt-rock trailblazers crafted their sound by marrying the sludgy stoner riffs of Black Sabbath to the more melodic sensibilities of The Beatles and in the process, created an evocative harmony between light and shade. Soundgarden were famously the first grunge band to sign to a major label (A&M in 1988), paving the way for the likes of Nirvana, Pearl Jam and Alice in Chains to break out of the Seattle bubble and take over the world, albeit briefly.
Despite its initial success, grunge as a genre became an ever-increasing parody of itself, quickly descending into a breeding ground for pseudo posturing and diminishing creative (if not commercial) returns. Soundgarden, perhaps wisely, chose to bow out in 1997 just as the cream was beginning to curdle, and Cornell re-invented himself as a successful solo artist, releasing his debut solo album, Euphoria Morning, in 1999. Since then, there have been numerous other musical projects including Audioslave, the super-group formed with the instrumental triad that made up three quarters of Rage Against the Machine, and in 2010 Soundgarden announced their reformation, releasing a new album, King Animal, two years later. But through-out these various projects and collaborations, Cornell returns time and time again to his solo output, exploring new territories and genres with each successive release.
April 16th 2016 saw the 25th anniversary of one of Cornell's most personal projects. Adored by fans but lesser known amongst casual listeners, Temple of the Dog was released as a tribute to Mother Love Bone vocalist Andrew Wood, a former roommate to Cornell. When Wood died of a heroin overdose on 19th March 1990, Cornell approached two of Wood's former Mother Love Bone members (Stone Gossard and Jeff Ament, who later went on to form Pearl Jam) to work on material in tribute to their departed friend. Inevitably, as tends to happen with anniversaries, memories of that time have come flooding back to Cornell. 'With all that's been written about Temple of the Dog recently, it's reminded me of the original meanings of those songs. Say Hello 2 Heaven, for example, was one of the songs I wrote directly for Andy Wood and the amount of times someone has requested I play that song for someone else who's died have been numerous. That's great that it's become this anthem that makes somebody feel some comfort when they've lost someone, but recently I've become a little more possessive of the idea that this song was actually written for a specific guy and I haven't forgotten that person. So I've been reminding myself and those in the audience where that song came from.'
Enjoy unlimited access to 70 million ad-free songs and podcasts with Amazon Music Sign up now for a 30-day free trial
Sign up
The Temple of the Dog record is sometimes erroneously cited as the catalyst that brought together the members of Pearl Jam (it was the first officially recorded output to feature frontman Eddie Vedder and guitarist Mike McCready, beating Pearl Jam's debut album Ten by 4 months). Cornell expels this though as a mere portentous grunge myth. 'There's no doubt that Pearl Jam were going to form regardless of whether that record had come out' he says. 'Although they wouldn't have formed if Andrew hadn't died and I think that's something that we've probably all pondered over at one time or another. It's easy to look back at it romantically and say that Pearl Jam coming out of Mother Love Bone was in some way righteous or it was making the world right again. But as someone who doesn't particularly believe in fate, I just think that's bulls**t. I never really believed that it was time for one of our young friends to go, I just look at it as an accident, with some people moving on and that turning out well.'
More recently, Cornell has provided a sterling tribute to Prince, who sadly passed away on 21st April 2016 at his Paisley Park recording studio in Chanhassen, Minnesota. Cornell had been performing Prince's Nothing Compares 2 U for a few months before his death, but the song has taken on a new meaning for Cornell since his passing. 'Honestly, I can't say I'm a huge fan' says Cornell, 'but whether you're a fan or not, you should be able to appreciate Prince. There's a uniqueness to what he did and I'm continually inspired by how great a performer he was. His song writing was extremely varied and he was so proficient at every instrument he played; that would be inspiring to anybody. It's hard to say that anything positive comes out of something like this but I will say that it does make me happy seeing the response from such a huge cross-section of musicians who want to honour him in some way. Gene Simmons, Bruce Springsteen, The Dixie Chicks, all of them have honoured him in some way in the past few weeks. That part I felt really good about, it's like everybody noticed how great this guy was, and that makes me happy.'
It may surprise some to know that Cornell has been performing solo acoustic shows for almost ten years now, with the first taking place on 7th September 2006 at the O-Baren in Stockholm, Sweden. Even though the first few shows were intimidating, as they would be for any performer, it gave Cornell the means to express himself in new and exciting ways which were not possible within the limitations of having to play as part of a band. 'The songs have more potential to evolve and change in a live environment when they're stripped down because I have the freedom to do anything' he says. 'I can speed it up, slow it down, start it differently, sing it differently … whatever I want to do. That makes it a lot harder to fall into a repetitive mode of performing; I'm not sure that matters so much to the audience but I think it matters to the performer in terms of feeling inspired by the song you're playing in the moment. If I go to start a song and I'm not feeling excited about it, my approach will change; even if it takes part of the first verse to figure that out, it's easy to alter it.'
Cornell has exceeded the expectations of his fans and even those who have worked with him in this run of solo acoustic performances. Surely now that he's conquered the fear of standing in front of a vast sea of faces with just an acoustic to accompany him, he can do anything. 'At first, playing solo was almost a burden, a hurdle that I needed to get over. I needed to become comfortable with there being nothing else on stage but me singing with an acoustic guitar but once that happened, then it felt like there was no limit to what I could do.'
Register for free to continue reading
Registration is a free and easy way to support our truly independent journalism
By registering, you will also enjoy limited access to Premium articles, exclusive newsletters, commenting, and virtual events with our leading journalists
Already have an account? sign in
Register for free to continue reading
Registration is a free and easy way to support our truly independent journalism
By registering, you will also enjoy limited access to Premium articles, exclusive newsletters, commenting, and virtual events with our leading journalists
Already have an account? sign in
Join our new commenting forum
Join thought-provoking conversations, follow other Independent readers and see their replies