How rap saved Christmas: Tyler, the Creator and Chance the Rapper have resurrected a dead genre
This millennium has been deprived of good Christmas songs, but rappers are seeing to that in new and artistic ways, Christopher Hooton argues
Wednesday 28 November 2018 15:30
Comments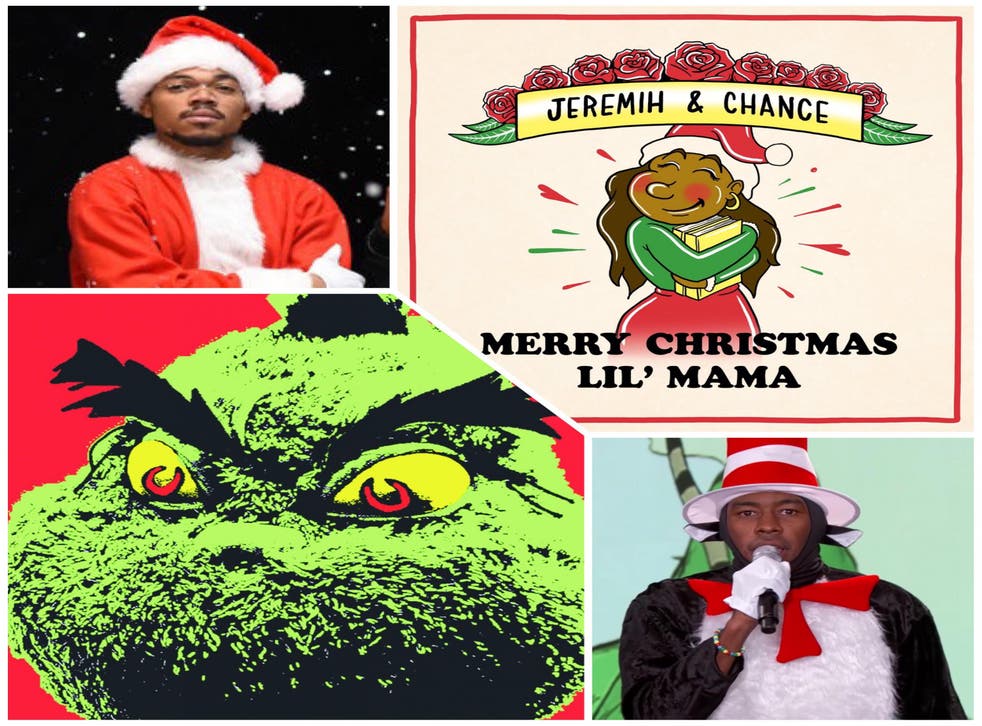 For a lot of people, Christmas isn't the Coca-Cola cavalcade of joy promised. The holidays can exacerbate financial woes, stir feelings for loves lost, and act as a pressure cooker for family frictions. They are brutish in their demand for self-reflection; the chance to relax often just gives the mind an opportunity to get busy. All of this, of course, makes Christmas fertile ground for art.
Music hasn't dealt with the festive period particularly well. The Christmas song canon is overwhelming delirious, each entry to it a gleaming white tooth in a plastered smile. You have to go back to the Eighties for melancholic exceptions (Wham!'s "Last Christmas", The Pogues's "Fairytale of New York") and no song this millennium has managed to put a lasting dent in Xmas playlists.
There are a few musicians trying to save you from the obligatory "Christmas classics" Spotify search, however, and they're not coming from pop but hip hop. Earlier this month, Tyler, the Creator was moved to follow up his contribution to The Grinch soundtrack with a whole EP of Christmas music. Pushing the genre forward, it revels in festive clichés but has undertones of loneliness and longing.
Rap's history with Christmas is fairly short. Between Eazy-E's "Merry Muthaf**kin' Xmas" and the Ying Yang Twins' "Deck Da Club", the holidays have mostly just been played for laughs. Ludacris declared it "Ludacrismas" in 2007, rapping, "Ice skating in the driveway / I'mma do it my way /Eggnogs got daddy swerving on the highway". Christmas tie-ins are an easy way to make money, and with hustle always being an overt part of hip hop, what's stopping rappers from getting their fat slice of Christmas cheer?
Other artists saw something a little deeper, however, a latent poignancy in how the Christmas story jars with life on the streets. On Snoop Dogg's "Santa Claus Goes Straight to the Ghetto" Tray Deee remembers how the lack of a father growing up made Santa Claus a particularly strange concept for a kid to get his head around.
"Hopin' when I open the door I'll see Santa / Now who the hell is this in the blue bandana," he rapped. "Messin' with the boxes that's up under the three / Look like Santa Claus been crossed to a woman to me." Not wanting to embarrass his mother when she's working hard to make Christmas happen on her own, he pretends not to have seen her. De La Soul's "Millie Pulled a Pistol on Santa" skewed darker with its Christmas storytelling. The tale of a girl molested by her father, she eventually shoots him while he's working as a department store Santa in Macy's. Run DMC also made a Yuletide contribution with "Christmas in Hollis", the narrator getting into the festive spirit by deciding not to rob Santa when he spots him after dark on Christmas Eve. More recently, in 2010, Kanye West gathered GOOD Music alumni Teyana Taylor and CyHi the Prince for "Christmas in Harlem", which nods to spending Christmas poor and how this can make sale shopping at the mall the highlight of the holidays.
All these half-released Christmas off cuts felt random and throwaway, however, the result of someone only realising Christmas is coming on 30 November.
That changed in 2016, when Chance the Rapper and Jeremih decided to team up and release an entire mixtape of Christmas music.
Dedicated to the city of Chicago, Merry Christmas Lil' Mama was a joy. It didn't get much in the way of a critical evaluation, due in part to the fact that it's a novelty release and only a mixtape, but probably also because a lot of critics had already clocked off for the holidays. Consisting of nine tracks, Merry Christmas Lil' Mama is the perfect thing to stick on when you're making the arduous journey home to the family, or when you're deep in Christmas hibernation and just can't bear any more Mariah Carey. It's tender and soulful, but also funny, feel-good, and just plain silly.
Enjoy unlimited access to 70 million ad-free songs and podcasts with Amazon Music Sign up now for a 30-day free trial
Sign up
"Oh, I love Christmas, being obligated to buy sh*t for people at a certain time in the year," comedian Hannibal Buress sarcastically declares on the opening track, before absurdly shouting "consumerism!" with Travis Scott-style autotune. Louche as always, Jeremih brings some much-needed filth to proceedings, his couplets bringing a smile to the face as you listen from the often infantilising cocoon that is Christmas at the family home.
Chance, meanwhile, brings the heart. "You could pick the phone up / We could be some grown ups" he sings in "Stranger at the Table", missing his ex and wounded by the fact that she's spending the holidays with another man. He updates the "driving home for Christmas" narrative for the modern day – stealing away from the family to catch an Uber to a new lover's house – and gets real for a minute, talking about the plight of the homeless at Christmas, and giving a shout-out to Bettie Jones, a mother of five fatally shot by police on Boxing Day 2015.
"Shoulda Left You" was anthemic the Christmas of the mixtape's release. The chorus line "I shoulda left you in 2016" provided both encouragement in getting over lost exes, and rode the "f*ck 2016" feeling that was prevalent at the end of an exhausting year, which saw Trump elected president, Brexit voted for, and the deaths of many beloved artists. Chance and Jeremih clearly had as much fun making it as people did listening to it (they're holding back laughter in some of the tracks), and in 2017 "re-wrapped" the mixtape, adding nine brand new songs.
Tyler, the Creator (still senselessly banned from the UK) must have been paying attention, and was the rapper who stepped up to save Christmas this year with Music Inspired by Illumination & Dr Seuss's The Grinch. Only five tracks long (and two of them are instrumental), the EP is of limited scope but charmingly so. It's just enough Christmas cheer to warm you up without making you feel nauseous. It's a little cinnamon hot chocolate in a paper cup. The project might be linked to Universal's big animated movie The Grinch, but it's not remotely mainstream. Eighties synth lines bloom but are then interrupted, like a kid moving onto his next present on Christmas morning. It indulges the schmaltziness of Christmas musically, and yet still manages to create a sense that you're looking in on it from the outside. "Lights On" sees Tyler anxious as he realises Christmas simply won't happen if he doesn't make it home to his loved one in time. Whether conscious or not, it also takes us back to Tray Deee's Christmas memory, Tyler rapping on "Big Bag": "I was wrapping gifts age six with the paper bandanas / Mom was always honest, I ain't never had a Santa Claus."
Merry Christmas Lil' Mama and Illumination have been Christmas blessings. They will surely tempt more of this new crop of rappers willing to show their vulnerabilities to release their own festive mixtapes. Christmas music is not a comfortable area for rock/indie/alternative acts, but hip hop has the dexterity to provide the blend of sincerity and goofiness the genre requires.
Register for free to continue reading
Registration is a free and easy way to support our truly independent journalism
By registering, you will also enjoy limited access to Premium articles, exclusive newsletters, commenting, and virtual events with our leading journalists
Already have an account? sign in
Register for free to continue reading
Registration is a free and easy way to support our truly independent journalism
By registering, you will also enjoy limited access to Premium articles, exclusive newsletters, commenting, and virtual events with our leading journalists
Already have an account? sign in
Join our new commenting forum
Join thought-provoking conversations, follow other Independent readers and see their replies