The Clash – London Calling at 40: Their 20 best songs
Fresh and relevant as ever, 'London Calling' is 40 years old. Graeme Ross trawls through The Clash's back catalogue to pick out his 20 favourite songs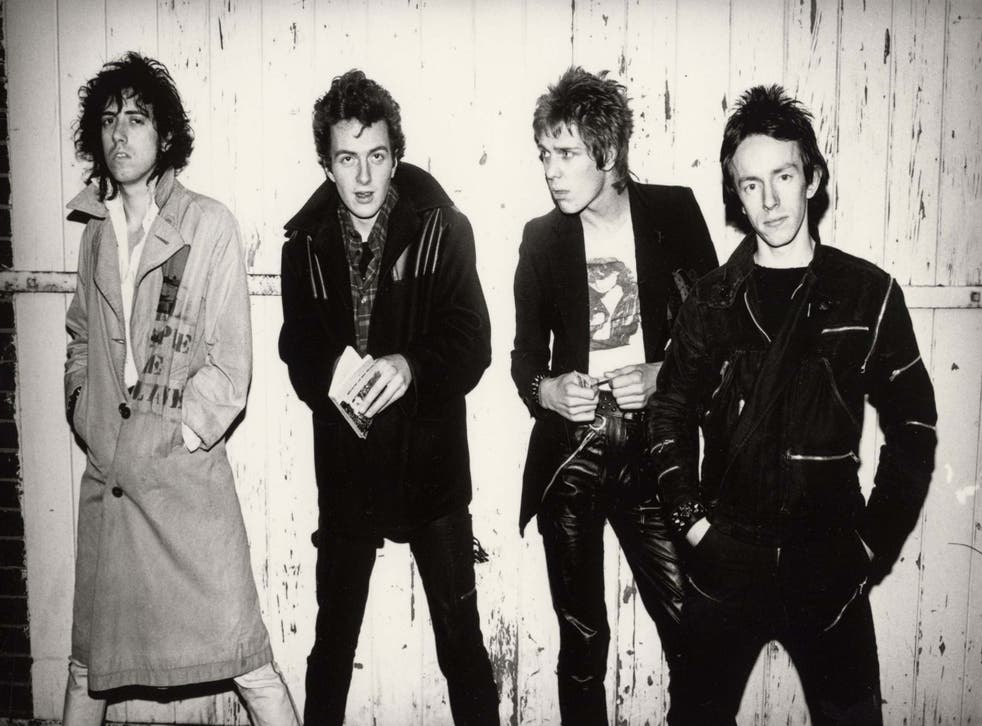 If any band ever stood a chance of living up to its hyperbole, then that band must be The Clash.
Dubbed in their heyday "The Only Band That Matters", there were times during their storied career when that appellation didn't seem so outlandish. Riding the vanguard of punk, their 1977 self-titled debut album defined the genre and the era, and they became trailblazers of a form of impassioned, politically charged rock that transcended musical boundaries. Over the course of six studio albums and a handful of non-album singles, The Clash continually demonstrated that they were capable of achieving just about anything they desired.
Exactly 40 years ago, on 14 December 1979, their third album London Calling, the unquestioned exemplar of their range, energy and ambition, was released. Unusually, it was a double album, normally the preserve of the live-album-as-contract-fulfilment or Seventies prog-rockers who took themselves and their music all too seriously – but it took all four sides of vinyl to harness the broad church of styles that the band were now exploring.
London Calling demonstrated that The Clash had evolved into a great rock band, one that also took rewarding excursions into reggae, rockabilly, ska and what can only be described as roots-based punk'n'roll. Their musical adventures would continue on subsequent albums, on which they would also embrace dub, rap, dance and good old classic rock.
London Calling remains a fixture on the greatest-ever-albums lists, so in celebration of its 40th birthday, here's my pick of the 20 best Clash songs ever.
Click through the gallery below or scroll down to see the 20 best songs by The Clash:
The 20 greatest Clash songs of all time

Show all 20
20. London's Burning, 1977
The rough and ready production of The Clash's self-titled debut album was a perfect reproduction of the band's live act of the time, with the songs capturing the frustration and anger of what it was like to be a young person in Britain in the late 1970s. The anger and passion of "London's Burning" sums up the album and indeed the country at the time: discontent and boredom reigned and groups like The Clash sought to smash through the complacency of a society content just to sit in front of the telly every night.
19. The Call Up, 1980
Depending on your viewpoint, The Clash's fourth album, Sandinista!, was either one of rock's great triumphs or one of its most romantic follies. A wildly ambitious triple album, it sold for the price of a single album and encompassed almost every genre imaginable in popular music. With 36 tracks spread over six sides, Sandinista! makes other candidates for "It would have made a great single album" lists – such as the Beatles White album – look like models of restraint. This is one track that would escape any cull, a protest song based around the reintroduction of the draft by US president Jimmy Carter. "The Call Up" was released as a single and scraped into the UK top 40, and its somewhat apocalyptic vision didn't stop it becoming popular on the US dance floor.
18. Career Opportunities, 1977
This celebrated track from their debut album points out that some unfortunates' career opportunities involve opening letter bombs from the IRA – if, like Mick Jones, they work in government establishments. So, not a good career move, then. Far better to form a punk band and make some of the greatest music of the rock era.
17. Bankrobber, 1980
A non-album single with an anti-capitalist stance that plugged the gap between London Calling and Sandinista!, originally only available on import. When officially released, "Bankrobber" reached No 12 in the UK and, with its pronounced dub influence, demonstrated that even after the acclaim for London Calling, The Clash still sought to broaden their musical horizons without losing their political fire.
16. I Fought the Law, 1979
With its garage-band origins, the Bobby Fuller Four standard from 1965 was the perfect song for The Clash to cover as part of the Cost of Living EP. By adding their own particular brand of punk defiance to the mix, they came up with this tremendous version: if you didn't know any better, you could be forgiven for mistaking the song for one of their own.
Enjoy unlimited access to 70 million ad-free songs and podcasts with Amazon Music Sign up now for a 30-day free trial
Sign up
15. Stay Free, 1978
Sandy Pearlman's high-gloss production on The Clash's second album came in for much criticism, but they were already looking to broaden their range and had half an eye on cracking America. There are certainly a couple of songs on Give 'Em Enough Rope that when compared with the raw energy of their debut, are incredibly melodic in places. This is one of them, a semi-autobiographical Mick Jones song about old schoolfriend Robin Crocker, who got into trouble with the law before becoming part of the band's entourage. Complete with winning pop hooks and a tender vocal from Jones, it's a side of The Clash not often heard, and all the more effective for it.
14. The Guns of Brixton, 1979
The Clash loved reggae and were keen to incorporate elements into their songs from the word go, covering Junior Murvin's "Police and Thieves" on their first album. Written and sung by bassist and long-time reggae aficionado Paul Simonon, his first solo composition, the brooding and menacing "The Guns of Brixton" is an uncannily prescient depiction of police harassment and urban unrest, and demonstrated that by the time of London Calling the pupils had become the masters. The song refers to the 1972 cult Jamaican movie The Harder They Come and was given the ultimate compliment when the film's star, Jimmy Cliff, covered it in 2011.
The 20 best albums of 1979

Show all 20
13. Safe European Home, 1978
Unnerved by the amount of violence they encountered during a holiday in Jamacia, Joe Strummer and Mick Jones composed this full-on rocker and, demonstrating how quickly they had progressed as musicians, it became the opening track to the band's second album, Give 'Em Enough Rope. By now, Topper Headon was the Clash drummer and, with due respect to Terry Chimes, whose contribution should never be underestimated, the classic Clash line-up was now complete. Headon's thumping fills are all over this, along with great harmonies and dual vocals from Strummer and Jones, but the real star of this track may well be the much-maligned production from Sandy Pearlman, with the fade-away and comeback at the song's outro simply irresistible.
12. Spanish Bombs, 1979
Written in response to terrorist attacks on tourist hotels in Spain, London Calling's "Spanish Bombs" contains a scathing message couched in a brilliant pop melody. Joe Strummer drew parallels with, and paid tribute to the heroes of the Spanish Civil War in their fight against Franco, while condemning the tourists oblivious to the country's history.
11. Rock the Casbah, 1982
One of the highlights of Combat Rock and probably as mainstream as the band got, this song combines Strummer's lyrics, inspired by the ban on disco music in Iran, and Topper Headon's music, which helped make it the most danceable of Clash songs. It wasn't a big UK hit initially, only just cracking the top 30 on its first release before reaching No 15 on its re-release in 1991. Helped by a nifty video, however, "Rock the Casbah" finally provided their major top 10 breakthrough in the US in early 1983, by which time Headon had left the band, with Jones about to follow.
10. Should I Stay or Should I Go, 1982
Mick Jones' bid for rock 'n' roll immortality paid off handsomely with this riff-tastic classic rock staple from Combat Rock, which became a hit twice over. It stalled at No 17 in the UK on its original release but, with punk ideology well and truly consigned to the past, "Should I Stay or Should I Go" was used in a Levi's jeans commercial in 1991 and re-released. It became a surprise UK No 1, which probably says it all about the power of advertising.
9. Clampdown, 1979
Very few bands have given us as many inspirational call to arms anthems as The Clash and this is one of their finest, from London Calling. "Clampdown" rails against those intent on stealing the best years of your life. It's a plea to fight against society's expectations and parental pressure to conform, and it's a foot-stomping Clash rocker of the highest order.
8. The Magnificent Seven, 1980
While recording Sandinista! in New York, The Clash immersed themselves in the new hip-hop sounds emerging from the city's music scene. One of the results was this, the opening track on Sandinista!. The title could, of course, refer to the famous movie, but it's more likely a nod to the seven o'clock alarm call that kicks off the working day. Written and recorded in just two hours, with Strummer virtually adlibbing the lyrics as they came to him. With its hypnotic bass line, "The Magnificent Seven" went down a storm in the clubs of the Big Apple and is credited in many quarters as being the first UK rap record.
7. Lost in the Supermarket, 1979
From London Calling, this witty critique from Strummer on all-pervading American influences and the feeling of being out of step with an increasingly commercial world also references his and Mick Jones' contrasting childhoods. Strummer drew on the wealth of choice available in his local supermarket and his resultant disorientation as a metaphor for how he imagined Mick Jones would have felt when abandoned by his parents. Arguably Jones' best Clash vocal – full of wonder and rather moving.
6. White Riot, 1977
The classic debut single and the classic Clash call for action, just two minutes in length and written by Strummer after he and Paul Simonon had been caught up in the Notting Hill riots. "White Riot" was much misunderstood at the time of its release and didn't get a lot of airplay, which may have contributed to its lowly chart position of 38. It was actually a plea for white people to riot against the system, not against black people who Strummer felt were much more pro-active in making their protests heard.
5. Train in Vain, 1979
The so-called "hidden track" on the London Calling album was only added at the last minute after the album covers had been printed, and it was an instant classic destined to be covered by numerous disparate artists. The meaning of the title is thought to be a tribute to Topper Headon's drumming, which Mick Jones compared to the rhythm of a train. Funky and rootsy, "Train in Vain" became the band's first hit in the US, reaching No 23 in the Billboard charts. Annie Lennox, the Black Crowes and Dwight Yoakam are just some of the acts who have covered the song and it has also been extensively sampled by several artists.
4. Complete Control, 1977
Rather peeved that CBS had released "Remote Control" as their second single without their permission, The Clash channelled their outrage into their next 45 produced by Jamaican music legend Lee "Scratch" Perry and featuring some ferocious soloing from Mick Jones. With its evisceration of their record label, "Complete Control" belongs in an exclusive club alongside the Sex Pistols' "EMI" and Graham Parker's "Mercury Poisoning", but the song's ire also hits other targets including punk ideology already under attack from corporate leeching and the band's own management who wanted "complete control".
3. (White Man) In Hammersmith Palais, 1978
After attending a reggae all-nighter at the Hammersmith Palais, Joe Strummer left feeling disappointed with the experience, considering the musical fare less rootsy than he expected and more like reggae-by-numbers. Coming after their seminal punk debut, this lyrically brilliant groundbreaking hybrid of pop, punk and reggae came as a real shock to many, but it pointed to one of the (many) paths the band would soon take. It's a typical Strummer state-of-the-nation address that condemns the rise of the National Front and makes a plea for racial unity, while tossing in a few barbs about the state of the current music scene. Strummer was rightly proud of the song and it was played at his funeral in 2002.
2. London Calling, 1979
"I wanted it to sound like it was coming through fog over the Thames," said Joe Strummer of the anthemic title track from The Clash's seminal third album. Fear of the Thames flooding London fuelled Strummer's lyrics, detailing a world hurtling towards the apocalypse, but "London Calling" (the title references the BBC World Service wartime address) also reflects on the group's internal struggles and the end of the punk rock era that The Clash embodied as they evolved into a great rock 'n' roll band. A momentous record, once heard never forgotten, but not quite the greatest Clash song.
1. Straight to Hell, 1982
A song written the best part of four decades ago, it sounds even more relevant now. From Combat Rock, it's an homage to displaced people all around the world, which also touches on England's abandoned steel mills before taking careful aim at American soldiers who abandoned the children they had fathered during their service in Vietnam. The stark, spectral beauty of the music, the intensely moving lyrics and Strummer's desolate vocal combine for a haunting, unforgettable experience. Joe Strummer himself considered "Straight to Hell" a masterpiece, and for me, it's The Clash's greatest song, but such is their wonderful body of work, there are many more candidates.
Join our new commenting forum
Join thought-provoking conversations, follow other Independent readers and see their replies