Clean Bandit: Dance music with strings attached
Call it what you will – conservatoire garage? Baroque house? The classical dance sound of Clean Bandit is going to fire up 2014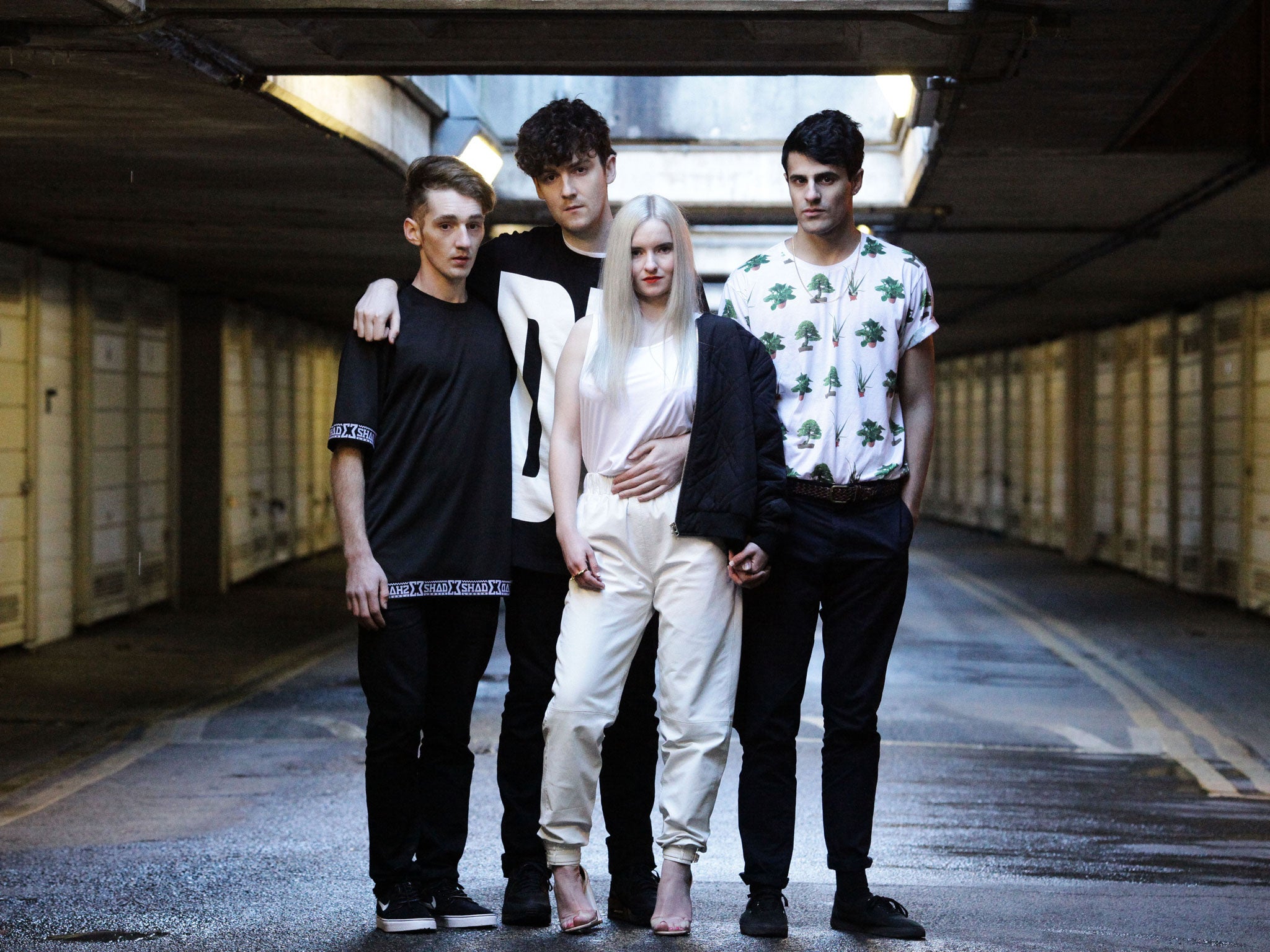 Nothing was more heartening in pop last year than the renaissance of British dance music, with the likes of Rudimental, Disclosure and Duke Dumont winning commercial and critical acclaim in equal measure. And, this year, the scene is only going to get more flush, with a host of new artists set to make waves with debut albums. But among the many contenders for clubland glory, it's fair to say no one can claim to have quite the USP of Clean Bandit, a foursome who answer the question: what do you get if you cross a classical string group with bangin' beats?
The band – Jack Patterson, 27, on beats, synths, and midi-saxophone; Luke Patterson, 21, on drums; Grace Chatto, 28, on cello and Neil Amin-Smith, 24, on violin – first started making music in 2008, when three of them were students at Cambridge University. One day, Jack decided to mess around with a recording of his girlfriend Grace's string quartet playing in King's College Chapel. He discovered that snippets of classical strings looped and layered with beats and synths sounded, well, pretty good.
Then, in 2010, the band uploaded a music video for a song, "Mozart's House", that caused the internet to prick up its ears – soon followed by Radio 1, and a clutch of record labels. The tune – and its title – summed up their project succinctly. Opening with a humorous, spoken-word apology for dance music ("So you think electronic music is boring? You think … it's stupid? You think it's repetitive? Well, it is rep-repetitive"), it was an addictive, bouncy house track which also featured Neil and Grace playing sections from Mozart's String Quartet No 21.
No wonder the band themselves don't quite know what to call their music. "It's often quite house-y, with a garage influence, but playing with acoustic instruments alongside electronic stuff," muses Grace. Jack proffers "baroque pop" as a more concise term for what they do, to groans from Neil. "I hate that one. I like electronic chamber music," Neil suggests.
Classical extracts aside – they've been known to cherry-pick from Shostakovich, Beethoven and Dvorak – their sound is very 2014, by virtue of plundering from Nineties garage, R&B and house. And they continue the trend for out-sourcing vocal duties: the band has no singer, but guests range from hip-hopping chums from uni to a busker Jack propositioned in Shoreditch to US rapper Lizzo and "garage legend" Elizabeth Troy. Meanwhile their latest single, the joyous "Rather Be", features a soulful contribution from newcomer Jess Glynne.
If home-grown dance music has been winning praise from press and public, does it feel like a "scene" from the inside? Definitely, they say. Last year, Clean Bandit toured with Disclosure and they were initially signed to London independent Black Butter Records, a thriving dance label that also launched Rudimental. "We were introduced to a lot of dance music that we were blown over by. Kidnap Kid we love, WOZ, and Rudimental," says Grace. Being stable-mates of such feat.-heavy acts also gave them confidence in their guest-vocalist approach on their debut album, which comes out in the spring on their current label Atlantic. "It felt do-able," says Jack. "You can have a band that doesn't necessarily have a singer."
The twentysomethings also look the part, from decking merch with trendy geometric shapes to their Urban Outfitters-esque Nineties redux fashion. But there's serious intent behind the honed style, as seen in their self-produced videos. "The videos are definitely as important as the music," says Grace. Indeed, it was through their stop-motion film for "Mozart's House" that Clean Bandit got noticed – despite the song having been online for two years.
Having creative control is paramount, and they'll be doing a Beyoncé with the album, recording a video for every track. With degrees in architecture, history, Russian and Italian between them, the troupe have as wide a range of visual references as musical ones. Their videos have seen them riffing on Henry Raeburn's painting The Skater, driving a giant snake through city streets, and nearly killing the model Lily Cole (a friend-of-a-friend) who plays a mermaid.
Hang on – they nearly offed a supermodel? Filming with Clean Bandit is clearly not for the faint-hearted. They were shooting at a friend's parents' swimming pool, but it was January and the water was only 10 degrees. They had three days to get it hot enough for Ms Cole, so they blew the budget on wood, constructing an elaborate system of radiators and pumps to warm the water over a blazing bonfire. "We'd take turns sitting up through the night staying with the fire," says Grace. "We [later] realised that if the pump [had developed an electrical fault], anyone in the pool would have died immediately."

Enjoy unlimited access to 70 million ad-free songs and podcasts with Amazon Music
Sign up now for a 30-day free trial
Sign up

Enjoy unlimited access to 70 million ad-free songs and podcasts with Amazon Music
Sign up now for a 30-day free trial
Sign up
"There have been quite a lot of near-death experiences," she adds, and they reminiscence nonchalantly about kayaks that sank, scooters illegally driven around Japan, and Grace falling through thin ice on a Swedish lake with a cello on her back … "But no one's died yet," she concludes, sweetly, before Jack deadpans: "I reckon Neil's going to be the first."
The teasing continues throughout the interview in their tiny recording space within the shared South Kilburn Studios; the entire space was revamped by their pals, Practice Architects, responsible for creating the pop-up bar Frank's Café in Peckham (Clean Bandit are, it's clear, not short on hip connections). Various creatives get space free of charge from the council, as long as they take on young apprentices from the local area; it's worked out brilliantly for the band, as several people they took on to help behind the scenes also turned out to have great voices, and can now be heard singing on their records.
Clean Bandit are certainly fluid, then, in their tastes and their talent-cultivating – even if occasionally other people's reactions to their music are more rigid. "[We have] quite a few enemies," acknowledges Neil when asked what the classical music world makes of them. Jack has encountered hostility too: "I met someone who had a huge go at me, 'what you're doing is wrong, it's disgusting'."
But for the most part, the classical world is accepting, or at least intrigued: as well as being booked for the usual dancing-in-fields summer festivals and hands-in-the-air club nights, Clean Bandit have been invited to play Lewes Chamber Music festival, at Tate Britain and with the Orchestra of the Age of Enlightenment. "We are connecting with that world," concludes Grace, "[and] the possibilities for crossing over are endless."
'Rather Be' feat. Jess Glynne is out today on Atlantic
Join our commenting forum
Join thought-provoking conversations, follow other Independent readers and see their replies