Coco Sumner - Every little thing Sting's daughter does is magic
Teenager Coco Sumner has a three-album deal with Island Records and has modelled with Agyness Deyn. She tells Charlotte Cripps she is enjoying making it on her own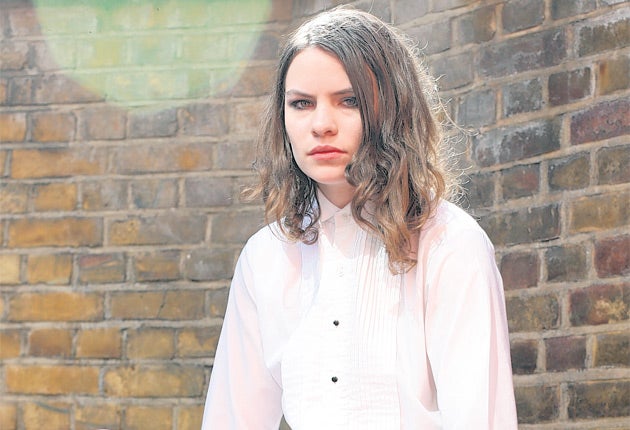 Sting and Trudie Styler's daughter, Coco Sumner, 19, has just recorded her debut pop album, The Constant, with her band, I Blame Coco, to be released later this year. Her husky, low voice in the catchy and dark pop songs, including her new single, "Self Machine", out in June, sounds at times uncannily like Sting. But it can't be easy living in the shadow of a megastar dad and Sting Jr couldn't be less of a showbiz kid. Her feelings about this unavoidable issue are made clear in an early demo, "My Name is a Stain", when she sings "Forget my dad, you need to hear my band."
Her mentors are Ian Brown, who describes her lyrics as "mega" and the rapper Plan B, who recently performed with her. She has just collaborated with Fyfe Dangerfield of The Guillemots on a limited edition vinyl version of the Neil Young classic "Only Love Can Break Your Heart" and she features on the new Sub Focus drum'n'bass single "Splash", which is out next month.
Preferring to sleep on friends' sofas – although she owns a house in Victoria and has just bought a cottage in Wiltshire – she has refreshingly dirty nails and is fiercely independent, despite Sting's estimated wealth of £180m. She started making music at the age of four, while holed up in her bedroom at the family's sprawling Elizabethan mansion in Wiltshire, after her dad bought her a guitar, but her parent's never heard any of it.
"Music for me has always been a secret. When I was younger I kept music as my personal thing that I would never tell anyone about," she says, looking awkward. "It was very private to me. So I'd secretly write songs and then I'd never play them to anyone."
By the age of nine, she was self-taught at the guitar and banging out every chord sequence of her favourite album, The Sex Pistols' Never Mind The Bollocks, and felt like she "never fitted in anywhere".
We meet at a London recording studio in King's Cross, where she is rehearsing with her band, who are supporting the Mercury Prize-nominated electro-pop band, La Roux, on a nine-date tour of the UK, with a London show at the Brixton O2 Academy on 8 May.
Sumner is unconventionally beautiful with dark hair and seductive eyes – although, strangely, she says, "I hate my face". Wearing red shorts and a white dress-shirt and ankle-length riding boots, she resembles a tomboy, while her long stick-like legs have goose pimples from the cold. She seems to be living in a world of her own and has an otherworldly quality to her as she sits down on the sofa, covering herself with an overcoat to stay warm.
"I'm living out of my suitcase. Why? I don't know really. I've never really unpacked my suitcase. I always feel like I'm going somewhere. It's part of who I am. I don't know what it is. It's just an instinct to keep moving like a nomad," she tells me quietly, in a slow and thoughtful way.
Her German shepherd dog called Aldous, after Huxley, also adds to her slightly grungey but bohemian lifestyle. "I'm not jet-set. I don't really have the money to fly everywhere. I don't take money from my parents."

Enjoy unlimited access to 70 million ad-free songs and podcasts with Amazon Music
Sign up now for a 30-day free trial
Sign up

Enjoy unlimited access to 70 million ad-free songs and podcasts with Amazon Music
Sign up now for a 30-day free trial
Sign up
Coco – whose real name is Eliot Pauline Sumner – grew up at Lake House, near Salisbury, in Wiltshire. Her nanny used to play her Ian Dury and the Blockheads on her way to school. As a teenager she played Sly and Robbie and Lee Scratch Perry – not The Police.
"Every kid wants to be a vet when they are younger – then I wanted to be a bank robber before I started playing music. The first song I wrote at 14 was called "Kato", a little reggae song. I haven't listened to that for a while." She did sometimes hang out backstage at her dad's stadium concerts – "maybe I was a bit oblivious to it all. I was young I can't remember," but she mainly led a rural life away from the limelight.
Naturally Sting and her producer mum Trudie, who are big on helping the environment, got their kids involved when they set up the Rainforest Foundation Fund, in 1989. "I used to sell T-shirts outside Rainforest Foundation Fund Benefit Concerts, and rip people off because it was for a good cause," she recalls. If there are any similarities with her dad, she says: "We are both really quiet and we don't really like to fuss. Weirdly we have the same tone in our speaking voices, which is strange." Her big and complicated family includes her half-brother Joseph, 34, who is the lead singer of the rock band Fiction Plane, and her half-sister Fuschia, 28, an actress. When her sister Bridget, 26, a film-maker and artist, and her two brothers, Jake, 25, a model, and Giacomo, 15, went off to boarding school, she was left by herself and went to the local prep school.
She later attended the boarding school Bryanston for three years until she left to attend the Hampstead Collage of Fine Arts at 17 – but got a multi-album deal with Island Records, at 18. She had started writing songs and performing at 14, with her then band, Coco and the Ladyboys, along with Ben Hudson, who went on to become the R&B star Mr Hudson.
"It was difficult because I was making a record and going to school. There would be times where I'd finish in the studio at three o'clock in the morning. I'd got homework to do and I'd got to got to be at school in about four hours. It all became a bit much for me. I thought: 'If I'm going to be at school learning to get a job, I already had a job.' It didn't make sense."
She also landed a small role in the 2007 film Stardust: "I get killed by Michelle Pfeiffer" and she was featured in Burberry's spring/summer 2008 advertising campaign alongside Agyness Deyn. "I found it a bit embarrassing to have a picture of me on a shop window." Her band I Blame Coco includes Jonas Jalhay, guitar and vocals, Rory Andrew, bass and vocals, Jonny Mott, keyboards, and Pete Robertson, drums, along with the guitar-wielding singer, Coco.
"It was really exciting getting signed," she says. "It was a big step to take from just finishing school, to finishing a record. I like having a band, because I feel part of a team. I'm very much a tribal person."
Her first single, "Caesar" featuring Swedish popster Robyn, was released in January. It got the I Blame Coco bandwagon rolling, with the lyrics, "I want to annoy. And I'm going to enjoy it". The debut album was recorded in Sweden and, while she was there, she even sampled reindeer as a dish.
By this point in her career she had swapped the ska/reggae-flavoured indie demos that she once posted on her MySpace page for upfront electro-pop with a philosophical feel. Inspired by the Scandinavian electronica scene and artists such as Lykke Li, she met the producer Klas Ahlund, who has worked with Robyn, Britney Spears and the Sugababes, who set to work with her.
"I scrapped all the old stuff because I didn't like it anymore. I started from scratch." "In Spirit Golden", a track on the forthcoming album, was written under the influence of the anti-seizure medication she had been prescribed last year. She had been in intensive care for four days after taking a hard fall at an LA restaurant, which left her with no sense of smell.
"It was a life-changing experience because it made me more mature. I appreciate life a bit more and try to take care of myself. Apparently my personality has changed quite a lot since I fell. I'm a lot more intense and I go to bed earlier." She also relates to the loneliness of the robot in her new single, "Self Machine", about alienation. "This little robot can't empathise with anything but himself, so he feels really sorry for himself. Then everyone leaves him because he is selfish, but he can't help it, because he is just a robot and programmed that way."
She isn't a typical showbiz kid because of her family roots, she says. "My dad's father was a milkman and my mum's dad was a farmer in the War. It wasn't really about parties and champagne. I like to work for money and food and doing music isn't really work. It's brilliant and it's fun. I'm not really lounging around on a beach doing nothing."
Apart from work she is looking forward to doing up her new cottage, which she bought three months ago, in the same village of Wilsford cum Lake as her family home. "It needs quite a lot doing to it. So I need to start building because it's not really liveable in. Apparently it flooded a couple of years ago. So they tiled the whole floor. I am going to take all that up and put some wood floors in. I really like picking and choosing different kinds of wood."
Whether she makes it as big in the music world as her megastar dad is quite another matter – but she can't wait to perform at the festivals this summer. "I love playing shows. Music is my life, so doing this is what I've always wanted to do it. I'm just really grateful I've got the opportunity to do it."
Single 'Self Machine' is out on 20 June. I Blame Coco tour the UK with La Roux until May 11 (iblamecoco.co.uk)
Join our commenting forum
Join thought-provoking conversations, follow other Independent readers and see their replies