Conchita Wurst interview: The Eurovision winner is releasing her debut album
She talks to Nick Duerden about not writing a note of it herself, being single and why, despite winning praise for helping to fight intolerance, she refuses to be a role model
Nick Duerden
Thursday 29 October 2015 00:13 Comments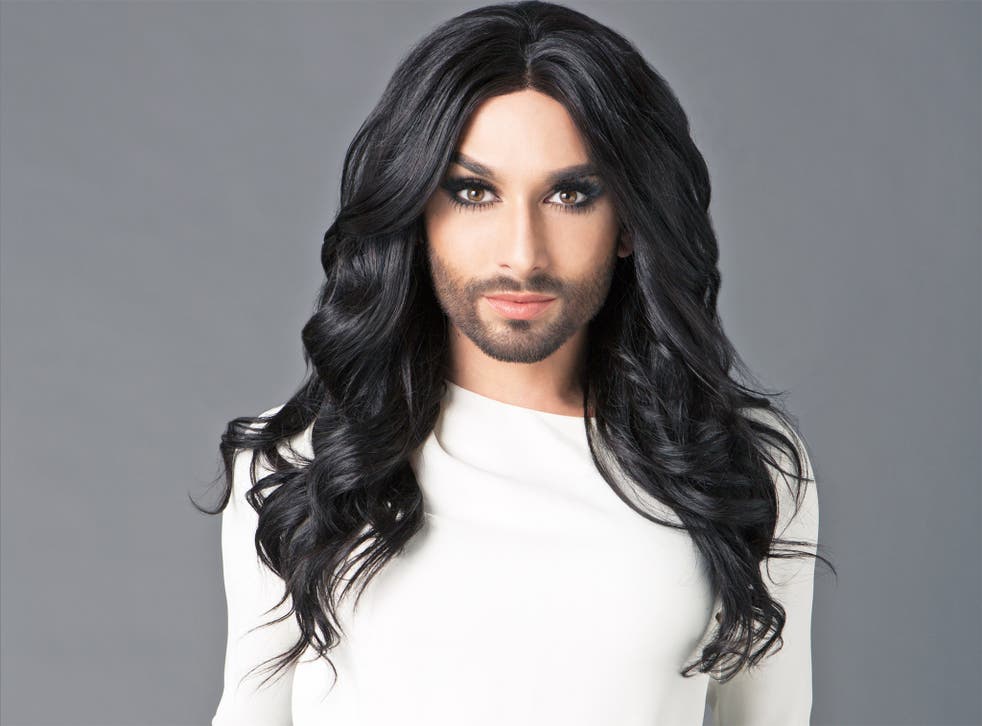 I see her the moment I step into the hotel's bar. Who wouldn't? Conchita Wurst, 2014 Eurovision winner and by some margin the world's most famous bearded lady, rather stands out in a crowd, any crowd.
"Come and sit next to me," she says, patting the expansive, velvet-upholstered sofa after standing to greet me with a firm handshake. She is impossibly elegant today in a black pencil skirt and a partially opened blouse. Often, she accessorises with a padded bra, but not today. She is resplendent, however, in one of her signature wigs, this one chestnut brown and parted down the middle. Her hazel eyes are disarmingly pretty, highlighted by the kind of fake eyelashes that resemble spiders doing the can-can, and her full lips – prone to pouting – are surrounded, as ever, by the beard, which up close looks every bit as velvety as the sofa beneath us.
Conchita Wurst: From Austria's X Factor to Eurovision glory

Show all 10
Conchita is about to release her debut album in the UK, entitled simply Conchita. Given that the 26-year-old came to global prominence as a Eurovision winner, it might be fair to suggest that expectations are fairly low. She may well be the perfect embodiment of a 21st-century celebrity, but no one seriously expected her to be of any serious musical value. However, with Conchita she makes a surprisingly decent stab at establishing herself as nothing less than a latter-day Shirley Bassey. It's a record of blowsy power-ballads and elastic-hipped, EDM-influenced disco numbers that she inhabits the way Marilyn Monroe once inhabited dresses. The single "You Are Unstoppable" could comfortably win the next 10 Eurovisions; several songs here could soundtrack Bond movies.
"And I haven't written a word of it," she trills, almost airily, as if boasting. She is keen to develop her songwriting skills, she insists, but, "Oh, it is just so hard." And so instead, like many an airbrushed pop star, she has a crack team behind her – including Joacim Persson, who has worked with Gloria Gaynor and Willow Smith – to create precise pop songs appropriate for one who looks and acts as she does. They've done her proud. "It is a wonderful record, isn't it?" she sighs. "I love it."
People get famous all the time these days, of course, and many of them get very famous indeed, but few have done so in the way Conchita has. Eurovision catapulted her from a Viennese curiosity to an international celebrity, her success an encouraging suggestion of tolerance and acceptance in a world that often displays anything but. She is as loved as she is inexplicably feared, however, and online forums are full of invective directed at her, many furious that "we" let "her" get famous in the first place.
"Ha," she says when I bring this up. "I'm not everyone's cup of tea, am I?" Nevertheless, since winning Eurovision, she has inspired an often fierce devotion around the world. She has befriended the fashion designers Karl Lagerfeld and Jean-Paul Gaultier; appeared at the Golden Globes in America; and last autumn she visited the European Parliament to meet with UN Secretary-General Ban Ki-moon, who praised her commitment to fight intolerance and discrimination, and described her Eurovision victory as, "an electrifying moment of human rights education".
"People talk to me a lot about the responsibility I must now bear," she says, placing a manicured hand on my knee. "But do you know what? I don't feel any! Expectations are dangerous. I recommend not having any, if only to avoid disappointment. You see, I have never promised to anyone that I am a role model, or that I am perfect. I am simply me, one person, a human being."
Conchita Wurst was born Thomas Neuwirth in the small town of Gmunden, Austria, in 1988. She has one older brother, Andi, who works in hotel management. Their parents are also hoteliers, and today run a small rural pensione that Conchita describes as, "practically a shrine to me!"
After struggling at school, frequently the victim of bullying, Tom took part in an Austrian TV reality show in 2007 called Starmania, which led to him becoming part of a boy band, Jetzt Anders!. "We were together eight months only, so not very successful," she laughs. It did teach her a valuable lesson, though. "I am not a team player. I will not share the stage with anyone."
Enjoy unlimited access to 70 million ad-free songs and podcasts with Amazon Music Sign up now for a 30-day free trial
Sign up
Her penchant for flamboyance, to forever play the diva, rarely sat well with Tom. He remained stifled, shy. And so, in 2011, he developed a drag act. Conchita felt no such constrictions. In 2012, she competed to represent Austria at Eurovision, and two years later tried again, this time successfully. Her winning song, "Rise Like a Phoenix", could have sunk the Titanic with its dramatic rise and swell, and the win drew praise from the likes of Lady Gaga and Boy George. But Russia appeared less impressed, one politician suggesting her victory was emblematic of the West's moral decay, and proclaiming it, "the end of Europe".
She got more support from the LGBTI community, though even here there was flak. "Some thought I was perpetuating the idea that all LGBTI people were over the top, always in drag; all those usual clichés. I just thought: 'You don't get it, do you? I'm not trying to represent any community here, I'm just representing myself.'"
And yet she isn't, not entirely. One doesn't become one of the world's most celebrated entertainers without also becoming a beacon of hope to many, whether they like it or not. Interviews with her are less likely to focus on her music than just how much of a "she" she really is. Is s/he gay, trans, pre-op, post-op? Does she use the women's toilets, or the men's?
"Well," she concedes, "I do love being able to educate. If you are not from the community yourself, then of course you have questions. And I'll answer them! If people really want to know whether I am a woman or transsexual, I take it as a compliment. It means I'm doing my job well."
To clarify, then, Conchita is still Tom, a happily gay man, not someone trapped in a woman's body. She uses the women's toilets when she is Conchita, presumably because it would take more balls than most people possess to step into a male WC dressed like that. She has spent much of the past year working hard to compartmentalise her life in order "not to go cuckoo". Tom Neuwirth isn't famous; Conchita Wurst is. When the wig is off, she becomes he, a regular Joe. Before meeting her, I had been advised not to mention Tom, as she doesn't like to talk about him any more. He was described to me as her "alter ego", when of course the opposite is true. With me now, she seems perfectly happy to discuss the man beneath the make-up, and insists she herself feels no confusion over identity. "I don't sit at home and think: who am I? I'm a drag act, that's all."
The most successful drag act in the world. Conchita tells me she is currently single, and contentedly so. "Whenever I do share my bed with anyone, it's not long before I'm like: 'OK, could you please just get out and go home now?' I have a very busy life, and I love meeting people, but I also like to be alone. People are surprised when I tell them, but I have always loved my own company best."
'Conchita' by Conchita is out now
Register for free to continue reading
Registration is a free and easy way to support our truly independent journalism
By registering, you will also enjoy limited access to Premium articles, exclusive newsletters, commenting, and virtual events with our leading journalists
Already have an account? sign in
Join our new commenting forum
Join thought-provoking conversations, follow other Independent readers and see their replies