Conor Oberst - songs of love and death
Conor Oberst is hailed by Michael Stipe and Lou Reed. James McNair meets a modern minstrel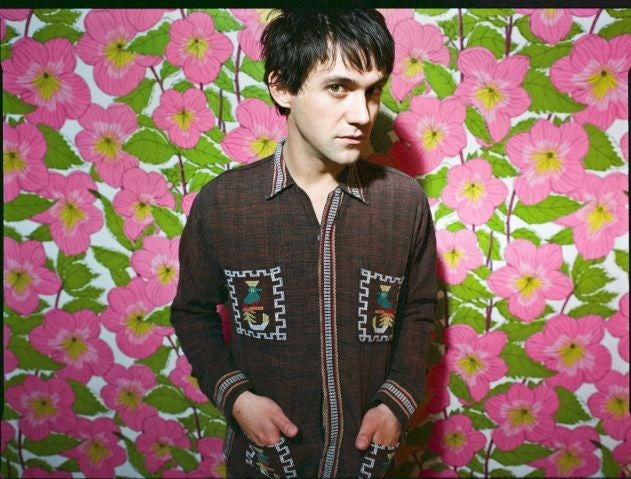 "This here," says Conor Oberst, twisting off a turquoise-encrusted piece of jewellery, "is my Four Winds ring. A mysterious stranger sent it to me. If you read the inscription on the band it says in Hebrew: 'Father of the four winds fill my sails across the sea of years.'"
Oberst, 28, is chatting outside the East London offices of Wichita Recordings, the label that puts out his work this side of the pond. It's 10.30am and he normally rises after noon, but with two strong lattes inside him he's slowly coming to. "Four Winds" is also the name of a song on Bright Eyes' (aka Oberst's) 2007 album Cassadaga, but now he's still on the aforementioned ring and how he recently had it blessed in Tepoztlan, Mexico.
"A native American friend of mine did it for me during a visit to the Pyramid of the Sun," says the diminutive, raven-haired singer. "Now it feels extra magical and I wear it all the time."
What was Oberst doing in Tepoztlan? Making a record, of course. Given that Cassadaga was named for a spiritualist community in Florida that Oberst had visited, it was only natural that he would be drawn to a small Mexican town famous for Aztec magic and its high incidence of UFO sightings; a town that is also the reputed birthplace of the feathered-serpent-god Quetzalcoatl.
"Yeah, it was great!" says the singer of the locale that spawned his 14th album, Conor Oberst. "There were pigs and wild dogs in the street; lots of people on horseback. We took our gear up two dirt tracks into the mountains and we had this piano that we bought in Mexico City out on the patio. My whole modus operandi for the project was that it should be stress-free. If we got stuck on a song we'd just stop, light a fire, drink beer and watch the fireworks down below.
Fêted by the likes of Michael Stipe, Lou Reed and Sonic Youth's Thurston Moore, Oberst is a rather enigmatic individual who last year performed with the LA Philharmonic at the Hollywood Bowl. The singer from Omaha, Nebraska, has been described as a "lightning rod for his generation", and a "boy wonder" of indie songwriting, but it's a quiet charisma he exudes when you meet him in person.
Today he's dressed all in black, and his boyish, almost elfin features are accentuated by a mop-top haircut. He seems happy enough, his chilled-out stay in rural Mexico perhaps a salve for the panic attacks that have sometimes plagued him.
Oberst has also engaged with the nuts and bolts of US politics, famously penning the George Dubya-baiting "When the President Talks to God", and touring with Bruce Springsteen et al on 2004's much publicised but ultimately ineffectual Vote For Change jaunt.
Conor Oberst is his first solo record in 13 years, a spare, predominately upbeat folk- and country-flavoured work that trades the apocalyptic, all-encompassing themes of last year's Cassadaga for more personal matters. Not that the new album is quite "and this is me", for Oberst still likes his smoke and mirrors. "Cassadaga was quite an ordeal to get recorded," he says. It was a year's work in many different studios with lots of different musicians. With the new album I knew I wanted the opposite experience, so we stripped things back to a basic band line-up.

Enjoy unlimited access to 70 million ad-free songs and podcasts with Amazon Music
Sign up now for a 30-day free trial
Sign up

Enjoy unlimited access to 70 million ad-free songs and podcasts with Amazon Music
Sign up now for a 30-day free trial
Sign up
"When I write my songs they tend to come in waves and have commonalities, and on this record there are a lot of songs about travelling. Movement has been one of the few constants in my life, and I always feel a great sense of optimism when I set off to a new place."
Oberst began plinking on a piano aged two. He was writing original songs on guitar by the age of 10, and he made his first album in his parent's basement when he was 13. When he and his eldest brother Justin released Water on their own Lumberjack Records imprint in 1993, it laid the foundations for Saddle Creek, a label that now has distribution links with Sony/BMG.
His big breakthrough record was the Bright Eyes album I'm Wide Awake, It's Morning, partly a caustic attack on the Bush administration, and a US No10 in 2005. His business concerns today including Team Love records, the New York City-based imprint that he co-founded in 2003, and which has since signed Tilly and the Wall and Rilo Kiley's Jenny Lewis, among others.
The restlessness to which Oberst alludes is almost certainly rooted in the itinerant lifestyle that has been a constant fixture since he toured with his first band, Commander Venus, as a 15-year-old. Today, Oberst is excited at the prospect of his first shows in Brazil and Chile. He tells me that he recently sold his house in Omaha to a marine and that he rarely spends any time at his apartment in New York's East Village.
"Sometimes I daydream about having a farm and a wife and some babies and watching the grass grow," Oberst adds, "but you have to meet the right person for that." Whether or not this means he has recently split with his musician girlfriend Maria Taylor isn't clear, but Conor Oberst songs such as the heartbreaking "Eagle on a Pole" ("It's about infidelity, and acceptance of the way things are...") certainly offer food for thought.
Oberst says the last two books he read were Deloria Vine Jr's God Is Red, about native American Indian religion, and Hail Mary, Full of Holes, a novel by his friend Simone Felice (also the drummer with The Felice Brothers) that follows "half-black, half-Cherokee teenager Mary Washington into the violent heart of America". There's a pattern here, of course, and given that Oberst's Omaha birthplace takes its name from the American Indian tribe that once ruled the Great Plains, his reading matter figures.
Asked if there is a novel in him, he answers "no", his brother Matthew's experience in that department the clincher: "He has a degree in creative writing, and it took two years to write his novel. In comparison, songwriting is instant gratification."
His songs can be touchingly compassionate, and it takes skill to honour the life of a child cancer patient with the kind of grace and surety Oberst manages on the new song "Danny Callahan".
"I was walking to this liquor store and pharmacy in Nebraska with a friend of mine," he recalls when asked about the song. "Suddenly, she was like, 'Oh my God! Look at that old man sitting in that car, look at how small he is!' Of course, when we got closer we realised it was actually a little boy. It turned out he was waiting in line with his mom to get medicine, and we were there to buy vodka or something. My friend started crying, and we just went home.
"It was just one of those life experiences that begs to be written about. It's partly about Danny, but it's also about whether or not you can transmit your experience of love to another person and whether that message remains intact when it arrives." Oberst will re-assume the alias for which he is best known when he begins recording a new Bright Eyes album in Nebraska this November. There is also a talk of an album from a supergroup comprised of Oberst, M. Ward and Jim James of My Morning Jacket, a loose, if already road-tested triumvirate that was billed as Monsters of Folk when it toured in 2004.
It is the Bright Eyes record, though, which will likely see Oberst re-engaging with his most politicised self. He will be keen to capitalise on the US No4 success of Cassadaga, and the US presidential elections in November should certainly get his juices flowing, offering as they do the tantalising prospect of a black president in the White House.
For Conor Oberst, who spent New Year's Day this year drumming up support for Senator Obama at a rally in Iowa, these are heady times, and he was much impressed with the Democrat party leader when they met. "Obama is for real, alright," he says. "He's got one hell of a handshake and he has this disarming quality.
"For me as an American it's an incredible time to be alive and to witness all this," Oberst goes on. "People seem tempted to be cynical. Is he an empty suit? Will he be effective when he gets in there? I believe he will be. He doesn't sidestep issues, and, shockingly, he tells the truth."
Asked how he thinks the USA would change under Obama's presidency, Oberst says that the Democrat would get "the brightest minds there are to work for the cause," and that this "would result in more just policies and a better life for most Americans.
"The Bush administration's loyalty has been to a very specific band of wealthy, high-powered people who benefit from oil and defence contracts. Obama would spread the money around."
'Conor Oberst' is out on 4 August on Wichita Recordings. The singer plays the Reading, Leeds, Connect and Electric Picnic Festivals in August, and the End of the Road Festival in September
THE BEST OF OBERST BY ELISA BRAY
Letting Off The Happiness, 1998 ***
Made when Oberst was 18. The ironically titled lo-fi alt.country album was his first major release.
Fevers And Mirrors, 2000 ****
The band's darkest, most intense and overwrought album – extremely powerful but brightened up by a witty mock interview with Oberst.
Lifted, Or The Story Is In The Soil, Keep Your Ear To The Ground, 2002 ****
The band's breakthrough album. Lifted combined lo-fi guitar, keyboards, banjo, hammer dulcimer, pedal-steel guitar, mandolin, strings and horns, and presented the theme of the truth of art and the artifice of "real" life.
Digital Ash In A Digital Urn, 2005 ****
This was Oberst's most prolific year, when he and the band released two simultaneous studio albums and a live album. This one took them into a new electronic realm. Its single "Take it Easy (Love Nothing)" reached No2 on the Billboard charts while "Lua" was at No1, the first time in seven years an artist had taken both top spots.
I'm Wide Awake, It's Morning, 2005 ****
A more direct folk-oriented album featuring singles "Lua" and the gorgeous "Landlocked Blues", with its rousing trumpet solo and vocals from Emmylou Harris.
Cassadaga, 2007 *****
Its title refers to a community of psychic healers in Florida. Cassadaga cemented Oberst's reputation as America's leading young lyricist. The country-rock single "Four Winds" is an infectious sing-along, a perfect example of his complex arrangements.
Join our commenting forum
Join thought-provoking conversations, follow other Independent readers and see their replies