Courtney Marie Andrews premieres new video 'Took You Up'
The Americana songwriter shows that true love survives the tough times in her latest visual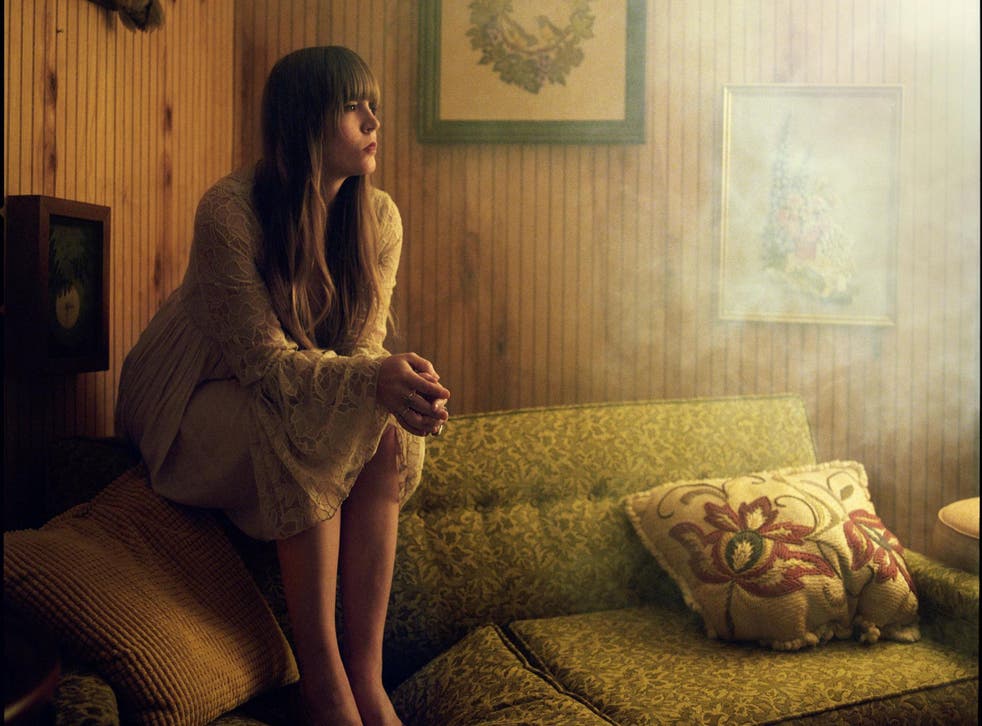 It may seem like Courtney Marie Andrews' rise to success happened quickly, but the Arizona native had been uploading music to Bandcamp since 2010. But it was Andrews' 2016 record Honest Life that finally had people calling her a modern-day Joni Mitchell - a prolific songwriter whose inimitable stories could be both deeply personal and relatable to working class America. In March, Andrews released her latest full-length effort May Your Kindness Remain, which finds her with an even keener eye for storytelling.
We're premiering the video for "Took You Up"- Andrews says of the concept, "'Took You Up' is a song about a low-class American couple [told through] the narrator of the song who sees all the trends in their life, but knows that their relationship is far more important than taking up an offer. It's far more important than the materialism that precedes us sometimes. It's about experiencing love through poverty."
The video - directed Giraffe Studios LA - shows a couple finding the toughness and permanence of love even through frozen dinners and laundry piles on the floor.
Watch the premiere of "Took You Up" below.
Q&A with Courtney Marie Andrews
Tell me about the inspiration behind "Took You Up." You're a really good storyteller.
Yeah there's definitely vignettes of personal experiences - there are little snippets of imagery throughout the whole song. I think I've definitely experienced pieces of that especially the frozen dinners and laundry piles line. I've lived a lot with either people letting me stay on their couches and I've also rented hotels and lived on the road for a few years now - not really living this grand lifestyle but also trying to make ends meet. There's also bits of depression in those lines but I think the hope and the light is that you have somebody you love surrounding that theme. It's a song where you feel like the only thing you have is that person - everything else is suffering: your pocketbook, where you live...there's nothing except for that person. But sometimes that person is sad and love is sad as well.
When I had spoken to you in the past, you were like "I already have new record." It seems like you're always writing non-stop.
I write in chunks. It was written a year before I released it. There was a year between when I stopped writing it and when it was released, so it really wasn't as non-stop to me as it was to the perceived outside. I would say that I'm really prolific in the sense that if I have time alone then I'm writing.
When do you feel like you got your big break? You had put out your first records and music on Bandcamp in 2010-2011.
It basically when I started sending Honest Life around, I think a big reason to the break was that there was no press to support the record before - I was DIY releasing music through Bandcamp. I think the biggest reason why Honest Life had a breakthrough was because I sent it to as many people as I could, asked people to hear it, I got a label, my first publicist. The power of a team is strong, so it definitely added a lot to it. Also, it could have been that Honest Life was a record people related to at that time. The power of a team is undeniable. I'm not meant to deal with that business stuff on my own - it's not my calling.
How did you come up with the title of the record May Your Kindness Remain?
Originally it was the song "May Your Kindness Remain" - .I don't write theme or concept records. I write songs and then I take a step back to understand a theme better. When I took a step back, every song was about that need for empathy and human connection, and kindness is the quickest way to connect with people. If you're kind to 99 percent of humanity, they're receptive to it if it's coming from an honest place. Through hell and the highest points of your life, may you be good and really strive to be a better person.
Enjoy unlimited access to 70 million ad-free songs and podcasts with Amazon Music Sign up now for a 30-day free trial
Sign up
Do you have material for a new record? Or will you take a break?
I think there's going to be quite a bit of touring. I have a break in June and I'll start writing then for a new record. I started writing in January but it's a lot of bits and pieces. When I'm touring, I try to be a disciplined writer as best as I can. I definitely think about it and continue to want to explore the possibilities of writing new music.
What's your dream collaboration?
My dream collaboration would be going back in time and writing a song with Aretha Franklin. There still might be a chance. Townes Van Zandt or Elton John.
Register for free to continue reading
Registration is a free and easy way to support our truly independent journalism
By registering, you will also enjoy limited access to Premium articles, exclusive newsletters, commenting, and virtual events with our leading journalists
Already have an account? sign in
Register for free to continue reading
Registration is a free and easy way to support our truly independent journalism
By registering, you will also enjoy limited access to Premium articles, exclusive newsletters, commenting, and virtual events with our leading journalists
Already have an account? sign in
Join our new commenting forum
Join thought-provoking conversations, follow other Independent readers and see their replies