Craig David: 'I hit the ground running and didn't stop'
Artist talks upcoming album 'The Time Is Now', TS5, and why this time round it feels as though he's here to stay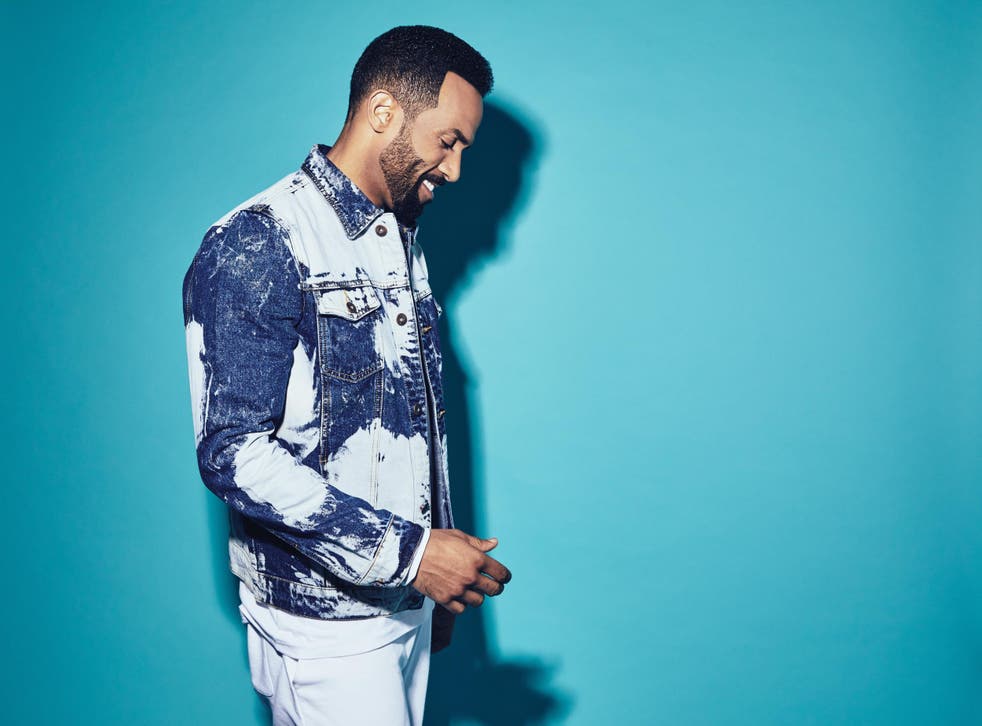 Craig David is in a good mood. And why wouldn't he be?
Barely a year since the release of his No 1 album Following My Intuition, he's preparing to release a follow-up: The Time Is Now, in January 2018. His club night TS5 is now a juggernaut of an event, and there's a unanimous sense that he's reinstated himself back into the mainstream.
"The last year has been amazing," he says. "Some of the things going on, and then to think that the last album only came out a year ago.
"I think it was because I was in a really creative place. I still am. Off the back of the album dropping, the arena tour… I hit the ground running and didn't stop. I was in the studio and carried on throughout Christmas, New Year's, and all of a sudden I had all these songs. I thought, 'You know what, we could actually release another album with this.' Times have changed from people waiting for a certain period of time, and if you've got it, and you're not rushing it, then go for it."
On Following My Intuition there were plenty of nods to the old-school garage music that David helped to pioneer with his debut Born To Do It in 2000.
On The Time Is Now there's a clear progression of his sound, that maintains the best elements of garage and brings in UK R&B, electronic and grime music with a smorgasbord of guest features, from AJ Tracey to GoldLink, Bastille to Kaytranada.
Some songs, like its catchy, sweetly optimistic first single "Heartline", have that same uplifting feel as many of the tracks on Following My Intuition. Others, like "Live In The Moment" featuring US rapper GoldLink, have a harder, sexier tone. If you were sceptical about David's comeback before, you won't be when The Time Is Now drops next year.
One particular standout is "I Know You", David's collaboration with Bastille's Dan Smith, which follows the band's stint as his "backing band" when he made a surprise appearance for their Apple Music Festival show. Opening with cool, dreamy synth notes it builds to what David calls an "anti-chorus" that unfolds beautifully with anthemic harmonising between him and Smith.
"When we were finishing the song, even when the first melody came out..." [He sings it to demonstrate].
"It's weird, when you've written a certain number of songs, you know when a song has something. I'm so glad we actually did it, because we were talking about it for so long. But to also have a song that in its own right, if someone else was singing it and I heard it I'd be like 'I wish I'd written that'.
Enjoy unlimited access to 70 million ad-free songs and podcasts with Amazon Music Sign up now for a 30-day free trial
Sign up
"I think every session I approach as something fun. When me and Dan came in together we were in sync, we were both open to doing something that leant a little bit out of our comfort zones. I think it'll surprise a lot of Bastille fans, and my fans as well maybe. There's something about this song. It feels like we delivered on something more than we could have delivered apart. These songs feel like they'll stand the test of time."
Making another album after Following My Intuition felt "really organic", he says, and would have happened regardless of whether he'd made it to No 1 in the album charts. And the features on this record happened almost in spite of that.
While David probably had his pick of artists wanting to feature on The Time Is Now, he chose to work with artists who are still growing – who still have a buzz around them. On "Get Involved" he switches up the dynamic of the record entirely with JP Cooper, where he sings a steely warning about a girl who's "not quite right". David says it reminds him of the vibe of Eminem's "Guilty Conscience".
"I feel like a lot of these artists on the album are already stars in their own right, just give them time, and I'm so grateful to be a part of what they're doing," he says.
"It's so easy to go established with collaborations, but I love this, because I just think in a couple of years where AJ Tracey blows up and Kaytranada becomes like the new Pharrell… And it was also to make sure the songs stand up on their own. Sometimes I've heard collaborations where on paper it sounds alright, and I've bought into the hype, but if you stripped it back and thought, 'If this was a brand new artist would you be that into this song?'"
So David will become one of a few artists who are championing an album of collaborations with exciting new stars, rather than those who are already established, placing The Time Is Now alongside records such as Mura Masa's self-titled debut, Kaytranada's 99.9%, and Calvin Harris's Funk Wav Bounces Vol. 1.
"On this latest record, Calvin could have done a fall-the-floor EDM record," David nods. "But he was like, 'You know what? I'm gonna do 'Slide'.' Frank Ocean. Completely curveball and still smash it. That's someone who lives this, it's not a hobby for him. And I think that's kind of the way I live this music. From 'Rewind' to all the way now."
He's touched at the thought that he's re-established himself as a credible artist following one or two bumps in the road – no mean feat in an industry that's forgotten the "next big thing" by the middle of next week. British songwriter Wayne Hector (One Direction, Westlife, Nicki Minaj) who worked with David on Rewind: The Collection, came up with an analogy for his career, which he loves.
"Your career is a bit like you jumped on a bicycle, and both the wheels are in sync," David says. "Then there's a point where the wheels can start to go out of sync. Some people might jump off. But if you stay on the bike, there's a moment they'll start to go back in sync again. And he used that as a way of describing my career. You stay on and it comes back round. And to see this, now, is madness."
It's slightly depressing to think about how a cretin with a rubber mask managed to obscure an artist who, in 2000, had just released one of the most exceptional debut albums of the year. Yet David, who is naturally positive, does not appear to resent how hard he's had to work to get to where he is now.
"What I love is that I know what's going on behind the scenes. The TS5 house parties… building that for three or four years to where you're standing in front of a Glastonbury crowd like it's a rave, doing a 25 minute show, and thinking how far this has come.
"I think this music has given me the chance to - not only have a journey with people who have grown up with my music – but also have a whole new generation who have discovered it. For me that's so exciting, to see people who are gonna hear UK R&B (I say *UK* because it feels inherently British) and having young kids saying "this is different". Most of the younger generation have only heard my dance stuff."
David's TS5 sets are undeniably thrilling to attend. At Hackney club Shapes in 2015, when the music industry and his fans were suddenly buzzing at hints of a comeback, he played his classic tracks, hinted at new ones and re-worked hits by other artists to an at-capacity venue, with a superb understanding of his audience's craving for nostalgia and the new.
"It does feel that TS5 gave me such a new lease of life," he says now. "I'd play 'Music Sounds Better With You' over 'Wild Thoughts', do a freestyle, and the crowds…" He stops and shakes his head, smiling at the memory.
"The one I was doing in Ibiza, I've seen the age range is like 18-35. So when you're seeing 18-year-olds going mad for the Stardust thing… cool guys over there giving it something, girls with their friends. But 'Music Sounds Better' is Nineties… So it's the same mindset that I was in when I was doing 'Rewind', I was testing songs.
"I played 'Rewind' so many times in the club, to see which parts were working, see how the crowd reacted to it. And the younger and the older generation are loving it. That's what TS5 allows me to do, gauge what is actually happening. Not what's playing on the radio, what's playing on here. Seeing someone's face light up, or if they're not really into it. You need that, because otherwise you're out of touch with what people are feeling."
'Heartline', the first single from 'The Time Is Now', is out now. Craig David will be performing in November at O2 Academy Brixton, The Warehouse Project in Manchester, and the O2 Academy Birmingham in early November
'The Time Is Now' will be released on 26 January 2018 – pre-order here
Join our new commenting forum
Join thought-provoking conversations, follow other Independent readers and see their replies