Creeper – Eternity, In Your Arms: Exclusive Album Stream
The Southampton horror punk band stream their debut album 24 hours before official release, exclusively with The Independent and we sit down for a chat with frontman Will Gould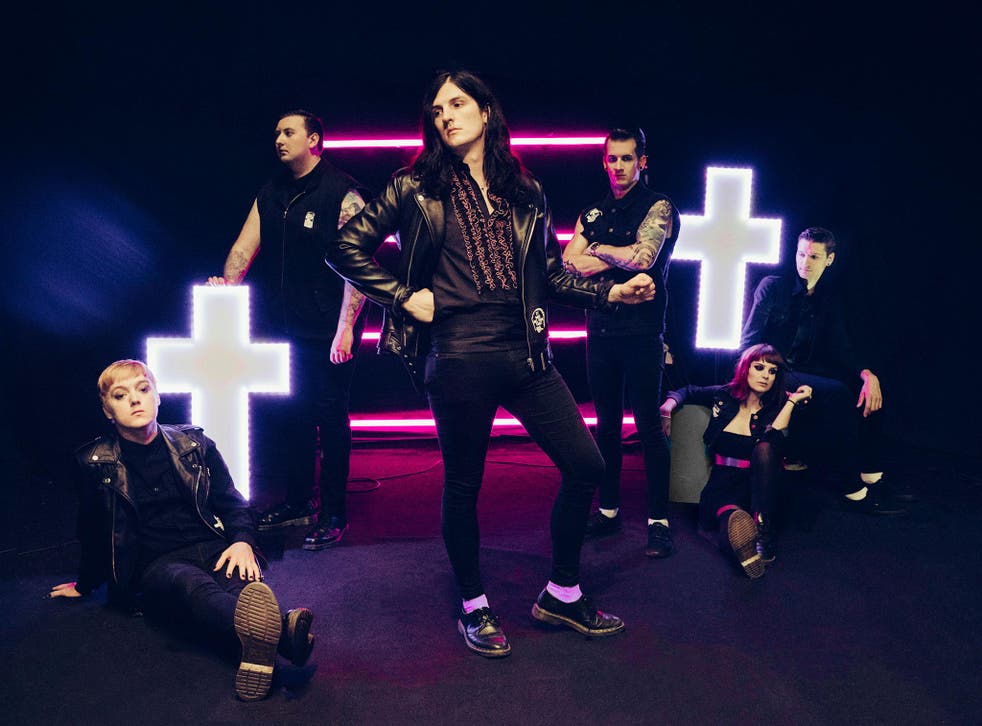 Over the course of three EPs and an abundance of impassioned, sweat-drenched live shows, Creeper have amassed a strong and dedicated following by taking the heart and soul of punk rock and dressing it up with theatrical, melodramatic flourishes. One of 2017's most anticipated debut albums, Eternity, In Your Arms, has already garnered wide critical acclaim from the likes of Kerrang!, Rock Sound, NME, Metal Hammer and Q but you can hear the results for yourself, as we have a worldwide exclusive stream of the album below.
Will Gould, Creeper's charismatic Jack Skellington-esque frontman, is an incredibly charming, down-to-earth presence, wrapped up in a tall, gangly figure, leather jacket and a David Bowie T-shirt. He's the walking, talking embodiment of the geek that inherited the Earth, frequently diverting our conversation towards a whole range of topics, all of which he speaks on with vigour, intelligence and passion. His path to frontman for one of the most heralded bands in recent British rock history has been long and arduous, but in Creeper, it looks as if Gould has finally found the platform he's craved ever since his youth.
To the detriment of his academic studies, Gould got involved in the music scene from a young age, promoting gigs around Portsmouth, Southampton and the surrounding area. He got heavily involved in the UK's burgeoning hardcore scene, putting on shows for the likes of Jets vs Sharks and Take 'em Out in and around the grotty toilet venue circuit across the south coast. Bands like Funeral For a Friend and A Wilhelm Scream informed the young music protégé's tastes, mixed with influences that took a more bombastic, theatrical approach to their stage-craft. 'Hardcore punk was a bunch of dudes playing in the clothes they wore to work,' he says, 'they were playing very honest music. I missed some of the flamboyance and silliness of bands like My Chemical Romance or Alkaline Trio or AFI or The Nerve Agents, all those bands that had a dress up element to them. I think a lot of people were waiting for that as well!'
Creeper emerged at a vitally important time in Gould's life. He'd been struggling promoting and playing in bands for years, sleeping on floors and criss-crossing his way around the country, most notably as the frontman for hardcore punkers Our Time Down Here (where he also met future Creeper guitarist Ian Miles). By the time that band came to an end in August 2013, Gould was disillusioned by being perpetually broke and achieving seemingly nothing; it was as if he were personally stagnating whilst all his friends back home were settling down, getting married, earning a decent living and having families. 'When Creeper started, I was kind of done with touring' he says 'I'd toured all my life, it's all I've ever known but that lifestyle was beginning to rip me apart. You get to a point where you're bashing your head against a brick wall a little bit. There's a ceiling and no-one else was going to come see us. It got to a point where we had played too much and we had no management, we didn't have anything, the whole operation was DIY. I was coming home and seeing my friends having kids and buying houses ... buying houses!? I couldn't buy a f**king Snickers! So when we stopped, I was kind of relieved in a way, I felt done playing shows and being skint.'
Gould took a break from touring life for a year before he developed the itch to create music once more. A trip, or pilgrimage as he describes it, to Disneyland in California sowed the seeds for a far more grandiose musical project than he had ever envisaged before. 'I think you have to really understand the cultural impact that Disneyland had on the world to have any sort of emotional connection to it' says Gould. 'It's a park that one man built, gambled his whole fortune on and it could have fallen through and ruined him. I was feeling real emotions walking through this fake plastic environment and that idea inspired me for the first time in a number of years.'
From this trip, a seed was sown; Gould sought to draw people in through theatrics and melodrama, and leave a deep, lasting poignant impact upon them through the songs. The result was Creeper and the reaction was immediate. Their self-titled EP was released for free in July 2014 and left an indelible mark on a group of rock fans that were captured by the striking aesthetic and held by the emotional content. 'I came home and said to Ian 'I've got some ideas for a project that expands on what we've done before but goes a little further down the rabbit-hole.' We had some riffs left over from Our Time Down Here that were un-used and the original intention was to start a dark wave band influenced by the new romantic movement. That didn't work out, but when we started to fit these ideas to punk rock, something more profound began to emerge. From that point, the whole thing came together very quickly.'
The key theme that links Creeper with Disney? Escapism. Gould started to weave a narrative that began as far back as 2015's The Callous Heart EP based on J.M. Barrie's Peter Pan; or the Boy Who Wouldn't Grow Up (adapted by Disney in 1953). Characters began to emerge that linked Creeper's back-story to Peter Pan; The Lost Boys are represented by a gang of youths who refer to themselves as The Callous Hearts. Captain Hook, a man paralysed by his fear of death, is characterised as the missing James Scythe. And The Crocodile (or Tick-Tock in Disney's 1953 adaption) is drawn most terrifyingly of all as The Stranger, a hooded masked figure that appears as a night terror and represents fear and time's inevitable decline.
An elaborate viral campaign was concocted to engage fans and augment a labyrinthian backstory that would enhance the record for those willing to seek it out. Phone numbers were set up which when called, played haunting lullabies and sent out mysterious txt messages asking 'Where is James Scythe?' Then websites began to emerge, detailing the disappearance of Mr. Scythe after he'd been investigating two seemingly unrelated paranormal mysteries in Southampton. The band were reported as missing after a performance at Leeds Festival 2016 and their various social media accounts disappeared over night. 'I genuinely feel that escapism is so important in 2017,' says Gould. 'The whole campaign is about disappearing but the disappearance of our characters is not important. The real importance is the disappearance of our audience into the music. For a moment, whilst you're listening to the record, you're escaping, you're vanishing, you are James Scythe! The idea is to get people immersed in ways that will serve the songs. People can call us corny or plastic, the same things they say about Disney, it really means very little to me because that is the sort of stuff that affected me when I was younger and it's inspired me so much. It literally changed my life!'
The narrative thread that weaves its way through The Callous Heart, The Stranger and concludes with Eternity, In Your Arms is aimed directly at a sub-culture who often grow up feeling isolated from those around them. It's a story that many people who gravitate towards alternative music can relate to; the desire to escape, if only for a short while, and leave all your troubles behind. Like all stories, it's the telling of the tale that is important and Creeper's concluding chapter is told on their broadest musical canvas to date. Within the 11 songs that make up Eternity, In Your Arms we have the bustle and bluster of hardcore-inflected pop punk rager Poison Pens countered by the soul-searching country & western melancholia of Crickets.
Misery, the only song that has made the transition from EP to album, is a stirring melancholy anthem that became an instant favourite when it debuted on The Stranger back in 2016. The song gave the band a sort of slogan derived from the song's chorus. The line 'misery never goes out of style' would often be sung back to the band at shows with a fervor that was beginning to make them feel uncomfortable. With this style of music being so easily misinterpreted, it was something that Gould wanted to re-address for their debut album. 'I was really concerned that our tag line was becoming 'misery never goes out of style'' he says. 'I was seeing a lot of kids getting it tattooed and I felt like that wasn't the message I wanted to send out and have people take away with them. I didn't want people to think that all we are is a band that dwells on the miserable side of life. So Side A of our record ends with Misery and Side B ends with I Chose To Live because we were trying to project a hopeful message rather than something that was hopeless.'
In closing song I Chose To Live, Gould and Creeper have devised a rousing paean to life that says no matter how difficult things get, no matter the trials and tribulations endured, I chose life. Inspired by the Creeper fans that would send the band heart-felt messages detailing their anxieties and woes, it's a call to arms to anyone who has ever felt depressed, alone or forgotten. 'I was trying to work out how to respond to the people who would send us letters or e-mails that detailed the horrible things they were going through' Gould says. 'When I was a kid, my hero was David Bowie. On Diamond Dogs, there's a song called Rock 'n' Roll With Me, it's the first song where Bowie addresses his audience. He broke that forth wall, instead of merely watching something, you were being addressed directly. I was so inspired by that and the way I chose to answer those cries for help from a lot of our fans was singing directly to the audience and making it abundantly clear that they are not alone. I Chose To Live is a promise that I wanted us to make as a group. We're choosing to live for each other as a community and in a world that's practically on fire in 2017, the only thing we're in control of is putting these special communal moments together where we can feel like we're not so alone. The ability to come together and immerse ourselves in something outside of our ordinary lives is something we need now more than ever.'
Creeper are one of a whole slew of bands that are reigniting people's enthusiasm for authentic British rock music. Some would even argue they're spear-heading a movement that incorporates all manner of different genres from hardcore to pop-punk, from prog to grunge. For his part, Gould is just happy to be a part of one band in the re-emergence of bands the British isles can be proud of; when he sings 'All those radio bands never made me feel' in the first single from the record Suzanne, he's not kidding! 'I'm just stoked that there's a scene again,' he says 'because for the longest time, I was really unsatisfied with the alternative music coming out of this country. I'd hear things on the radio and think, 'f**king hell, not more of this!' I'm just grateful that there's some exciting stuff going on. I'm grateful that there's a band like Heck who are going to tear a venue to piece every day. I'm grateful there's a band like Neck Deep who are considered the New Found Glory of the modern age. There's been waves of really great British music coming through and it feels like there'd been a drought for a little while, like everyone was a little devoid of ideas. It feels like there's a resurgence now and that's exciting!'
Eternity, In Your Arms is available to pre-order on Vinyl, CD and digitally and the album will be streaming on Spotify and Apple Music from Friday 24th March. The band begin a UK tour with Milk Teeth, Energy and Puppy in Manchester on 25th March.
Register for free to continue reading
Registration is a free and easy way to support our truly independent journalism
By registering, you will also enjoy limited access to Premium articles, exclusive newsletters, commenting, and virtual events with our leading journalists
Already have an account? sign in
Register for free to continue reading
Registration is a free and easy way to support our truly independent journalism
By registering, you will also enjoy limited access to Premium articles, exclusive newsletters, commenting, and virtual events with our leading journalists
Already have an account? sign in
Join our new commenting forum
Join thought-provoking conversations, follow other Independent readers and see their replies