Crispian Mills: Big mouth strikes again
Ten years ago, Kula Shaker's Crispian Mills revealed an admiration for the swastika, and the band imploded. Now they're back, and the lead singer is as outspoken as ever, finds Tim Cooper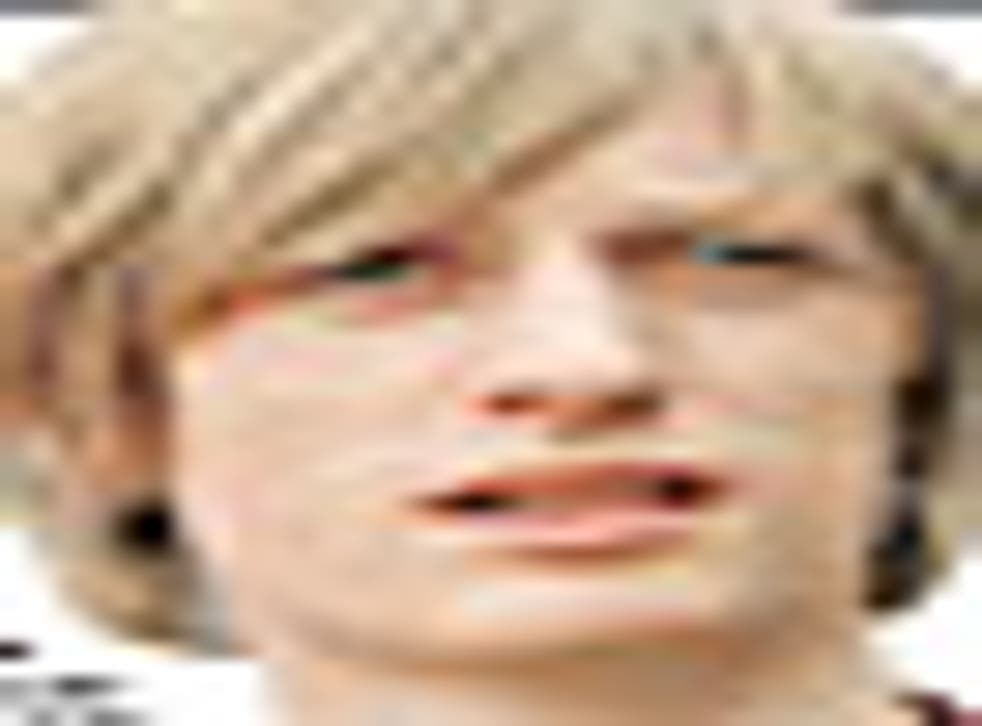 Crispian Mills is doing his very best to ignore the elephant in the room. We both know it's there but so far neither of us has had the nerve to mention it. So we make small talk about the trendy Hoxton restaurant we're in and the impending launch of Kula Shaker's comeback album. Mills, a self-confessed "zero-tolerance vegetarian", decides to give lunch a miss after spotting devilled lamb's kidneys on the menu.
The return of Kula Shaker seemed unlikely a decade ago when, with his band at the top of their game (a million-selling debut album, K, a string of hit singles and a newly won Brit Award), Mills, aged just 24, committed career suicide.
In April 1997, The Independent on Sunday drew attention on its front page to remarks that he had made in two music-paper interviews. His assertion to Melody Maker that "we know that democracy doesn't work" was barely contentious (hadn't Churchill said something similar?), but his subsequent suggestion that we should introduce "a non-elected body that set the right standards" seemed somewhat extreme. And when he told the NME his thoughts about the
swastika being "a brilliant image" (albeit in the context of his interest in Indian mysticism, where the symbol originated), it began to look as if he might have some unsavoury political views.
Further circumstantial evidence began to emerge: Mills's former band, Objects of Desire, had used the motto "England will rise again" and played at a dubious rally, and their singer, Marcus Maclaine (at the time, the boyfriend of Mills' mother, Hayley Mills), had, in his teens, been a member of the National Front. Case closed; credibility in tatters; career in ruins.
It was little surprise when the second Kula Shaker album, Peasants, Pigs and Astronauts, failed to match its chart-topping predecessor, only just creeping into the Top 10, and the band broke up in 1999 without recording a third one. Looking back today, Mills says he did not have the inspiration to continue, even without the controversy.
"We took off like a rocket," he reflects, "and it made us all feel sick, to be honest. The pressure of travelling very fast..." He sips from a cup of tea and shoots his cuffs, showing off a pair of gold cuff links that complement the signet ring on his left hand. "When you start finding yourself in that intense high pressure business environment, making a lot of money for a lot of other people, it can be very destructive to the chemistry of a band. You can weather all the problems that you have with your label or your managers, or even being sued and having a nightmare with the press, so long as you have a passion for your music. I just lost sight of what we were supposed to do musically and without that you haven't got your lifeline to the next chapter."
Mills is skilfully skirting around the issue of his own self-destruction. Perhaps this would be a good moment to offer him the opportunity to set the record straight. "It was exceedingly unpleasant," he concedes, "but it was a stupid story." Curiously, it seems that he doesn't see the controversy as being responsible for the band's eventual demise. "Our second album didn't sell that badly," he insists, "it just didn't play the game: the first single was seven minutes long and quite slow."
So the fact that Mills was cast in the public mind as a toff with fascist tendencies had nothing to do with it? "It just fits for some people," he sighs. "If people want to see it that way then they can, and they do, and there's nothing I can do to change that."
His principal regret is that he chose the NME ("a comic") as the outlet for his views. "That was the only thing that was stupid about it. It's all about the context: we were talking about King Arthur, fairy tales and the Mahabharat and what happens when you have kings and the idea that people were happier when they had kings than they are with Tony Blair... and these are conversations that are actually quite interesting, but maybe you shouldn't have them with NME."
Surely, then, he must have been angry at the way he was portrayed? "At first it made me laugh," he replies. "I just thought: 'Wow, how mad!' And then it became the device that got used to beat us over the head. Everybody gets built up and torn down, that's the process." Yet when I invite Mills to redress the situation he declines politely, on the grounds that he has already responded: at the time, he issued a statement blaming his comments on his own "naiveté and insensitivity" and his long-standing interest in Indian culture. "I apologise to those who have been offended by my comments," he added, "and humbly ask that they accept that I am completely against the Nazis, their crimes and any other form of totalitarianism."
Any lingering doubts would certainly be allayed by a listen to Kula Shaker's comeback album Strange Folk, which takes lyrical swipes at war in Iraq in general, and George W Bush in particular. But reading message boards responding to news of Kula Shaker's return, it becomes clear that he still generates a degree of hostility, not so much for what he said, but simply for having had a privileged upbringing – famous family, public school and so forth.
Mills, who is 34 and lives in Bath with his wife Jo, thinks the antipathy against him back in the Britpop era was simply because he was talking about ideas and spirituality to people who were more interested in Loaded and Oasis and having it large. "I was very confrontational and with Oasis ruling the roost it created a massive class-based inverted snobbery. I just didn't take it seriously. I think anybody who sticks their neck out and exhibits some kind of intelligence and has an opinion in Britain is going to be for the chop."
In their heyday, Kula Shaker were signed to Columbia; today they release their third album on their own Strangefolk label. The budget may be lower but the trademark retro-rock sound is back in place, the psychedelic guitar wig-outs, the Hammond organ runs, the strong melodies, the anthemic hooks.
The Indian influence is a little more underplayed, and the lyrics are a little more direct, most notably in the case of "Die For Love", in which Mills puts forward the the proposition that "You don't have to pray for the death of your enemies, we'll defeat them with a song". Perhaps, in these fragile post-September 11 times, he might be opening himself up to more mockery? Mills looks quite put out at my suggestion that he's unlikely to deter the next suicide bomber with a song. "Well, bombs don't defeat people," he snaps.
He takes issue, too, with the suggestion that the hippies failed to change much. "Culturally, we're all feeding off the scraps from the table of the Sixties," he argues. "Our so-called cultural freedoms are all as a result of that massive explosion of ideas and everything – civil rights to sexual politics, to drug culture to the music." He changes tack abruptly. "I'm more into St Francis than I am into some kind of cynical sneer, or the idea that you have to drop bombs on people to get them to comply.
"I'm not a pacifist," he adds. "The problem is, everybody's guilty, nobody's innocent, and we live in a country that's up to its balls in blood and guts and dead babies. And we have this messed-up situation where we're trying to create some sort of moral justification for our actions and you've got this so-called new threat of the extremists, the fanatic who believes in Allah or believes in some spiritual emancipation, and on the other side, the rational politicians who are just trying to get on with everyday life and it's all bullshit, because they're just flip sides of each other. "
The problem, says Mills, is that the post-September 11 landscape has imposed a black-and-white view on us all: "You're either a rational, scientifically minded pragmatist or a loony... It all goes back to Copernicus, see?" He's joking, but only slightly.
As we part company he shakes hands and I get to see his signet ring up close. It belonged to Sir John Mills and it shows a pair of intertwined actors' masks – tragedy and comedy – with a motto from Shakespeare. Mills, just like his grandfather, seemsto have taken it to heart: "To thine own self be true."
'Strange Folk' is out now on Strangefolk; Kula Shaker tour the UK from tomorrow to 10 October (www.kulashaker.co.uk)
Join our new commenting forum
Join thought-provoking conversations, follow other Independent readers and see their replies