Cyndi Lauper interview: She's still having fun
Cyndi Lauper's outrageous outfits and brash pop lit up the 1980s. Now a hit theatre writer, she's back to celebrate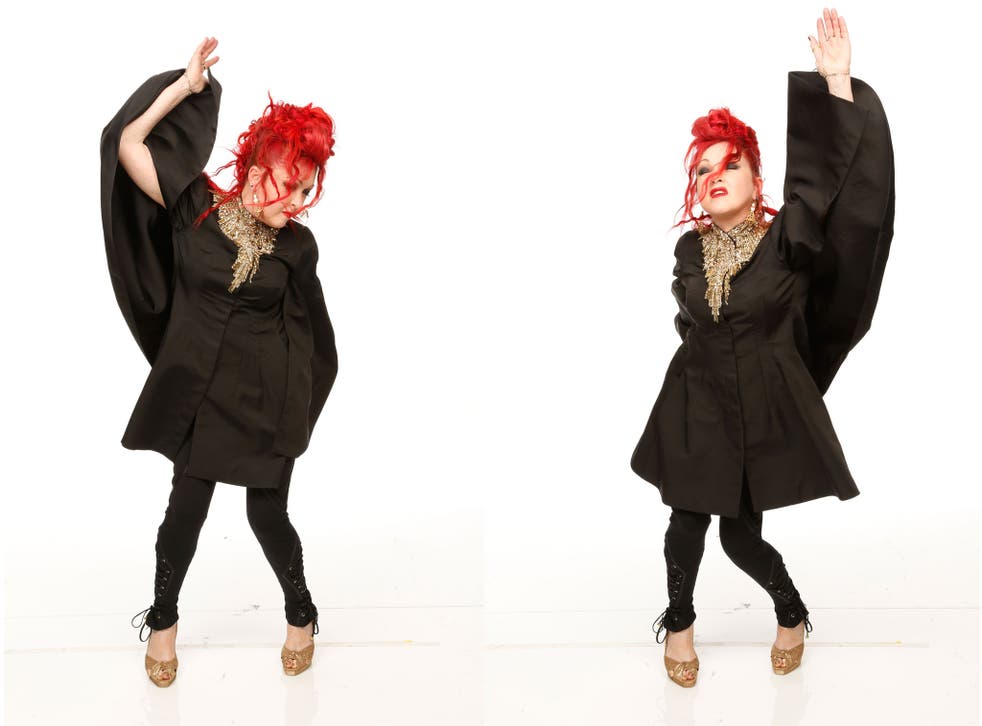 Cyndi Lauper, at home in New York, is sick and tired, both literally and metaphorically. She has been unwell for several weeks now, our interview slot repeatedly postponed as she battled first flu, then flu redux, and now the poor woman is suffering the after-effects of food poisoning.
When we do at last talk, that fabulous New York twang of hers – an accent that makes bubblegum of every vowel she utters – is coated in a gravel that rumbles perpetually from the back of her throat. It makes her sound less the Lauper of legend – a cartoon character made flesh – than it does Sylvester Stallone.
Consequently, you sense she'd rather face the dentist right now than promo. But, hey, the woman is still a pop star, and so needs must. Lauper is on a high right now, creatively speaking. Last year, for her soundtrack to the Broadway hit Kinky Boots (inspired by the 2006 film), she won a bunch of awards, among them a Tony and a Grammy.
Its success has suddenly made her in demand in theatreland, and this late blooming renaissance – she will soon turn 61 – is compounded by the imminent release of the 30th anniversary edition of her debut album, She's So Unusual (which was actually released in 1983).
The poster girl for new wave, Lauper was, back then, a blast of pure technicolor. She was impish and quirky to Madonna's more overt sexuality, and, thanks to her debut hit "Girls Just Want To Have Fun", this pink-haired foghorn laden with jewellery was inescapable. The album, then, was aptly titled.
"Somebody said it of me as a joke," she says witheringly. "I knew it was the kind of joke that would stick, but you know what? I didn't care. I was like, fine, go with it."
During the process of selling 22 million copies worldwide, She's So Unusual became the first record by a female artist to spawn four US Top 5 singles ("Girls Just Want To Have Fun", "Time After Time", "She Bop", "All Through the Night"). Unusually for an album now into its dotage – music, like dogs, ages quicker than humans – it still sounds preposterously fresh, and helplessly infectious. Without it, you sense, Gwen Stefani, Katy Perry and Lady Gaga would never have gotten out of the starting blocks.
"I wasn't on a development deal back then," she says, "so that album was a do or die situation for me. It pretty much had to be successful." And it was, quickly making her one of the world's more recognisable new popstars. This made life awkward.
"I got so famous I couldn't wear my jewellery out anymore," she laments, "and that was tough, because I used to wear a lot of jewellery. I had to hide my hair as well." Pink hair, she points out, rather stands out in a crowd. "Thing is, it being pink made me feel more alive, made me feel more… me. Every other woman was blonde, and I never wanted that."
Another consequence of global fame was a set of artistic restrictions she didn't see coming. Her record company wanted more success, and quickly. "They kept telling me to write more songs, so I did, but they weren't happy with them."
Instead of extending her creative freedom and giving her more time, they curtailed it, and insisted she collaborate with a conveyor belt of songwriters and producers and stylists, each bringing their own vision. The collaborations didn't work, and subsequent material never quite possessed similar mainstream appeal. By her third album, 1989's A Night to Remember, she was thoroughly miserable. "Should have been called A Night to Forget," she deadpans.
Perhaps as a result of the backroom squabbles, she spent an increasing amount of time in, of all things, the world of WWF instead. I ask whether she really did quit music to become the manager of US wrestler Wendi Ritcher.
"No no no no no," she snaps. "We were just having fun." But she had grown disillusioned with the music industry, right?
"Look, we had a lot of fun with the wrestling. When you watched it, didn't you think it was funny? It made a lot of people laugh." She sighs wearily. "Not you, clearly, but a lot of people had fun with it, OK?"
One doesn't become a lasting pop icon – Lauper did return to music, presumably to WWF's disappointment, experimenting with folk and blues, before moving on to Broadway – without frequently being asked to consider her legacy. So what does she think of those that followed in her wake?
"[Lady] Gaga has her own thing," she says, noncommittally, "she's made a brand out of it, but there seems to be too many restrictions on [today's pop stars]. Some seem forced to be as provocative as possible; sex sells, and that's that. There are other ways you can go about it, though." She confesses to liking Lana Del Rey, and says that she wants to make another studio album herself, "while I'm still going." I ask about her 16-year-old son Declyn (Lauper is married to the actor David Thornton). Is he showing similar creative flair?
"He's a typical 16-year-old, very, very typical," she says, before falling into a contemplative silence. "You know, it's very hard to be the kid of a famous person. If they are talented, what sucks is that people want to brand them as a Little You. Declyn is not in any way a Mini Me. He's got his own take on the world, his own feelings, and right now he wants to be a hockey player.
"When he was eight years old, he said to me: 'Mom, it's very hard to be Cyndi Lauper's son. People expect so much of you.' So I always told him he should use his father's name, and don't ever say he was my son. I would always be there to offer help and support, but he didn't have to use my name if he didn't want to. And if people are still going to judge him, then you know? Fuck them, fuck everybody."
For the first time in our conversation, the gravel in her throat has cleared, and the bounce in her voice at last materialises. Yay.
'She's So Unusual: The 30th Anniversary Edition' is out now on Epic Records
Join our new commenting forum
Join thought-provoking conversations, follow other Independent readers and see their replies