The Independent's journalism is supported by our readers. When you purchase through links on our site, we may earn commission.
Darkher – Realms: Album Stream
The long-awaited debut album from Darkher is a haunting, rumination on mortality and life beyond death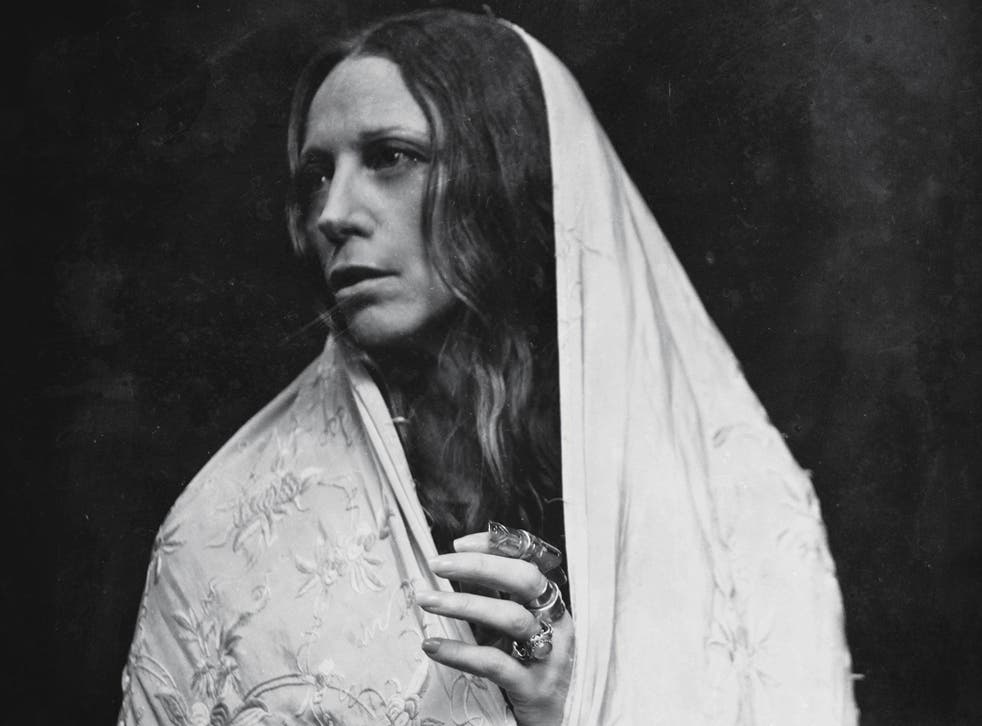 Realms is the eagerly anticipated debut album from Darkher (AKA Jayn H. Wissenberg) a dark fairytale meditation on life, death and what lies beyond. Like Chelsea Wolfe and Emma Ruth Rundle before her, Wissenberg creates a dark, atmospheric bed of sound to layer her ethereal haunting vocals over. Darkher's sound owes a strong debt to metal but Realms is not an overtly metal record, instead evoking PJ Harvey at her most sombre crooning over the doom-laden riffs of Black Sabbath. Two years in the making and written, produced and recorded by Wissenberg, Realms more than lives up to the high expectations surrounding it and is available to stream three days before its official release below.
Darkher's first release, 2014's The Kingdom Field, introduced Wissenberg's ethereal vocals over ghostly celestial guitar phrases and darkly haunting atmospherics to the world at large. The EP's 4-tracks caused enough of a stir to be picked up by Walter Hoeijmakers, artistic director of Roadburn, the prestigious Netherlands-based festival that celebrates the best cutting-edge, idiosyncratic music of the underground. Hoeijmakers immediately offered Darkher a show at the 2015 event; the only problem being that Darkher hadn't yet played a single show. 'My first thought was 'Oh sh*t!' says Wissenberg of the memory. 'I said I'd do it, then panicked and worked out the logistics of it later. We didn't even have a drummer at that point; I think the original idea was for me to go over and play solo, but I'd made a rod for my own back by making the drums such an integral part of the album. For some tracks, I can never seem to stop at just vocals and guitar because I see a much fuller picture in my mind.'
It's clear that Wissenberg constantly strives to challenge herself, to progress beyond what she's done before. She formed Darkher as a solo project after the dissolution of her former band, The Steals, after feeling held back by the limitations of working within the structure of a group. Darkher gives Wissenberg the freedom to see her vision through without interference. 'I feel like The Steals was a necessary step in progressing to where I am now' she says. 'I'd never recorded guitars or drums before when I was in The Steals, so the whole process was a learning curve for me. I needed to cut the cord and take that leap into the unknown in order to grow as a musician and an artist. I was starting to feel very comfortable and I didn't really like that anymore.'
The through-line from The Steals to Darkher is certainly evident, but the latter is a more lumbering, gloomier beast compared with the alternative folksy world Wissenberg's former band inhabited. Whilst Realms shares strands of DNA with the worlds of doom and metal, it would be a push to describe it sonically as a metal record, but it does operate within a realm of heaviness that recent classics such as Chelsea Wolfe's Abyss or Sólstafir's Otta reside in. The sinister weight afforded to Realms is a pulsating beating heart that permeates throughout; guitars rumble in like approaching storm clouds and a melancholy spirit envelops the entire record.
The themes of Realms match the nature of the music, exploring Wissenberg's own ruminations on fear, death and spirituality and how love can connect souls from the past, present and future. She contemplated some big existential questions about mortality and the concept of an afterlife. 'When I was writing the record, I was having a lot of very vivid realisations' she says. 'I'd just been through quite a lot of deaths, people that were close to me, so I was thinking a lot about where we go and that detachment of the self from the body. I remember feeling like I wasn't in my physical being and it was freaking me out quite a lot.'
The sensation of spirit leaving the body is touched on in Buried, a two part centrepiece of the album that clocks in at just over 8 minutes. Whilst the song explores these dark ruminations of the soul, its creation also provided a cleansing catharsis that gave Wissenberg comfort. 'I came to realise that the term 'buried' can also refer to a burial of negativity, coming to terms with the natural order of things and letting them rest. The idea that maybe we live on brings spirituality and beliefs into play and that's something that I feel is still a work in progress for me; I'm still exploring those ideas but at the same time trying not to focus on them too much. I realised that I just can't think about my own mortality, it's too bleak to contemplate; you have to live for the moment. I found comfort in that because we really just don't know anything about where we go or what happens to us when we die. I think the most profound thing for me to try and come to terms with is losing the connection with people that I love, but also how sad I felt about losing the ability to be in nature. I have a very strong spiritual connection to nature and the universe and I think I was terrified to think about my physical body not being within that.'
Just one track has made it over from The Kingdom Field and it relates directly to nature, our relationship with it and how destructive it can be. Foregone is about the flooding that affected Hebden Bridge, the market town in West Yorkshire where Wissenberg lives. 'The floods happened in 2012 and I wrote Foregone about nature taking control and being more powerful than us. Then on Boxing Day last year, Hebden Bridge got flooded again, the town was just completely decimated, it cut us off completely for quite a while. So the theme had re-occurred in life, so it felt right to put it on the album because it was happening all over again.'
Whilst there is much darkness on the record, it's also contrasted superbly with beauty, particularly in the album's closing song Lament, a song written as an ode to Wissenberg's husband and guitarist. 'It's ultimately a song about longing and a connection that goes beyond distance or time, feeling that you have known someone before, maybe in a past life, like looking in a mirror, and how awakening that can be to your own soul'.
The song Moths deals directly with an occurrence that's shaped Wissenberg's views on the existence of other realms. 'Someone close to me passed away and I had a few experiences where I asked them to send me a sign that they were ok, to communicate with me in some way. Five butterflies just appeared on my wall one day, they'd never been in the house before and suddenly, they just were there for my husband and I to see. Then a year later, another person close to us passed on and I asked again and the butterflies appeared again. Some people could brush it off as a coincidence but to me, it was the connection that I was looking for. I think it's just whether you're open-minded to these experiences or not, we all find comfort in different things. If you allow yourself to believe in the unseen, it can open up positive avenues; there's a lot of magic all around us and the album is about whether we choose to see the signs or ignore them.'
Darkher plays the following dates in October / November:
11/10 – London, UK @ Underworld*
12/10 – Birmingham, UK @ Rainbow*
13/10 – Manchester, UK @ Rebellion*
17/11 – London, UK @ Union Chapel**
*supporting SubRosa
**supporting Wardruna
Realms, the debut album by Darkher, is released through Prophecy Records on 19th August on digital, vinyl, CD and a special edition 2CD 48-page leather-bound book edition
Join our new commenting forum
Join thought-provoking conversations, follow other Independent readers and see their replies