David Rodigan: An MBE for reggae
The DJ from Oxfordshire and his obsession with the sound of Jamaica which is shared by Prince Charles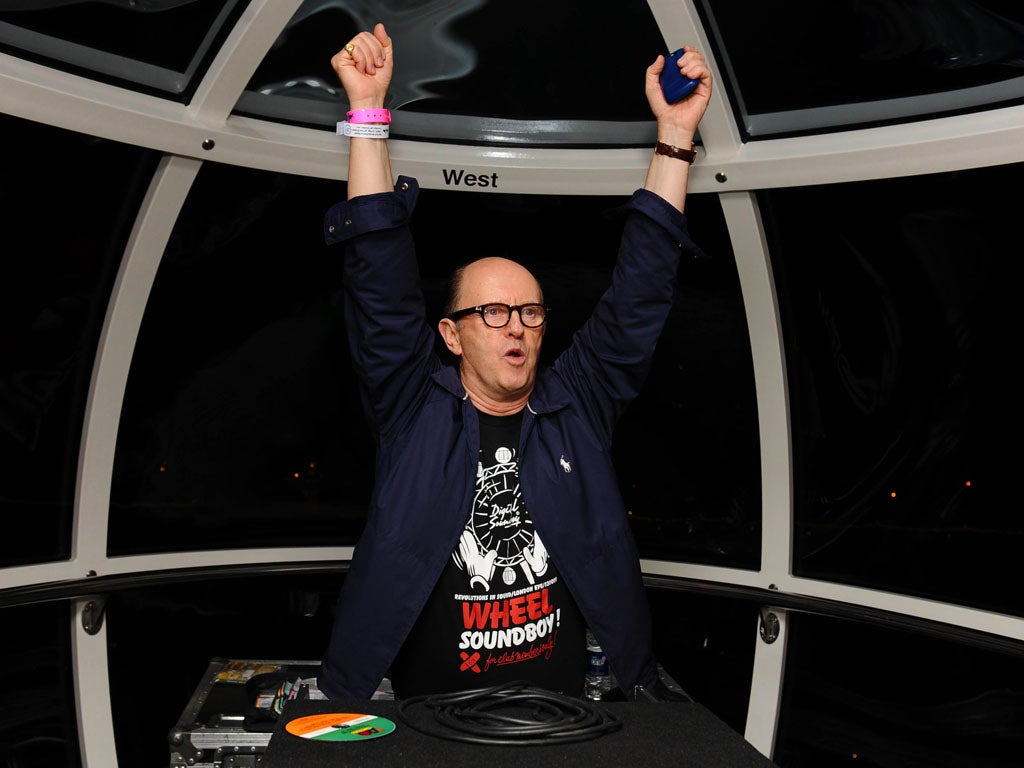 It has taken until Diamond Jubilee year for David Rodigan to learn that Prince Charles shares his love for reggae music - a disclosure that the Prince of Wales made when the broadcaster recently attended Buckingham Palace to be given an MBE.
"You really love this music don't you?" said the Prince, as he conferred the gong. "So do I." But then nothing would surprise this courteous reggae pioneer in an extraordinary year in which he has also been acclaimed by his industry peers with a Sony Gold at this month's radio awards and won a World Cup trophy in front of 5,000 hardcore sound clash fans in a New York nightclub at Easter.
At the age of 60, Rodigan is finally receiving recognition for a career dedicated to the sound of Jamaica, a music he first learned to love as an Oxfordshire schoolboy in the Sixties where his friends gave him the nickname "Ram jam" because of his obsession with a Jackie Mittoo instrumental. He has been given a new home on BBC Radio 2 to go with his regular slot on Kiss FM but also found a fresh young audience that has come to him through modern bass-heavy genres such as Dubstep.
Last week in London's Fabric nightclub, one of the more youthful venues that has become a fixture in Rodigan's diary in recent years, he was the subject of a tribute evening that culminated with the drum and bass pioneer and artist Goldie presenting him with a large framed portrait in his honour.
For nearly two hours before that, Rodigan discussed the high points of his career to a small audience that struggled to remain in their seats as he played them the most treasured dubplate recordings in his collection. Always one for detail, he placed each piece of music in its context with a vivid anecdote.
First out of the box was a plate recorded by the legendary dub producer King Tubby, whose studio Rodigan visited in 1979 on his first visit to Jamaica. "I cannot tell you what it was like to walk up the side and push that gate. It was dark and dogs were barking. I went into the inner sanctum." The speaker's shudder as he plays Michael Prophet's Mash Down Rome. "This is Jamaican drum and bass, 1979," says Rodigan with a grin, playing a recording that had left his home on only two previous occasions in more than 30 years.
He dipped into the box and pulled out gem after gem. The late Tenor Saw's "Ring The Alarm" from 1985, right up to the bespoke dubplate from Ninjaman that won him the World Cup at Easter. The New York audience was mystified as to how Rodigan had recorded an artist who has been in jail for the past three years (the Englishman received a phone call on the day of Ninjaman's release and he made the track while Rodigan listened on a mobile phone).
A trained actor who trod the boards of repertory theatre, Rodigan has been known to turn up at sound clashes in bizarre costumes, although he once admitted to me that he looks "like an accountant or a dentist". His undying loyalty is to reggae and he speaks with reverence of the Caribbean island that is its heartland.
His own international reach has grown in recent years and he will spend much of this summer performing in Italy, Germany, France and Switzerland.

Enjoy unlimited access to 70 million ad-free songs and podcasts with Amazon Music
Sign up now for a 30-day free trial
Sign up

Enjoy unlimited access to 70 million ad-free songs and podcasts with Amazon Music
Sign up now for a 30-day free trial
Sign up
The MBE, he likes to think, was not for him but for reggae itself and the place it now holds in British culture. The lyrics of some modern reggae artists have provoked anger, he acknowledged at Fabric. "But this music, in my opinion, was always about justice, rights, love and humanity and sharing and helping your brothers and sisters."
According to a spokesperson at Kiss FM: "We are very sad and disappointed to confirm that David Rodigan has left Kiss after 22 years. We have the utmost love and respect for David both personally and professionally - he leaves with our sincere appreciation and gratitude for all that he has achieved with Kiss."
"Kiss remains passionate about broadcasting a brilliant cross section of music genres, including reggae, to our audiences across multiple platforms and devices."
Join our commenting forum
Join thought-provoking conversations, follow other Independent readers and see their replies