Death From Above: 'Outrage is a fashion - people put it on because it looks good'
Canadian punk rock band on their new record 'Outrage! Is Now', reactionary culture, and why they still feel like outsiders looking in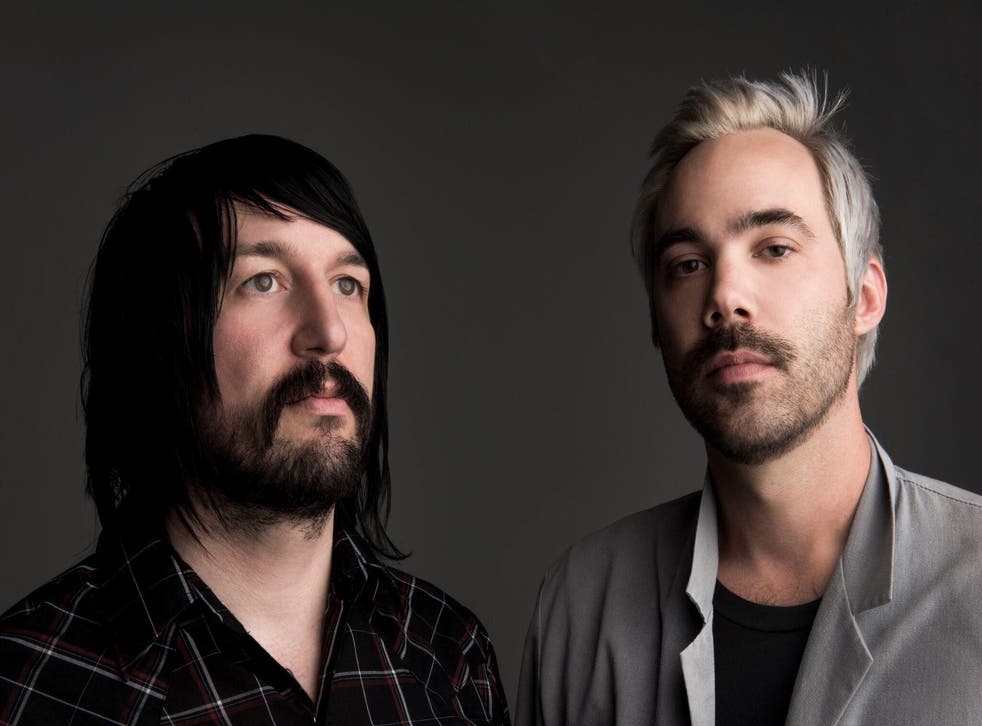 When Death From Above started back up as a band again there was no concrete plan beyond playing music.
Hanging out on the balcony at their label office in London, it seems as though the duo were never really away. They chide each other gently in a debate over who burned their first copy of The Strokes's debut record, examine a pack of British cigarettes on the table – marvelling at the ugliness of the dark green pack with its Helvetica font – and praise Eric Valentine, who produced their new album Outrage! Is Now.
"I was sceptical about working him before we started because of how eclectic his catalogue is," vocalist/drummer Sebastien Grainger says. "Jesse's the one who made me realise that none of the bands he's produced sound like one another – he's able to make bands just sound like themselves.
"That was theoretically a huge selling point, and then when we met him he was so excited about the songs that we'd shown him, as well as the technical stuff that we're excited about. We went on a couple of dates with producers to see if we got along, and going to his studio, sitting with him in his environment and talking about the record... it just felt right."
"The end result and the sound of the record, it's very much a reflection of his ideas," bassist Jesse Keeler says. "It's not like other records where we could have had a co-production –"
"Oh yeah. He's such an able technician, as well as being a really creative music producer," Grainger says with a glance at Keeler to check he doesn't mind the interruption. "If we had an idea, we could get it on tape really quickly – there weren't really any barriers between a good idea and it being on the record. And he has so much experience. Some producers take ages with microphones and cables."
Outrage! Is Now was announced just three weeks before its release ("That's fun, isn't it?" Grainger grins), partly due to the band still wanting to keep their cards close to their chests.
"We were not a band for five years, hadn't made a record in 10 years and our band still remained relevant, somehow. What's the saying, scarcity determines value?" he asks Keeler, who nods.
And one of the ways they've stayed relevant is to maintain the bristling, youthful energy from their previous records, whilst bringing a new maturity to the lyrical content and influences that run through the album.
Enjoy unlimited access to 70 million ad-free songs and podcasts with Amazon Music Sign up now for a 30-day free trial
Sign up
"Never Swim Alone" drops straight into this perfect hook that riffs off of Bowie's "Fame" groove, while Grainger howls about a "cocaine brunch, no reservation" in a voice that grows more mockingly hysterical by the second, later pleading: "There's gotta be another one coming/Another generation/Ready for the revolution/Or a change of station."
On "Caught Up" he sings with an alluring, cool arrogance over the grinding swing of the bass, and closing track "Holy Books" comes at you like an angry wasp. It's the best record they've made as DFA so far.
"Not an accident," Grainger notes wryly to the comment about their new maturity. "The core concept for us with being a band again was that we'd have to really be a band, and not just more of what we did when we were younger."
"I was very aware of the fact that if we waited even longer we'd be a throwback – a nostalgia act," Keeler says. "Not that we planned any of it, but I thought that in that moment, if we started to play again it'd be like picking up where we left off."
"Otherwise it becomes generational," Grainger agrees. "When people say generations they usually think of the children of the next generation, but for me I think it's the next wave of people at high school or college, because it's hard to find anyone who's the same by the end of those four years, let alone 25".
Outrage! Is Now's title track sees a despairing narrator fatigued by reactionary culture – someone who feels as though they're watching from outside while others bicker and scream over nothing.
"Outrage is a fashion," Grainger says. "It's something that people put on because they think it looks good. It's not unlike the lyric in "Never Swim Alone" – "babies in biker jackets". I mean... that's literally because I saw a baby in a biker jacket," he adds, making Keeler laugh. "But there's a metaphor there as well. When you see people at brunch in biker jackets… you think there's something so profoundly uncool about it. I like brunch. I like biker jackets. But they shouldn't be together.
"The mainstream is an outraged, radical thing," he continues. "It's not a fringe, underground, counter movement. It's just the way things are. And there are a lot of really substantial reasons to be outraged but also a lot of stupid reasons to feel that way. If you're using that energy for every single thing, and every day, it's exhausting. It used to be every week but it's every day now that there's a new thing people assume expertise in and have an opinion on. And it's like, how could you possibly have such a strong opinion on something you just learned about today?"
"Like Lou Reed and the Canadian students," I suggest.
"Sorry, what?" Keeler asks, and Grainger explains how a group of students took it upon themselves to decide that Reed's song "Walk On The Wild Side" was offensive to trans people, prompting a cry of exasperation from his bandmate.
"When you learn about exciting ideas when you're young... it's like you just learn about these political movements and you start to see it everywhere," Keeler says. "It ends up defining you to some extent. We're very understanding of all these things. What gets me is people who have no business feeling that impassioned by those issues. By the time you're 35 or 36, your feelings need to be a bit broader than just being upset at the system all the time."
"It's tough when you've never been exposed to it," Grainger suggests. "A lot of people have never been exposed to an idea counter to the idea that they already have. It's puritanical… we're basically in a moral panic. It's the same as satanic panic or the red scare or witch burning.
"That is where we are, and it's been triggered by reasonable events but it's become an unreasonable culture. I'm not on Facebook so I don't see all of that – I peek in sometimes – but a friend of mine sends me screenshots of his timeline sometimes, and I cannot believe the things that people are getting upset about. It's almost a by-product of how little context there is when you're reading the written word. No one gets jokes any more either."
"Richard Pryor records would all be banned," Keeler says.
While the album's timing felt as current as it was possible to be, the themes on the record were on the band's minds before Brexit or the election of Donald Trump.
"I didn't write this record about Donald f***ing Trump," Grainger says. "We wrote some of these songs watching the Bataclan get shot up with our friends inside. Not everything can be framed within this current mood."
"Find an American president that hasn't caused war in my lifetime," Keeler says. "It doesn't exist. Obama started three goddamn wars and he won the Nobel peace price!"
"Everyone just felt so good during those eight years –" Grainger begins.
"They didn't feel too good in Libya," Keeler quips.
"I don't even wanna talk about what the record is about, in a sense, which is why we didn't put the lyrics in the album sleeve," Grainger shrugs, adding with a laugh: "Not that it matters – I was reading lyrics online for our last record when we'd printed them all out and they're still wrong.
"On this record, I think the words are clear enough in the way that they're recorded and delivered… but I didn't want to give them too much context. Because they are highly interpretable. You can read it from multiple perspectives and they still make sense."
Keeler notes that some of the meaning in certain songs has changed for him, and Grainger acknowledges that he feels the same way.
"There are definitely lyrics that when I wrote them they meant one thing and when the record came out I perceived them in the opposite way," he says. "I was conscious of that when I was writing them, but it's weird that they worked on us. That's really strange."
On Outrage! Is Now you'll find clear nods to Prince, Bowie and Leonard Cohen; homages to artists after their deaths, from a band who were – still are – hugely influenced by them.
Their position in the current music scene is somewhat undefinable. Keeler notes that they've always existed in their own bubble. Yet this has also worked in their favour: they've performed with everyone from Eagles of Death Metal to the Yeah Yeah Yeahs, and just announced tour with At The Drive In ("Just for the record, they asked us more than once," Keeler grins).
"The only influence in terms of on my playing that I can really point at, is that I know I was influenced by Matt Pike's guitar playing, because I listened to so much High On Fire and Sleep while getting tattooed," he says. "And… the chorus in 'Holy Books', I know that's me being influenced by Naomi Punk. Because the drum hits are within the riff even though it's not a normal riff.
"I love Naomi Punk, I really do. I listen to one of their three records almost every day and have done for the last three years. I don't think I've ever liked a band as much as I like them – I could talk about them for hours, there's so much happening. They just put out a record and it's crazy. I feel challenged by it, which I think is a sign of a great record. That's how I was with the first Strokes record."
He pauses. "Seb and I recognise that we exist outside of everything else. We're our own scene, not just musically, in other ways. We've never fit in that well, but I think that's just an extension of who we are as people."
"We've felt like observers in the world for a long time. It's the same s**t," Grainger says.
It must be a strange experience to be a relevant band, still making music, and feel that way, I say.
"I could give you a political example," Keeler says. "I've been anti-war forever. That's my bass line. If someone's like, 'What do you think of this politician?' I want to know if they're anti-war. And I've watched so many people come to and from that position depending on whether or not it benefited them. I've been the same for a very long time, and I've gone through phases of disappointment. When Bush was president in America everyone was anti-war, it was cool, it felt good. Then Obama came in and it was like, 'Where are you guys?'
"I had a really good friend, this kid from San Antonio, who was a Marine," he says. "He took his life a few years ago, after he'd come back. It was really hard, and I was thinking about these guys who still needed us, they needed to get them to come home. Where was his head at that he still wanted to take his own life even after getting home?
"It wasn't over for him. The effects are so brutal. Music certainly wasn't saying anything about it. What happened? We all hated it before. I still hate it now. So this is an example of how sometimes you can end up just being an observer."
Death From Above's new album Outrage! Is Now is out now. The band tour the UK and Europe with At The Drive In in 2018
Register for free to continue reading
Registration is a free and easy way to support our truly independent journalism
By registering, you will also enjoy limited access to Premium articles, exclusive newsletters, commenting, and virtual events with our leading journalists
Already have an account? sign in
Register for free to continue reading
Registration is a free and easy way to support our truly independent journalism
By registering, you will also enjoy limited access to Premium articles, exclusive newsletters, commenting, and virtual events with our leading journalists
Already have an account? sign in
Join our new commenting forum
Join thought-provoking conversations, follow other Independent readers and see their replies