The Independent's journalism is supported by our readers. When you purchase through links on our site, we may earn commission.
Dekmantel Festival 2017: The 13 artists not to miss from Eclair Fifi to Vladimir Ivkovic
The three-day electronic banquet lines up for its fifth year in the Amsterdam forest, with some impossibly difficult clashes for fans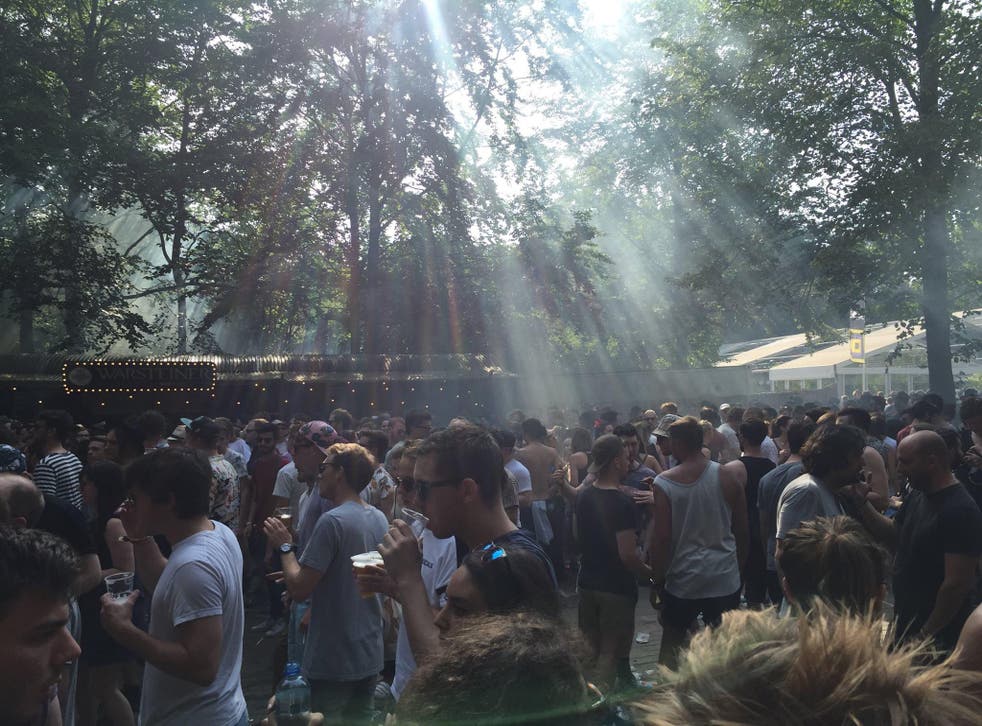 In a culture that many outsiders perceive to prize wilfully obscure, inaccessible pleasures, there are moments in house, techno and the wider electronic scene that categorically undermine such an accusation. When I-F played ABBA's "Lay All Your Love On Me" in his Dekmantel closing set in 2015. Four Tet moving from Eric Prydz (!) to William Onyeabor to Wiley within a matter of minutes on the Main Stage the same year. Or when Young Marco closed his set at Farr festival with Wham's "Last Christmas" and Paul McCartney's "Wonderful Christmastime", a few weeks ago (that's in July, 2017).
These are only one type of special moment, at the guiltier, more farcical end of the spectrum, and it's easy to sneer at such selection from the inside. But as Young Marco described in his own Facebook post in response to critics, moments of such light-heartedness are no bad thing in the scene, when the tunes are nonetheless loved, and certainly not unsophisticated (just see the reaction of the crowd in the above I-F video as the ABBA chorus arrives - Nina Kraviz calls that moment "absolute happiness", when she has "never hugged more people" in a single moment).
Seeking out such moments of genuine musical surprise, wonder or joy is a good basis for those attending Dekmantel's three-day festival in the Amsterdam woodland park next weekend. Dekmantel's program has plenty on offer by way of unpredictable iconoclasts to deliver such moments, though they do not make it easy, by scheduling them often alongside international names on rival stages.
Moreover, it will often be just as intriguing to see how big names (Ben UFO, Nina Kraviz and many more) play while appearing at the festival for the third, fourth or fifth year in a row, names whom many fans believe themselves to more or less know what they will get from seeing. Fans may have this perception, of the likes of Motor City Drum Ensemble, as predictable, in part by virtue of how big their profile is, and thus how many times they as fans have managed to see them play.
But it is easy to forget that their unpredictability and crate-digging is often how they crafted such a platform in the first place, and their subversiveness should not be underestimated.
1. Eclair Fifi (Boiler Room, Saturday) vs. Tom Trago and Interstellar Funk
Scottish DJ Eclair Fifi, or Clair Sterling, has been providing some of the most diverse, most alluring electronic radio in the UK on Rinse, BBC Radio 1, and then NTS, and possesses one of the deepest record bags. She talks of being "terrified" from the age of 17 of playing similar records week to week on her first radio show, in an interview last year with Clash magazine.
Fifi has been wont to include genres from jazz to hip-hop to gabber in her shows, and an afternoon Boiler Room slot here is likely to only enhance this will to explore. Tom Trago and Interstellar Funk are Dekmantel regulars, which should make you feel slightly less bad in forgoing their performances in favour of Fifi.
2. Nina Kraviz, Motor City Drum Ensemble and Marcel Dettmann (Selectors)
Three of Dekmantel's biggest bookings – Marcel Dettmann, Motor City Drum Ensemble and Nina Kraviz – have been afforded around 4 hours each to open the respective three days on the mesmeric, willow-clad Selectors stage.
Going on at around noon for four hours on one of the significantly smaller spaces will afford each artist to push boundaries and explore musical alleyways, as well as give fans of their distinctive sound something to enjoy, and there's a good argument to stay with them across the whole journey.
Enjoy unlimited access to 70 million ad-free songs and podcasts with Amazon Music Sign up now for a 30-day free trial
Sign up
Danilo Plessow (Motor City Drum Ensemble) has played a variety of sets at Dekmantel that have epitmoized what makes him so popular, delivering joyous sounds dug deep from the crates. He has already had three hours on Selectors previously, in 2015, after a Boiler Room performance the year before that must rank as one of Dekmantel's strongest contributions to the channel. An apt Main Stage closing set coronation followed last year.
Perhaps more interesting is seeing how Dettmann and Kraviz choose to use the setting, which with the woodland trees cocooning the dancefloor from all sides is perhaps a more natural bedfellow for the glitzy disco and house of Plessow. To give Kraviz, who often speaks about the influence of astronomy and cosmology on her work, and is usually found in the intergalactic UFO stage, four hours at her fingertips among the Amsterdam forestry will be fascinating to see quite which paths she does down, if nothing else.
To put those three big-hitters on early is not to say there are no galacticos closing proceedings each night. On Friday night, Amsterdam local Young Marco closes the Greenhouse while Rodhad is in the UFO. However, it would be difficult to turn down Robert Hood playing a hybrid set on the main stage.
The Alabama-living, Detroit native released his first album in five years this year, 'Paradygm Shift', and it will be difficult for him to top his UFO performance last year, when he fused his customary euphoric, gospel sounds with the uncompromising atmosphere of the tent's inferno. The openness of the main stage will be welcome in contrast, in which a different type of pleasurable atmosphere is possible, one perhaps more communal and friendly, where you can see the faces of the crowd.
Given Young Marco is also playing at the Boiler Room on Sunday (see below) at an earlier time that might fully unleash the local man's propensity for the unpredictable, leaving Friday night to Robert Hood is more acceptable.
4. Vladimir Ivkovic (Selectors, Saturday night) vs. Ben UFO and DJ Nobu
One can escape four to the floor at Dekmantel, but not in as strong a way to step into the unknown musical abyss as going to Vladimir Ivkovic, who played a major role in the Belgrade '90s house scene and now is Salon des Amateurs resident in Dusseldorf, Germany. There will always be times to get a break from slamming house and techno, and there will be few better times than Saturday night at the Selectors, to step into the ambient and the cosmic.
5. Objekt & Call Super (Selectors, Sunday night) vs. Hunee & Antal, and British Murder Boys
Sunday night is a farcical night of programming.
Hunee & Antal closing the main stage seems a fitting crowning of the two Amsterdam wizards, and after their four-hour pulverizing bonanza at Melkweg on last year's night billing, seeing these two won't constitute a risk with your time.
British Murder Boys on the other hand, are more of an atypical booking, bringing the reunion of artists Surgeon and Regis for the first time in several years. Their booking stood out above many others to fans upon the release of the line-up, and for lovers of an ruthless musical shellacking, they won't want to miss their UFO performance, all the more brutal for being at the last of a physically taxing weekend for many.
However – and this is also to overlook Helena Hauff and Beverly Hills 808303 playing elsewhere - an Objekt back-to-back with Call Super on Selectors is liable to unjustifiably slip under the radar given their scheduling competitors. Objekt's "Objekt #4" release this year, with mesmerizing tracks "Theme From Q" and "Needle & Thread", demonstrate quite how sharp the Berlin-based producer's musical ear currently is.
The Sunday night is for many a night of tired comfort after many hours of relentless raving, and Call Super's performance on Selectors on Sunday night last year provided just the dreamy tonic, playing the likes of Gat Décor's "Passion" and Tori Amos' "God" (Rainforest Resort Mix) to leave those who had to return the following day, from the continent back to their rainy Brexit island, all the more heartbroken. One can expect him to provide again.
6. Young Marco, Esa, Bullman (Boiler Room, Sunday afternoon) vs Shanti Celeste and Motor City Drum Ensemble
Genre-free crate-digging is a label that applies to a huge number of artists playing at Dekmantel, though few more so than Young Marco. While he closes the Selectors on Friday, his clashes are arguably more gruesome in that slot, and opening the Boiler Room at 3pm should bring out his iconoclasm more strongly.
Following the Dutch maestro is South African-hailing Esa, of the acclaimed Highlife World Series, after whom comes Bufiman, Cinnaman and Shanti Celeste. There's a strong case that afternoon for settling into that stage, a stage whose short sets and relative permanence by means of YouTube broadcast mean that DJs tend to bring their A-game without fail.
7. Jeff Mills & Tony Allen Live (Greenhouse, Friday afternoon) vs Job Jobse & Midland and GE-OLOGY & Red Greg
One should rarely turn down an opportunity to see Jeff Mills, and especially when placed in the Greenhouse stage. It can be typical to see Jeff Mills in huge, expansive spaces, either in huge festival tents or even the Royal Albert Hall and the Barbican, such is the nature and stature of his techno.
So placing him, alongside Afrobeat legend Tony Allen, in the most intimate of stages with the exception of the Boiler Room should make this all-the-more intriguing. While Mills says they know the start of tracks, the rest is improvisation, and the two are deeply knowledgeable of the other's styles of sound and preferred percussive instruments. Getting up on the rafters alongside the performance area in the Greenhouse to get a good view of the pair will be, one should imagine, hotly contested.
Dekmantel Festival is in Amsterdam from Thursday 3rd August until Sunday 6th August, with a pre-festival opening concert on Wednesday 2nd August at Muziekgebouw aan 't IJ concert hall, as well as talks, panels and live concerts across the city on Thursday. Tickets are still available for the pre-festival events and night programs at dekmantelfestival.com.
Register for free to continue reading
Registration is a free and easy way to support our truly independent journalism
By registering, you will also enjoy limited access to Premium articles, exclusive newsletters, commenting, and virtual events with our leading journalists
Already have an account? sign in
Register for free to continue reading
Registration is a free and easy way to support our truly independent journalism
By registering, you will also enjoy limited access to Premium articles, exclusive newsletters, commenting, and virtual events with our leading journalists
Already have an account? sign in
Join our new commenting forum
Join thought-provoking conversations, follow other Independent readers and see their replies