The Independent's journalism is supported by our readers. When you purchase through links on our site, we may earn commission.
Devin Townsend Interview: 'What I tried to do with this record was make something beautiful because the world is so ugly right now'
The visionary Canadian master of all trades is about to release Transcendence, his latest (and possibly last) record with The Devin Townsend Project. We discuss the making of the record and exclusively premier a track from the new album
Remfry Dedman
Thursday 01 September 2016 11:10 Comments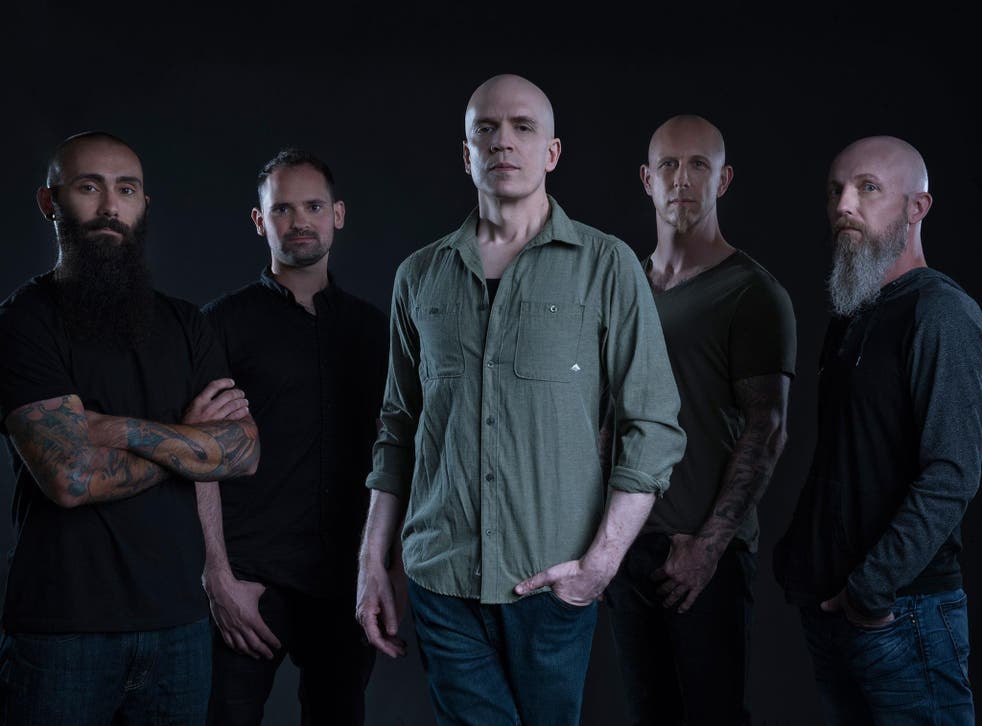 Devin Townsend is one of the most prolific artists in any genre of music, having released 24 studio albums in the last 21 years (not including rarities, demos, bonus sessions or limited fan releases). His work across a variety of different projects including Strapping Young Lad, Casualties of Cool, The Devin Townsend Project and his solo material runs the gamut from savage, chaotic, technically masturbatory concepts about hell and cheeseburgers (Deconstruction) to ethereal, ambient, alt-country voyages of discovery (the self-titled Casualties of Cool album) and pretty much everything in-between. The fact that the quality control through-out this diverse and eclectic career has remained fairly consistent and high through-out (with the odd dip here and there, but nobody's perfect) is truly astounding. His explanation for having such a varied genre-mocking career is simple; art imitates life. 'Everything I do is going to affect the output,' he says. 'Whatever the outside stimulus is, that's going to affect what comes out. The reason why everything I do is so different is not because I'm trying to be provocative, it's simply a reflection of whatever was happening to me at the time I wrote that particular record.'
If Transcendence, Townsend's latest album and seventh with The Devin Townsend Project, is a reflection on his recent past, one might assume that he's content and at peace (although he dismisses this with a laugh, wittily retorting 'fooled ya!') It's a positively charged majestic album for highly depressing, dark brutal times, a record whose glass is half full when the world's is half empty. And yet, despite the celebratory grandeur, there are murmurings that this may be the last album with his band of 8 years The Devin Townsend Project. If that does come to pass (it may not, despite the murmurings he wryly admits he says every album will be his last) then it's a fittingly uplifting note to go out on. 'It's so easy to say 'Everything's s**t man, it's all going to hell,' he says. 'I think making a statement that is positive was really where I wanted the power of this record to be rooted. Not in a naive way and not as a means of escape, I wanted to make something that's really beautiful but strong, I didn't want it to be wimpy. I know there's a ton of people that aren't giving up and you have to really fight to not give up! So this record is a celebration of that spirit.'
Townsend's work-ethic is peerless; in 2014 alone he released three studio albums, Sky Blue, Z2: Dark Matters and the aforementioned Casualties of Cool. In April 2015, this work-load culminated in a sold out show at London's prestigious Royal Albert Hall, a crowning achievement especially given Townsend's music has never pandered to any notions of being accessible or mass-marketable. With such a heavy schedule, Townsend thought it wise to take the rest of 2015 off, although rest and recuperation in the world of Devin Townsend is a much different prospect to how most of us perceive it. 'I took a ton of time off; the thing to keep in mind is the genre that I've chosen in the music industry climate that we're in today doesn't allow me to take a year off. I mean it's insane! Everybody's on salary, we're survivng month to month and that's the bottom line. So in the capacity that I was able to take time off, I took as much time off as I could, but within that, I wrote a book, played a couple of shows and wrote and recorded this record. That may seem like an obsessive work-load but the reality is I work that hard because I have to! I have a job, it's a great job and I love doing it, but I can't not work. That's not psychological, that's practical.'
When it came to writing Transcendence however, Townsend struggled to find the inspiration to write within the framework he's laid out with The Devin Townsend Project. 'One thing that's really important for me to be creatively motivated is to find an angle,' he says. 'Some people refer to that as a concept, which it is in a sense, but not overtly. It's just something I need to focus and hone in on and the trajectory of what might be seen as a 'concept' gives me creative momentum. Without that, I'm just not inspired, it's as simple as that and with DTP, the fuel tank was running so dry. But it's really in my best interests that I don't simply disregard this part of my career, a part that people seem to like, because ultimately, I think that's a really selfish move. The problem however is, if I don't give a s**t about DTP, then I can't do it anymore! So I tried to find an angle for it, which became me getting out of my comfort zone.'
The angle Townsend used to inspire himself turned out to be one of relinquishing control; he quite happily admits to taking on somewhat of a dictatorial role on all his records in the past. But this time around he gave more responsibility to his bandmates, explaining why every riff, lick, lyric, key change and tonal shift was in the music and what effect he was trying to evoke in the listener. Once the band was clued in as to what he was trying to achieve and where, Townsend gave them free reign to play the parts in ways that would go towards achieving his vision. 'I've always been such a control freak with everything I do but these guys have been with me for almost ten years now. So I started thinking maybe I should try to process things differently as opposed to dictating who plays what part and where. It turns out a lot of the parts they came up with were way cooler than anything I had! Relinquishing that control became the best thing I could possibly do because otherwise, I would have started to become a parody of myself; I was so afraid of losing what it is that I do that I was beginning to lose it! The relationships you have with people are ultimately more important than any of this s**t and I found that by recognizing these people are much better suited to making some of these decisions than I was, not only does the team get stronger, but the record gets stronger too. I didn't think I had anything left to say with The Devin Townsend Project until I found this approach and it proved to be very motivating.'
Given the dynamic range that has encompassed The Devin Townsend Project's albums, it may seem puzzling as to why Townsend feels painted into a corner. The band has always been a platform for a broad range of his musical outlets, everything from the laid-back, ethereal, new-age spaced out vibes of Ghost, to the rhapsodic, bombastic, happy-heavy metal choral stylings of Epicloud. Certainly his decision, in 2007, to disband Strapping Young Lad, the whacked-out, industrial extreme metal band that Townsend made his name with, seemed to make more sense within the context of feeling confined by genre. But if Transcendence really is to be the last Devin Townsend Project album why does he feel the need to move on now? 'I think there's parameters with DTP that didn't exist with Strapping' he says. 'I saw a really interesting analysis of the differences between DTP and Strapping the other day. It said DTP is like a really nice slick sports car and Strapping is the same car jumping off a cliff and getting hit by lightning! There's less danger in the parameters set by DTP, consciously so, because that's what I needed to do after Strapping. I needed to somehow reel it in but there's a part of me that feels like I now need to lash out again. Not in the same way that I did when I was 23, but I feel the mentality that I've supressed now for a decade needs to come out again.'
That mentality is set to come out in a surround sound symphony that Townsend described in an interview with Kaaos TV in March 2015 as 'between the extremes of beautiful to total chaos, (like) a hellish apocalypse'. 'I think with the symphony, I need to really lash out in ways that I don't think DTP is suited for. If you set something in motion in a certain way, its trajectory becomes set and I think what makes DTP a really cool, functional band is exactly the thing that prevents me from lashing out. I've become good friends with the guys in DTP and in order for me to take that next step, I don't think I need to be with friends, I think I need to have a staff. I'm not talking about being free to be an asshole or anything like that, but just so that I don't have to take everybody's emotional health into consideration when I'm making creative ideas. Because that's super important to me, specifically with people that I care about. When I do the symphony, I don't want to be as close to people, I want to have a group of people who can actualise the vision and I don't want to have to pussyfoot around them. And it was the same thing with Strapping, back then if I wanted to have a more conservative musical mind-set, that option wasn't available to me. And so DTP and Strapping are very similar in that sense but on opposite ends of the spectrum.'
Whatever the future holds for Townsend and his music, fans can rest assured that he's going to continue to be the unpredictable, dynamic, multi-faceted musical beast he's always been. 'When I say this might be the last DTP record, I don't think it's a controlling threat so much as me saying that with my next step, I don't want to be as careful. I've been so f**king careful since Strapping, every word, every pronoun, every syllable, every image has been so calculated because I realised that I needed to be accountable for the things that I was saying. In Strapping I had experimented with a creative catharsis under the assumption that art doesn't need to be accountable for itself but I found out in very practical ways that you are accountable for everything you say. Everything you write, everything you do becomes not only your identity but your world resonates with it.'
So does Townsend regret some of the things he's said with Strapping Young Lad in the past? 'No I don't regret them because I learnt from them. But DTP felt like the explanation for Strapping and once you've explained it, where do you go from there? What I tried to do with this record was make something beautiful because the world is so f**king ugly right now, and I didn't want to add to that pool of s**t. It seems like a lot of the time, art gets so gruesome when times are gruesome and that doesn't do anything to help! That's not to say I'm running from a place of naivety or the glass is half full or anything, it took a lot of effort to make a really powerful and beautiful record because I want people to listen to this record and have it be a big f**k you to all the s**t that's going on in the world. All this s**t that's happening right now, I'm going to do my best to get through it all and try to make things better for me and anybody who cares to listen.'
The Devin Townsend Project begin a UK tour in Bristol on 12th March 2017
12.03 - Colston Hall, Bristol, UK
13.03 - Academy, Manchester, UK
14.03 - Barrowlands, Glasgow, UK
16.03 - Institute, Birmingham, UK
17.03 - Eventim Apollo, London, UK
18.03 - Rock City, Nottingham, UK
Transcendence, the seventh record by The Devin Townsend Project is out through InsideOut from Century Media on Vinyl, CD, Deluxe 2CD edition and digitally on Friday 9th September.
Register for free to continue reading
Registration is a free and easy way to support our truly independent journalism
By registering, you will also enjoy limited access to Premium articles, exclusive newsletters, commenting, and virtual events with our leading journalists
Already have an account? sign in
Join our new commenting forum
Join thought-provoking conversations, follow other Independent readers and see their replies