Dialects - Because Your Path Is Unlike Any Other: Exclusive Album Stream
Instrumental Glaswegian quartet stream their debut album exclusively with The Independent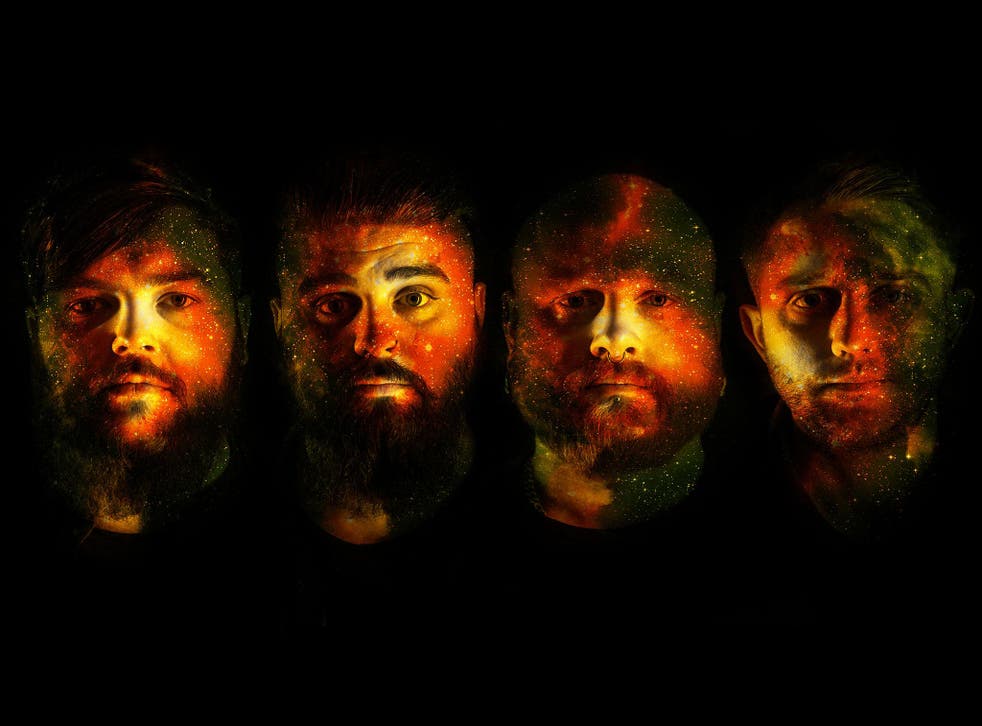 One of the UK's great, auspicious instrumental prospects, Dialects have rapidly garnered acclaim with their own take on euphoric, triumphal instrumental post-rock. The band have amassed favourable comparisons to And So I Watch You From Afar, sleepmakeswaves and Alpha Male Tea Party ever since their formation in 2013. After the release of their first EP, 2015's LTKLTL (Let The Kids Light These Lanterns), Dialects toured relentlessly, earning coveted support slots on a gluttony of bills and playing some of the country's most prestigious progressive post-rock and metal festivals (ArcTanGent, Damnation, Strangeforms and Tramlines). Life on the road clearly did the quartet a whole world of good; whilst LTKLTL showed promise, their full-length debut album Because Your Path Is Unlike Any Other solidifies their standing as one of the most impressive and exciting bands to emerge out of the current instrumental UK scene. Released on 24th November via Through Love Records, Because Your Path Is Unlike Any Other is available to stream in full 4 days before it's official release exclusively with The Independent.
Dialects came together after the demise of guitarist Conor Anderson's previous band. Feeling somewhat displaced within his local music scene, he began to hang out with members of fellow-Glaswegian melodic alt rock band Atlas: Empire. "We'd been hanging out on a weekly basis" remembers Conor "and their drummer at the time had been wanting to try out a new drum layout. He was just looking for someone to go down to the practise room and jam with him so I mentioned that I was looking for a drummer to try out some new material that I'd just written. So we went down to the practise room and effectively wrote the beginnings of two songs in one session."
When a Christmas party, held by Atlas: Empire guitarist Steve Gillies, descended into a litany of uninvited guests and un-festive discomfort, the musicians decided to bail and head to a practise room to knock around a few ideas. "It was just a case of jamming, there weren't any grand designs to do anything" says Conor. "Then Steve suggested we try out some of the stuff I'd been working on and see if they could help me put it together and write it. From us messing around, we managed to write 'Spectacular Supernovae' (from LTKLTL) and make a start on what would eventually became 'Mountainous'."
Whilst it was clear from the off that the jamming sessions were proving fruitful, Conor struggled to find a permanent band to flesh out his ideas. After a few months of ineffectual searching, he'd more or less given up when Steve offered his own services as guitarist. The idea to draft Steve in on a more permanent basis hadn't occurred to Conor due to his friend's commitments with Atlas: Empire, but Steve could see enough potential in the ideas they'd been jamming to spread his time across the two projects. With Steve on board, Dialects became a more democratic proposition with both guitarists contributing song writing ideas.
Slowly but surely, the jamming sessions began to metamorphose into something that resembled a band. It was pure fun, not meant to be taken particularly seriously, least of all by the band themselves (an early promo shot sees the musicians goofing off to the camera whilst dressed up in animal onesies). But there was one problem; Dialects had no bass player to fill out the bottom end over their jubilant, mellifluous riffs. The answer practically fell into their laps when Steve got a new flatmate. "Steve and I were sat in his flat one night talking about how it was probably about time we got a bassist. Ali piped up having no idea what sort of music we played or anything like that and said 'I'm up for it!' We didn't even realise he plays bass! So he came down for a jam and it turns out he's f**king amazing. He'd never heard this type of music before in his life, he comes from a more hardcore background, but he fit in with what we were doing straight away."
In 2015, Dialects released their debut EP LTKLTL (Let The Kids Light These Lanterns). It was during the recording of said EP where the band first got the notion that they might be on to something worth pursuing more vehemently. "We recorded the EP with our friend and producer Nick Lawrie and he was the one that initially encouraged us to push forward with it. He thought it was leagues ahead of anything I'd been involved with before, so he introduced us to our first manager, who was able to get us a support slot with Lite and The Physics House Band, even though we didn't have any music online and we'd only played a couple of shows and the reaction at that show was insane. It was a sold out 300 capacity venue and packed out with folk who went bonkers for us."
Dialects picked up a whole slew of enviable slots on bills with the likes of Maybeshewill, Mutiny on the Bounty, Poly-Math, Toska, Waking Aida and Sólstafir. In 2016, they crossed the pond to record an Audiotree session in Chicago and play shows in Canada at Canadian Music Week, an opportunity rarely afforded to bands without a debut album. "We played this show in a venue called The Hideout" Conor recalls "and that was packed. I don't think anyone in that venue had seen anything quite like us before, they'd certainly never seen an instrumental band, so it was a pretty mind-blowing experience for us all."
With so much happening in quick succession for the band, it became immediately apparent that recording a debut album should be of the highest priority. LTKLTL had a science-fiction inspired story that weaved throughout its five songs and Conor had big plans to continue spinning this yarn into their debut full-length. It's an involved and complex narrative involving inter-dimensional wormholes, alternate utopian worlds and events that weave themselves into our own history and timeline (The LTKLTL song 'Good Luck Felix' is a reference to Felix Baumgartner, whose daring 24-mile jump from a helium balloon from the stratosphere is achieved with the help of the protagonists in the Dialects story).
Much of the narrative is told through the band's videos (which are presented in chronological story order in this article for those who want to attempt to unravel it) and involves intricacies that would challenge the great cinematic minds of Nolan and Tarkovsky. Like all the best science-fiction, it uses intergalactic metaphors to tell a deeply personal tale. "I'm a huge sci-fi fan" says Conor "and the story is a very hidden way of narrating personal events that occurred in my life. It's my way of talking about these subjects without revealing the exact details. Those events are what inspired me to write the music and I tell it through a medium that I can relate to."
With the debut album finally ready for release, the pieces are in place for the band's trajectory to soar far beyond the stratosphere. "This album is a combination of nearly 5 years of hard work and dedication" says Conor. "To record it in a studio as prestigious as Chem 19, with the help of Creative Scotland, has been incredible. Working with everyone we have to make the dream a reality has been phenomenal. I'm glad that we've told the story we have and what we've accomplished and we're incredibly grateful to Through Love Rec for understanding the vision and taking it on. I look forward to hearing what the reactions are to the record! As well as what comes next. Certainly no more concept work!"
Because Your Path Is Unlike Any Other is released digitally and on vinyl via Through Love Records on Friday 24th November and is available to pre-order now. Dialects play an album launch show to commemorate the release at Nice N Sleazy in Glasgow on Friday 8th December
Register for free to continue reading
Registration is a free and easy way to support our truly independent journalism
By registering, you will also enjoy limited access to Premium articles, exclusive newsletters, commenting, and virtual events with our leading journalists
Already have an account? sign in
Register for free to continue reading
Registration is a free and easy way to support our truly independent journalism
By registering, you will also enjoy limited access to Premium articles, exclusive newsletters, commenting, and virtual events with our leading journalists
Already have an account? sign in
Join our new commenting forum
Join thought-provoking conversations, follow other Independent readers and see their replies