Django Django on their new album Marble Skies, creative control, and political musings vs. escapism
The Mercury Prize nominated band's new album is arguably their most self-assured and innovative record to date 
Sarah Bradbury
Tuesday 16 January 2018 11:47 Comments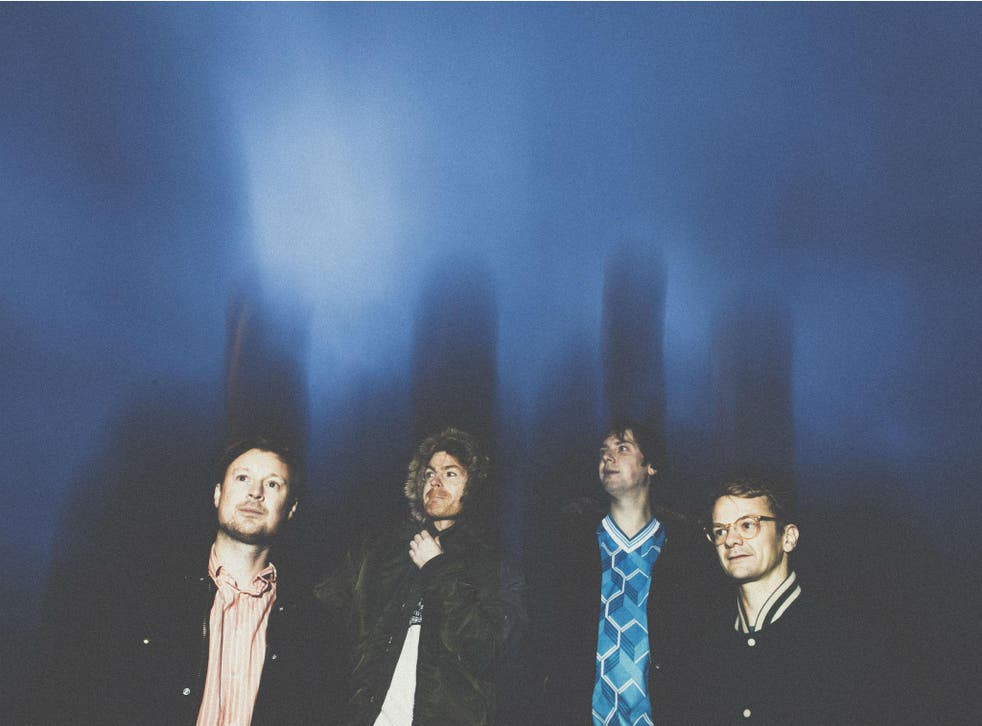 After wandering a labyrinth of warehouse spaces in South Tottenham, I finally reach my destination to meet David Maclean and Tommy Grace, the amiable Scotsmen who form half of genre-defying band Django Django with Vincent Neff and Jimmy Dixon. Their new home is a studio space tucked away behind a hipster cafe where I find the pair nestled in amongst their recording equipment, instruments and extensive record collection.
The site which formed the location for recording their latest and third album Marble Skies turned out to be something of a perfect fit, they explain. A balance of the two extremes they had on their first two albums, from a kind of squat flat with one microphone to a massive studio that Robbie Williams was using while they were there. "It was a conscious decision to be working on them here, rather than in another studio," says Grace of the new tracks. "The second time round we went to Angelic, which was cool. But we were recording onto a computer and software that we didn't have knowledge of. We lost control a little bit."
"You know it was one of the studios where the engineer was behind glass somewhere and would just speak to you through an intercom," adds Maclean. "It just felt, alien. So I think the set up in here is the best of both worlds really. It kind of suits us."
Maclean charts their journey to where they sit now, from him producing singer and guitarist Neff's songs in his flat in Dalston, discovering and sharing music on the now defunct MySpace, including track "Default", through to their 2012 Mercury Prize nomination for their self-titled debut album, from where things "snowballed dramatically": "We spent about two years touring that album as it just grew and grew. It took us all over the world a couple of times really." After, they jumped back in the studio to record many of the tracks that didn't make the first album and produced 2015 follow up Born Under Saturn, which hit the UK top 20 and led them on another touring adventure. And during which time: "Everyone had kids, except me, so there's now six Django Djangelette's," says Maclean.
After settling into the news digs, they got to work on album number three, Marble Skies. The title was inspired by the sight of the sky with a storm coming while the band were at Lollapalooza festival in Chicago: "The sky just literally looked like a big sheet of marble. We were all kind of staring up at it in awe," explains Maclean. And the name provided something of a mood-setter for the new material: "Especially when you're writing as a group, it's handy to use some sort of visual reference. Because we write lyrics collectively, it gets you into the similar zone without being too prescriptive," says Grace.
The result is arguably their most confident and innovative record to date. The two singles already released from the new album demonstrate their staunchly upbeat, eclectically-informed sound: addictive psych-rock track "Tic Tac Toe" and more dance-oriented pop-synth "In Your Beat". The pair talk me through the surreal-turned-sinister video for "Tic Tac Toe" which takes its viewer to twee little England, complete with fish and chips on the beach, inspired by Ingmar Bergman's The Seventh Seal and put together by Maclean's film director brother John. No mean feat, as Grace explains, "because it was sped up it meant you had to do twice as much footage..." In complete contrast, the "In Your Beat" video is the result of a collaboration with Australian poster artist Brodie Kaman and animator Sophie Koko-Gate, creating an epic, trippy, pop-art world to accompany the incessant beats.
Now more than ever, the band hold onto the importance of their visuals, as many are listening to tracks for the first time via YouTube. Maclean recounts a Stone Roses story that saw the head of their label put out an ill-suited video without their permission. "They bought loads of tins of paint, put boiler suits on and threw paint all over his house...If you're going to have a video, it has to be right."
In just these two tracks, the sheer versatility of the band's sound from electro-pop to rockabilly is clear. They're often compared with the likes of Caribou, Hot Chip, Metronomy. But as Maclean demonstrates to me visually with a gesture toward a floor to ceiling wall of geekily, lovingly categorised records collected over decades, stretching from classical to post-dubstep, their overarching influences are not easy to delineate: "We can't just stick to one thing," says Maclean. "We're very kind of flighty, attention deficit. In the morning I'll be making some kind of gabba track with breakbeats and then by the afternoon we're doing a sort of folk session."
Crucially, theirs is an organic, collaborative writing process, allowing the evolution of a song to dictate its own direction, such as dancehall/R'n'B infused track "Surface to Air" with Rebecca Taylor. Maclean had met Taylor at SXSW festival where they had bonded over a love for 90s hip hop and R'n'B. After recording an EP with her on his label, she then had a go at singing the vocals for Grace's new song "Surface to Air": "It just seemed like it had been written for her really. That was is it. Vinnie got booted off it, which he didn't mind."
Enjoy unlimited access to 70 million ad-free songs and podcasts with Amazon Music Sign up now for a 30-day free trial
Sign up
It's only by taking their tracks on a standalone basis that the roots of their sound can be heard much more distinctly, as Grace explains: "If you take the individual songs then it's fairly easy to say what genre each one is. We do kind of like genre music. But when you think of what we've produced as a whole it's impossible because it's just like this mixtape with hundreds of different genres."
While not fitting into a neat categorisation, Maclean does suggest there are some links to be drawn: "I think things like the harmonies, the way we write top lines and melodies, all ties it in. Plus the production techniques that we like to use – I think there is a thread." Not that it's something they dwell on. That's for journalists and festivals promoters to worry about. The only challenge can arise in performing live gigs. Where their sets fall roughly into two parts, the more electronic-side and the quieter, rockabilly vibes, "You get the feeling that there's a certain portion of the audience that is really more into one thing than the other," reflects Grace. Ultimately, having grown up with rave culture, they are less at home on a main stage or arena than in a sweaty pub back room or packed out festival tent: "If you're on a massive outdoor stage and you're just hitting a kick drum or a cowbell it's a bit like ummm…," Maclean jokes.
I ask if there are underlying themes in the album, whether in our tumultuous times they see themselves as overtly political in the material they put out. "I think we're all quite politically minded. But we've always been quite escapist with the music," responds Maclean. "I think as we all grew up listening to the Beatles and Pink Floyd we are also into this idea of otherworldliness, of psychedelia. And I find stuff that is quite escapist. But then we'll sit and talk about politics."
And while Grace points out that "early psychedelia was really political and was escapist as well. I don't think there are two separate things," Maclean notes that times have changed since then. He posits that our current generation is still working to find its medium: "Just putting your head in the sand or taking loads of drugs and starting communes in the desert doesn't quite work. Or just being a punk and saying f*** you to everything doesn't really quite work either." Plus our news and politics, funnelled through social media, moves at a rate that makes it difficult for a movement to gain traction: "The news moves just so quick that sometimes there's a generation in a day, newspapers can't keep up, a zeitgeist can't really form." For now, he acknowledges their political musings "sort of seep into our songs a little bit," but "we are quite daydreamy as well."
In terms of future ambitions, they don't have fixed goals but remain open to new and different projects, an attribute that is clear from the range of collaborations they have undertaken in the past, from Maclean running his own label and co-producing KT Tunstall's latest album, to their tracks featuring in video games. Grace reflects that their work on the score for a Royal Shakespeare Company production, The White Devil, while seemed a lot to take on while they were recording their second album, actually fed positively back into the music-making process: "I came back looking at the songs totally fresh. I think it can be a healthy thing to be chopping and changing. You can get tunnel vision in the studio. It's definitely good to get a bit of perspective doing other work."
For now they are focused more on the near term, with a US tour set as well as key UK and European dates, from Brussels to Amsterdam, London's Printworks to Dundee's Fat Sams. "I'm just looking forward to playing the album live. We just feel really confident in the new songs," says Grace. And so they should.
'Marble Skies' is released on 26 January on Because Music. Django Django play Standon Calling in July 26-29
Register for free to continue reading
Registration is a free and easy way to support our truly independent journalism
By registering, you will also enjoy limited access to Premium articles, exclusive newsletters, commenting, and virtual events with our leading journalists
Already have an account? sign in
Join our new commenting forum
Join thought-provoking conversations, follow other Independent readers and see their replies