World according to Dolly Parton: Country legend's wisest and wittiest words of wisdom
Revel in the best one-liners and words of wisdom from country music's great dame
Ella Alexander
Tuesday 24 June 2014 17:19 Comments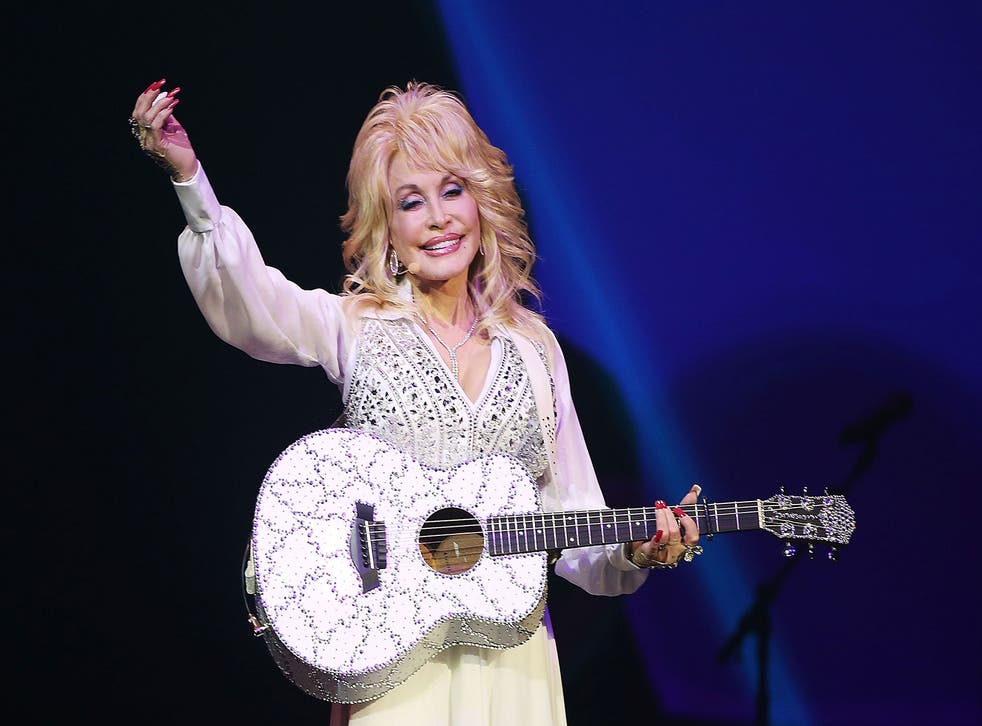 Country music icon Dolly Parton turns 71 today [Thursday].
Her piled-high platinum blonde hair, huge smile and unique body proportions have made her recognisable around the world, but there is much more to Parton than meets the eye. She might look like Barbie, but she's as witty and entertaining as Stephen Fry.
The 68-year-old (yes, really) has been dishing out words of wisdom throughout her lengthy career and has even written a book on the importance of dreaming.
Relentlessly positive and admirably self-aware, the country legend is one of few famous names never to have been reviled nor tarnished.
So sit back and learn from Parton's sage life advice and razor-sharp one-liners:
On handling the hard times...
"The way I see it, if you want the rainbow, you gotta put up with the rain."
On dieting...
"I tried every diet in the book. I tried some that weren't in the book. I tried eating the book. It tasted better than most of the diets."
On negativity:
"I feel that sin and evil are the negative part of you, and I think it's like a battery: you've got to have the negative and the positive in order to be a complete person."
On improving life...
"If you don't like the road you're walking, start paving another one."
On showbusiness...
"Showbusiness is a money-making joke and I've always enjoyed making jokes."
Dolly Parton life in pictures

Show all 23
On her affinity with drag queens...
"It's a good thing I was born a girl, otherwise I'd be a drag queen."
On thinking big...
"I'm not going to limit myself just because people won't accept the fact that I can do something else."
On fulfilling potential...
"My whole philosophy is just to really do the very best you can because what else can you do?"
On being a good judge of character...
"When someone shows you their true colours, believe them!"
On ageing...
"Stop this attitude that older people ain't any good anymore! We're as good as we ever were - if we ever were any good."
On making the most of each day...
"When I wake up, I expect things to be good. If they're not, then I try to set about trying to make them as good as I can 'cause I know I'm gonna have to live that day anyway. So why not try to make the most of it if you can? Some days, they pan out a little better than others, but you still gotta always just try."
On being fearless...
"You'll never do a whole lot unless you're brave enough to try."
On remaining true to yourself...
"I know who I am, I know what I can and can't do. I know what I will and won't do. I know what I'm capable of and I don't agree to do things that I don't think I can pull off."
On her unusual physical measurements...
"I have little feet because nothing grows in the shade."
On dreaming...
"A lot of dreams can turn to nightmares... if you don't really work them."
On laughing off criticism...
"I'm not offended by all the dumb blonde jokes because I know I'm not dumb... and I also know that I'm not blonde."
On identity...
"Find out who you are. And do it on purpose."
On giving advice...
"I don't like to give advice. I like to give people information because everyone's life is different, and everyone's journey is different."
On her appearance...
"It costs a lot of money to look this cheap."
On feminism...
"I was the first woman to burn my bra - it took the fire department four days to put it out."
Register for free to continue reading
Registration is a free and easy way to support our truly independent journalism
By registering, you will also enjoy limited access to Premium articles, exclusive newsletters, commenting, and virtual events with our leading journalists
Already have an account? sign in
Join our new commenting forum
Join thought-provoking conversations, follow other Independent readers and see their replies