Charting queens: How drag finally punctured pop
No longer confined to novelty singles, RuPaul's cinched spawn are putting out albums and ready to take the pop world by storm. From the Frock Destroyers to Jodie Harsh, it's time to smash the pink ceiling, they tell Nick Levine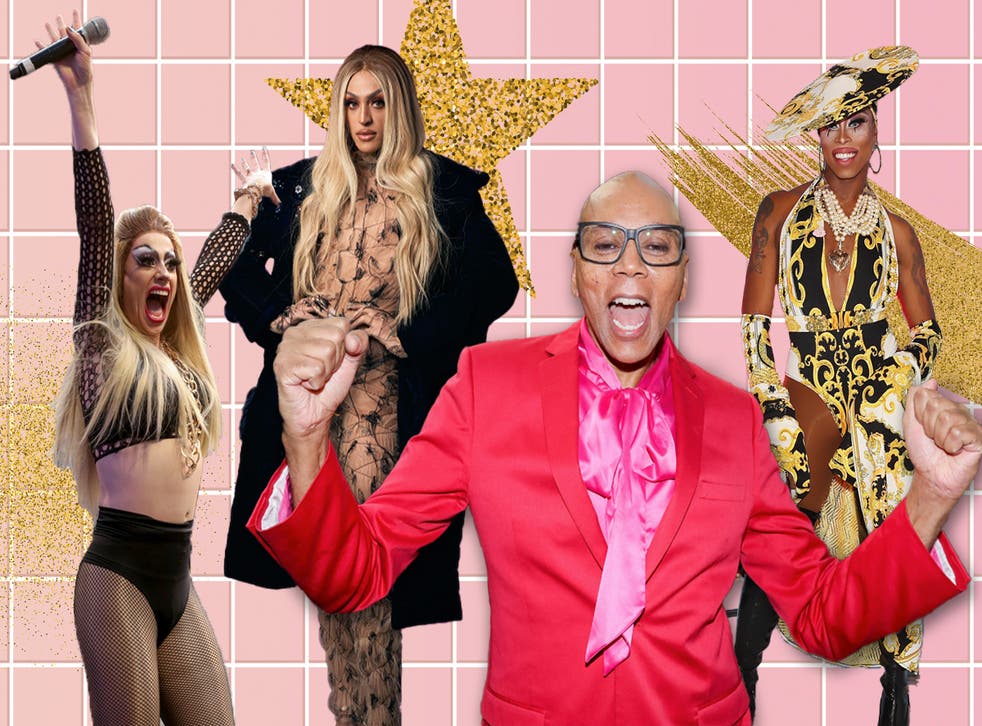 Last November, the Frock Destroyers became the first drag girlband to crack the UK Top 40, sparking a petition to make them the UK's next Eurovision entrants. Blu Hydrangea, one third of the trio, freely admits she found it "absolutely shocking" when their deliciously salty song "Break Up Bye Bye" climbed all the way to No 35. Especially as it has a not-so-subtle allusion to anal sex from her bandmate Baga Chipz. "Baga's verse is the best in the song, which still annoys me to this day because I stayed up all night rewriting mine," Hydrangea says with a laugh.
The Frock Destroyers are the latest musical force to come spinning out of RuPaul's Drag Race UK in their spiked heels. They became a band after the show's girl-group challenge, when the remaining contestants had to team up to write and perform an original song. Hydrangea, Chipz and Divina De Campo dubbed themselves the Frock Destroyers – a punning nod to porn stars-turned-queer icons the Cock Destroyers – then defeated rival group Filth Harmony with their sassier, self-assured performance of "Break Up Bye Bye". It was a runaway success, and proved so popular on streaming platforms that Drag Race UK's makers, World of Wonder Productions, asked them to record an entire album with Los Angeles-based production wunderkind Leland.
Given that RuPaul's Drag Race becomes more mainstream every year – it's been gobbling up Emmys since 2016 – it's somewhat surprising that "Break Up Bye Bye" is the first song associated with the show to become a bona fide hit. Though RuPaul herself cannily packs each season with self-referential bangers such as "Glamazon" and "Cover Girl", she hasn't cracked the Billboard Hot 100 in America or the UK Top 40 with her releases since her Nineties house-diva phase.
Leland thinks that it's "absolutely possible" for a musically gifted Drag Race contestant to use the show as a springboard for a proper pop career, and this is just the beginning. Queens can now build million-strong Instagram followings, play gigs all over the world (until a pandemic comes along, of course) and rake in tidy sums from merch and meet-and-greets – they have a ready-made fanbase to flip over to music. The only problem is having a successful single.
"It's [been] long overdue actually," says Leland, adding: "it's hard to have a big radio hit without having the resources to get it there." Finding those resources, like marketing budgets from record labels who fully understand a drag queen's potential, has been "a challenge", he continues, but that's changing now with World of Wonder leading the way. As well as being a TV production company, Leland says it can act as "a fully functioning record label with the infrastructure to support this album project" and future drag queen releases. "That really sends a signal to the major labels," says Leland, "like, this is how you could be supporting drag queen artists. Because 'Break Up Bye Bye' has clearly shown it's possible for these artists to have a streaming hit."
At the same time, Leland concedes that the traditional record industry probably has some catching up to do – not least because some label executives perceive drag queen music, erroneously, as a niche endeavour. "I don't think the industry knows how to respond yet to drag queen music because drag queen music isn't a genre in itself," he says. "Drag queen music has 50 different genres from the type of [country-flavoured] music that Trixie Mattel makes to the type of [hip-hop] music Yvie Oddly makes. I really think the industry needs its hand held in trying to understand that."
He also dismisses suggestions that some drag queens might see making music as a mere side hustle. "Look, it's expensive to be a drag queen, and it's really expensive to make music as an independent artist," he says. "I have so much respect for any queen who wants to invest their time, creativity and money into releasing music because that really takes a lot of work. It's not something you do in any kind of half-hearted way."
Some Drag Race alumni have definitely made inroads: Adore Delano's clubby 2014 album Till Death Do Us Party cracked the Billboard 200, while Mattel's country-folk albums entered the US and UK Independent Albums chart. Monique Heart, who's competed on RuPaul's Drag Race and its All Stars spin-off, has amassed an impressive 3.7 million Spotify streams of "Brown Cow Stunning", a house banger named after her catchphrase from the show. Earlier this year, she released Beloved SoS 6.3, a musically varied and emotionally rich collaborative EP with producer Koil.
Disappointingly, Heart's experiences suggest there's still something of a pink ceiling for drag queen artists. "Queer music in general is often perceived as highly camp, and often people have a stigma and perception of it being 'cheesy' before they give the song a listen, despite the talent and art involved," she says. "I've also found that some producers will try and keep you in the same lane of [writing songs based around]' 'kitty cat' or 'yasss queen', as if that's all we can do. I've tried to break down those stigmas and barriers with my own art and music."
Enjoy unlimited access to 70 million ad-free songs and podcasts with Amazon Music Sign up now for a 30-day free trial
Sign up
Jodie Harsh, a British DJ-producer and drag queen who's released solo music as well as a collaborative EP with Spice Girl Melanie C, has had a similar experience. She says the music industry's response to her has been somewhat mixed over the years. "In one respect, I've certainly stood out because I've intentionally made myself completely 'other' and like nothing else in the dance music world," she says. "I'm very noticeable in a part of the industry that's mainly, but not totally, straight and male. But because of that I know some people think, 'That's a bit weird for me' or 'I don't really get it'."
Still, Harsh says her own growing reputation combined with "the Drag Race effect" has created a climate where her new single is poised to finally make a mainstream dint. After receiving its premiere on Annie Mac's Radio 1 show in November, her Rick James-interpolating track "My House" has been added to the Capital Dance playlist.
Harsh also points out that for a brief period in the Eighties, drag queens were able to claim chart places. When Culture Club won Best New Artist at the Grammys in 1984, Boy George famously said: "Thank you America – you know a good drag queen when you see one." Boy George's dazzling, androgynous image and chart-topping success with 1982's "Do You Really Want to Hurt Me?" paved the way for his drag queen friend Marilyn to score a UK top ten hit with her perky new-wave tune "Calling Your Name" a year later. Fabulously provocative American drag icon Divine would go on to score UK Top 40 singles with 1984's Hi-NRG classic "You Think You're a Man" and 1985's tongue-in-cheek Four Seasons cover "Walk Like a Man".
But since then, charting drag queens have been few and far between. RuPaul's Nineties run led by the iconic dance hit "Supermodel (You Better Work)" has yet to be equalled, though Conchita Wurst managed to crack the UK Top 20 when she won the 2014 Eurovision song contest with dramatic power ballad "Rise Like a Phoenix". Perhaps we should look to Brazil, where drag queen Pabllo Vittar is a chart regular with enough clout to land Major Lazer and Charli XCX collaborations.
With one hit single under their well-cinched belts already, the Frock Destroyers are hoping that their debut album will add to their tally of chart positions. Titled Frock4Life and dropping on Friday, it's a little slight – just five new songs plus interludes and two versions of "Break Up Bye Bye" – but is also witty and entertaining. "Big Ben" is a Lady Gaga-style pop stomper about a man so well endowed he becomes a celebrity, while "Her Majesty" features a "cheeky" vocal hook that Hydrangea admits is a risk. "I've been called a little bitch, I've been called a little slag," they holler in unison, sounding not unlike punky Nineties pop duo Shampoo.
To Leland, the Frock Destroyers are just as exciting to work with as the big pop stars he's made music for, including Troye Sivan and Selena Gomez. "For a long time I was writing pop music for pop artists and also writing Drag Race music for drag queens," he says. "But this album is truly the intersection of those two things. The goal was to make amazing songs and to really have fun with it. But I treat this project with the same degree of respect and effort that I would if I were writing for Selena Gomez."
Hydrangea says the Frock Destroyers were determined to maintain the slightly risqué British flavour that made "Break Up Bye Bye" stand out from other Drag Race music – but they do mean business, too. "We tried to keep the songs somewhere between pop and camp – a bit like the Spice Girls and the Cheeky Girls," she says. "We're not here to take ourselves too seriously, but we absolutely take the music and our performances seriously. And the aim is to go on tour next year as and when it's safe to do so."
This isn't wishful thinking. Drag queens who make music are already a huge live draw – Mattel, for example, headlined the 5,000-capacity O2 Academy Brixton in 2019. Over the last decade it's also become increasingly common for A-list pop stars to cast Drag Race alumni in their music videos. Courtney Act, Willam and Alaska Thunderf*** appear in Little Mix's "Power" clip, while Rihanna's "S&M" features Detox, Willam and Morgan McMichaels. Monique Heart says the mainstream audience is "100 per cent ready" to embrace a drag queen pop star because in a way, "we already have them". Pointing to "Madonna, Cardi B, Lady Gaga and Ariana Grande", she continues, "it's no hidden truth that these amazing mainstream pop artists have been drawing inspiration for costuming, music, songs and videos from queer artists or drag queens" for decades.
But she believes it's now time for the queens to take centre-stage instead. "The tide now needs to shift beyond a point where we're appearing for five seconds in a music video," she says, so that "the rest of the world can really see our art and embrace it".
Frock4Life is released today via World of Wonder Records
Join our new commenting forum
Join thought-provoking conversations, follow other Independent readers and see their replies