Dream Themes' Rhodri Marsden on playing in a TV themed tribute band
'We've now seen a sufficiently large number of married couples doing their first dance to the theme from Grange Hill for it to be considered a thing.'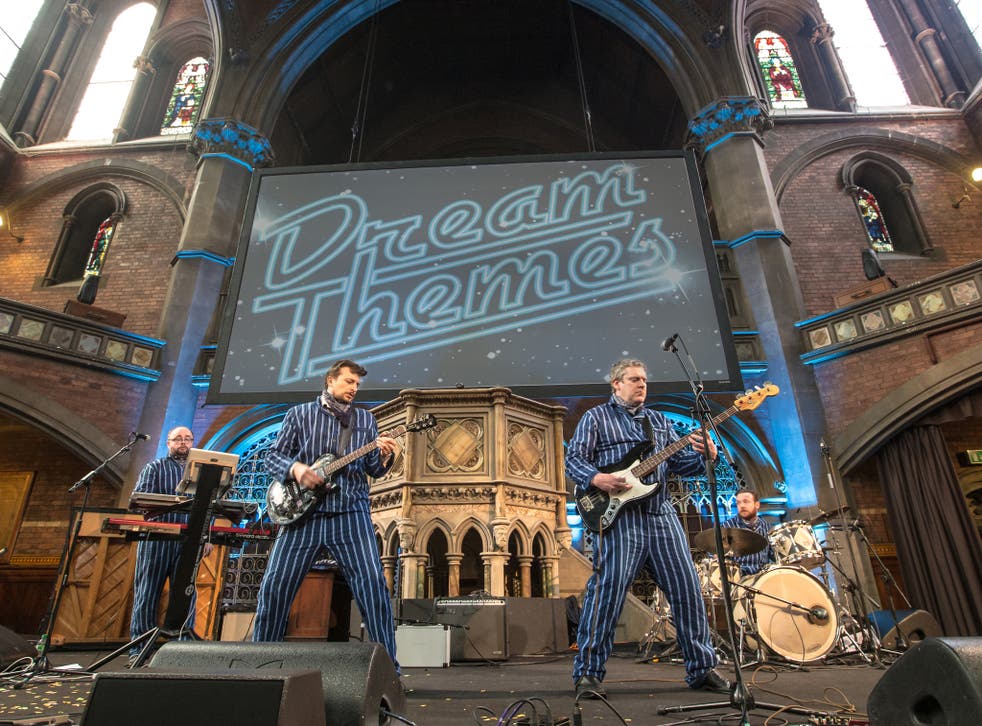 It was a sobering experience to stand on stage, perform the theme tune to the Eighties detective show Bergerac and watch a large crowd of elated people wave their arms in the air.
This, it seemed, was what they wanted to hear. Who knew? But many musicians have experienced such moments of realisation; for years they might have written their own music, formed bands from various combinations of friends and acquaintances and performed earnest renditions of those songs in flea-pit venues in the vain hope that anyone gave a hoot.
Then, in a moment of weary resignation, they decide to play some cover versions and suddenly everything changes. Audiences start to enjoy themselves. When a few friends and I decided to form a TV-theme tribute band called Dream Themes, we were just following up on a stupid idea we'd had down the pub. The outcome was unexpected: a whole bunch of festival bookings, corporate events, TV appearances and requests to play at friends' weddings.
We've now seen a sufficiently large number of married couples doing their first dance to the theme from Grange Hill for it to be considered "a thing". Dream Themes has achieved more success in 18 months than each of our own bands have had in 18 years combined. Sure, said bands may not have been that good, but the reality is that familiarity sells.
The idea that we prefer music that we know over music we don't know might seem blindingly obvious. After all, radio is overwhelmingly dominated by stations playing "classic" tunes from yesteryear. The Rewind Music Festival, which specialises exclusively in music from the Eighties, will pull in huge crowds this summer across three UK locations – Perthshire, Cheshire and Henley-on-Thames – with an eclectic selection of acts playing their old hits.
The tribute band circuit, with its Black Eyed Teazes and its Michael Dublés, is vibrant and successful; even critically acclaimed acts, long-since disbanded, find themselves reforming in order to perform old albums when they can no longer disregard the demand for them to do so. Why is this? What draws us towards the fuzzily familiar and away from the new and original?
"It's a very widespread and quite intensively researched phenomenon in psychology that more exposure tends to lead to increased preference," says Eric Clarke, Professor of Music at Oxford University. "Yes, we can become satiated with things that we're massively over-exposed to, but in general we do tend to gravitate towards things that are optimally familiar."
For musicians whose feelings of self-worth depend on producing new compositions that connect with audiences, the idea that they're battling against a deeply-embedded psychological preference for older material must feel slightly depressing. But on the gig circuit, this is the elephant in the room: audiences want the tunes they know. You see concert reviews online from people expressing anger at, say, Van Morrison or The Black Crowes for not playing enough "hits" at their shows.
I've seen performances – most notably by The Cardigans and Hall & Oates – where 75 per cent of the audience is evidently there to see one song in particular ("Lovefool" and "I Can't Go For That" respectively) and they'll maintain an air of indifference while they wait for it. You can almost sense the disappointment in the room when a singer of an established band announces that they're about to play "a selection of songs from our new album" rather than some old favourites. But musicians do their best to ignore this. They have to believe that their new songs are just as good, and even tribute band members want to believe that this is the case.
Enjoy unlimited access to 70 million ad-free songs and podcasts with Amazon Music Sign up now for a 30-day free trial
Sign up
"There may be a natural tendency to stick with what you know as you get older," says Charley Stone, guitarist with all-female Duran Duran tribute band Joanne Joanne, "but as a musician I think it's important to resist that. I don't connect Joanne Joanne with the 1980s. It doesn't feel too different to playing my own music – in fact, we're always saying it feels like we wrote them ourselves. That probably makes little sense, but there it is!"
Of course, if we were never open to new music we'd all still be solemnly listening to Gregorian chant. While some older music fans will probably be indignant at the suggestion that they're not as curious about music as they once were, it's the 15- to 25-year-old mind that's been proven to be most receptive; Eric Clarke cites work done by Professor Carol Krumhansl at Cornell University on what she refers to as 'reminiscence bumps'.
"Music we encounter during that 10-year period," he says, "gets very deeply intertwined with our own emerging sense of identity as we move away from being a dependent person and becoming independent. So, that music ends up triggering very powerful memories – mainly positive ones, because we tend to have a rose-tinting effect that filters out the more damaging stuff."
The promotional efforts of the music industry are directed mainly towards that age group not just because they like pop music, but because their minds are far more well-disposed to all kinds of new musical stimuli. And once those sounds and songs have embedded, they'll stick. "That music will have a significant future life – it's almost an investment on the part of the music industry," says Clarke. "The endless re-releases, remasters and remixes of old albums that cater for the subsequent nostalgia – that's a valuable income stream."
Curiously, Krumhansl's work revealed another reminiscence bump in young people, which matched their parents' preferences when they were in the 15-25 age bracket. In other words, we become nostalgic about our parents' favourite tunes, too, because we were exposed to them at a young age and have retained a strong, affectionate musical memory. It remains to be seen whether these nostalgic "bumps" will work in the same way in the future, as we move into an era of digital streaming from huge online jukeboxes; perhaps the oversupply of music will prevent future generations from forming those strong emotional attachments that older people did when musical availability was more limited – although Clarke isn't sure about this.
"Availability isn't the same as use," he says. "Whatever is available, people will select things from that massive pool. The limits of human attention and memory are such that however infinite the availability, we have finite capacity."
TV themes occupy a curious position in the musical landscape; they're intrinsically woven into a repeat structure in our lives, and almost become like musical furniture. "Some quite clever studies have shown that you don't even have to become consciously aware of having become familiar with music for it to unconsciously become a preference," says Clarke, and Dream Themes have undoubtedly been the beneficiaries of that; whether it's an audience racking its brain trying to place the theme tune for the BBC athletics coverage, or just dancing frenetically to the theme from Blockbusters.
But it's not just us who've noticed it: a few weeks ago, Radio 1's Greg James "dropped" the BBC News theme during a DJ set at Play in Hereford, only to see the dancefloor go crazy and the video of it go viral. Yes, that's partly to do with a sense of collective belonging, a sharing of something, or in Clarke's words "being together in and with music". But it's also the music itself; music of our youth, triggering powerful responses that will be retained for the rest of our lives. Who knew that the theme from Bergerac had so much emotional resonance? Not me, that's for sure.
Dream Themes play Edinburgh's Franklin Rock'n' Roll Club on 23 May, Glasgow's Fred Paton Day Care on 24 May, London's Water Rats on 6 June
Register for free to continue reading
Registration is a free and easy way to support our truly independent journalism
By registering, you will also enjoy limited access to Premium articles, exclusive newsletters, commenting, and virtual events with our leading journalists
Already have an account? sign in
Register for free to continue reading
Registration is a free and easy way to support our truly independent journalism
By registering, you will also enjoy limited access to Premium articles, exclusive newsletters, commenting, and virtual events with our leading journalists
Already have an account? sign in
Join our new commenting forum
Join thought-provoking conversations, follow other Independent readers and see their replies